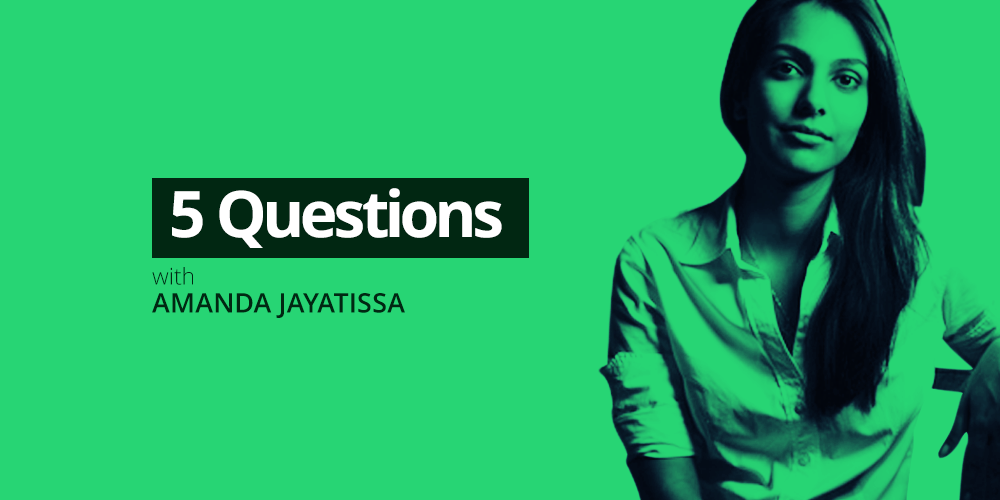 Five Questions is a short series where we interview interesting personalities and shine the spotlight on some of Sri Lanka's more intriguing professions.
Last year Amanda Jayatissa's debut novel The Other One found a place on Amazon's hot new books list, right after it was digitally published. The novel belongs to a subgenre of science fiction known as steampunk and features a world where steam-powered technology is common.
Before she took on writing, Jayatissa was an entrepreneur—and she is still involved in running three different companies.
While living in the UK, she started up Sterling Language Solutions, a company which focuses on developing communication skills in the corporate sector, and Save Your Monkey, an online insurance platform.
After moving back to Sri Lanka in 2013, Jayatissa and her husband opened up The Brick Lane Cookie Company, a confectionery company which has become one of Colombo's favourites over the past few years.
She sat down with us to have a chat about her first book, her cookies, and what she has in store for the future.
1. Why did you and your husband decide to open up the  Brick Lane Cookie Company?
It just started off as a hobby or a passion project. We never thought that it would get as popular as it has become right now. After we moved back from the UK, we went looking for soft, chewy cookies but couldn't find any in the market. So we started baking these cookies ourselves, and almost as a joke one of us said: "hey, we really should sell these." We couldn't think of a reason not to do it, and that's how The Brick Lane Cookie Company was born.
2. What inspired you to come up with The Other One?
I always knew I wanted to write fiction, but at first, I couldn't quite grasp how to string an entire novel together. So, I focused instead on building characters that I could resonate with, and started asking myself questions like "how would my life have turned out under a completely different set of circumstances?"
Once I had a solid grasp on the characters, I wanted to have as much fun as possible building a world in which they could interact, and that's how The Other One came about.
3. How did you manage your time while writing and running not one, but three different business ventures?
I get asked this question a lot. I've always been someone who does better when juggling more than one thing. It helps keep me focused and disciplined. The year 2017 was a very busy year for me. We were launching Save Your Monkey and I was completing my Masters, but I had decided at the beginning of the year that I wanted to stop procrastinating and get the book published before my birthday.
So I held myself to that goal. It wasn't easy. I woke up a few hours earlier each day until the book was finished—I committed myself to finishing certain parts of the book by certain deadlines. At the end of the day, if you love something and are committed enough, you will find the time, somehow.
4. What plans do you have in future for Brick Lane and for your writing?
We have lots of exciting plans for Brick Lane this year. We are already experimenting with new cookie recipes which we hope to have out soon, and are planning on opening a few more outlets. We have a fantastic young team who are enthusiastic and dedicated, which makes the whole process very exciting.
As for my writing, my second book has been loosely outlined. I hope to be a lot more organized this time around and have a more planned approach. The story will be set in the same universe of Mliss, but it will not be a sequel as I feel that the characters' arcs have reached their end in The Other One. Instead, this story will pick up about ten years later and will focus on a completely different set of characters and issues.
5. Is there any advice that you would like to give any first-time writers, especially those who are interested in writing fiction which belongs to the fantasy genre?
I would advise them to just keep on at it. A writer's journey is ultimately like the hero's journey itself—there's a call to adventure, which is the first spark of the story. We each have our own mentors and teachers, and we all have our own obstacles to overcome. It's in going through all of this that we finally reach our goal. There never has and never will be a shortcut, but the journey is always worth it in the end.