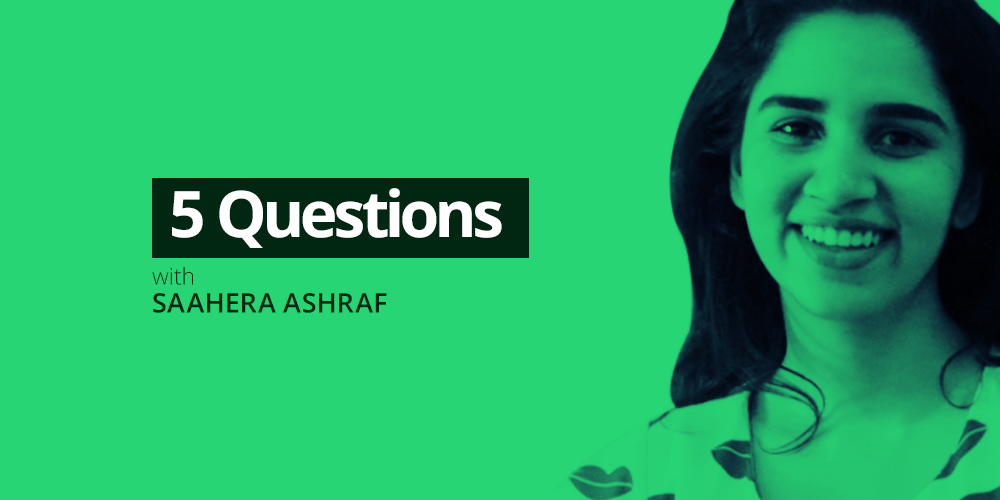 5 Questions is a short series where we interview interesting personalities and shine the spotlight on some of Sri Lanka's more intriguing professions.
Colombo-local, Saahera Ashraf hosted her first photography exhibition in Sri Lanka at the Lionel Wendt Art Centre, on Friday 15th December. The In-between Experience was advertised to "deconstruct and explore tradition, gender, and identity within the context of a multicultural society". As a 24-year-old film-photographer, who studied at the Massachusetts College of Art and Design (MassArt), Saahera's unique zest for art makes her someone worth watching out for. Roar Media caught up with Saahera at the exhibition to find out how she became a professional photographer and what inspires her to shoot.
1. How did you first get into photography?
While growing up, the one thing I always asked my father for was a camera. I was always shooting my best friends at school. When I was seventeen I entered a competition at the British Council. The prize was a three-day workshop, alongside 30 other photographers. I was the youngest there. Then, renowned Sri Lankan photographer Sandun De Silva (who was one of the judges at the workshop) told my mother that I should be a photographer.
But I actually went to study fashion at MassArt. It was only when I chose an elective in beginners darkroom photography that I fully realised that photography was my calling.
2. What camera and equipment do you use?
When I'm on the road, a Zenza Bronica [classic Japanese medium format roll film camera] gives me the control I need for film-photography. Plus it's small and light and fits perfectly in my hand, meaning I can always have it with me whenever I am suddenly inspired on the streets!
3. Who are your greatest artistic influences?
My biggest inspiration is a Japanese photographer called Arākī アラーキー. He changed my life. The first time I saw his work I felt completely shocked. His subjects are often women, with overtones of S&M (sadomasochism).
People ask me, how can you like his stuff? And I tell them, when you come from a conservative background, you can feel very trapped. But Arākī's photos actually liberate me. I felt like the women in the photos had been liberated!
4. What is the one thing you wish you knew when you first started taking photos?
In the beginning, I was afraid: I never put my emotions into the photos or engaged myself. Luckily, I had two amazing professors at MassArt. Irina Rozovsky was so interested in me and my background in Sri Lanka that she has encouraged me to explore it for myself.
I also learned so much through each of my subjects. With Shelby, [the subject of a colour portrait called Venus], the shoot took four hours in total, but two hours of that was just us chatting. In that time, I learned so much about Shelby that only then did I feel I could capture her, truthfully.
Before Shelby I preferred to shoot in black and white, but she taught me that I can do colour photography. And now 80% of my work is in colour.
In this way, every shoot is a collaboration.
5. What is the in-between experience?
I guess the in-between experience sums me in a couple of ways.
Personally, at this moment in time, I'm in between many different things: in between countries, cultures, education, even in my personal space — all very in-between.
And artistically, I'm in-between too. My other college professor, Matt Connors, told me that I have a male and female gaze. By that, I think he means that the way I portray my female subjects is akin to how many male photographers view the female form. But then again, as a woman, I portray male subjects very differently to male photographers. Hopefully, this collection displays that.