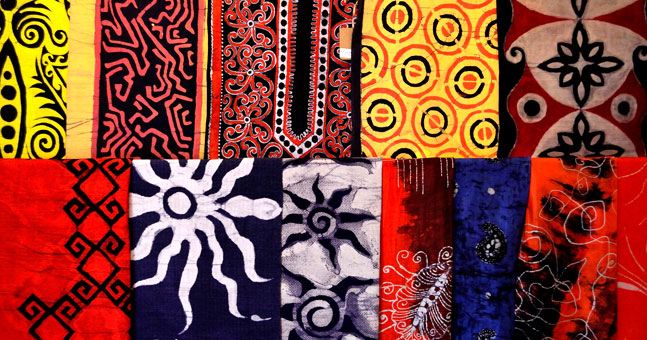 Last week I visited a village in Habaraduwa, located within close vicinity of Galle to learn more about local crafts. This community is one of the many batik manufacturing craft villages found on our island. I was completely unaware of the manufacturing process of batik and was taken aback by how labour intensive it was.
Walking through the small makeshift dyeing chambers and workshops I was acutely aware that everyone working in the crafts village were women. There's a belief imposed by society at large within Sri Lanka that this type of design work (mainly garment design) is somewhat easy and therefore perfect for a woman. However, the production of batik is hard labour.
There are three main steps to batik designing.
The cloth is stretched out taut and the design is drawn onto the fabric with molten wax. The area where the fabric is meant to retain its original colour is where the wax is placed.

It is then soaked in a chemical and then dipped into the dye.

The dyed fabric is then dipped multiple times into boiling water.
This process is repeated depending on how many colours the fabric will have. The more colours there are, the more times it is passed through the three steps listed.
I watched in awe as these women, meticulously worked on the fabric. Spending hours on their feet, hunched over fabric, carefully drawing their designs with hot wax is only half the battle. The dyeing procedure includes lugging the fabric, often several meters long and plummeting it into the chemicals and dye. However, the toughest job of all seemed to be washing the wax off the fabric. This is done by repeatedly plunging it into a cauldron of boiling water, letting out clouds of fumes into the air.
I was told that a maximum of two sarees could be produced if these women worked like Trojans throughout the day.  That's a lot of effort that often goes unnoticed. I admit to having lamented over the price of batik products myself. I often wondered why it was expensive, given that it is a major craft Sri Lanka is known for. 
This visit changed my perspective. Whilst mass production takes over the apparel and household industries, printing fabric becomes an easy method of producing a variety of interesting textured fabrics.  This means it's significantly harder for our local artisans to compete with the mass produced, cheap fabric that makes its way to retail stores. Batik fabric is a niche product and considering the amount of grueling effort that is necessary to execute it, and I believe we should be patronising our local artisans more.
Quit scourging the Internet for your retail therapy and start hitting the plethora of local craft stores that help sustain our communities.