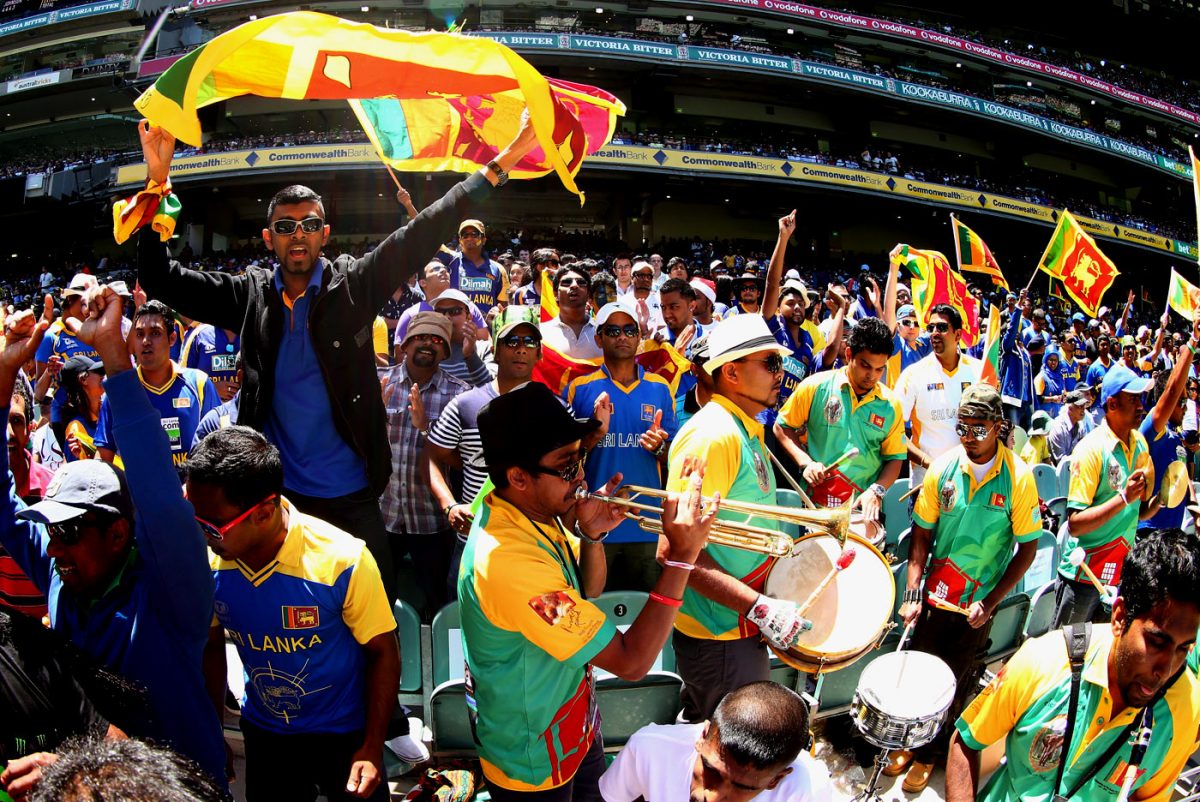 Yours truly was randomly stalking a celebrated Sri Lankan musician on the interwebs the other day out of sheer boredom (as you do) when he happened upon a link they had shared on their profile to the following video:
Sound familiar? Well, if you've ever been to a school big match ‒ or any match, really, in Sri Lanka ‒ it should ring more than a few bells. Who knew that the melody for ඩිංගිරි ඩින්ගාලේ  දාගෙන පොල්කටු මාලේ, the go-to tune for papare bands everywhere, came from a South Indian song that [probably] had nothing to do with either jewellery or coconuts?
Anyone who has spent more than 10 minutes on YouTube will tell you that once you find a video that remotely piques your interest, you are bound to get suckered into a seemingly never-ending vortex of similar videos that are guaranteed to stop you from getting any work done. The end-result of which, in this case, was a list of Sri Lanka's biggest old-timey hits and their peculiar origins.
Tip o' the hat to the very helpful observations made in our famous musician's comment thread (whom we shall not name, out of intimidation respect).
කව්ද බොලේ Surangani?
Everyone and their grandmother knows the words to Surangani. It's not a stretch to say that it's a universally loved song that transcends all societal barriers. Turns out those barriers include international borders too, as apparently just two years after the song was released in Sri Lanka, a Tamil-language rendition of it was made across the Palk Strait in 1974. According to one version of the story, anyway.
There's another story (at least going by YouTube comments, so please take this with a few bags of salt) that postulates that the song was originally composed by a Sri Lankan Tamil artist known as A. E. Manoharan in 1972 for the Tamil movie in the video above and Sinhala composers subsequently "borrowed" the melody.
Says Sharujan Mahendraraj: "This song was used in a Tamil movie in 1974 with copyrights from the original composer. Once the song got popular quite a few Sinhala composers started making different versions of this song and made it popular in Sri Lanka without giving any credits (reference) to the composer. That's why few people who doesn't(sic) know the history of this song still believe that this is a Sinhala song."
According to Wikipedia, however, (again, grains of salt at the ready), Surangani was, in fact, originally a Sinhala baila "open source" song, with both lyrics and music composed by Manoharan, that went on to to become a huge hit in both Sri Lanka and Tamil Nadu thanks to Radio Ceylon. Famed South Indian composer Ilaiyaraaja later made a Tamil version of the song for the film Avar Enakke Sontham keeping most of the refrain intact.
Interesting tidbit from the Wiki: "[In 1972,] Manoharan also recorded the now popular 'Surangani' theme on the Suriya record label. In 1973 he was presented with the Pop Chakravarthi title at a music festival at the open-air stadium in Jaffna."
Ye Ye, Cathrina
goonewj's YouTube account is a gold mine for anyone looking for the original versions of classic Sri Lankan party songs. See if this one jogs a few memories.
Andinna Mini Gauma Andinna ‒ අඳින්න මිනි ගවුම අඳින්න
The Kaffirs of Sri Lanka appear to have inherited this infectious Portuguese melody that was used in the now-infamous Mini Gauma song.
Mee Wadayaki Jeewithe ‒ මී වදයකි ජීවිතේ
This was a shocker for this writer, who never suspected for a second that the melody for this hugely popular family-trip song by Priyantha Fernando was from a Portuguese Kaffiringha song. #themoreyouknow, amirite?
සන්තෝසේ දුකයි සැපයි indeed…
Rasa Ahara Kawala ‒ දාල යැයි කියාලා ඇයි කියන්නේ ඔහෙලා
One of M. S. Fernando's biggest hits ‒ another favourite on the family-trip circuit ‒ Rasa Ahara Kawala was based on this adorable piece of music:
Got Anymore?
We're certain there are more unlikely songs whose origins can be traced to different corners of the world (apart from the obvious ones like Saman Mal Piyalle). If you know any, please do share in the comments.
Featured image courtesy: thecricketmonthly.com