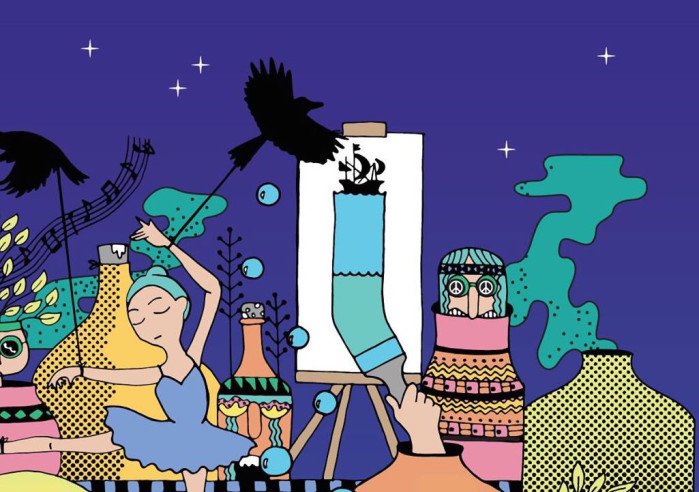 At times it feels like Colombo needs to be more happening. It's not like we don't have events, but there needs to be more variety, something beyond the usual concerts, plays, sporting events and beach parties. Thankfully, there's the Colombo Design Market (CDM) to look forward to this Sunday (19th) – and this time, it's bigger and better.
What started off as a venture to provide a platform for upcoming designers, artists and creative entrepreneurs is now mushrooming into something bigger – and not just in terms of space. This time around, you'll find the CDM at the Viharamahadevi Amphitheatre, stocked with a few neat surprises, including a vibrant night market, interactive art installations and a workshop.
In what can only be described as festive, this installment of the CDM will begin at 2pm and go on until 10pm, with lights, music, food and the creative arts setting the mood for a perfect day out with friends and family. Adding to the list of things to look out for are the interactive art and digital installations like Oculus Rifts and interactive sandboxes, among others. Pecha Kucha will also be a prominent feature this time around.
It's not just about looking, buying and playing around, however. There will also be a workshop conducted by Lee from the Colombo Design Studio on the design thinking behind everyday products, giving participants the opportunity to go from the generation of an idea through to the process of designing, creating and taking their completed product home. The idea is to educate participants on where products come from, the creation process and the work that is required to create the product.
In the process of evolving from a hub for the art and design, a direct market where unique products can be bought and sold, the CDM has gradually grown to embrace other forms of art, such as music. As founder Alifiya explained, some people just come for the good music and the festival-like atmosphere. "Many bands started off with covers, but now it's moving into the domain of original music. There are even collaborations between artists off the books and in that sense it's great because it gives musicians the chance to network and broaden their musical horizons."
According to Alifiya, the only catch is that you have to create or design something of your own, something innovative and original – resulting in a wide range of things that you previously couldn't and wouldn't have found in your everyday store. Everything from paintings, crafts, tote bags, jewellery, clothing or shoes are all customized and custom-made. "This is a space for people who are making their own things. Before the Design Market, there was no platform or easy access for people to sell and buy," Alifiya explained.
The stories tell themselves – the Design Market has given many artists and small businesses the pickup they need. Bernard from Dodo Footwear, for instance, explains that the CDM allowed for direct interaction and feedback with customers, which ultimately helped them become more customer-needs oriented and helped improve the product design. "We were creating in a bubble before. This gave us the right exposure because we met and interacted with our customers and even retail people."
For Shifani, it was an opportunity that allowed her to turn her art into a business. "The first one that I went to put me on the map: people knew I existed, and orders came pouring in for weeks after. So the event is great not just for marketing but for networking – people will know your name as an artist. I've grown as an artist who paints canvases in her room for the fun of it to moving into music album art, book covers, and now custom painted wallets. It helped me expand into new mediums of art and share what I do with thousands of others online and at the CDMs, and become self-employed in the process, in only a matter of months. So it's definitely an enabler, and a huge opportunity for any artist with a desire to also be an entrepreneur."
To find out more, visit the Colombo Design Market on their Facebook page or better yet, come along this Sunday to the Viharamahadevi Amphitheatre and see for yourself!