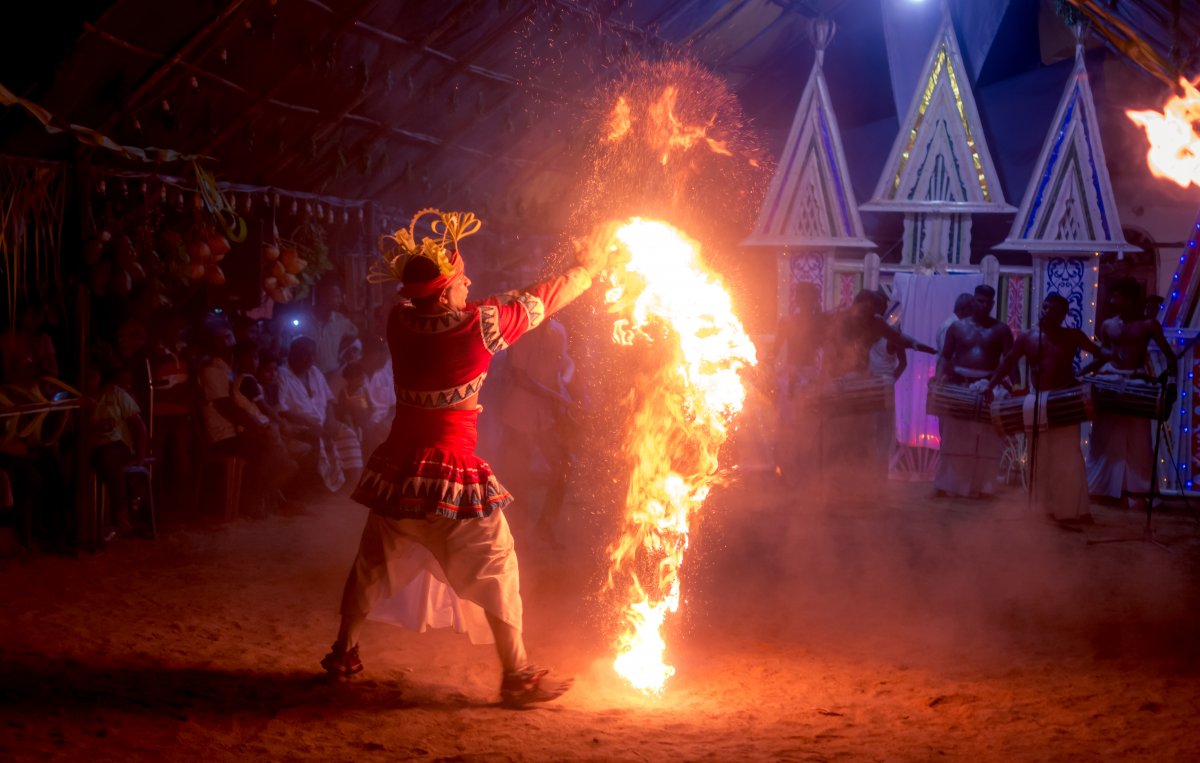 Devol madu shanthikarmaya, also known as the gammaduwa, is a tradition that invokes the blessings of the goddess Pattini—known to both Buddhists and Hindus as the goddess of fertility and health.
Practiced predominantly in the low country, these rituals are performed by a kapurala (spiritual leader and healer) to ensure the well-being of the village and a plentiful harvest.
The shanthikarmaya commences when the full moon is visible, so that villagers can find their way in the dark, and continues for 18 hours, with 40 performers including Yaka beraya drummers, gini keliya dancers, as well as performers with Mahasona and Eerie Yaka devil masks.
After sunset, the gammadu enclosure is traditionally lit up using gini pandam fire torches, though high powered lamps are more popular in modern times. Rituals begin with the gini keliya, or fire dance, which is said to ward off evil spirits and cleanse the area of negative energies.
At dawn, a special muruthan kiribath (milk rice) is offered to the gods, and later served to villagers. Later during the day, two branches from the gorok tree are planted in the middle of the enclosure, and a person clad in a gara yaka devil costume climbs the branches to perform rituals.
The following images are from the shanthikarmaya that took place at Pirivena Handiya at Boralesgamuwa, in July. This gammaduwa has been taking place for many years and is one of the few places close to Colombo where a shanthikarmaya is held.