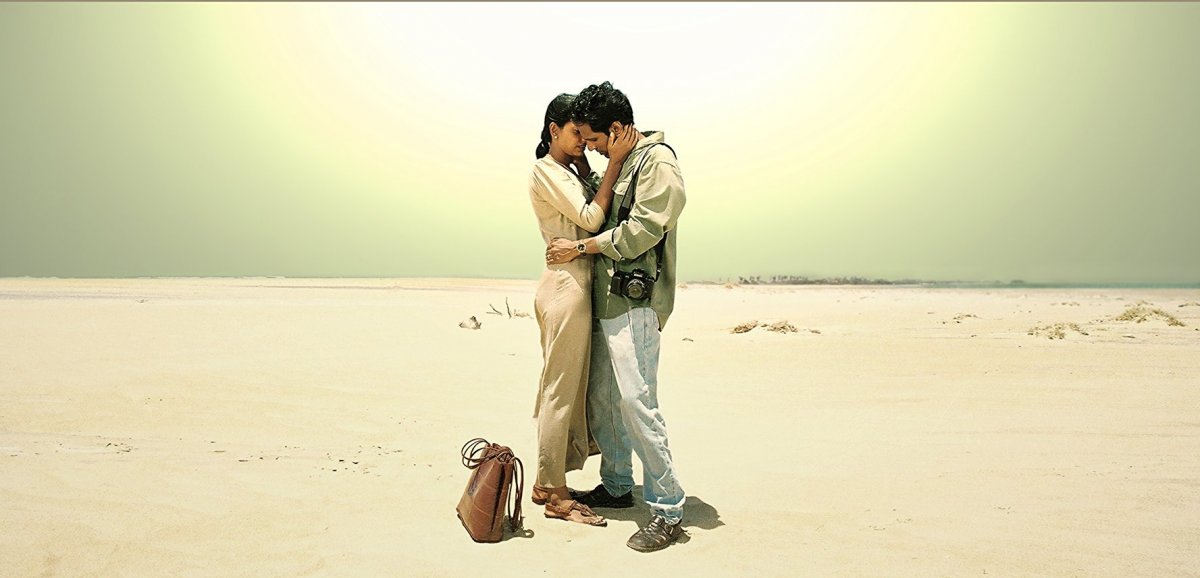 Sri Lankans are a passionate kind. And for all their conservative leanings, they are also very passionate about romance. You only need to get on a long distance bus to hear the sorrowful, musical wailings of one jilted lover after another over the TV/stereo system.
However much we like to poke fun at our artistic obsession with romance, especially in the movies, there are, nevertheless, some works that capture and present the subject with a depth and gravitas that makes it an all-time classic. Here are a handful of such cinematic masterpieces.
Golu Hadawatha (The Silent Heart)
Golu Hadawatha is a film that is widely lauded for its unconventional approach to romance. Based on the acclaimed novel of the same name by Karunasena Jayalath, Golu Hadawatha tells a story with no hero, heroine or villain. No songs, no fights. It's a simple story between a boy and a girl in the same school.
It's a tale told in two parts. Each through the eyes of the protagonists, Sugath and Dhammi. The film goes through their friendship developing into romance, and how they face its end.
The soundtrack by maestro Premasiri Khemadasa was a triumph, and the theme to Golu Hadawatha is still played regularly to this day. The film made such an impact in the 60's that Sugath and Dhammi became romantic icons of Sinhala pop culture, propelling the actors Wickrama Bogoda and Anula Karunathilaka to stardom. The film inspired a popular duet by Indrani Wijebandara and Sisira Senaratne that famously goes "Aadarei mama Aadarei – Dhammi thavamath aadarei, Sugath thavamath aadarei" (I love you – Dhammi still loves you, Sugath still loves you).
Saptha Kanya (Seven Virgins)
H.D. Premarathna was a director who made his mark when Sri Lankan cinema was transitioning from romanticized movies to realism. He became known as "the filmmaker of the middle road", where he attempted to make films that were in between serious arthouse cinema and commercial cinema. He succeeded for the most part, and many of his films were popular and well received. Arguably his best-received movie is Saptha Kanya.
Based on the Viyaru Muhuda (The Raging Sea) comic strip, Saptha Kanya is the story of Akhil and Deepthi, young lovers thwarted at every turn by a past linked to the underworld. With a soundtrack that gave us three hit pop songs, it was an instant hit. Kamal Addaraarachchi and Sangeetha Weerarathne who played the leads were just newcomers at the time, becoming household names almost overnight. It's a film that has stood the test of time and still loved 25 years later.
Ganga Addara (By the River)
No list of Sri Lankan romantic movies would be complete without a mention of Ganga Addara. Largely due to its beloved and oft-played theme song of the same name, performed by male lead and screen legend Vijaya Kumaratunga , Ganga Addara is a film that is known by almost everyone.
Directed by Sumitra Peiris, scripted by acclaimed director Tissa Abeysekara, and based on a novel by Letitia Botejue, it is a tragic romance between a doctor and his mentally ill patient and explores themes of romance, mental health and class differences. Vijaya Kumaratunga and Vasanthi Chathurani deliver two of their best and most acclaimed performances as the leads in this film.
Hanthane Kathawa (A Story of Hanthana)
The beautiful hills of Hanthana have inspired many real and fictional romances, especially at the nearby University of Peradeniya. It is in this setting that Sugathapala Senerath Yapa set his best-known effort: Hanthane Kathawa. This film also marks two important debuts. The debut of superstar-to-be Vijaya Kumaratunga, and the first kiss in Sri Lankan cinema. The latter earned director Yapa much ire in the press at the time. Despite the off screen drama, the on-screen drama lives on as one of our cinema's best films.
Starring Tony Ranasinghe as well as newcomers, Vijaya Kumaratunga and Swarna Mallawarachchi, the story is of a love triangle between three University of Peradeniya students. In fact, Senerath Yapa said that the three leading characters, Anura, Subha and Bandu, were like the Prince, Princess, and Vedda in the Maname drama. Hanthane Kathawa captured a cross-section of university life, from ragging to relationships, weaving in timeless love story.
Hansa Vilak (A Lake of Swans)
There was a time when you could barely find controversial topics addressed in a Sri Lankan film, let alone a romance. Dharmasiri Bandaranayake was a director who changed that. Over his career he earned a reputation for covering topics that were not discussed, bringing to screen uncomfortable realities, a trait that was abundantly clear in his debut: Hansa Vilak.
Hansa Vilak is a story about marriage. Nissanka and Miranda are two married people having an affair. Suddenly they are exposed by the police and subsequently decide to live together, leaving their respective families. But as Miranda secretly goes back to see her former husband, Nissanka's paranoia causes things between them to disintegrate.  With stellar acting from Henry Jayasena, Swarna Mallawarachchi and Bandaranayake himself who played Nissanka, it's a film that avoided romanticizing romance.
Special (LOL) Mention: It's a Matter of Love
Even today, there are only a handful of Sri Lankan English language movies. If nothing else, "It's a Matter of Love" is remarkable for being just that. Directed by Roy de Silva, best known for his massive list of credits directing comedies, "It's a Matter of love is a sequel to the English film "It's a Matter of Time" from 1990, which was the screen debut of a 16-year-old Sangeetha Weerarathne. While its tone, superfluous subject-matter, and acting may not place it anywhere near many other Sri Lankan romances, the movie is worth watching purely for the sake of bad entertainment. It's a movie so bad, it's worth watching for just that. So if you fancy tears of laughter while actors Saranga Disasekara and Anarkali Akarsha (and indeed the rest of the stellar cast) act out cliché after cliché, "It's a Matter of Love" is the way to go.
Cover Image: Peter D'Almeida and Nimmi Harasgama in Ira Madiyama. Image Courtesy imdb.com