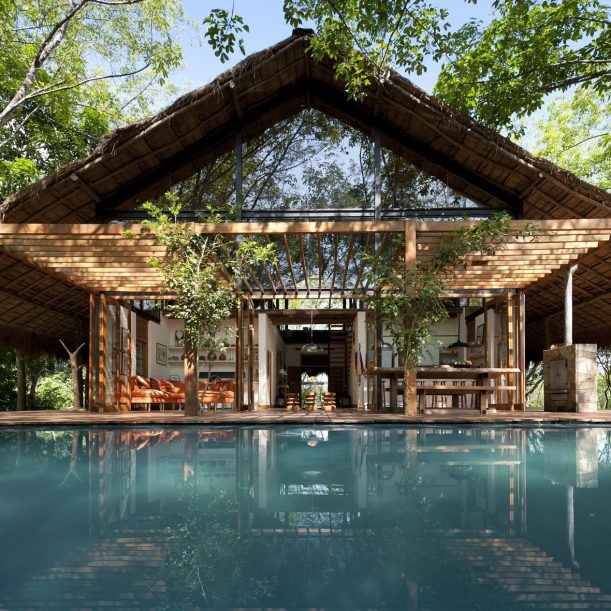 It's hard to deny that sense of pride we feel when a Sri Lankan earns international recognition, no matter what the line of profession. So when a Sri Lankan architect makes his/her mark in the world (quite literally in some cases) the pride instilled in us is inexplicable. Architecture has seen evolving cultures and several important historical events, and there is no denying that it is a timeless profession that is forever adapting to its surroundings. The same is true for these Sri Lankan architects who have made history and continue to influence today's budding and established architects alike.
1) Geoffrey Manning Bawa (1919-2003)
The first name that comes to mind when you think 'Sri Lankan' and 'architect' is the world renowned Geoffrey Bawa. Even years after his demise, he continues to breathe through his architecture that speaks of a unique style and design, influencing architects across the world. Most known for the design movement Tropical Modernism, Bawa had a flair for incorporating the local context in his designing process, thus creating architecture that seemed to blend with its surroundings and blur the boundaries between exterior and interior.
It was this, plus his approach to combine modernism with local traditions creating a new architectural identity, that not only won him numerous awards but also guaranteed his position of importance in the world of architecture. Some of his works that won him international acclaim are Heritance Kandalama, Lunuganga Garden Bungalow, The Blue Water Hotel, Wadduwa and even his own residence in Colombo, all of which are bound by the common characteristic of connecting the interior and exterior seamlessly. Another building out of Bawa's works that is significant both in terms of Sri Lankan architecture and history is the Parliament in Sri Jayawardenapura Kotte. It stands out for 'floating' on a man-made lake and for harmoniously bringing together indigenous elements of past architecture into an impressive and striking complex. The Sri Lanka Parliament is one of his most symbolic works and is known for being perhaps the only project where Bawa put form before landscape.
2) Cecil Balmond (1943 – )
Owing his heritage to both Sri Lanka and England, this architect, artist, and writer has worked on world famous spectacular structures which include, but are not limited to, the Centre Pompidou-Metz museum and the Serpentine Pavilion in France, the CCTV tower in Beijing, and the ArcelorMittal Orbit for the London 2012 Olympic Park.
Balmond pursued his education at Trinity College, Kandy, and the University of Colombo. Architecture is a profession that gives life to your dreams, and these structures scattered across the globe allow for Sri Lanka to pat itself on the back for this prodigy. In addition to the showcase of awards under his belt, Balmond is celebrated as one of the most important forces in contemporary architecture and for redefining art, design, and engineering to form unique and extraordinary creations which can be seen in his works around the world.
3) Minnette de Silva (1918-1998)
Sri Lanka's first woman architect and Asia's first female member of the Royal Institute of British Architects, Minnette de Silva has brought boundless pride and recognition to Sri Lanka through her works and contribution to architecture. Additionally, Minnette finds herself on this list because in a time and age when cultural assumptions limited the growth of women, she not only broke all constraints but also rose to the top of what was then a male-dominated profession. Much like Bawa, Minnette's design approach was strongly influenced by the symbiotic relationship between architecture and the environment.
Her professional path not only brought about a new attitude to architectural design processes, but also opened up the possibility that women would no longer have to be overshadowed by men in their attempt to join educational institutions or professional organisations.  
4) Valentine Gunasekara (1931 – )
This Sri Lankan architect is considered to be one of the most influential for the architecture of the country's post-independent period. Gunasekara's approach to architecture explored shapes and tested materials to unleash their full potential, which responded to Sri Lanka's need to discover a distinctive architectural rubric following independence. Unlike his predecessors, Gunasekara disapproved of most traditional design concepts and set out to discover his own unique style of designing and architecture. The works of Valentine Gunasekara brought about a change in Sri Lankan architecture; in an age in which the pitched roofs were automatically associated with Sri Lanka, he created different forms such as cones, prisms, and tunnel-like structures. He paved a different route in which Sri Lankan architecture could be identified and through which new spatial concepts could be created with the use of innovative technology and materials of his time, such as glass and reinforced concrete.
Each of the above architects has contributed to Sri Lankan architecture in their own way and through their works have given international recognition to the country's architectural style. Despite making up only a microscopic part of the globe, the architectural style of our island has gone far and beyond and anybody who understands architecture will be able to identify a building or art installation that has been influenced by Sri Lankan traditions and culture. One of the most significant design movements that traces back to Sri Lankan concepts is 'Tropical Modernism' that takes architecture and the environment and creates an aesthetically and functionally delightful blend. Although these influential architects will not be with us forever, one can never take away the indelible mark they have left behind in the world of architecture as well as the sense of pride and recognition they have given our country on a global scale.  
Featured image: Guava House in Mawanella by Atcht. Ranjan Aluwihare. Image courtesy: geoffreybawa.com