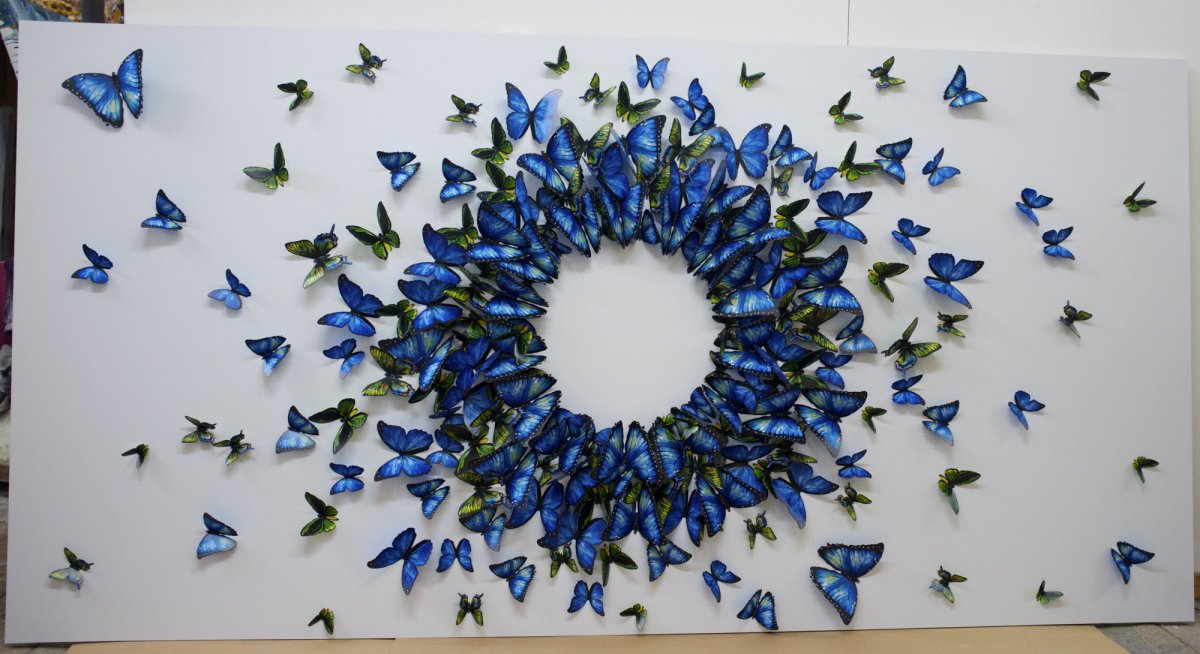 Emma Allen never envisioned that a summer job at the London Zoo would one day become her bread and butter.
Emma has dabbled in many things. Studying art and graphic design in school, she went into fashion, interning at fashion magazines in New York and London. At one point, she operated a market stall in East London, selling jewellery. Through it all, though, her love of art and painting remained a constant.
In 2001, Emma spent a summer painting children's faces at the London Zoo, and realised its potential as an art medium.
"Making art saleable can be tricky at times. Face-painting allows for more flexibility," she explains.
However, Emma's work isn't just stereotypical first birthday party fare. From ethereal butterflies, leopards to zombies, her work is detailed and vividly colourful.
Her work is extremely varied – one evening, she might be busily painting nightclub performers gold, another, she might be assisting in a fashion shoot. She also does video animation and special effects makeup for themed events.
Stemming from her summer job, Emma began attending music festivals, where she would paint festivalgoers. Some of the events she's done include the Cabaret Club in London and the famous Cannes film festival. In Sri Lanka, she recently participated in V – Day, an event where women gathered to share stories on gender-based violence, held at Barefoot.
"Whenever it's quiet, I paint. You need to keep practising to have a steady hand," she said.
Emma also likes variety in the mediums she works with, experimenting with everything from papercutting to papier-mâché, if she feels so inclined. An indispensable part of her travel kit is a set of watercolours, so that she can paint on the go.
Being half Sri Lankan, half British, Emma spends a few months a year in Sri Lanka. To her, these months were a sabbatical, a chance to relax. "Previously, I saw Sri Lanka only as a tourist, or while visiting family. I actually didn't know too much about the country," she said.
Then, on December 26, 2004, the Tsunami struck. In the wake of the devastation, Emma felt the need to volunteer in some way. At the same time, she wanted to contribute the best way she knew how – using her love of art.
Upon conducting research, Emma found that no organisation was doing the sort of work she wanted to do. To her, the solution was simple – founding her own initiative. Emma began by conducting a series of art workshops at refugee camps in Moratuwa. "Play and art are very important for kids who are caught in a difficult situation. Some of these children had been living in camps for a year when I met them. I started the workshops with the goal of giving kids space to play and have fun, while encouraging creativity," she said. She also volunteered with the Manacare-aided Hopes and Dreams Village in Southern Sri Lanka, which provides much-needed employment opportunities for the local community, post-tsunami.
Emma's voluntary work in Sri Lanka also allowed her to get over her own self-doubt. "A couple of years ago, I was very unsure about my ability. On these days, I would choose an unusual animal such as, say, a slender loris, and force myself to paint," she relates. The names of the various animals she painted became the first Sinhalese words she learned, and a way of connecting with her young subjects.
The workshops were such a success that the Sri Jinananda children's home in Wellawatte contacted her asking for help. Emma collected a few hundreds of pounds worth of art supplies and conducted her workshops for the children there. As time went by, she also began working with centres in other areas as well. It has now been 10 years since Emma began helping the children of the Sri Jinananda Home – all this stemming from a three-month sabbatical.
Thanks to the proceeds she collected from her work overseas, Emma was able to construct a playground, and provide much needed food, clothing and even school supplies to children in need.
In addition, Emma launched the Sri Lanka Card Project, working with children from Sri Jinananda's home to raise funds for more art workshops. The handmade Christmas greeting cards were a hit. Following that, Emma also worked on a set of "Small Steps" cards, available year round.
"I thought that it was important that the children be actively involved. This isn't about a handout, it's raising funds through art and play, while encouraging children to create," she said. An admirable cause indeed, particularly for children caught in a difficult situation.
Emma plans to launch a new set of Christmas cards this year, so do visit the website if you want to contribute to a good cause.
To check out more of Emma's artwork and face-painting, visit her website.