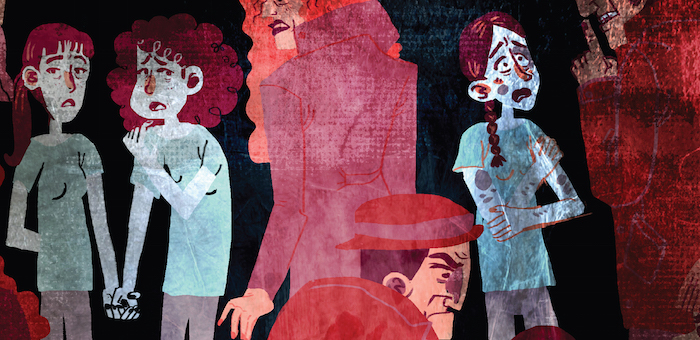 Fruitcake, directed by Ruvin de Silva, is a play built on improvisation by the girls of Methodist College, Colombo. The play aims to showcase everyday social issues such as the lack of self confidence, peer pressure and rape. What makes this play unique, is that some of the actors have built their characters on personal experiences and the daily challenges that they face, while others have created personas that reflect on the lives of other people. When contributing to the art of theatre, these young girls have been creative as well as realistic. After understanding social concerns and contemporary controversies in depth, the play has been immaculately crafted to trigger a culture of change in our humble little island.
The characters in the play have been admitted into a female psychiatric ward, for dealing with above mentioned issues and more on an everyday basis. Meet some of the personalities in the play, and you'll understand what we're saying a little better.
Patient #1
This patient has always liked girls, and doesn't think there's a particular reason to it. "Growing up, my friends have always liked boys, and I have always liked girls". Her family thought it was a phase, and tried to laugh it off in the first couple of years that she came out. After gulping down some of the blindness and realising that this "problem" is probably not going to go away, her parents sent her for conversion therapy, and pressured her into having relationships with boys. Coming from a reputed family, she wasn't openly humiliated in the school playground, but she did hear snickers from friends and relatives all the same. "Maybe if I came from a not-so-well-off family, it would've been worse. Nevertheless, they still ruined my self-esteem."
Patient #2
It's quite ironic how tabooed the word "rape" is, considering how frequently it takes place. This particular patient is a victim not only of rape, but also of the way society reacts to her. She (and others) think it's her fault that she got raped, because she didn't dress all too conservatively (despite her mother's efforts). Working late at night, and walking in deserted lanes inevitably leads to rape, and we have to watch out for that, right? This patient believes so, and resents herself for not being able to prevent it.  Apart from being able to physically feel the social change in her life after the incident, she doesn't feel worthy of being cared for and feels humiliated on behalf of her family.
Patient #3
Patient #3 suffers from fat shaming and weight gain issues. "I don't always concentrate on the way I look, but if a comment about size or looks is made, I immediately feel self-conscious." After constantly trying to cover every part of her body as much as she can and diet on air, she found no effect on her appearance. She is frustrated with social media, models and celebrities who announce that there is a certain way to look in order to be "normal". Being thin and pretty wins all, and if you don't look like that, there's something wrong with you. She wishes she wasn't so pressured – directly and indirectly – into losing weight by society, family, friends, and most of all, herself.
Patient #4
She is always battling with herself to succeed in doing something good. She represents everyone who has been pushed to the limit by the pressures of their parents. "You have to constantly live up to the expectations of higher grades, better extracurricular activities, breezing through school." She wants to make her parents proud, but is unable to do so because she's always drowning in responsibilities and standards set by people around her. Unfortunately, the pressure gets to Patient #4 as she never had the freedom of choosing her own subjects or having an active social life. She is frustrated with the basic ideology that your value is dependent on an exam grade, or something similarly ephemeral.
These girls represent everything that is wrong with our current society, but it sends a strong message: it isn't too late. Acknowledge these issues, understand and get in touch with what's happening around us and try to correct them. We are the new generation, and our perspectives can help us go a long way.
Ruvin De Silva is an accomplished actor and director in the world of Sri Lankan theatre and film.  He currently serves as the Associate Artistic Director of the Mind Adventures Theatre Company, with whom he has worked on acclaimed productions like Paraya, Only Soldiers, Rondo and The Traveling Circus. He also directed their production of After Class in 2013. As a director he has helmed both Nine and Starving Children for the Noir Theatre Festival for Stage Light & Magic, and taken several schools to prizes in inter-school competitions, including Desert Places by Methodist College which is parallel, but not identical, to Fruitcake.
Come watch these girls on the 29th and 30th of May, 2015 at the British School Auditorium. Visit their Facebook page for more details.