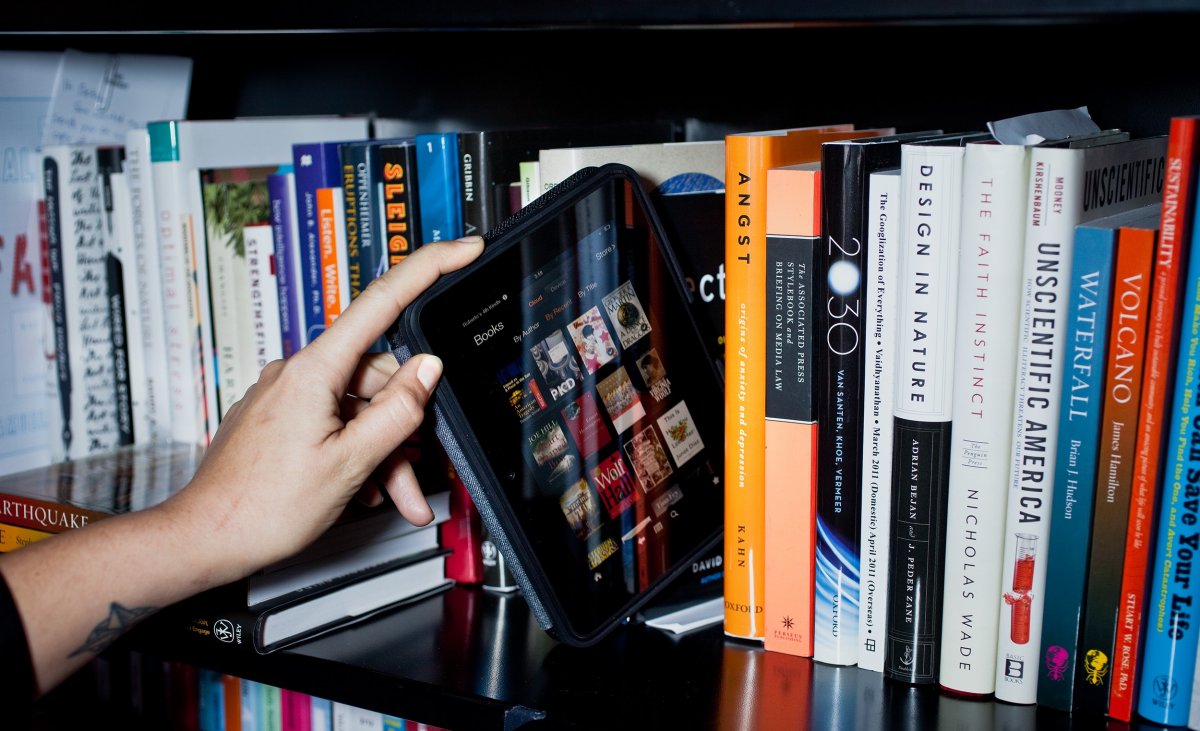 With the internet taking over as the primary source of information in the world, devices that access this information superhighway have also become relatively commonplace. Someone had the bright idea that you should also read on these devices. Why not create a device specifically for reading, that could hold thousands of books? Released by Amazon in 2007, the Kindle has reached its eighth generation today. It's not even the only dedicated e-reading device anymore. The Canadian-Japanese Rakuten Kobo series and the Barnes & Noble Nook devices are also popular alternatives.
In the present day, e-books have grown into a multi-billion dollar market all on their own. There's no doubt that e-books were a game-changer, but it seems civilisation would not evolve without a few relapses. Some sources state that digital fatigue has set in, and that e-book sales are declining. However, the real story may be more complicated than that. The digital market has not stopped growing; it's simply diversified beyond the usual digital marketplaces, and has become harder to quantify.
With whole catalogues of giant, global sellers like Amazon available at the tap of a finger, e-books and e-readers have become an attractive proposition for the hungry reader. Will publishing follow suit?
Publishing In The Digital Medium Is Different
Traditional publishing requires a great deal of circuitous labour. Once a manuscript is completed, an author is usually required to write a book proposal and then pitch it to countless agents and publishers until it is accepted. This process, where publishing houses act as gatekeepers of the publishing world, may take several years. If they don't think your work is worth investing in, it's dead in the water. If they do pick it up, the author hands over the manuscript, following which the publishing house uses its resources to edit and format the text, find cover art for it, print it, and market it.The publisher would typically print an initial number of copies and distribute it to points of sale. In this scenario, the publishing house retains most of the rights and royalties of the book.
The new, alternative route to publishing is one pioneered by Amazon, which has made publishing almost a DIY project with its Kindle Direct Publishing and Createspace platforms. The idea is that an author needs to simply digitally write and format their work into a single e-book and then upload it to Amazon's system. As the Amazon website says, "publishing takes less than 5 minutes and your book appears on Kindle stores worldwide within 24-48 hours."
According to Amazon, it's only a process of a few steps:
Create an account on Kindle Direct Publishing
Upload your manuscript and enter the relevant metadata
Et voila! Your manuscript will be digitally published in 72 hours.
Amazon would then include it in their Kindle digital store to be bought and read by anyone with a Kindle or a Kindle app.
Why Go The Digital Route?
"For me, the traditional publishing route just seemed exceptionally daunting," says Mandy Jayatissa, author of The Other One.  Her digitally published steampunk novel—a subgenre of science fiction where steam-powered technology is commonplace—made its way to Amazon's hot new books list on day one and reached number three on Amazon's free sci-fi list following a free promo. Her novel tells the tale of a clockwork city called Mliss, which is on the brink of spinning out of control, and of the people in the centre of that crisis.
"This was the first time I've written anything for the public," says Jayatissa, "I wanted to get it out there and see what people thought as soon as possible, not spend time writing pitches to impress agents, and then wait around for months, or years, till my book goes into print."
Yudhanjaya Wijeratne, the author of The Slow Sad Suicide of Rohan Wijeratne, says he found that most international publishers required a period of six months to evaluate a submission and to respond. A science fiction novel, The Slow Sad Suicide, is the tale of Rohan Wijeratne, a suicidal alcoholic who volunteers to be sent into a black hole. "Every writer speaks of years spent taking the book to market," says Wijeratne, "six months is an aeon. To speed up this process, I need contacts at international publishing houses, which I do not possess. I spent some time studying the principles of layout and design, and cover art, and obtaining ISBNs [International Standard Book Number] and such, and voila: it's up on Amazon."
Author Navin Weeraratne also holds a similar belief. He is the author of three novels currently available on Amazon: The Ice Moon Explorer, Burning Eagle and The Hundred Gram Mission. The latter was widely lauded for its research and meticulous craftsmanship. It is a hard science story about the development of an interstellar mission, which touches on topics like antimatter and nanotechnology as well the politics between private and government enterprise.
Speaking to Roar, Weeraratne explained that his reasons for choosing digital publication were threefold: a much bigger market, very low cost, and the advantage of cutting past the gatekeeper culture of print publishing.
But what about local publishers? Does this mean the conventional route of paper publishing is already outdated in Sri Lanka? "What irked me is that local publishers do not seem to understand how fast the world is shifting towards these markets," says Wijeratne. "They treat this like yet another retail outlet. It's not. It's a mercurial and beautifully complex search engine that very few people know how to break, and certainly none that I've met here."
What Works Best In The Digital Medium?
Another reason behind the shift to the digital medium is genre. Genres such as science fiction, fantasy, and steampunk have little presence in the already small Sri Lankan English literature market. For authors in these spaces, having an avenue to the global market is very valuable. Sri Lanka's reading is overwhelmingly in Sinhalese, which excludes it from the global marketplace that deals mainly in English. Also, dedicated e-reader devices are too expensive and not available in the country, which limits the spread of e-books as a popular format.
Wijeratne questions whether an appreciable percentage of Sri Lankans spend money on English books by Sri Lankan authors. "Of that," asks Wijeratne, "how many are likely to pay for a Sri Lankan English science fiction author? I have a much better chance on Amazon by tapping into a worldwide audience of sci-fi fans."
According to Jayatissa, the support her work received on the digital platform was surprising. "It's safe to say that it was not anything like I expected at all," she says. "I didn't really know much about the geek/sci-fi community here prior to this, and the amount of support I've got has been overwhelming and humbling."
Roadblocks
Although it sounds simple, selling on Amazon is no easy feat. It's not quite as straightforward as uploading your work and waiting for the money to roll in. There are thousands upon thousands of authors vying for the same readership worldwide. To have a worthwhile slice of that pie, you need to learn how to market your book in the digital space.
According to Wijeratne, "Optimal strategies for Amazon seem to point to publishing one novel a month, most of them in a series… and preferably having at least two series running in different genres. At least one book in a series ought to be provided free as a way for readers to sample the series (and an easy way to attract potential readers)."
Indeed, self-publishing through the digital space allows freedoms that traditional publishing would not. For example, you could offer promotions where you make your work available for a lowered price, or even for free, for a limited time. This lets people become fans of your work for little to no effort. Something like this would be very costly with print books.
"People are a lot more supportive and generous than I expected," says Wijeratne. "Especially if supporting something doesn't take away too much of their time—so digital is a perfect playground."
Success?
Success is certainly possible if you look at it from a global perspective and not just focus on Sri Lanka. Authors such as Bella Forrest and Michael Anderle sell thousands of books each month and yet many have not heard of them. Then there's Britain's L.J. Ross, who has been described as the Queen of Kindle. The key seems to be having an actually good book that is well written and well edited, to go along with a good marketing campaign. It need not be a massive investment and you might never be as rich as J.K. Rowling, but with enough effort, you just might be able to quit your day job.
Will we see a new generation of English authors in Sri Lanka?  As e-book sales grow each year internationally, and more and more Sri Lankans adopt smart devices for daily usage, it seems likely that a digital shift will come sooner rather than later.
Yudhanjaya Wijeratne is the author of The Slow Sad Suicide of Rohan Wijeratne and blogs at yudhanjaya.com
Mandy Jayatissa's steampunk sci-fi novel The Other One is available on Amazon in digital as well as a print-on-demand paperback.
Navin Weeraratne is the author of three novels, the latest of which is The Hundred Gram Mission.
Featured image credit Ariel Zambelich/Wired