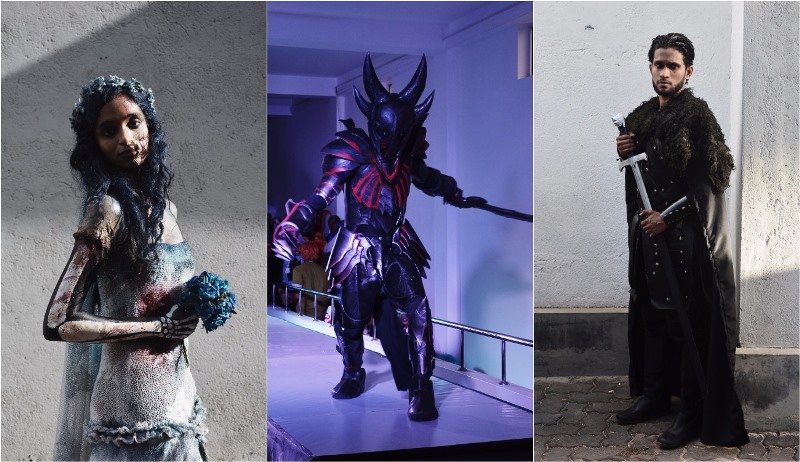 Saturday (20) and Sunday (21) saw the largest gathering of comic book and pop-culture fans Sri Lanka has seen to date. We're obviously talking about Lanka Comic Con 2016, which was held at J. D. A. Perera Hall last weekend.
Organised by the Geek Club of Sri Lanka and the Lanka Comic Con Trust, the second edition of Lanka Comic Con featured a wide variety of merchandise and games (board or otherwise) and cosplaying for fans of all ages.  
Apart from the whooping 175 cosplayers, rare comic books, and designer merchandise, Lanka Comic Con also featured several discussion panels giving a touch of the serious to those who attended. This was especially interesting because it was a display of how Comic Con is not merely a frivolous pastime, but, in fact, a springboard for many serious discussions and ideas. The discussion panels, regardless of the merrymaking and overall entertainment, illuminated attendees on various topics from the classic age of Sinhala comics, to how diversity and equality is presented in comic books.  
Diversity And Equality In Comics: Is There Such A Thing?
At Sunday's panel discussion, Aman Ashraff, Deshan Tennakoon and Isuri Merenchige Hewage (creators of Podi), Sachi Ediriweera (creator of LionBorn), and Thilani Samarasinghe discussed equal and fair representation of women, the LGBTIQA and people of colour and minorities in comics, particularly American superhero comics.
Kicking off the discussion, Thilani noted that, "There has been a huge change in the industry in the last 15 years. You have loads of female writers now; independently, and for the big two, that is Marvel and DC. There are women of colour. And the new trend is that just because you're a woman, you don't write [only] about women in comics anymore," she said.
She went on to point out that, "Even as characters, historically, women have not been given a fair deal. They look hot but apart from that they have not been fairly represented. In the last five years, however, there's been so many women writing comics, winning awards, etc. And they are all from diverse communities. They are finally coming into the light."
As discussed by the panelists, it's not just women; the LGBTIQA community, as well as other minority communities around the world, have started to be represented more in comics; both character-wise as well as in terms of writers and artists ‒ which is no doubt refreshing when considering how limited minority representation was, several decades ago.
This brought the panel to the next question: what drives the diversity in comics? Is it the market? The demand? The so-called 'hype train'?
According to Deshan, it's mostly the market demand.
"In terms of print comics, it's the market that drives the diversity factor. Webcomic series and such are mostly driven by creator and audience factors because you can get immediate feedback. And you can get to know what the community is interested in," he said.
Stereotyping and tokenism, however, have also become part of the package. With a serious market-driven force, it was inevitable that a certain amount of tokenism and stereotyping takes place when writing certain characters. However, most of the panelists agreed that if that's the only possible way that every community is depicted in the comic book industry, so be it.
Aman however, disagreed. "Do it right or don't do it at all. If you're going to do for the sake of doing it, don't do it at all. But if you could rationalise why certain characters are stereotyped, changed, and rewritten from the original context to suit market demands, it would be better. That's where people who've grown up with characters like the Incredible Hulk ‒ who is now an American-Korean scientist who has control over his 'Hulk' state ‒ really find it difficult to digest," he said.
LionBorn: How 'Sinha Sivali' Finally Gets Her Share Of The Limelight
Today, diversity is nothing new for most comics that dominate the international arena. Equality, however, while not entirely absent, is somewhat lacking in most comics. This is a gap that LionBorn seems to bridge. Sachi Ediriweera's maiden comic book series, which takes on the famous local legend of Sinhabahu and Sinha Sivali, gives prominence to Sivali ‒ the female character who is all but ignored in local folklore.
Although the local legend has been recreated in many forms before, (such as Sinhabahu, the stage drama) this is the first time the story is recreated with characters given proper backstories, in the form of a comic book. This is also the first time a local legend is presented  via comic book format to the international market.
And unlike in other stories featuring Sinhabahu, LionBorn introduces Sinha Sivali ‒ Sinhabahu's sister ‒ as a major character in the legend, far from the typical damsel in distress.
"Sivali is a main character in this, because she played an integral part in the legend. She and Sinhabahu were siblings, they went through turmoil together, but she was never mentioned much in the original legend. She was left out. When I was writing it, I thought it was a great opportunity for me to expand on her character, and give her the recognition she deserved," said Sachi.
We read a few pages of the first issue, and can assure you that she is a pretty bad-ass character.
"LionBorn is a character-driven story which allows me to work more on the character dynamics. Sivali has received positive feedback. The original legend has left her out, and suddenly I have given her a different dynamic with a backstory, given her much depth and revealed many character traits," explained Sachi.
"I've taken a lot of creative liberties with this, so I don't think I will receive any kind of backlash. This book might help a new generation of readers to learn about the legend, in a way they have not known about it before," he said.  
Science Fiction Vs. Science Fantasy
Lanka Comic Con also made us realise that Sri Lankans, on the whole, have international recognition in ways beyond what we previously assumed. One of the best panel discussions we were able to attend was the discussion conducted by Dr. Kavan Ratnatunga, a former Hubble Space Telescope astrophysicist, who spoke about the good and (mostly) bad about science in science fiction movies ‒ the perfect topic for the combo of pop culture fans and sci-fi enthusiasts in attendance.
Movies that revolve around science fiction ‒ especially those of the apocalyptic kind ‒ are no doubt highly entertaining. However, do these movies have any factual basis? Do they conform to the rules of science, and most importantly, are any of the situations depicted even remotely realistic? In Dr. Ratnatunga's opinion, however, most of these so-called science fiction movies are, in fact, science 'fantasy'.
After showing the audience a short clip from the 1998 thriller, "Armageddon", Dr. Ratnatunga proclaimed "There is enough nonsense in that for me to cover the entire discussion."
Dr. Ratnatunga was, for the most part, mildly amused at many of these so-called sci-fi movies.
"I don't think there are many people making science fiction movies, because most of it is simply science fantasy. I think when we look at the difference between science and fantasy, there are certain things which are contradicted by science, and that should not be allowed. But there is a lot [that is] unknown. Science knows very little about the universe. So you can speculate in that domain, but once it comes to actual facts that we understand, science fiction should not contradict that. And that is what movies do."
In response to a question many Star Wars and Star Trek fans had, as to which show has the most accurate science, Dr. Ratnatunga said "Both have their very own complications."
Sri Lanka's Very Own Wonder Woman: Jayanthi Kuru-Utumpala
As you may have realised by this point, Lanka Comic Con isn't just for the "nerds" and "geeks" to come together to play dress up and swap merchandise: it is also a celebration of  ideas, experiences, and various achievements.
On Saturday, a very special tag was given out during one of the sessions at Lanka Comic Con. This tag,  the "Superhero" tag, was awarded to Jayanthi Kuru-Utumpala, the very first Sri Lankan to summit the 29,029-foot Mount Everest.
Just before dawn on the May 21 this year, Jayanthi summited the world's highest mountain. Fellow mountaineer, Johann Peiris, who was also attempting to summit that day, made it to an outstanding elevation of 27,559 feet.
Jayanthi ‒ Sri Lanka's very own Wonder Woman ‒ speaking at the Lanka Comic Con said that she was very proud to have taken a stab at the glass ceiling.
"I faced many discriminatory remarks when some heard of my dream to summit Everest. Some people have even asked Johann why he's attempting such a thing with a girl," she said.
"It was a dream come true to literally and figuratively stand at the top of the world and wave the Sri Lankan flag. I did that as a woman. I believe women and girls can do anything if given the opportunity," she said.
Jayanthi related her adventure from the previous peaks they had climbed, to the training, to the final destination after years of working towards it.
Beyond Cosplaying
The fact that 175 (or more) people made the effort to cosplay is definitely commendable. The time and dedication that went into some of the costumes we saw (the Predator cosplay had apparently taken over six months to finish!) left us amazed and in awe (scroll down to check out images of some of the cosplayers).
However, what we loved most about Comic Con this year was the fact that it provided a platform for serious discussions to take place: it took comic books and movies out of a private realm and internet forum boards to something discussion-worthy, giving it the same amount of attention and respect usually reserved for other topics, traditionally considered weightier.
Additionally, this year featured several science panels, including a panel on space and astronomy, with representatives from Young Astronomers' Association and Foundation of Astronomical Studies and Exploration. We also met with two young boys who, while studying for their A/Ls, sent a balloon into sub-space, a difficult feat, by all means, and especially inspiring considering their youth (more on that soon, so stay tuned!).
Frankly, we'd like to see more events like this: events where people who have different tastes and interests are able to congregate and prove to the world that they are more than just frivolous fans out to have some fun, events which respect differences and celebrate human efforts to tell stories that have captured us for centuries, and continue to captivate us through different forms and media.
Gallery images and featured image credit: Roar.lk/Minaali Haputantri