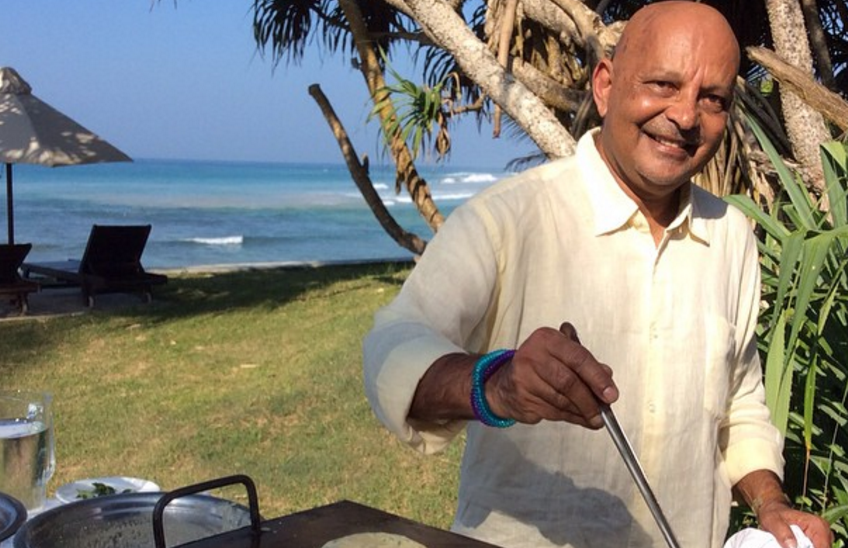 Earlier this year, Roar's Australia Correspondent, Kelum Wijewardena, met up with Masterchef 2011 finalist, Kumar Pereira (who is currently touring Sri Lanka) in Melbourne, for a chat on food, cooking, art, and more food.
It was to be the week from hell. Damitha, the president of Future Foundation for Kids and the chief architect of Lankan Fest 2016, hastily rang me one evening to ask if I was free for lunch on Saturday. The fact that I was the only foodie friend who was free and in close proximity to the city obviously had nothing to do with it, so as always, I complied. He then dropped the bomb ‒ and handed me the task of finding a suitable eatery as he was going to invite Masterchef 2011 finalist and special guest at Lankan Fest 2016, Kumar Pereira.
Now, my belief is, food should be a medium that brings people, communities, and cultures together. Hence, I am up for anything, at any place, and at any time, as long as it's surrounded with good company (and chili). But the idea of finding an eatery suitable for a Jedi Master of cuisine, gave me a mortal fear of failure that I had not experienced since sitting for the Year 5 scholarship exam eons ago. I devised a cunning plan and emailed the master, asking if he fancied any particular type of cuisine, while also slightly hinting that my personal happiness came in the form of a bowl of ramen. Kumar's very simple reply of "I would love that (meeting for lunch) and have no preference as I love all food! Ramen is one of my favourites although I am a wimp when it comes to chili!", gave me a calming reassurance that Kumar might also share my view on the inclusivity of food culture. After making plans and picking a special restaurant, I waited eagerly for the special day.
As Saturday dawned my weekend errands were arranged and planned to precision and I made my way to the city awaiting this special encounter set at the auspicious time of 11.30 a.m. The Sri Lankan in me was running (literally) a bit late when I received Kumar's text saying he was already there and was wearing a green shirt. I quickly messaged back saying I was the guy in a blue jacket running like the cops are chasing him. When I finally got there, even before I could introduce myself, he was laughing, "Quick, where are the cops?" and then we both had a laugh.
As we walked down the sunny streets of Melbourne we talked about simple stuff, Kumar's flight, the funny and unpredictable nature of Melbourne weather, travelling, and what not, until the conversation converged towards food. Kumar's mind was unfolding bit by bit and I was in awe. He was describing recipe ideas that would redefine Sri Lankan cuisine, in an amazingly good way. The Sri Lankan mindset, unfortunately, especially regarding food, is still very conservative. The food culture in Sri Lanka is still somewhat at its infancy and experimentation is not a risk mainstream chefs would like to follow. Conversely, the world is moving in a far more gastronomically advanced direction. The likes of Ferran Adria, Heston Blumenthal, Tetsuya Wakuda or even David Chang and a myriad of celebrity chefs have revolutionised how we look at food. Their collective imagination and creativity has given us a real life glimpse into the very mind of Willy Wonka. Even the likes of Peter Kuruvita have emphasised the importance of Lankan chefs moving away from a culture of just serving rice and curry. Kumar is not turning his back on these heavenly Lankan treats; it's just that the world is looking for something beyond the simplicity of a home-cooked meal. Modern gastronomy dictates a sense of innovation and the use of new techniques as well as new ingredients to create mouthwatering delights, and Kumar is at the forefront of it.
By this time we had arrived at our destination. All that talk had just made the trolls in our stomach grumble. There was about a 40-minute wait at Hakata Gensuke, Melbourne's best bowl of ramen. This was good as we were still one man short of a full deck. The conversation switched to ramen and then to travel and then to New York. I quickly recounted the story of another Kumar, fondly known as the Dosa Man, a food story of resilience and hard work, the kind that dreams are made of. This is when Kumar divulged his idea of a food cart serving red rice hoppers.
Kumar of NYC's dosa cart is the talk of the town, and his food is considered extremely healthy, vegan food that even the staunch carnivorous meat enthusiast could enjoy. With the world moving towards healthy eating, even dishes like Japanese donburi and sushi are using brown rice and we had no doubt that brown rice hoppers would be a big hit in the ever growing world of street food. In fact, Kumar mentioned that the famous hoppers cart in London, Weligama, had already started on a brown rice variety. Instead of being disappointed that his idea was being used by someone else, he was excited that the wonder of this flavour was being introduced to a different part of the world. Just then we saw the third musketeer of this excursion making his way to join us, and soon we were seated ordering our broths of heaven.
Kumar was beaming again, excited like a little kid when his bowl of black ramen (a broth infused with black sesame paste) was laid in front of him. He quickly took a picture and laughed saying, "My wife is going to be angry that I'm enjoying ramen without her". The conversation revolved around the origins of ramen and how it became this world phenomena. I was in my element, explaining all the intricacies of ramen slowly but surely being the young padawan impressing the Jedi Master.
Talking about food excites Kumar; he enthusiastically described to us his creations, like kiri bath balls ‒ balls of coconut milk rice filled with seeni sambol, or whatever that takes your fancy, served in small paper cups. This simple innovation of a culturally significant Sri Lankan classic has now opened the doors for it to be available not just at a lunch or breakfast table, but to a wider world. Imagine a cocktail event serving a variety of kiri bath balls instead of, say, Italian Arancini balls? Or serving kiri bath balls filled with pani pol for tea? The possibilities are endless.
As renowned journalist and food enthusiast Michael Pollan said in his new series Cooked, 'cooking is alchemy, it is transformation' and that is exactly what Kumar is pursuing. His latest experiment is cooking with coconut water, Sri Lankans are extremely proud for utilising every single part of the coconut tree except the water that escapes when the coconut is cracked. Kumar has been trialing cooking with coconut water that is otherwise wasted. He has cooked rice, added it to curries, desserts, and of course, drinks. His speciality is using it in rice, though as he said the sugars, while giving a distinct sweetness to the rice, do run the risk of over-caramelising at the bottom. His suggestion is to perhaps add 50% of water to the mix. The food ideas that were coming from Kumar were radical and would shake the mere foundations of Lankan cooking.
Another one of his recent geniuses has been a dairy free panna cotta made by blending water-soaked cashew nuts into a paste and reducing it on a low flame in a mixture of, surprise surprise, coconut water. The distinct flavour and texture of the cooked cashew paste is almost revolutionary. Kumar says you cannot tell the difference between his version and the regular cream-based panna cotta (panna cotta is cooked cream). Moreover, it's much healthier, uses less sugar, and is ideal for anyone who is lactose intolerant or prefers a vegan diet. We could have stayed for days talking about food and its ever-evolving relationship with people and culture but as always, time was of the essence, and we had to return to life.
As we finished our lunch and were heading off, Kumar wanted directions to a certain bookshop, since I was familiar with the place I offered to be his guide. This is when he told me of another one of his pet hobbies, illustrations and art. His genius doesn't end with food; Kumar is an extremely talented artist and has been working on a series of food and produce inspired illustrations. Paletteables: From Palette To Table, a set of six illustrated cards and envelopes of edible fruits, vegetables, and flowers, was something he was working on last year. These illustrated cards are blank except for a brief cooking tip or recipe on the inside. They come in a cellophane pack and are available in Australia and worldwide. Melbourne bookstore, Books for Cooks, has shown interest in selling them, and that's where he was heading. When he showed me the samples, I was simply speechless. There seemed to be no end to the brilliance and talent of this very simple, jovial, and good natured man. I felt very fortunate to have met him.
I bid him goodbye at the bookstore saying we'll catch up at the festival, but the demands of organising and volunteering at a big festival meant I only saw him very briefly just before he left. Anyone who knows me would say I love cooking, which I do, however meeting and conversing with Kumar has not only reinforced my love of cooking, but has further opened my mind to the endless possibilities of, not only cooking but every endeavour we pursue in life. As we shook hands and bid each other farewell, we made a pact to catch up over a meal when we met again, whether it be in Melbourne, Sydney or anywhere out there in the wide world.
Kumar has now successfully launched his hopper cart, aptly named Hopper Kade which has been a big hit in the Sydney food scene and was also featured on the Morning Show on Channel 7. Kumar is currently doing a culinary tour of Sri Lanka, which includes various cooking demonstrations as well as a tour of the East coast. He's hoping to use local produce and introduce his travel group to new tastes. We wish Kumar all the best with his future endeavours.