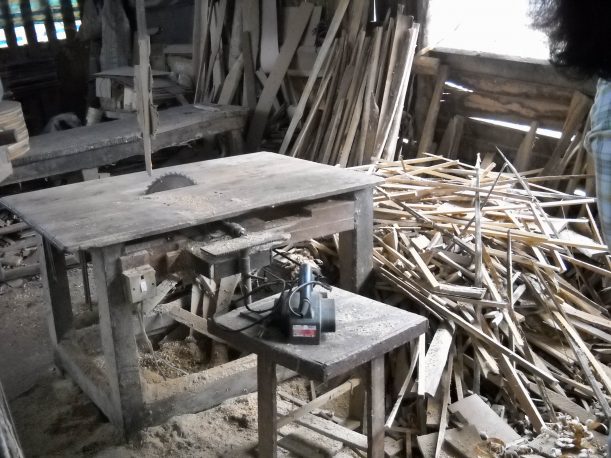 Sri Lanka's wood working industry occupies a special place within the country's culture. From ancient pettagamas to cupboards with intricate designs, traditional Sri Lankan furniture reflects a unique, and relatively relaxed way of life favoured by the islanders. Chairs are made so that they lend themselves well to a quick afternoon nap, and tables are built so that lots of people can gather around to enjoy a hearty meal. Because after all, when you live in the tropics, you ought to give yourself time for some quality R&R. The heat is no laughing matter, you guys.
Pretty much every good piece of furniture in this country can be traced to Moratuwa, a suburb of Colombo around 20 kilometres away from Fort. However, it is not Moratuwa that can actually claim to be the heart of Sri Lanka's wood working industry. That credit belongs to Moratumulla, a borough of Moratuwa which is home to a large community of woodworkers who've been in the business for generations.
Note: Even though the community is now spread out around the entirety of Moratuwa, if you want the best, you should really go to Moratumulla. That's what the Sri Lankan Aunty Community told us.
According to this study from the University of Sri Jayawardenepura, Moratuwa churns out almost 64,000 units (63,612 to be exact) of furniture per month, which is spread out between 41 different types of products. Of this, teak cabinets, teak cupboards, and teak chairs make up the most of the output.
The revenue from those 64,000 units translates into an estimated monthly revenue of around Rs. 54 million. In annual terms, that's a revenue of around Rs. 648 million. However, that figure only amounts to 0.007% of Sri Lanka's GDP. Yes, it really is that small, and no, that is not a typo. That said, it is also important to remember that the industry's productivity is very low since local workers are still very much dependant on hand tools, and a few power tools here and there.
The very same study which we've referenced above, contains another very interesting fact about the types of wood used by the craftsmen of Moratuwa. Apparently, 83% of the region's output is manufactured using heavy wood species like teak, and the rest is manufactured using light wood species. Unsurprisingly, eak is the most popular, while satinwood (aka burutha), and nadun come up second and third.
There is nothing mysterious about the way furniture is made in Moratuwa. Countless shops line both sides of the road in Moratumulla, and you can take your time to look around. Once you find something you like, you can place an order. Normally, you'll have to pay an advance of around 30% to 50% of the final price. Once that is done, the owner of the shop (who will normally have a few people working under him) will procure a suitable type of wood. He'll first go look in his warehouse, but if he doesn't find any, he'll buy some from the open market. The type of wood used depends on the price, finish, and the preference of the customer.
The next steps in the process are pretty straightforward. The wood is marked, and cut into pieces, after which it is assembled together. Next, imperfections are dealt with, and the 'finish' is applied. Though it is only one word, the finishing process is often the most tedious, requiring multiple coats of paint, polish, or something similar. Once all that is done, the furniture is delivered to the customer.
The craftsmen of Moratuwa employ three methods to come up with designs for their products:
Custom designs provided by clients
Traditional Sri Lankan designs
Designs from foreign furniture catalogues.
Anyone with a keen eye for design would recognise that Sri Lankan furniture designs have been influenced tremendously by the Dutch. In fact, the designs of most furniture we Sri Lankans use today, can be traced back to the Dutch era.
The designs used in Moratuwa nowadays though, tend to be a blend of traditional decorative elements from the Kandyan era, and structural designs from the Dutch era. An example of a traditional design element would be the floral patterns which so often adorn locally made furniture, while the low set design of chairs such as the one below belong to the Dutch era.
Despite being famous as a place where you would go to buy quality furniture that would last a lifetime, Moratuwa is facing intense competition when it comes to low-end products. The threat comes from fibreboard furniture (locally referred to as 'MDF board') which is very cheap, and lightweight, but does not last long. However, fibreboard does tend to be popular among low-income households, and that has proven to be a problem for furniture vendors who rely on a low-price, high-volume strategy to keep the cash register chiming. Of course, this is not a problem for furniture vendors who put quality first, and thus, can afford to charge a higher price.
The next time you go shopping for furniture, make it a point to visit Moratuwa, if you can. You'll really learn a lot from talking to the vendors, who are very knowledgeable, and will go out of their way to help you. Plus, if you do your due diligence properly, you can be sure that your new bed won't fall apart after a year or two.
Cover image courtesy: lms.sjp.ac.lk