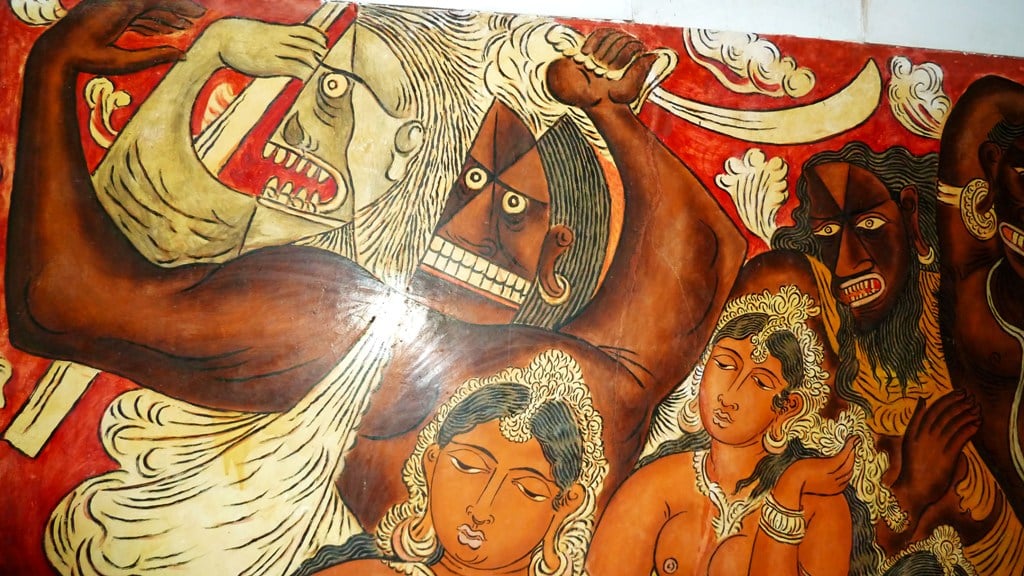 Would you believe that some of Sri Lanka's most awe-inspiring artwork can found in Buddhist temples in and around Colombo? Leading artists in Buddhist art, Sarlis Master, George Keyt and Solias Mendis have each painted captivating murals in the interior of temples in (and just outside of) Colombo.
Each of the three artists were drawn to Buddhism and each were dedicated to producing splendid depictions of Jataka tales (stories about Buddha's life) in their own unique style of art – which is quite unlike the typical Buddhist temple art of Sri Lanka.
'Renaissance Meets Buddhism'
That's the first thing that crossed our minds as we wandered through the impressively painted interior of the Asokaramaya temple. Located at the top of Thimbirigasyaya, Asokaramaya was built in 1916 by a wealthy merchant, D.D. Pedris in memory of his son, Henry Pedris, who was wrongfully executed by the British.
Sarlis Master, one of Sri Lanka's top painters of Buddhist art, was commissioned to paint every inch of the walls with Jataka stories. Sarlis Master's work is indeed exquisite, but what stands out the most is his style. His love for Renaissance art is manifested in his work. Far from the typical Buddhist temple art, the walls of Asokaramaya portray Buddha and his contemporaries in intricate realism, with attention to detail (folds of material and shadows) and the chiaroscuro technique, which gives the painting depth, and make objects appear almost three-dimensional.
It does feel oddly…at odds. However, this is precisely why the rare mash up makes for a wonderful art viewing experience.
Cubistic Jataka Tales
While Sarlis Master is shrouded in obscurity, (no one knows how old he was or anything about where he learnt his amazing style of painting) the contemporary artist, George Keyt, is not. The cubist has won international acclaim for his paintings. Cubism is a slightly more abstract form of art that was established by the likes of Pablo Picasso and George Braques, gaining popularity and becoming the 'hip' style of painting in the 20th century.
George Keyt's impressive cubistic murals of the life of Gautama Buddha are displayed inside a lesser known quiet little temple known as the Gothami Vihara in Borella. The temple is often locked, but if you ask the one of the monks to open it for you, they are very obliging. Unfortunately, though, we were told we could not take pictures. So all that we have posted for you here, is what we could find after conducting a swift Google search.
A Little More Traditional
Finally, Solias Mendis. Having started work on the sprawling Kelaniya temple in 1927, it took Mendis 19 year to complete. The paintings are of varying sizes at different sections of the temple, of a few different styles. In the span of almost two decades, Solias must have developed on this style or may have wanted step aside from the monotony of a single style. What we do know however, is that most of his murals are of his own unique style, having adopted and blended Indian and Sri Lankan traditional Buddhist art styles.
Solias Mendis's work is a little more traditional when compared to the works of Sarlis Master and George Keyt, but his attention to detail is extraordinary. From varying facial expressions to strands of grey hair, the effort that has gone into the beautiful murals is hard to miss. Another interesting feature is that Mendis seems to have focused solely on painting stories of the Buddha's life while he was in Sri Lanka and events that ensued here in Sri Lanka – up until the Dutch attacked Buddhist temples as the island was impelled into the Colonial era.
If you haven't checked the artwork in the temples before, and are on the look out to do something different in Colombo, we would highly recommend a Buddhist art tour to these three temples.