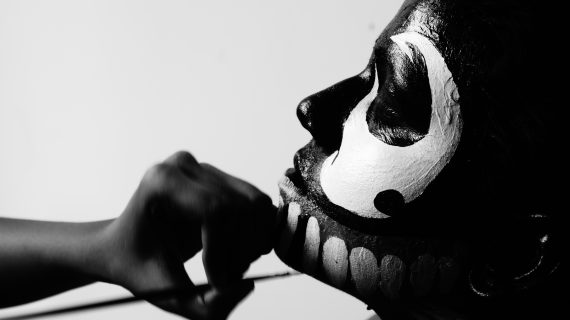 Last year saw Sri Lanka's first ever comic convention in what was probably the biggest local gathering of geeks the country had seen. A part of the Cyber Games Festival 2015, Lanka Comic on was an immediate hit with our diverse geek culture (yes, Sri Lanka's got one. Get your head out of that hole in the sand) with all its cool events, geek goodies, comics, and art, but what truly caused a sensation was its brilliant and unprecedented foray into…cosplay.
Yes, cosplay. Costume Play to those of you who aren't familiar with the term. That incredible but locally-rare practice of wearing costumes in order to portray a fictional character from a comic, manga, video game, TV series, cartoon… well, just about anything you like, really. Basically, you put on a cool outfit, affix yourself with a bunch of props, slip into the skin of your character and then poof, that Sahan, Raj, or Sarah is gone, only to emerge (temporarily) as the Joker, Naruto, Loki, Catwoman, Ichigo, Black Canary… we could go on till doomsday, but you catch our drift. The possibilities are simply endless.
It's a relatively new concept to Sri Lanka, but our cosplayers certainly pulled out all the stops at last November's Lanka Comic on with an array of exciting and creative costumes which dropped jaws (Poison Ivy would be a good example of this), elicited laughs, and drew a lot of admiration, excitement and fun (we take our hats off to Oswald Cobblepot and Captain Haddock, but everyone looked great really). Now this year, the event is back with a bang with Lanka Comic Con 2016, taking the local geek community ﹘ and half of Colombo ﹘ by storm. It sounds promising, and judging from all the posts on our newsfeed, people seem pretty excited about it, but what most of us are especially looking forward to again is the cosplay.
Want To Cosplay? Go for it!
Contrary to popular belief, cosplaying does not automatically relegate you to the Sheldon Cooper stereotype of geek, or permanently affix you with a label of some sort ("I can't cosplay, cosplaying is for nerds!" Though just to be clear, there's absolutely nothing wrong with being a nerd, but you get our point). It's OK if you do not know how to speak Klingon or identify the members of the Akatsuke, or if you can't tell Nightwing from a hole in the ground. Cosplay is for everyone. It's a once-in-a-while chance to step out of this humdrum world of impending exams, horrible bosses, and maddening deadlines and step into those fictional worlds of swords and capes and cat suits we sometimes long to escape into (oh just admit it, why don't you?).
Of course, a costume can always be bought, but Sri Lanka doesn't really have cool cosplays like those you can find abroad- and even if we did have them, they would definitely cost a leg and an arm to purchase. Besides, wearing a ready-made, store-bought cosplay somehow does not seem entirely as satisfying as wearing one you crafted by yourself. That's right ‒ we said by yourself. Making your own costume from scratch might sound like one heck of a Herculean task, but with a little hard work, it can be done, armour, cape, weapon, and all! And what's more, we can guarantee that you'll enjoy it.
In an attempt to familiarise you folk with the art of cosplaying, we spoke to a few cosplayers who have been working on their own costumes and props for this year's Lanka Comic Con. These guys have been crafting their cosplays right from scratch in preparation for the big day, researching, welding, gluing, planning, measuring, painting, and even sewing, for months on end to perfect their creations, and were happy to give us some insight into the process. Listen and learn from the experts!
Here's What The Cosplayers Have To Say…
Kashan Bahar (Rider Viper to you) has been cosplaying since he was a kid, where his first cosplay consisted of an old red and white hoodie, a handkerchief, a tree branch, strings, and star shaped cardboard cutouts (a ninja to you anime newbies). "I didn't put much effort into those ninja stars but I was having fun," he says.
Kashan, who attended last year's Comic Con as One Piece's Roronoa Zoro ("The clothing wasn't that great, but my handling of three swords worked well… and hurt a few heads") and Naruto villain Zabuza (that was the cosplay with the really gargantuan sword, if you recall it) makes his own cosplays from scratch because it's both cheaper and more challenging. According to this seasoned cosplayer, while the process can be hard at first, it gets easier as you get into stride. "The main problem factor would be time, because crafting always takes a long time," explains Kashan. "However, having experience can speed things up."
For instance, while it initially took him around three weeks to craft a durable working lightsaber, he is now familiar enough with the process to finish one in a day. "Metal and cardboard durable swords still take three days to make and paint. Most clothing and robes I sew on my own ‒ sometimes with the help of family and friends ‒ with the exception of pants and t-shirts, which I usually buy and then cut apart."  Painting, he claims, is the worst, as it can take hours to both do and dry.
Talking about from where he sources his material, Kashan tells us, "Pettah is the paradise for materials. They have almost everything ever needed."
However, not everything he finds is from Pettah; you can sometimes get cheaper things from other places too. For instance, when it comes to the aluminium sheets for swords, pipes for light sabers and the wiring for the lights, Kashan (who seems to be somewhat of a weapons expert, if his last Comic-con cosplays are anything to go by) sources them from New City Hardware at the Kohuwala Junction. For those aspiring cosplayers who might need electronics of any sort for a costume (yes, costumes often make use of electronic items like lights and switches), Kashan sources them cheaply at a long running shop in Nugegoda called Kelum Electronics. "They've been around for over 30 years," says Kashan. "You can find them at 16/C, Thilakarathna Mawatha, Nugegoda."
If you think you need props like wigs or rubber masks, he recommends Z.N. Traders, which is "run by a nice man" who has his shop at 141/1, London Suiting Market, Mainstreet. "For the ever so famous EVA foam, Nazra Leather Stores has them," shares Kashan. "They are at No.96, Prince Street."
"The whole process of making just one costume alone can be daunting," says Kashan. "But I guess the thought that people can be inspired by what I do is what makes the work easy."
Kashan's  main cosplays for Comic Con 2016 remain a secret, but in the event he is not able to finish them (yes, he is still working on them), we will be seeing him with a backup floor costume of Kyle Katarn from Star Wars.
Well, whatever he ends up wearing, we can't wait to see it.
Chathurinda Sumithraarachchi who is a huge batman fan has two costumes ready for Lanka Comic Con: DC comics' Nightwing, and a variation of Batman. His Nightwing costume is his own version, which he designed and created from scratch, using cardboard.
"First, if I'm going to make a costume to cosplay, I need to decide if it's going to be an accurate replication of the source material or if I'm going do my own take on a character," explains Chathurinda. "After that I would research every bit of information I can on that costume by Googling it."
Chathurinda uses a method called pepakura (no, that's not a typo, it's an actual word) which involves converting 3D objects into 2D patterns and assembling those parts to create the 3D object in real life. It sounds a bit like rocket science, but once you get the hang of it, the process isn't all that difficult, and he has great tips for you on his Youtube channel. "You can use foam or cardboard. I tend to use cardboard because it's easy for me to handle, and free. When putting together the cardboard parts I use hot glue," he says. Check out the pictures of the making of his cosplay below ‒ looks pretty cool, doesn't it?
Watch the Batman mask emerge! Credits: Chathurinda Sumithraarachchi
Chathurinda buys his electronics, hot glue guns (Rs. 400-450) and hot glue sticks from Senith Electronics in Borella, but those are items which you can purchase from pretty much any electronics shop. The cardboard he simply gets free! "They throw the stuff away at supermarkets, so if you ask, they just give it to you," he says.
Cosplaying can be a pretty costly business ("If you use foam, the cost could be as high as Rs.20,000, depending on the amount of foam you will be using"), but Chathurinda claims that he can manage to keep his cosplaying budget under Rs. 1,500.  "For me, cosplay isn't that expensive because I use cardboard. The things that cost me were the hot glue ‒ Rs.10 per stick ‒ and paint!"
Chathurinda has one more tip to share with anyone who might want to try their hand at making a costume. "If you decide to make props with cardboard," he says. "You'll have to cover the inside of it with polythene or else the sweat would destroy the cardboard prop." Even if the costume is made of foam and includes electronics, he advises folks to make sure that the electronic parts are well covered with polythene. You might want to take his advice- those costumes may be cool, but they also make you sweat like crazy.
If you've been keeping track of Lanka Comic Con events, you might have noticed the sword-wielding, faceless Daedra (from the game Skyrim) in full armour in their pictures and videos. Looking at that elaborate getup with all its armour plating, pointy projections, and complex bits and pieces, you'd think it was a store-bought costume, or at least one made by a professional cosplayer with donkey's years of experience, but it's not. The costume was actually made right from scratch by a first-time cosplayer.
Sahan Perera took about 2 months to complete his elaborate Daedra cosplay. "It was a pretty hard job," he says. "There were many problems with making the costume fit, and being able to put on and take it off without damaging it!"
Sahan explains that his costume is made of EVA foam, which he managed to find at Pettah (what can you not find at Pettah?), and that creating it involved drawing and tracing patterns, cutting, sanding, sewing, as well as using heat guns, hot glue, and a Dremel cutting tool. The cutting tool and hot glue gun was bought from Armours Street, but like Chathurinda pointed out, you can generally get these things from any electronics shop.
"First I drew the patterns on paper and then traced it on the foam," explains Sahan. "Afterwards I cut it out of the foam. The bending was done using the heat gun and the shaping and sanding of the pieces was done using the Dremel cutting tool."
Making the armour plates for the chest armour. Credits: Sahan Perera
Most people would take one look at the real depiction of a Daedra and run for the hills at the thought of replicating it, but hey, don't let that scary armour put you off. It certainly seems a complex process, but if this first-timer can do it, then so can you! However, unless you have the cash, the patience, and the perseverance to pull this one off at first try, we would advise amateur cosplayers to start smaller.
Making your own cosplay can often require a few months on end, a ton of energy, late nights, unwavering dedication, a reasonably full wallet, a lot of Googling, a bottomless well of creative juices, and dogged perseverance before it can be pulled off, but it can also be fun and incredibly satisfying ‒ especially when you finally outfit yourself in the fruits of your toil and see your transformation!
Lanka Comic Con is just two weeks away, but according to Chathurinda, it's still not too late to start working on your costumes. "I'm making my new batsuit from scratch and it's a version that has not been cosplayed anywhere in the world so far… so yes, it's possible," he says.
However, if you are planning on cosplaying at this year's Comic Con and you haven't started on a costume yet, then you might want to pick something simple and undemanding ‒ no Daedras, I'm afraid ‒ but there is always next year!
"Start with Googling 5-minute cosplays'," Kashan advises anyone who wants to take up cosplaying. "Challenge yourself to do something you like, and then do more. It doesn't matter how terrible or poorly it turns out."
So go on, take that leap and try your hand at cosplaying. You can start small and slowly progress on to bigger things, or if you think you can pull it off, you can begin with a bang like Sahan. Then put on your costume, take up your weapons, and let go for a while.
Or as Kashan says, let's battle.
Lanka Comic Con 2016 will be happening on the 20th and 21st of this month at the JDA Perera Gallery, Horton Place, Colombo 7 ‒ try to keep the weekend free! You can check out more details on their Facebook event page, or the Lanka Comic Con website.
Roar – Life is the official online media partner for Lanka Comic Con. Stay tuned for more!
Cover image courtesy: Roar.lk/Gazala Anver