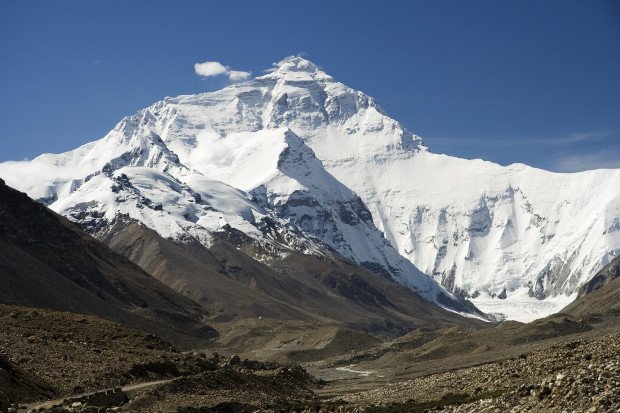 To the everyday Sri Lankan, the idea of actually scaling Mount Everest will probably sound about as fantastic as landing on the moon. Yet, to two aspiring Sri Lankans, this is an accomplishment just waiting to happen.
Meet Jayanthi Kuru-Utumpala and Johann Peiris, the dynamic mountaineering duo who are ‒ quite literally ‒ aiming for the highest. With over a decade of mountain climbing experience under their belts, these seasoned adventurers have already tackled some pretty rough mountain terrains, from Mount Kilimanjaro in Tanzania to Imja Tse in the Nepali Himalayas. Now, this spring mountaineering season, they want to go one step further and master one of the greatest challenges known to man ‒ conquering the Everest.
Taking On Mount Everest
Standing at 8,848 metres above sea level on the border of Nepal and China, this awe-inspiring manifestation of nature presents some of the most extreme mountaineering challenges in the world. Mount Everest is the tallest peak on earth, and it is for this very reason that it encompasses such a hazardous terrain. Apart from the sheer height involved, the high altitudes itself give rise to myriad dangers, so climbers are constantly in battle against adverse weather, crevasses, avalanches, altitude sickness, hunger, sleep deprivation, snow-blindness, and exhaustion. Ever since Edmund Hillary and Tenzing Norgay first conquered it in 1953, successfully scaling this Himalayan peak has become the literal and figurative summit of every mountaineer's life.
Over the years, Mount Everest has seen countless people attempt to follow their footsteps. While many have succeeded, scores of mountaineers have faced failure, and even death, on its slopes.
Climbing the Everest is more than just a physical challenge; it is also a test of endurance and courage, the ability to will yourself on and on even under the most taxing conditions. And what is more, once you reach the peak, there aren't any escalators getting you back down ‒ summiting the Everest also involves the brutal climb back down. As Edmund Hillary famously said, "It is not the mountain that we conquer, but ourselves."
Jayanthi and Johann however have faith that they have what it takes to get themselves to the top ‒ and back down.
Meet The Mountaineers
When she is not climbing rocks or undergoing rigorous training, Jayanthi is a leading women's rights and gender expert. Even as a child, Jayanthi had always harboured a secret desire to one day climb the legendary Mount Everest, and amazingly, she is now pretty close to living her dreams.
Asked whether she has ever encountered any difficulty on account of being a girl, Jayanthi responds with an emphatic "Not at all." However, she is acutely aware of the fact that girls in Sri Lanka are often actively discouraged from taking part in sports, and hopes her success will inspire people to change that stance. In fact, with her combination of skills in both gender studies and rock-climbing, she is more than well equipped for the task of promoting mountaineering in this country, while also advocating for increased participation of females in the sport.
Her family meanwhile has always been nothing but diligently supportive of all her exploits. "They are terrified," she laughs. "But completely supportive."
The other half of this adventurous duo, Johann Peiris, is an incredibly popular name in Colombo fashion circles.  The proprietor of Cutting Salon, and one of Sri Lanka's most brilliant hair and attire designers, Johann was first a professional singer, dancer, and actor.  Mountaineering might seem a rather strange element to add to the mix, but he has always been an ardent outdoorsman and draws on the beauty of nature to inspire creativity. Johann's penchant for the outdoors was sparked during frequent expeditions with his father to the Knuckles Mountain range when he was young.
Jayanthi and Johann have been mountaineering as a team since they reached the summit of Mount Imja Tse together in 2011. With the technical climbing skills from Jayanthi's end, and endurance and stamina from Johann, they believe they make an ideal combination, always pushing, encouraging, and looking out for each other when the going gets tough ‒ which is nearly always the situation in the case of mountaineering! They have already scaled many mountains both in Sri Lanka and across the world, and are now hoping to be the first Sri Lankans to ever summit the legendary Mount Everest.
To this intrepid pair, pulling off this incredible venture isn't just about the thrills, the adrenaline rush, and personal glory. In fact, they have dedicated their expedition to all the ideals they advocate, their families, and the people of Sri Lanka. If they succeed, their victory will be a victory for the whole country, a chance to add mountaineering to the long list of fields in which Sri Lankans have made their indelible marks.
Meeting The Budget
It takes a certain amount of pluck, grit, and sheer courage to take up the brutal challenges of climbing the Everest, but Jayanthi and Johann seem to have plenty of it. They have been training for this expedition since January 2015. They are experienced, physically fit, psychologically conditioned and more than ready for the adventure in every way but one ‒ funds.
Mountain climbing, it seems, does not come cheap. In fact, the total cost of the entire venture, including training, clothing and equipment, air fare and accommodation, is estimated to be a whopping USD 136,000. If you are interested in their venture, or keen to help them become the first Sri Lankans to successfully scale the highest mountain in the world, you can visit their crowdfunding page on indegogo.com. You can also get more details, as well as exciting insights on some of their previous expeditions, on the Everest Expedition community page on Facebook.
Here's to hoping they reach the top!