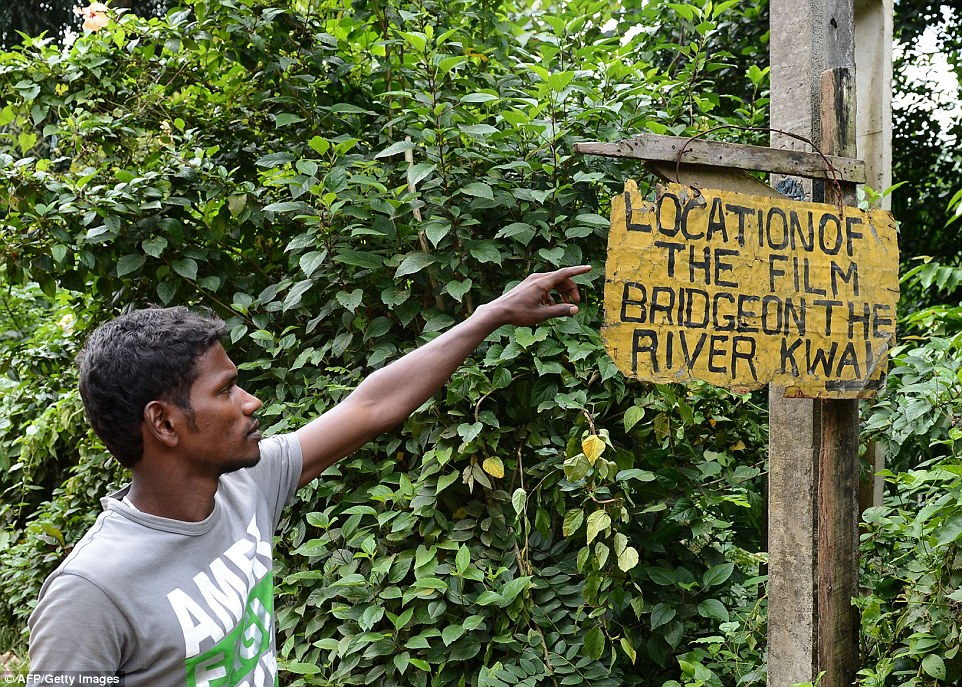 Sri Lanka is known for many things: tea, gems, exotic beaches, wildlife, cricket and politicians. But did you know that Sri Lanka is also a good film location? Turns out, there are over 40 International movies filmed on location in Sri Lanka – some receiving high praise and industry recognition, and some exemplifying everything sketchy. Here's a list of top 3 movies you might have known were shot in Sri Lanka and another list of 3 movies that had us wondering if people didn't have better uses for their money.
The Top 3
Bridge on the River Kwai – we've all grown up hearing legendary tales about this movie shot in Sri Lanka but did you know it rates 94% on Rotten Tomatoes and an 8.3 on IMDb? Those pictures we've all seen at the Kithulgala Rest House are quite the bomb, not just literally.
Shot along the Maskeliya Oya and Peradeniya Botanical Gardens, the blowing up of the bridge is also known as one of cinema's most iconic moments. Directed by David Lean and starring Alec Guinness and a constructed wooden bridge (425 feet long, 90 feet above water and costing an estimated quarter of a million dollars…and later blown up), this WWII drama tops our list of movies shot on our beautiful island. Needless to say the actual bridge in Thailand is a concrete and girder structure, nothing like the wooden bridge we see in the movie.
2) Water – Deepa Mehta's 2005 movie starring Lisa Ray, John Abraham and Seema Biswas comes in at number two on our list, scoring a 7.8 on IMDb and and a 91% on Rotten Tomatoes. As it often happens, when directors have trouble filming movies somewhere in Asia (twice for Deepa Mehta; Midnight's Children, too, ran into a roadblock), they all land in Sri Lanka.
Filmed under a fake title called "Full Moon," the movie is set in Varanasi but due to threats and demonstrations by Hindi fundamentalist groups, it was relocated to our paradise isle. Some of the footage filmed at the original set in Varanasi featured Shabana Azmi and Nandita Das, the initial choices for the female roles, but could not be used due to the shift in location. For that matter, around 2000 protesters had stormed the location, destroyed and burnt the main film set and thrown the remnants into the Ganges, based on false accusations about the subject matter of the movie. Despite mankind's best efforts to stop the filming of this movie, the movie has won 18 awards and 14 nominations (including an Oscar nomination) and is part of a trilogy of movies.
3) Indiana Jones and the Temple of Doom – In some corner of our island, the land is probably thinking "Steven Spielberg and George Lucas were here." Probably one of the most exciting movies shot in Sri Lanka, because, well, Indiana Jones, duh, the movie stars some big names like Harrison Ford and our very own Asian king-of-villains Amrish Puri aka mogambo (khush hua).
The stories one could tell about this movie are endless – like dresses eaten by elephants, Barbra Streisand appearing in a dominatrix outfit and whipping Harrison Ford as part of a crew prank, Amrish Puri acquiring his ultimate villain look, Steven Spielberg meeting his future wife Kate Capshaw during production, smuggled pythons, etc etc. Another film that was supposed to have scenes shot in India but landed on our Lankan shores due to permission issues. The village featured in the movie was built on Hantana Tea Plantations, the elephant ride took place at the Pinnawala Elephant Orphanage and the rope-bridge was built across a 300 foot-deep gorge not far from Victoria Dam, with the aid of engineers already at work on the dam site. You'll find chants in Hindi and villagers speaking Sinhalese (when they're actually supposed to be Indians) and while it scores lower than other two movies in terms of ratings (7.6 on IMDb and 85% on Rotten Tomatoes) this is probably the movie we're most pleased about.
What stands out the most when it comes to movies shot in Sri Lanka is that they are mostly set in other Asian countries like Sumatra (Paradise Road), Borneo (Farewell to the King, The Sleeping Dictionary), Burma (Beyond Rangoon, Never So Few), Papau New Guinea (The Mountain of the Cannibal God, Eaten Alive!), Thailand (Bridge on the River Kwai), Africa (Tarzan, the Ape Man, The Great Alligator) and India (Water, Indiana Jones and the Temple of Doom, The Second Jungle Book: Mowgli & Baloo, Midnight's Children) – but they were shot here, which leads us to the obvious question: why? Nihara Jayatilleka from Asian Film Location Services (Pvt) Ltd. explained that due to Sri Lanka's political background, accessibility, level of education, ease of gaining permission for filming and the fact that practically everyone can speak English, we've invariably become a bit of a hot spot. Not bad, Sri Lanka, not bad.
Speaking of bad, however…we came across some pretty shady movies that were also filmed here, which we shall simply call "dodge" for the lack of a better word. Here are some movies you probably don't want to watch unless you have too much time and Internet bandwith in your life. Oh, and maybe if you are in need of a severe belly ache post-laughing.
The Dodge 3
1) This spot is reserved for what some would call a research documentary but is actually a badly researched documentary going by the name of The Mating Urge. The name says it all, but contrary to expectations it doesn't fall into the same category as the Kama Sutra. Basically this is a documentary about mating rituals in exotic locales like Africa, Bali, India and Sri Lanka, among others. Why does it deserve to be on Dodge list? Well, YouTube it and skip to the part where they talk about Mating Rituals in Sri Lanka. Did you know, for instance, that we Sri Lankans don't kiss but rub noses and engage in some "plain sniffing" instead, and that, too, behind bushes? Did you also know that women in Sri Lanka, prior to their wedding, walk into rivers and bathe fully clothed, put on a "changing bag" (an underskirt, basically), wear their blouses in the "changing bag", pull down the skirt and wear their sarees in full view of the public? We must also add that the documentary featured some stellar lines like "for the less one sees, the more one imagines" and "don't be surprised if your boyfriend calls for you on an elephant." Some anthropologist is probably laughing in his afterlife right now, or burning in the hell reserved for researches who, in their attempt to sell their work, make exotic (bullshit) and Orientalise the poor locals.
2) Ghosts Can't Do It – Frankly, we don't want to know what exactly ghosts can't do ("it" is as open ended as it gets) but this movie is about Kate whose husband Scott dies but manages some post-mortem communication gimmicks. As it turns out, Scott is sick of the afterlife and wants to return to being alive, so Kate hatches a plan to drown a young man so that Scott can take over his body. As incredulous as it all sounds, did you know that this movie happened to have won a bunch of awards? For being the Worst Picture (tied with Adventures of Ford Fairlane), for having the Worst Actress (Bo Derek), for the Worst Director (John Derek) and the Worst Supporting Actor (Donald – wait for it – Trump). It was also nominated for Worst Supporting Actor, Worst Supporting Actress, Worst Screenplay, Worst New Star (twice, once for…wait for it…Donald Trump). All this at the Razzie Awards, 1991. They were also nominated for the Stinkers Bad Movie Awards in 1990 for the Worst Picture. My, they must be so proud of themselves.
3) This is a tough one, because, gee, there are so many dodgy movies shot in beautiful Sri Lanka vying for the limelight. Let's, however, settle for The Great Alligator. It sounds harmless enough, but then a simple google search will bring you to a rather questionable poster of a woman who should look terrified but is too busy looking seductive in the mouth of a giant alligator…completely naked. Turns out this movie, too, is full of accolades and features in a DVD reserved for "The 50 Worst Movies Ever Made." -slow clap- This movie is also a cautionary tale for all you tourists out there. This is what happens when you go to exotic locations, do something stupid and anger the natives and the island god. You will then be stalked by the god disguised as a giant alligator and have all your nubile women eaten alive and, well, naked. And a river boat escapade with the alligator in the water and the angry natives waiting to kill you on land. Sounds terrifying.