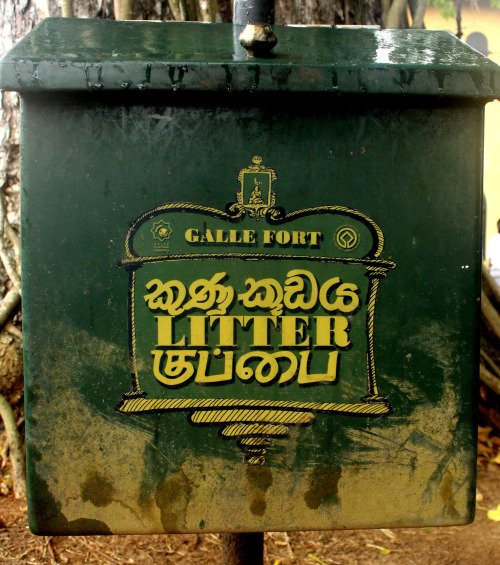 Two decades ago, while walking through the streets of Colombo, you wouldn't have had any trouble spotting beautiful hand-painted signs hanging over shops. The signs, in various typographic fonts and with shadow effects, were so precise and flawless, that at first sight you wouldn't believe they were painted by hand.
Today, these signs are a rarity. We went on a little expedition around certain parts of Colombo in hopes of spotting some of these works of art but were  quite disappointed as we hardly found any. Our search took us from Colpetty to Town Hall, where all we found were large printed signs that had replaced the hand-painted ones. We finally found a few painted directly onto the wall above the doorway of shops in Maradana, down Darley road.
It's clear that the hand-painted sign, an undoubtedly painstaking, time-consuming and possibly expensive undertaking, is being lost to the more modern flex printing. But not to worry! There's an online initiative taking the form of a digital library of hand-painted signs (and some print). Pathum Egadowatte and some of his workmates have created a Tumblr, where they upload pictures of the signs. They have asked for contributions as well, so if you come across one of these remarkable signs do take a snap of it and email it to foundtypelanka and be part of the digital preservation of our typographic signs.
Having caught up with Pathum, a graphic designer and graduate from AOD, we were able to have a quick interview with him about the why's and how's of the Found Type blog.
"As a group we have been designing fonts and graphics for clients, but we found that there are very few Sinhala fonts. So when recreating new fonts we had very little we could use for reference, such as identifying the correct shape of the letters. The blog was set up as a reference and that was the starting point," shares Pathum.
The group consists of several professionals including graphic designers, interior designers, an architect, and even management students, all of whom are from different backgrounds. Pathum says that many of them like to travel and camp, and when they are out on these excursions they make sure to snap interesting hand-painted signs for the collection.
"The blog simply has the pictures for viewing, but we have a larger more precise library that includes information such as the exact date the photograph was taken, the location, language, style and so on. We hope to eventually use this information to set up a map pinpointing where the signs can be found and provide detailed information about them. This part of it is more of a research project," he says.
Elaborating on why they wish to embark on the research project, Pathum says that flex printing has become more popular in Colombo now.
"But if you travel outstation, especially to Kandy you will find more of these hand-painted signs. However, if you return in 10 years, those signs are likely to have been replaced with printed ones. For example, when I went to Kandy recently, I noticed a really nice 15-year-old hand-painted sign and next to it a newer printed one that was quite plain. The owner must have wanted to retain the old sign because it looked much better," he explains.
Pathum and his friends have set up their own design studio, Mooniak, and have been developing Sinhala and Tamil fonts for Google. He explains that the research has paid off here, adding that he knows of a few ad agencies that have used the blog for reference as well. And that's what it is about – a reference for all, a library. They hope the blog will get more people interested and will encourage them to share many more fascinating fonts they spot while travelling around the island.
If you would like to share photographs you've shot of hand-painted signs in Sri Lanka with Mooniak, you can email them [email protected] or send them a tweet @foundtypelanka.