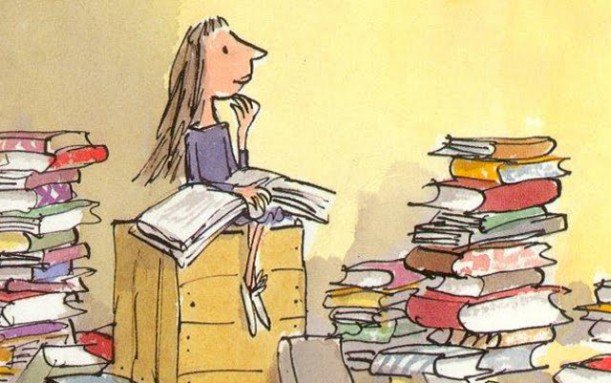 …there lived a bear called Pooh. Once upon a time, there was a magical wardrobe, a runty pig on a farm, a fantastic chocolate factory, an evil snow queen. Once upon a time… just four simple words which have served as doorways to magic and adventure for time out of mind, and this year, they finally got a fitting tribute ‒ having the honour of being the theme for the 2016 International Children's Book Day.
But wait… you had no idea such a day existed did you?
Well, it does, and it is very much alive too. International Children's Book Day falls on April 2 each year, on the birth anniversary of beloved children's author Hans Christian Anderson. On this day, a number of events are held around the world in celebration of the love of reading and the magic of children's books (Brazil was the official sponsor this year). Believe it or not, people have actually been celebrating children's literature on the April 2 since 1967! We Sri Lankans must have missed it somehow because over here, the day is not even heard of, leave alone celebrated.
Sri Lankan Literature In English For Children
‒
Sadly Scarce
It is a little disconcerting to know for how long this day has escaped our notice; after all, with a literacy rate of 92% we are a pretty literate country. However, it seems that Sri Lanka has little to show when it comes to books for children. If you are asked to come up with some classic Sri Lankan works of children's literature, the ones that would pop into your mind are most likely to be old Sinhala gems like T.B. Ilangaratne's Amba Yahaluwo, Martin Wickramasingha's Madol Doowa, and of course, the amazing illustrated works of the indomitable Sybil Wettasinghe.
If we asked you to come up with a few names of quality children's books in English by Sri Lankan authors,you'd probably be scratching your head blankly. This is simply because while Sri Lanka now boasts quite a number of acclaimed, award winning authors who write in English, there are very few who focus on books for kids. Also, while great books like Madol Doova and Amba Yahaluwo do have English translations, these are quite poor in quality and hardly do justice to the amazing stories they tell.
The plain truth is that children's literature in our country is woefully sparse. As for children's literature in English… (and here we are talking about quality books with good writing, not the typo-riddled, grammatically incorrect, local eyesores we sometimes come across on bookshop shelves)well, other than a few Perera-Hussein publications, it is practically non-existent.  
However, as dismal as our current position with regard to kids' literature is, in the spirit of (the virtually unheard of) Children's Book Day, here is a brief description of the few local kids' books in English that we think meet the mark.
Paduma Meets The Sunbird
by Nihal de Silva
A gambling mudalali, a swaggering bully, a disabled boy, a matchmaker, a kidnapper, a light-reader and a fearsome gorgon of a woman ‒ these are some of the colourful characters you will meet in award winning writer Nihal de Silva's first ever children's book. Paduma Meets The Sunbird deserves a hearty accolade for many reasons, but the foremost one is that this is the first quality Sri Lankan book to actually fall under the classification of children's literature in English.
Published by Popsicle Books (an imprint of Perera-Hussein Publishing House), Paduma Meets The Sunbird is a collection of short stories about the madcap escapades of a ten-year old village boy called Paduma and his friends. Paduma is a bit like a Sri Lankan Tom Sawyer, Dennis the Menace, and William (from Just William) all rolled into one: incorrigible, reckless, a holy terror, and eternally in some crisis or the other. Harum-scarum boys are getting a bit clichéd, but this particular one is anything but. Throughout the book, he stumbles along from one outrageous scrape into another, all the while dealing with common issues like grade 5 scholarship exams, nasty bullies and vindictive teachers, as well as not-so-common ones like canvassing for village elections and getting kidnapped. What is more, the book also gives us amazing insight into life in a rural Sri Lankan village through the eyes of a boy, the kind of life that our grandmothers might fondly remember, but otherwise remains sadly foreign to modern-day kids.
Our verdict: a must read for any Sri Lankan kid.
Mythil's Secret
and
Asiri's Quest
by Prashani Rambukwella
After growing up devouring Enid Blyton and Roald Dahl books by the hundreds, it feels almost strange to read a book filled with words like Asiri and Mythil, mango trees and jak trees, and Ammi and Thaththi, instead of the usual John and Jane, oaks and elms, and mum and dad we are used to. It's a bit like stepping onto a foreign turf (which is odd, because we are Sri Lankans after all and this is supposed to be our turf; a sad side effect of us having insufficient access to quality Sri Lankan literature as kids), but Gratiaen Prize winning book Mythil's Secret and its sequel Asiri's Quest are exactly what every Sri Lankan child needs.
The story of Mythil's Secret revolves around a young boy, his dilemmas, and how he finds an unlikely friend in a mischievous yaka, or ancient tree-spirit, called Asiri. In the sequel Asiri's Quest, the two chums have their second adventure together, the story giving us brief glimpses of life in Ceylon in the 1940s as Asiri tries to find an old friend of his. While the story-line of the first definitely trumps the second, they both make a good, refreshing read for kids. Prashani Rambukwella delivers that secret mix of elements which all children (and teenagers. And adults, if we're being honest) delight in ‒ the element of the natural entwined with the element of the supernatural. Add to that an exclusively multilingual and multicultural Sri Lankan setting, the clash of the modern (Skype, Playstation, and computers) with the ancient (yakas and bahirawayas), the subtle lessons on friendship and courage, and the usual problems most children face in fighting parents, family issues, and bullies, and we have got ourselves a winner.
Prashani Rambukwella is no Ibbotson of course, but we give the books our stamp of approval all the same. Another children's must-read!
The Heart of a Child
by Wendy Whatmore
Have you ever recited the poem Kaluthara Hats for elocution back then when you were a kid? Or perhaps the whimsical two-verse rhyme Bubble Blowing, or the enchanting verses of Island Spell? You probably never realised it, but nearly all those simple poems we once read and delighted in when we were children were from Wendy Whatmore's enduring book of poems The Heart of a Child.
Somehow, you are far more likely to find this book in the hands of an elocution teacher rather than a child, but we felt that it does deserve a mention. Although the book itself may not be quite so popular with children, the individual poems are much-loved and usually make their way into the lives of Sri Lankan kids at some point or the other.
And finally, the cream of our (somewhat meagre) crop:
Sybil Wettasinghe
There is a certain magic to children's books; the best of them stay with you. This is why you can never be too old to go tramping through the Hundred-Acre Wood with Piglet and Pooh, or to climb the Faraway Tree for a peep at Moon Face, or go for a row down the river with old Ratty and Mole. Timeless ‒ that is what the best children's stories are. And that is exactly what describes the works of Sybil Wettasinghe.
The Umbrella Thief (Kuda Hora) will be turning sixty soon, and his popularity doesn't seem to be waning at all. What makes Sybil Wettasinghe's books so enduring is simply the fact that they are happy books. Full of local colour and life, with experiences drawn from the author's own carefree childhood in the little Sinhala village she grew up in, they are neither preachy nor tacked with a hundred morals, but simple, entertaining stories full of fun and delight.
When it comes to writers of Sri Lankan children's literature, Sybil Nanda indisputably takes the crown.  Having received global recognition with a plethora of local and international awards for her illustrations and stories, her work has been translated into more than twelve languages, including Danish, Tamil, and Japanese. Hoity The Fox, The Runaway Beard and The Wesak Lantern have been delighting kids for years, and we are pretty sure they will continue to do so for generations to come.
It is a dismally small list (you can literally count them off on the fingers of one hand), but who knows? We have a huge potential for children's stories, and we Sri Lankans are a talented bunch; the future could very well see whole droves of Lankan-style Milnes and Jaqueline Wilsons gracing bookshop shelves!
In the meantime, if you can think of other Lankan writers (or writings) you have fond childhood memories of, let us know in the comments below.
Cover Image: goodreads.com