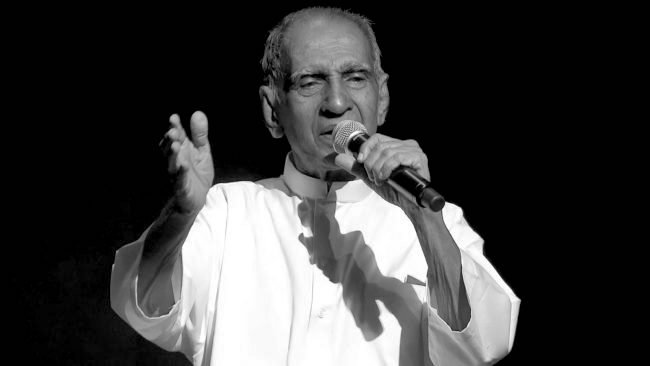 To most Sri Lankans, the name "Amaradeva" is as familiar as the voice of the man who carried it.
Pandit W. D. Amaradeva, who passed away on Thursday (November 3) at the age of 88, had been, for as long as anyone remembers, the defining voice of Sri Lankan music – a composer, vocalist, and instrumentalist above all others.
His life's labour is the result of years spent pioneering and developing an entire musical tradition – one for which he will, no doubt, be immortalised in time to come.
It All Began With A Tin Violin
Amaradeva, known in his early years as Don Albert Perera, grew up in a musical family. He credited his brother with having introduced him to classical Indian music, but it was his father – a woodworker who crafted and repaired violins for a living – who gifted him a tin violin of his own on his seventh birthday, thereby setting in motion a one-man musical movement that would characterise Sri Lankan music in the decades to come.
In the beginning, however, Amaradeva's musical exploits were limited to singing in the church choir with his mother, joining in with the Vesak songs at the temple with his father, and showing enough promise to be noticed by his music teachers in school.
It was only later, following several awards at the school level, that his talent was recognised and nurtured more seriously.
Genius, Recognised
According to Amaradeva, the catalyst in his career came in the form of the celebrated musician Mohamed Ghouse, who was widely known at the time as "Ghouse Master".
Ghouse, during a chance meeting with the then eighteen-year-old Amaradeva, was impressed by his seemingly effortless mastery of the violin, and invited him to join him on the set of Asokamala, a movie being filmed in South India.
For his work on the film – which spanned providing help with musical direction, singing, and even taking on a supporting role – Amaradeva was credited as Assistant Musical Director, a title he didn't expect, but, as most anyone involved agreed, certainly deserved.
Following his return to the island, Amaradeva worked closely with several pioneers in the arts, among them the renowned composer, lyricist, and singer, Sunil Shantha; the internationally acclaimed dancer, Chitrasena; and Sri Lanka's premier playwright, Professor Ediriweera Sarachchandra.
It was Professor Sarachchandra who, with some assistance from the then editor of Lankadeepa, D.B Dhanapala, organised a scholarship that would allow Amaradeva his first and only taste of formal music training in the renowned Bhatkhande Music College in Lucknow, India.
Having entered college at the age of 20, Amaradeva graduated five years later with the degrees of Sangeet Visharad and Vadya Visharad.
Becoming Amaradeva
On Professor Sarachchandra's advice, the young Don Albert Perera adopted the name Amaradeva, the name he is now known by and which translates to "immortal god" – a name fitting for his colossal contributions to Sri Lankan music in the years that followed.
Instead of following the trends set by his predecessors and contemporaries and merely combining Sinhala lyrics with Indian music, Amaradeva fused Sri Lankan folk music with the classical ragas, thereby pioneering a genre of music that was inherently Sri Lankan.
In doing so, he disposed of the single melody tradition that had hindered the growth of Sri Lankan folk music for decades, choosing to add verses leading up to a central melody that would function as a chorus. It was his work that inspired the growth of the sarala gee genre of music practiced by popular musicians such as Victor Rathnayake, Sunil Edirisinghe, Rookantha Gunathilaka, and Edward Jayakody.
Unlike most Sri Lankan musicians, whose compositions are inspired by one or two distinct schools of music, Amaradeva's music displayed a range of influences, from the traditional to the unconventional – his music incorporates not only traditional Indian ragas, but Western harmonies and counter-harmonies, Portuguese undertones, and even the baila music for which his hometown, Moratuwa, is famous.  
From Violins to Mando-Harps, And More
It is perhaps indicative of the man's genius that he couldn't limit himself to playing single instruments in turn – Amaradeva is famous for having created the "mando-harp", a combination of the mandolin and harp that he was often seen playing at his concerts.
More formal indications of his genius are the awards he had amassed over the years – among them Officier in the Ordre des Arts et des Lettres from the French government, the Padma Sri Award from India, and the titles of Deshamanya and Kala Keerthi from the government of Sri Lanka.
He was even invited to compose the Maldivian national anthem, Gaumii Salaam, shortly prior to Queen Elizabeth II's official visit to the island in 1972.
What set Amaradeva apart from most musicians – and even people – is that he was as interested in the development of the careers of other, promising musicians as he was in his own. It is Amaradeva who provided the then thirteen-year-old Nanda Malini with the opportunity that kickstarted her career by having her sing the song Galana Gangaki Jeevithe which he composed for the movie Ranmuthu Duwa.
That Pandit Amaradeva was a genius is a truth that thwarts all argument; that he was the greatest Sri Lankan composer to have ever existed, a fact widely accepted even during his lifetime. It is fitting, therefore, that every Sri Lankan song we sing is, at its very core, one inspired by – and, therefore, sung in appreciation of – Pandit Amaradeva, one of our country's greatest sons.