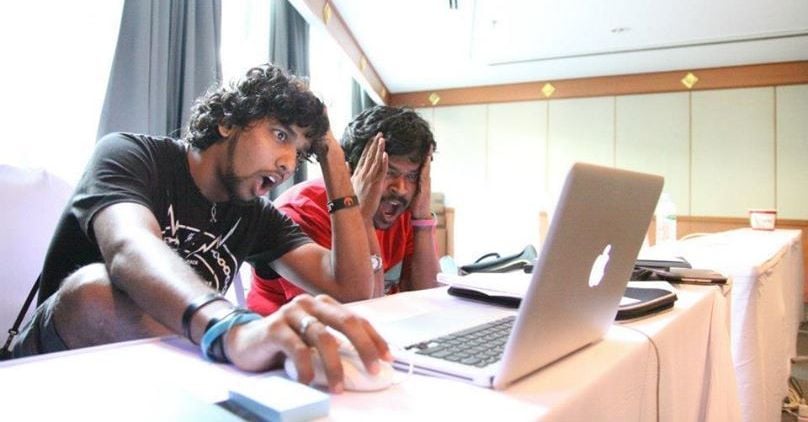 The above heading is a lie. This is not a description that would go anywhere near the creative designer, Shehan Rodrigo; a whirlwind of eccentricities and talent. Learning from his surroundings and self-teaching, Shehan has become a highly sought-after graphic designer in Sri Lanka's design industry.
Sri Lanka is a melting pot of creativity from fashion, art to jewellery and interior among many others. However, graphic artists rarely receive recognition for the work they do for others; others who advertise, others who have timeless logos and others who have mind-blowing books covers and magazines. From the logo of your company, the innovative advert you see in the papers to the hoardings you see on the side of the road are created by graphic designers who spend endless hours pouring in their time and sweat to bring out a product that is relevant and original. It is important to understand that these designs that display no ownership label do not pop out of nowhere, but has a talented graphic designer behind it.
Coming from a tight-knit family that drives towards greatness, Shehan took an interest in design from a very young age; more specifically graphic design. He learnt the basics of design software such as Adobe Photoshop and Illustrator at Digitalbase Interactive under Mr. Royston Van Gramberg, who gave him the necessary start up skills to improve his passion for design.
The more hands-on experience on graphic design came from his former boss, Russell Miranda, the abundantly skilled and inspiring Executive Creative Director of Grant McCann Erickson. Combined with other senior art directors and copywriters, Shehan profited from the pool of creativity which surrounded him. He listened to his colleagues, worked hard on his craft over and over, and he continues to hunt down and understand every design idea that is coming out in the world.
During his time at Grants, Shehan has worked on key brands such as SriLankan Airlines, Samsung, Nescafe, Cinnamon Hotels, Sampath Bank, Rocell, The Kingsbury Hotel and Harpo's Pizza among others.
Shehan's notable honours include:
First place in Young Lotus – Sri Lanka in 2013

Winners of Young Spikes -Sri Lanka in 2011

Finalist in Cannes Young Lions – Sri Lanka in 2011

Bronze award for Logo Design of Nescafe 'Drink and Drive' campaign in The Reggie Candappa Craft Awards
With the support of his family and his faith, Shehan has quit full time work in favor of freelance and is conceptualising and developing logos and brand identities for a major clientele.
He has a honed set of methods for designing which consists of wearing his headphones and blasting music to drown out the rest of the world. Getting his attention when he's starring at the screen at almost a meditative state is quite the mission.  Being a drummer, his feet will tap away making a ruckus, but being oblivious to the fact that everyone around him is giving him a 'look'. However, this has proved to work, and he will work non-stop, late into the night and into the wee hours of the morning until his work is complete and spot-on.
He is inspired by how artists put meticulous thought into intricate details from the simplest of logos to the more complex illustrations. 'When a design is relevant and timeless, I find that inspiring'; and this is evident in his attention to detail of every single pixel, from positioning to alignment. He will experiment with colours typefaces and layouts for endless hours until he has given reasons to himself why he designed a piece of work the way he did. The end result is always carefully thought out and can be explained right down to each stroke.
His style of design has evolved over the years as his skills grew, and became confident to practice different styles of design. Currently, he is leaning towards simplicity. He believes something simple can have an ocean of meaning behind it, and designs like that, where it's direct and easily understood, can last a lifetime.
Life outside of design:
His love for simplicity explains his attire of geeky or musically inspired (metal, not Justin Bieber) t-shirts in black and darker colours. A fan of Dreamtheatre, Textures, Gojira, Karnivool and Opeth among many others (if you know these bands, 10 points for Gryffindor!), he loves music that is 'the kind made with musical instruments'. He has been playing drums since he was 9 years old and 'pots and pans since I was 5'. However, it is also easy to distract him by mentioning Lord of the Rings or Star Wars. 
His family, consisting of 3 brothers and parents, are all singers, guitarists, keyboardists and stand-up comedians at home. With heaps of food (four big boys are a lot of mouths to feed), someone shouting at someone and lame jokes (mostly Shehan's) followed by laughter, the household brims with creativity and is a beacon of encouragement to follow their dreams. However, with all the weirdness and the crazy aside, Shehan's driven each day by Jesus; 'My life would be nothing without Him and honestly it would be really boring too.  He is the reason I do everything I do'.
Shehan, in a word, is unconventional. Hidden under layers of lame jokes, silly pranks and his refusal to give into anything that is 'socially acceptable'; he is kind, understanding and a ball of energy to have around. Oh! Also a brilliant designer. Let's not forget that part.
The design images are from his Behance portfolio containing some of his significant and recent work.