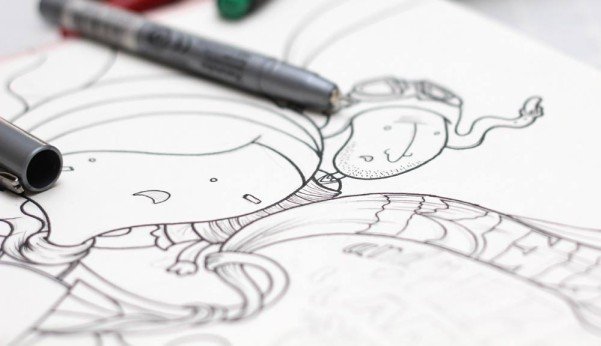 You may have seen some of Rommel Arumugam's artwork on an event poster or perhaps somewhere on Facebook. One of Sri Lanka's finest young illustrators, his mad skills – both digital and non-digital – have not gone unnoticed. He was commissioned to illustrate Colombo Design Market's (CDM) February 2015 poster – a compact cube of much of what the CDM had to offer with very Sri Lankan elements, such as an improvised "Yaka mask".
A Story behind Each Illustration
He also designed the poster for the recent Melomanic sessions. A lonely little astronaut, with a vinyl player in place of his oxygen tank, survives on good music (undoubtedly recordings from the Melomanic Sessions) as he waits to be rescued.
That is exactly what makes Rommel's artwork special. His designs have a story behind them. "I like to think it's my own style because it always has its root in storytelling" explains Rommel. "It's difficult for me to come up with something that doesn't have a back story and thus you can't be emotionally invested in, in some way. But there are technical things that I'm constantly trying to adapt to like subject matter, design trends and visual communication".
Even his art direction is distinct and hip. Rommel was recently commissioned to do the art design and branding for Harpo's. We can't say more until the designs are up, which should be in the next few months. So if you happen to pop over when the new designs are out, you'll know young Rommel was behind it.
Where It All Started
Rommel's skills in drawing and his cartoony style, goes back to when he was a four years old and had just discovered his talent and love for drawing things. Filling page after page of the 80 page exercise books that his parents would buy him once a month, Rommel would blow through them at a rate. He took his first steps into digital illustrations, 12 years later, at the age of sixteen and there was no turning back.
Harnessing his skills over the years, Rommel's work can be spotted around Colombo and turned up on social media. "Sure. My most recent work would be for The Melomanic Sessions and Colombo Design Market." When asked about his recent work, Rommel shares, "just last year I was commissioned to do the official artwork for Tuktuk Quest – A card game based on Tuk Tuks! I did work on branding for Harpo's recently too. I think those will come out in a few weeks. Also my artwork "100% Honey Spilling" and "New Moon" were displayed at Adfest 2013 in Thailand".
He certainly has come a long way since. Spotting his talent, Rommel was invited to speak at Pecha Kucha this year, a platform for talented people in art and design to share their ideas and hopefully inspire others.
Of course, for Rommel, illustrations are more than simply work. He illustrates and designs for himself and friends too; just for laughs. Such as the stripping poster he designed when his friends – impressed by his digital art skills – asked him to strip down the process so they could have a look at the work that goes into each design. Or his take on the Lakpahana ad that broke the internet recently.