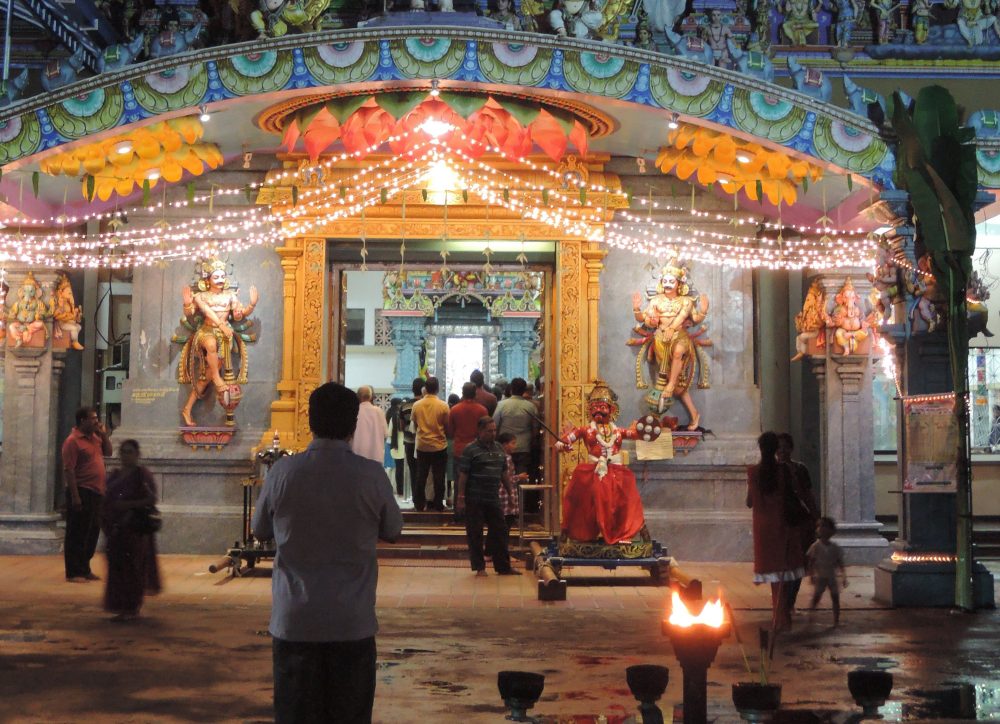 Sounds of the Melam and Nathaswaram resonate around the walls of the beautifully decorated Kovil as the priest conducts special poojas for deities lavishly adorned with garlands of flowers, whom Hindu devotees visit to experience a spiritual connection with the divine.
This week marks Skanda Shasti, an important event for Hindus seeking spiritual solace.
Skanda Shasti or Kanda Shasti Viratham is a six-day fast observed once a year in dedication to Lord Muruga, also referred to as Karithikeyan, Skanda, Kumaran, Swaminathan or Subrahmanya. According to Hindu belief, Lord Shiva created Muruga from his third eye, symbolising the birth of higher consciousness, in order to renew the spiritual energy within us to help us regain our consciousness.
What Is Kandha Shasti Viratham?
The fasting for Skanda Shasti begins on the first day of the new moon which usually falls on the day after Deepavali. This year the 'Viratham' started on October 31 and ends on November 5 with the Soorasamharam, which marks Murugan's defeat of Soorapathman. Viratham in Sanskrit means 'vow' and involves devotion by following a practiced austerity through fasting. It also involves purification of the mind through worship, by leading a disciplined lifestyle seeking good health and happiness.
It is widely believed that the divine incarnation of Skanda was to destroy the demons creating chaos on earth in order to save the Devas (worldly people). Muruga is considered the commander of the Devas. Skanda Shasti is a festival celebrating the victory of Lord Skanda over the demon Soorapathman after a six-day battle. Sooran Poor is celebrated in temples on the evening of the sixth day, when the temple courtyard is arranged to look like a battlefield. The idols of Lord Murugan from the temple are brought outside for a depiction of the battle with Soorapathman.
The festival is popularly celebrated in South India, Sri Lanka, Malaysia and Singapore. The Nallur Kandaswamy Kovil, Selva Sanniti Murukan Temple, Kathiragama Murugan Temple and the Bambalapitiya Kathiresan temple are some of the popular Murugan temples in Sri Lanka.
How The Fast Is Observed
There is no one specific way to observe the fast, although some basic rules do apply.
Kanda Shasti Viratham, once begun, has to be continued for six years or twelve years, without any break in between. Besides completely avoiding non-vegetarian food, the fast is observed differently by different devotees; for instance, some stick to a single meal a day, or consume only fruits and milk, while others drink only water and coconut water for the entire six-day period.
A Devotee's Reflections
For 62-year old Saraswathie, an ardent Lord Muruga devotee who has been observing Kanda Shasti Viratham for more than three decades, this fast has a special significance in her life. During the war, Saraswathie was internally displaced in Colombo after being forced to flee from her hometown, a village in Nelliady, Jaffna.
In 1987, her husband was taken hostage along with other men in their neighborhood when the military recaptured the Jaffna peninsula during the Vadamarachchi Operation. She says, "It's terrifying to recall those memories; ordinary people like my family got caught in-between their clashes." Thereafter, she says, she vowed to observe the Kanda Shasti Viratham by consuming only water, if her husband returned home safely.
"I believe my husband's return was a miracle since a majority of the men taken hostage didn't return home. Thereafter, from 1988 till now, I have been observing the six-day fast every year by consuming only water," Saraswathie says, while seated on the steps outside the Bambalapitiya Kathiresan Kovil, clutching the Kantha Shashti Kavasam book, which contains a devotional song on Lord Muruga.
Despite the daily struggles and challenges she faced during the war, Saraswathie has managed to observe the strictest fast in Hinduism every year, which she believes has helped her succeed in life.
"I started fasting for Kanda Shasti during a difficult time, when we couldn't lead a normal life, times when we couldn't even have a peaceful meal. Constantly we lived in fear, running and hiding from air bombs, shells, and attacks," she says, recalling her family's struggle for survival.
Even today, after thirty years, she stands by her promise, determined to continue the fast every year, as long as she lives.
Why Observe The Fast?
Those praying and fasting for Lord Muruga during the Skanda Sashti are believed to receive Muruga's blessings in abundance. It is also widely believed that those who drink the milk from the pooja on Shashti (the last day) will be able to conceive.
Head priest Nagarajah Kurukkal of the Bambalapitiya Kathiresan temple says that he knows of couples who were unable to have children finally conceiving after observing the Skanda Shasthi fast. "Recently, a couple observing the fast had twins after more than six years of marriage," he said.
A common misconception is that these fasts are strictly observed only by the elderly. However, a visit to a temple during the Skanda Shasti reveals a significant number of young people observing the fast, too. Thivyan Suresh, an eighteen-year-old old student, says, "Kandha Shasti is a special event that I look forward to every year." He recently started the fast for the well-being of his family and is observing the fast for the second time.
The Viratham is also seen as an opportunity to cleanse the body and remove unwanted toxic elements by confining one's diet to water, coconut water and such.
In addition to that, Hindus strongly consider Shasti fasting sacred as it clearly signifies the triumph of God's consciousness over the negativity of minds, thus, bringing forth new opportunities and possibilities to overcome obstacles and succeed.
Sri Lankans have faced a number of ups and downs over the last few decades, particularly during the civil war. For the country's Hindus, faith and sacrifices in the form of religious fasting have helped  individuals and families to cope with a number of challenges, and find spiritual solace.
All images courtesy Mithula Guganeshan