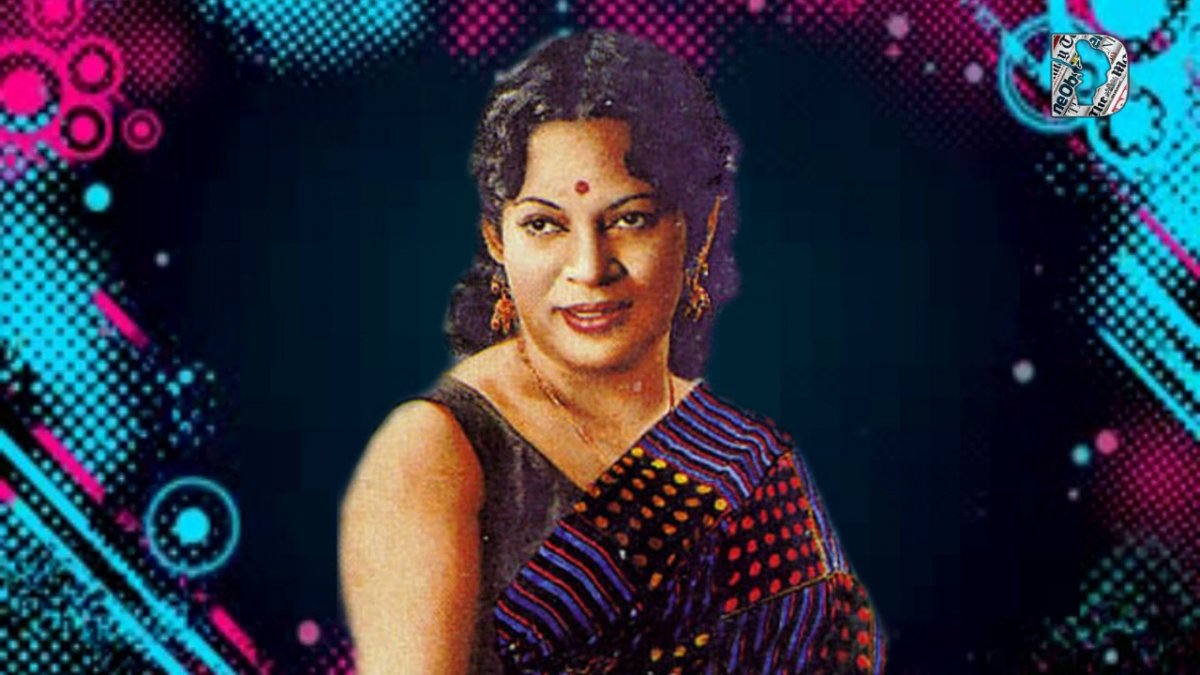 "What's in a name," asked the bard, and we know now that "that which we call a rose, by another name would smell as sweet". But for a number of Sri Lankans, their names given at birth proved a thorny issue. These Sri Lankan, who came to dominate the spheres of music, sports, cinema and others, chose to change their names for a variety of reasons we'll attempt to discover in this article. So successful were they that many contemporary Sri Lankans are still unaware that these men and women, so cherished and admired, existed in a previous iteration. Here are a list of ten famous Sri Lankans who changed their names along the way.
Amaradeva
Sri Lankabhimanya Pandit Amaradeva is one of the most revered artistes in the Sri Lankan history. A vocalist, violinist and composer, Amaradeva is known as the Helaye Maha Gandharva, or the 'Maestro of Sri Lanka Music'. His father, a carpenter at the Moratumulla Wadu Karmika Vidyalaya, or the Moratuwa Carpentry School, gifted Amaradeva his first violin when he was seven years old, and the young Amaradeva went on to create a unique new Sri Lanka sound just when Ceylon was just emerging as an independent nation, and the question of what constitutes as Sri Lankan music was being debated by academics and intellectuals alike. Amaradeva combined indigenous Sri Lanka folk music with North Indian ragas he had studied at the Bhatkhande Music Institute in Lucknow, and also experimented with Western, South Indian and Tamil musical harmonies and forms. He  even created the 'mando-harp', a musical instrument combining the mandolin and the harp, and was conferred numerous awards for his contribution to creating a Sri Lankan musical identity. But Amaradeva, whose name means 'immortal god', was born Albert Perera —Wannakuwatta Waduge Don Albert Perera, to be precise. The name Amaradeva was given to him by prominent playwright Professor Ediriweera Sarachchandra after Amaradeva returned from studying music in India, in 1955—perhaps as a means of establishing in him a Sinhalese identity, his birth name Albert Perera associating him with the colonial past.
Rukmani Devi
Rukmani Devi was a singer and actress, known as the 'Nightingale of Sri Lanka'. She was born in Nuwara Eliya to a father who worked on a plantation and a mother who was a teacher, but grew up in Colombo and was educated at the St. Matthew's School, Dematagoda, and at St. Clare's School in Wellawatte. At just the age of seven, Rukmani Devi caught the attention of her school teachers for her ability to dance and sing, and was cast in the lead role of the school's rendition of Sapaththu Mahannage Birinda, or 'The Shoemaker's Wife'. So much did she impress that drama producer Walter Abeysinghe—who was in the audience—sought the permission of her parents to have her portray the role of 'Sita' in his play 'Ramayana' at just the age of 12. Her role in the Ramayana sealed Rukmani's fate as an actress, and she went on to act in several well received plays. In 1947, Rukmani Devi was cast in the lead role as 'Ranjani', in the first Sinhalese film in Sri Lanka, Kadawunu Poronduwa, or 'Broken Promise', making her the first local film actress in the country. She recorded her first audio recording (for gramophone) in 1938 and went on to record many others songs through the length of her career, and acted in close to 100 films before her death in 1978.  Rukmani Devi, however, was born Daisy Rasammah Daniels. Her name change occurred sometime after 1938, and it is speculated that either prolific musician H. W. Rupasinghe or industry professionals Jayantha Weerasekara and Michael Sannas Liyanage effected the change.
Sunil Shantha
Sunil Santha was a renowned lyricist, vocalist and composer, known as Gurudevi to his students. He  was born in Ja Ela, in 1915. His parents passed away while he was young and he was raised by his maternal grandmother. He was educated at Dehiyagatha School, St. Benedict's College, Kotahena, St. Aloysius College, Galle and Tudella School, and was reportedly a gifted student who placed first in the island at the School Leaving Examination in 1931. Sunil Santha took to teaching in 1933 and led the Mt. Calvary Christian School in Galle to three consecutive victories at the Southern Schools Music Competition. He gave up teaching in 1940 to study music at Santiniketan and Bhatkhande, two prestigious music universities in India, and returned in 1944 after he had earned his Visharada degree. In 1946, Sunil Santha was asked to join Radio Ceylon where he began to compose and record a great many songs including the classics Olu Pipila, Handapane and Kokilayange Kokilanade. He also created the soundtracks for Lester James Peries' films Rekava and Sandeshaya, and published several books, while writing to the newspapers regularly. Sunil Santha composed over 300 songs during his lifetime, and strove to create a Sinhalese identity with his music, divorcing it from North Indian influences prevalent at the time. His one-note song Gum Gum Gum (Wasp Song) is considered his masterpiece. Sunil Santha was however born Baddeliyanage Don Joseph John, and only changed his name to Sunil Santha after his return to Ceylon in 1944.
Ananda Samarakoon
Ananda Samarakoon was a composer and musician known for creating Sri Lanka's national anthem, Namo Namo Maatha. He was born Egodahage George Wilfred Alwis Samarakoon, to a Christian family in Padukka in 1911, and was educated at Christian College, Kotte (now Sri Jayawardenapura Maha Vidyalaya). Having completed his education, Samarakoon taught music and art at alma mater for some years, before leaving to Santiniketan in India in 1936. He returned in 1938 and taught music at Mahinda College, Galle until 1942. It is upon his arrival that he changed his name to Ananda Samarakoon and embraced Buddhism. Samarakoon is credited—together with Sunil Santha and Amaradeva—as being founders of a new Sinhala music tradition, a conscious breakaway from North Indian influences. In 1948, while living in India where he had fled to grieve the untimely death of his five year old son Ranjith Arunadeepa, his wife Caroline Samarakoon submitted his song Namo Namo Maatha—written some years before—to a contest organised by the Sri Lanka Ghandharwa Sabhawa to choose a new national anthem. P.B. Illangasinghe won the contest, but the validity of the choice was contested as Illangasinghe was a judge on the selection committee. Samarakoon's more popular Namo Namo Maatha was chosen instead and sung for the first time at the Independence Day ceremony in 1949. Namo Namo Maatha faced controversy, however, when critics in the Sirimavo Bandaranaike government alleged the 'n' at the beginning of the anthem was inauspicious and brought ill luck. The anthem was changed to Sri Lanka Maatha without the consent of the composer. A distraught Samarakoon died of an overdose in 1962, a month after writing to Dudley Senanayake, noting that death was more merciful that life under a merciless regime.
Edireeweera Sarachchandra
Professor Ediriweera Sarachchandra was an acclaimed novelist, poet, literary critic, essayist and social commentator, considered Sri Lanka's premier playwright. He was born in Galle in 1914, and had his education at Richmond College (Galle), St. John's College, Panadura, S. Thomas' College, Mount Lavinia, and St. Aloysius' College, also in Galle. Sarachchandra gained entrance to the Ceylon University College (University of Ceylon) in 1933 to study Pali, Sanskrit and Sinhala and passed with first class honours. He next sat for the Ceylon Civil Service Examination and was placed first in the island. He then decided then to go to Santiniketan to study Indian Philosophy and Music, and only returned to Ceylon in 1940. He worked on his master's degree in Indian Philosophy from 1942 to 1944 and in 1949 began work on a postgraduate degree in Western Philosophy. In 1956 he produced Maname, considered the first modern drama in Sri Lanka. Maname was well received and commended for drawing on local ritual theatre traditions such as Nadagam and Kolam. He followed this with Sinhabahu, Bava Kadathurawa, Pematho Jayathi Soko, Loma Hansa, Vessantara and numerous other stage dramas, mostly adaptations from Buddhist Jatakas or Sinhala folklore. Professor Sarachchandra, who also wrote novels, short stories, theory and criticism, played a crucial role in the resurgence of Sinhala drama during Ceylon's struggle to form a new identity after years of colonial rule. Ediriweera Sarachchandra was, however, named Eustace Reginold de Silva at birth, and reportedly renamed himself after after the legendary Bengali novelist Sarat Chandra Chatterjee.
Chitrasena
Deshamanya Chitrasena was an internationally renowned dancer, credited with popularizing Sri Lankan dance forms abroad. He was born to Seebert Dias, an actor and producer, who encouraged him to embrace theatre and the arts. He made his debut at 15 in the role of Siri Sangabo in a Sinhala ballet produced and directed by his father. He studied Kandyan dance under Algama Kiriganithaya Gurunnanse, Muddanawe Appuwa Gurunnanse and  Bevilgamuwe Lnpaya Gurunnanse, and Kathakali dance in Travancore at the Sri Chitrodaya Natyakalalayam under Sri Gopinath and at the Kerala Kalamandalam. Chitrasena founded the Chitrasena Dance Company in 1943 and the Chitrasena Kalayathanaya in 1944, where he introduced new creative dance forms based on indigenous dances to young artistes who lived and worked in the studio. In 1945 he left to India to study and perform at the Santiniketan, and on his arrival worked hard to revive Sinhalese Kandyan, Low-Country and Sabaragamu dance forms. He pioneered Sri Lankan modern dance, forging a link between the traditional and contemporary, and created numerous Sinhala ballets like  Ravana, Vidura, Chandali, Nala Damayanthi to name a few. Ananda Samarakoon, Sunil Santha and Amaradeva are closely linked with Chitrasena, having lived, worked or taught at his studio during the early stages of their careers. Chitrasena was born Amaratunga Arachige Maurice Dias, but shed his Portuguese-influenced name sometime after he returned from India, choosing to be influenced instead by the rich roots of his Sinhalese heritage.
Ravindra Randeniya
Ravindra Randeniya is a popular film and television actor, who later became a politician. He was born in Kelaniya in 1946 and attended  St. Francis School, Dalugama and later St Benedict's College, Kotahena, where he displayed interest in reading, writing and the arts. Having completed his schooling, Randeniya began courses in theatre decor and screenwriting at the Lionel Wendt Theatre Workshop, frequented by  leading Sinhala dramatists of the day, Dr. Sarachandra Ediriweera, Dhamma Jagoda, Gunasena Galappatty, Ernest MacIntyre, Percy Colinthus, and Irangani Serasinghe. He became fascinated with acting while taking a required general acting class under Dhamma Jagoda, and had his first role in Gunasena Galappatty's production Muhudu Puththu (Sons of the Seas) in 1962. His next role was with Manik Sandarasagara's Kalu Diya Dahara' (Column of Black Water) in 1971. In 1972, acclaimed film director Lester James Peries, who had been impressed by his performance in Galapatty's Muhudu Puththu, cast him, together with Joe Abeywickrama and Shriyani Amarasena, in Desa Nisa (A Certain Look). This was a breakthrough role for Randeniya, who went on to establish his name as a popular Sinhala film and television actor in the following decades, winning the Sarasaviya Best Actor Award four times; in 1984  for Dadayama, in 1985 for Maya, in 1989 for Sandakada Pahana, and 1990 for Sri Medura. Ravindra Randeniya was named Boniface Perera at birth and his name was changed by veterans in the industry to suit the Sinhala cinema screen.
Vasanthi Chathurani
Vasanthi Chathurani is a Sinhala film and television actress who made her debut in Gehenu Lamai (1978), while she was just fifteen. Chathurani was born in Gampaha and attended the Holy Cross Convent, where she developed a flair for dancing, poetry recitation and theatre, even winning the 'Best Actress' award for a play staged at her school on one occasion. Chathurani was spotted by film director Sumitra Peiris who was on the hunt for a young girl to play the lead in her upcoming film. Despite being handpicked by Peiris, Chathurani initially faced opposition from her family as it was not considered 'decorous' for a convent-educated girl to be acting in 'bi-scopes' (as films were called then!). She was finally allowed to travel to Colombo to act in the film, and the naive sense of innocence she portrayed opened more doors for her. Although Gehenu Lamai did not do as well as expected, her next role as Nirmala in the film Ganga Addara (1980), opposite the late Vijaya Kumaratunga won her the 'Best Actress' award at the Sarasaviya Film Festival, at the tender age of nineteen. Chathurani went on to act in numerous films and teledramas, including Iti Pahan, Giraya, Kadulla and Gajaman Puwatha, working with top directors Lester James Peries, Dharmasena Pathiraja, Dharmasiri Bandaranayake, H. D. Premaratne, Sunil Ariyaratne, and Chandran Rutnam. Chathurani was awarded the Sumathi Most Popular Actress Award in 1997 and received the Sumathi Best Teledrama Actress Award in 1998, 2002 and 2009. But Chathurani was born Wasantha Doreen Peterson; her first name was changed to Vasanthi by Sumitra Peiris, while Professor Ediriweera Sarachchandra gave her the name Chathurani. It is speculated that this was done to facilitate her entry to Sinhala cinema and tele-acting.
Latha Walpola
Deshamanya Latha Walpola is a prominent vocalist, also know to her audiences as the 'Nightingale of Sri Lanka'. She was born in Mount Lavinia in 1934 and was educated at St. Anthony's College, where she was a member of the school choir. When she was just 12 years old, she performed together with C. D. Fonseka on the programme Sarala Gee, on Radio Ceylon. The next year, in 1947,  she performed her first solo song, Kandulu Denethe Vehena, also on Radio Ceylon. Over the next few years, she trained under Mohammed Gauss, P. L. A. Somapala and B. S. Perera, and was, by 1950, a recognised female singer in the country. Her Namo Mariyanee (1948), Seethala Duruthu Mahe, Mihiri Suwanda Vihiduwa, Nunwa Jaya Handa Pem,  Soka Nege Den, Oba Prema Raja Mage and many others made her a household favourite. Walpola also lent her voice to cinema as a playback singer, starting with the film Eda Rae in 1953, and followed by the duets  Hari Hari, Hebeta Mage Luck Kale and Prithi Prithi Darling. In her career spanning over 70 years, it is estimated that Walpola has recorded over 6, 750 songs and performed as a playback singer in over 600 films. It is said that Walpola has performed as a playback singer for every actress in Sinhala cinema, save Rukmani Devi, who performed for herself. She has also performed for actresses Rohini Jayakody and Girley Gunawardana in 50s and 60s and for their actress daughters Veena Jayakody and Sabitha Perera much later. Walpola has also collaborated with a number of South Indian artistes such as Dakshinamoorthy, Krishnamurthi, R. S. Diwakar, Rajan Nagendra, T. R. Pappa, K. Jamuna Rani and K. Rani, and is veritable doyen of Sinhala music. But Latha Walpola was born Rita Jenevi Fernando and changed her name to Latha Walpola after marrying top male playback singer Dharmadasa Walpola in 1959.
Tillakaratne Dilshan
Tillakaratne Mudiyanselage Dilshan, or T. M. Dilshan, is a former national cricketer who captained the Sri Lankan team in 2011-2012. He was born in Kalutara in 1976 and was educated, first at the Jaffna Sinhala Madya Maha Vidyalaya, and then at the Kalutara Vidyalaya. Dilshan initially played football, but was discovered by coach Sunil Saluwadana when he was about 10-11 years old. Saluwadana said he had spotted Dilshan playing cricket during the break with his school friends, and noting his top form, invited him to join the cricket team. Dilshan went on to captain the school's Under 15 team, and replace the regular wicketkeeper of the First XI team, a position he held onto for many years. Having completed his schooling, Dilshan joined the Kalutara Town Club and later the Singha Sports Club and Sebastianites Cricket Club. He made his national debut against Zimbabwe in 1999, where in the second test at Harare, he scored an unbeaten 163 and was awarded 'Player of the Match'. Dilshan is a seasoned batsman, fielder, wicket-keeper and bowler, and inventor of the 'Dilscoop', or 'ramp shot', where the ball is 'scooped' over the head of the wicket-keeper towards the boundary. Dilshan was born to a Malay father—a police sergeant—and Sinhalese mother, and was named Tuwan Mohammad Dilshan at birth. While rumours are rife that Dilshan changed his name to increase his chances at the national level, still others speculate his name change came about with his marriage to a Sinhalese girl—his first wife Nilanka Vithanage—in 2002. Be that as it may, childhood coach Ranjan Paranavitana said Dilshan and his siblings had followed their mother's religion from childhood, and had changed his name to Tillakaratne Mudiyanselage Dilshan after his parents separated.
Cover: Rukmani Devi, Sri Lanka's first Sinhala actress, was a Tamil. Image courtesy youtube.com