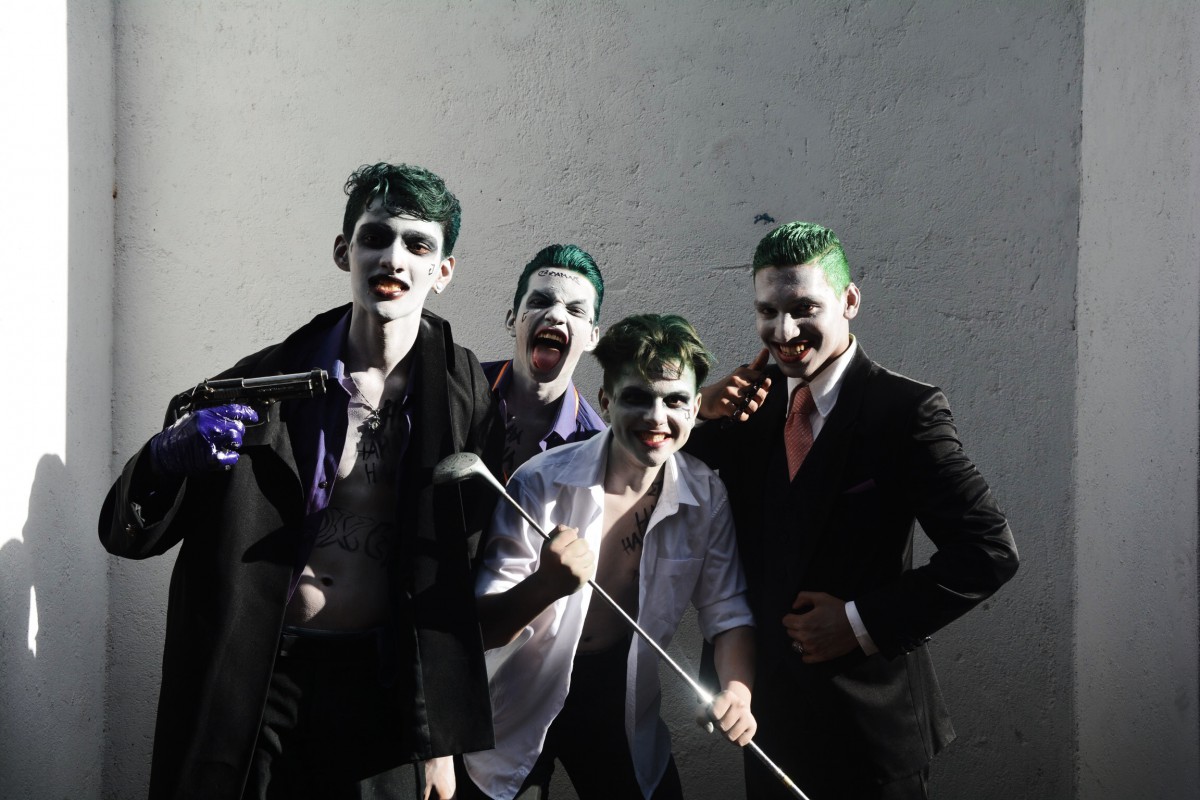 If you've been on the internet lately, you might have seen pictures of Spiderman in Bambalapitiya waiting for a bus, or Batman at a children's home. You might remember a lot of these characters from around this time last year at an event called Lanka Comic Con, where many fictional characters came to life right here in Sri Lanka. If you were wondering what all this was, it's the art of cosplay.
What Is Cosplay?
The word itself gives it away. "Cosplay" is a portmanteau of Japanese origin which combines "Costume" and "Play". It's a form of dress up, but there's a lot more depth to it than that.
According to Bainbridge and Norris,
"In its purest form cosplay is akin to performance art, taking on the habitus of a particular character through costume, accessories, gesture and attitude; it is therefore not simply 'dressing up' but rather inhabiting the role of a character both physically and mentally. Crucial to this idea is the notion of 'play,' a play with age, race and gender…"
They further explain four points of a cosplay:The Narrative is the personality and story of the fictional character. This includes the existing story of the character and the story the cosplayer will create by their performance. It could even be called a live action fan fiction.
The Clothing is the design of the costume—the accuracy, the skills that went into it. It's a mark of how dedicated the cosplayer was towards his cosplay. Cosplayers may build their costumes themselves if they have the skills, or have them made by someone who is skilled.
The Play is mimicking the mannerisms of the character as accurately as possible. This is the character being brought to life in whatever environment the character is cosplayed. Simply wearing the clothes does not make the character; the character's traits, mannerisms, and personality must come through for it to be a true cosplay.
The Player refers to the character and identity of the cosplayer. According to Stranger than fiction: Fan identity in cosplay by Nicolle Lamerichs, "The goal of most cosplayers is not to create a look-alike, but to express their own identity through a costume." This is partly what drives cosplayers—to show a version of themselves with the traits of someone they admire.
Theresa Winge, in Costuming the Imagination: Origins of Anime and Manga Cosplay, says:
"The character provides a (protective) identity for the cosplayer, which may allow for more confident and open interactions. Moreover, cosplay dress and environment(s) permit the cosplayer to role-play the character he or she is dressed as and engage in such social activities within a "safe" and "supportive" social structure."
Plus, sometimes it's just fun to dress up.
"For me, it's more like the character chooses you. Like, if I watch a movie and I find so much of myself in a character and that character inspires me, I want to cosplay them. In my head, I feel like by cosplaying that character I could perhaps improve my own self," said Opula Fonseka, who gained much acclaim for her cosplay as Corpse Bride at Lanka Comic Con last year.
Cosplay In Sri Lanka
While it has enjoyed decades of refinement, growth, and support in the United States and Japan, where cosplay originated, cosplay is a very new form of performance art in Sri Lanka. However, it is gaining a lot of momentum, with Sri Lankan cosplayers showing talents as good as any other in the world, while working with limited resources here.
Making The Costumes
The clothes that most fictional characters wear are incredibly complex and have specific features. If you look for tutorials on how to make these, you'll find that most online tutorials are geared towards the US or Japan, or similar countries where costuming equipment is easily available. That's not the case in Sri Lanka—so the community assists how they can. Sri Lankan cosplayers are happy to tell you where they got their materials from.
"It was at first hard not knowing where to go, but then I found a community of cosplayers that didn't hold back when it came to offering advice and help," said Fonseka."However," she added, "it's always an adventure when looking for the perfect materials—that's how I discovered havens like Prince Street at Pettah, Srina Palace, [shops in] Pamunuwa, etc. In times of desperation, I could turn to the community that's always willing to lend."
Sometimes you just need professional help. Oshitha Narangoda, who wowed everyone with his cosplay of the Joker from Batman at last year's Lanka Comic Con, had to take that route. He said he read articles and watched tutorials, but some things were just beyond him.
"I cosplayed the Joker for the first time and I wanted to wear the purple trench coat of the Clown Prince back in 2015. I didn't (and don't) have the skills to craft a trench coat by myself, so I got it tailored. That's what I did in 2016 as well. I got my entire costume custom made, as I believe the tailors are obviously doing a better job than myself—so I prefer that option," he said.
It's also important to get the fine details right. That's what separates the good from the great. As Narangoda stated, "The hardest part, in my opinion, is making your cosplay as accurate as possible. Cosplaying a character is no child's play. You have to pay attention to tiny details and see if you can make your cosplay an accurate representation."
Reception
Cosplayers themselves have a strong community spirit. They celebrate and accept each other. The skills and work that go into the costumes, as well as the performances, are best appreciated by those who know and understand the nuance. They understand that the cosplay is sacred to the cosplayer. With more and more genre fiction emerging into the mainstream, practices like cosplay, which were once considered fringe events, are gaining wider acceptance.
The San Diego Comic Con in the United States is a great example. With crowds in the hundreds of thousands and a strong presence by the entertainment industry, comics, fantasy, and science fiction aren't relegated to obscurity anymore. But that's not always the case. While the US is generally accepting of cosplay now, in Japan, even after all these years, it's still frowned upon outside its circles. Winge writes:
"In Japan, cosplayers are not welcome in certain areas beyond the convention, and some conventions request that cosplayers not wear their dress outside the convention."
In conservative Sri Lanka, it's not even disliked. It's so new to the island that it's simply misunderstood by the public. However, most cosplayers have found support in their friends and family.
"Close family and friends have always understood, even though the start was a little rough. Some of my friends—if not all—are cosplayers, so I didn't have to prove myself to them," said Fonseka.
The Future
Today, geek culture is getting a wider appeal in Sri Lanka, especially with groups like The Geek Club of Sri Lanka leading the charge. There's an increasing number of events and gatherings where cosplay is a welcome component, such as the aforementioned Lanka Comic Con.The prevalence of western culture in cosplay right now doesn't mean that our own culture will be overshadowed. Even at this stage, where organised Sri Lankan geek culture is finding its first steps, there have been efforts to adapt Sri Lanka's own stories and tales into the geek formula. For example, the graphic novel Lionborn by writer/artist Sachi Ediriweera and colorist Chris Lissman a is re-imagining of the Sri Lankan legend of Sinhabahu. So cosplay of local legends is not far away. According to Opula Fonseka, the local legends of Mohini and even Mahasona are popular characters to cosplay.
She further said that it's important to properly honour the art of cosplay through competition, so their skills in cosplay receive acknowledgment and recognition. "Another way is to profile and hire good photographers because that one picture is all we have to show for all the blood, sweat and tears," she said.
In case you're considering a cosplay yourself, you'd probably want to head over to the Asus Lanka Comic Con 2017 which takes place on August 26 (10:00 a.m. ‒ 8:00 p.m.) and 27 (10:00 a.m. ‒ 6:00 p.m.) at the SLECC. You can find Opula there:
"There is always a new level I can take my cosplay to because the variety in characters is endless and the calibre of skill required to bring them to life is endless. This year, I've fallen in love with latex. The possibilities are endless."
and Oshitha:
"I will be cosplaying a different version of the Joker at the Asus Lanka Comic-Con on day 1 and Grand Admiral Thrawn on day 2. Pretty excited to keep cosplaying various iterations of the Joker and other characters from different fandoms in future."
And even if you're not too sure if you're ready to don a costume yet, you can still see and meet Sri Lanka's best cosplayers and find out for yourself the skill and passion that goes into their art. But remember, be respectful.
Roar is an official media partner for Asus Lanka Comic Con 2017.
Featured image credit Roar/Minaali Haputantri