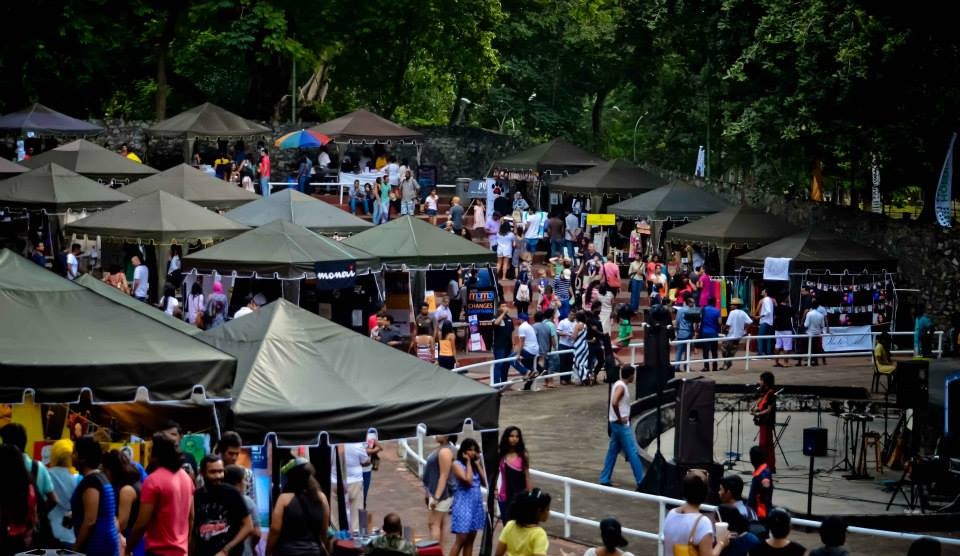 The Colombo Design Market (CDM) held on Sunday 19th July featured numerous exciting stalls – everything from handicrafts to custom-made t-shirts, to paintings and even men's underwear. This time, Roar had its own lion-faced postcard installation but that wasn't all we did at the CDM. We also did a bit of poking and prying to pick out some of the most unique and interesting stalls found at the Night Edition of the CDM. Here's a list of artists, designers and entrepreneurs worth looking out for:
Nothing gets us going more than a badass Batman t-shirt custom designed by a "mad fan" as the name goes. What's more, they even made Superman look cool and that's saying something. Going by the collective "We Are Designers," watch out for the artist Nimesh who even has his own little graphic novel.
An interesting concept by the guys at Parkville: eco-friendly designer sunglasses. That's essentially wooden frames kicking out the plastic ones we've been wearing for years. Not only is it eco-friendly but also trendy, with the glass in UV protected funky blues, greens and purples.
Tucked in a neat corner at the CDM we found a little wonderland in its own right. Turns out, the brains behind it is only 16. Meet Kyle – we suspect he's a prodigy. Obsessed with Alice in Wonderland, you'll find Alice related paintings (all very cool, we promise) among other equally cool stuff. Like a bunch of creepy zombie mermaids, automaton women, a series dedicated to the Colombo Pride and Jon Snow.
For all the ladies who love their trinkets, watch out for this range if you want your hands on some handcrafted jewellery. Made of German silver metal combinations, we can't quite prove the science behind the healing crystals they use but we can assure you of their one-of-a-kind custom made jewellery that's unlike anything you'd find in a local store. Which means the chances of running into someone wearing the same jewellery at a party is next to nil. Hallelujah!
The only thing stopping us from pampering ourselves like royalty is the unfortunate wallet situation. Not quite the case anymore, thanks to Bath Bliss. Their homemade bath and body products not just feel good but are also budget-friendly. They have sizeable cakes of soap ranging from Oats milk and Honey to Goat Milk and Oats to Lavender Dreams to Lemon Pie to Sweet Peach and Melon to Eucalyptus and Lemongrass…and the list goes on!
Turns out, there is "still a lack of value added differentiation within the local men's underwear market." Basically, Sri Lankan men have been lucking out in the underwear department and this is where Clubhouse Vivaldi comes in with their range of men's underwear, which, to be honest, looks nice and from what we hear, is really comfortable!
It felt great to see so many young entrepreneurs being able to share the fruits of their creativity with the collective public. We cannot wait until the October edition of the Design Market to check out more.