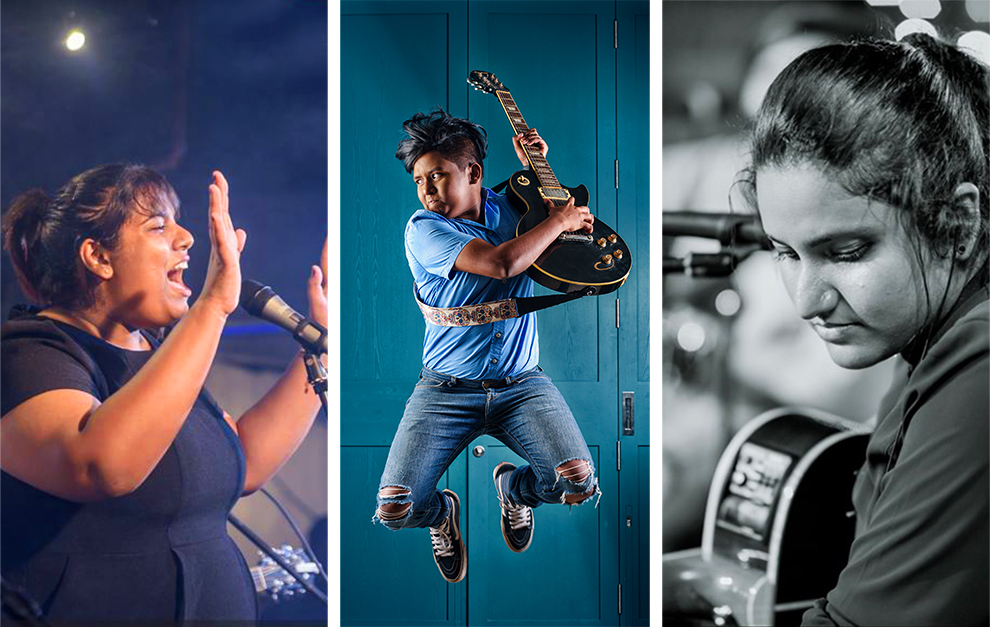 In an industry where body image is just as, if not more important as the music, three female musicians in Sri Lanka are making it about body positivity. 
This is why they chose the most unusual—perhaps even the most unflattering name they could think of—'The Singing Potatoes', for their band. Their goal, to take a stand against body shaming by expressing unapologetic comfort in their own skin.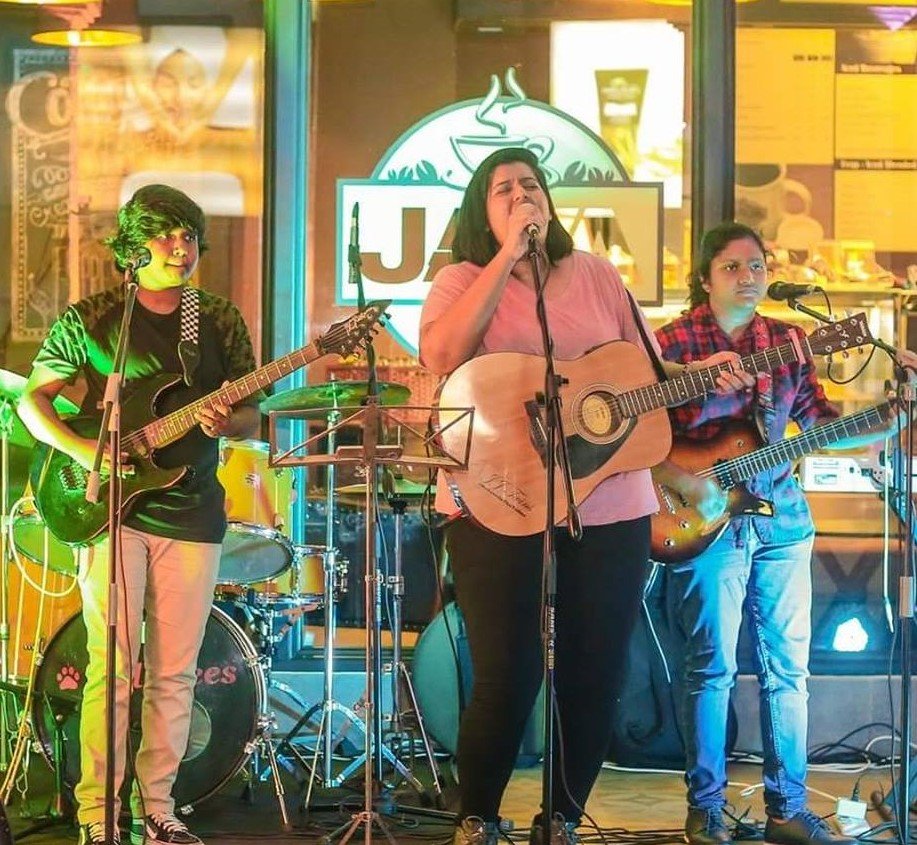 The acoustic trio was an accidental formation that came together for the first time at their school talent show in 2010. Years later, in 2016 they banded together again to record covers of the songs they love—a wide repertoire of English, Sinhala, and even Tamil and Hindi music.  
In their truly independent fashion, they made their first public appearance on YouTube, choosing to record in offbeat locations, like inside cars. 
Since then, they've moved on to playing at local events, concerts and most recently hosted their first unplugged concert 'ප-අල-වෙනි එක' (The First One) on August 19 to commemorate National Potato Day. 
Meet The Potatoes 
The Potatoes—Harini Dias, Chinthani Senevirathne, and Shenali Kirindagamage—all 23, play acoustic music but their genre is yet to be defined. 
They each have different musical backgrounds and their own individual musical taste. Dias was part of her school choir and cites a range of influences, from pop, soul and R&B, with a particular love for singer-songwriter, Adele. 
Senevirathne was a member of the school Sinhala drama circle, composing music for the performances they staged. Together with Kirindagamage, she was also a member of the school orchestra. Senevirathne's favourite music artist is Indian musician A. R. Rahman, while Kirindagamage told Roar Media she had always had a love for rock music, particularly guitarists, like her favourite, Slash from Guns N' Roses.  All three unanimously agree that Sri Lankan music producer and artiste Charitha Attalage, is a favourite. 
As a result of these diverse tastes, the band's music is a fusion of sounds, with the trio actively seeking out new combinations. 
Vocalist Dias quit her job as a trainee chef to become a full-time musician in 2016. "I learnt from my grandfather, and I think that is what influenced me to do music," she said, explaining, however, that she had never expected to end up a musician. 
She even had some opposition. Music was perceived as unsuitable a career for a young woman, and her family was also concerned about the unsavoury stereotypes associated with women in the industry in Sri Lanka. This meant that Dias only half-heartedly participated in her music lessons while growing up, on the assumption that she would not follow through. 
But with time, her love for music ignited, and now, in addition to being the lead musician, she is instrumental in creating and fine-tuning melodies for the band. Dias also aspires to qualify as a choir trainer. 
Senevirathne is the quieter of the three and plays lead guitar. But she is the lead vocalist when the band performs numbers in Sinhala. She attributes her talents to a "lucky genetic combination," and training by her parents—her mother, a music lecturer at a leading university, and her father, an avid guitarist.
A student of Indian classical music, Senevirathne is also pursuing a degree in software engineering, whilst teaching guitar on the side. 
Unlike her other bandmates, Kirindagamage did not consider music until recently. "I didn't want to do music. I didn't think I could even play the guitar!" she said. But after a few successful attempts on her brother's guitar, her family encouraged her to consider lessons. 
She now plays bass, and sometimes the lead guitar for the band, all the while balancing a full-time job and pursuing a degree in Business Management. She also takes on most of the band management and runs its social media platforms. 
Music vs. Societal Expectations
Globally, the unnecessary priority placed on 'image' over content has faced backlash —especially in the music industry. The fact that an artiste's appearance is considered important to sell in a  'popstar package', and the exceptionally high pressure on females to maintain a publicly accepted profile has been repeatedly called out. 
"It's way easier to make yourself accomplished when you have the right skin colour, or the [conventionally] pretty face and the body," Dias said matter-of-factly. "But it is hard to sustain this."
The Singing Potatoes, instead, place great emphasis on being themselves, dressing in comfortable clothes and focusing, quite simply, on their music. One of the videos recorded in their early days as a band, in a car with poor lighting, dressed in their standard T-shirt and jeans, received quite a bit of traction. "We realised [then]that it is the content, the output that matters," Kirindagamage said. 
Even the name they chose for themselves was an attempt to dissociate from the negative connotation associated with being called a potato. The band uses this point to drive home the message of truly loving who you are. 
And as Kirindagamage pointed out with a laugh, with a band named 'The Singing Potatoes', "you can't make fun of us, as we've already done that [ourselves]!"

The Singing Potatoes performing a cover of 'Kuweni' by local musicians Ridma Weerawardene ft. Dinupa Kodagoda, at their first unplugged concert on August 19, 2019.
The girls also feel the offbeat band name has helped them truly connect with their fans—lovingly referred to as 'french fries'.  
Dear Fries….
Most social media posts to their fans begin with a 'Dear Fries', a play on their unusual name. But aside from the popularity brought about by their quirky name, the band is quick to point out the support of local artistes, like Viresh Cooray from the band 'Daddy', Ridma Weerawardena, Umara Sinhawansa and Monique Pallegama from 'Gypsies'. 
The band initially received some local exposure through an online music competition, Music Star, in 2018, where they placed third. But participating opened doors to a network of musicians and artistes in Sri Lanka's industry who have been nothing but supportive. 
It was these established artistes that also persuaded the trio to consider working on their own originals, resulting in their first concert last month, which gathered a crowd of over 200 people.  
The event, which included performances from Viresh Cooray and Ridma Weerawardena, ended with the band receiving an offer from Viresh Cooray to produce and record their new original—which they immediately accepted.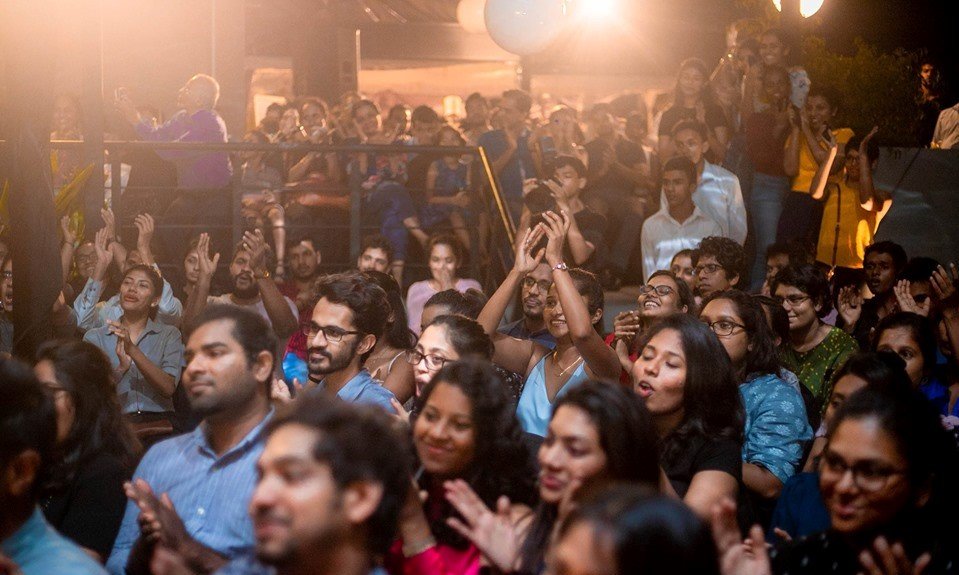 But 'The Singing Potatoes' know that their biggest supporters are their family and friends. Three friends in particular form an integral part of their support team and take on administrative work, event management and promotional activities, while the families chip in, in every possible way. 
While the band has not been vilely personally attacked on their appearance, there has been some pressure to "dress up", they say. Despite this, the trio remains committed to their identity, choosing to be accepted for who they are.  
People have also voiced concerns about the name of the band, questioning its sustainability in the long-term. "People have tried to convince us [to change our name], asking us how it would look calling ourselves 'The Singing Potatoes' when we are 40 years old," Dias said.  
"But we also have the music band, 'Queen' and even 'Daddy' in Sri Lanka!" said Kirindagamage, supremely confident about the use of unconventional names, and what it represents. 
Fresh off the high from the success of their first concert, the band now plans to focus on themselves. "We have some originals lined up," Kirindagamage said. "And we want to focus on us for a little while."