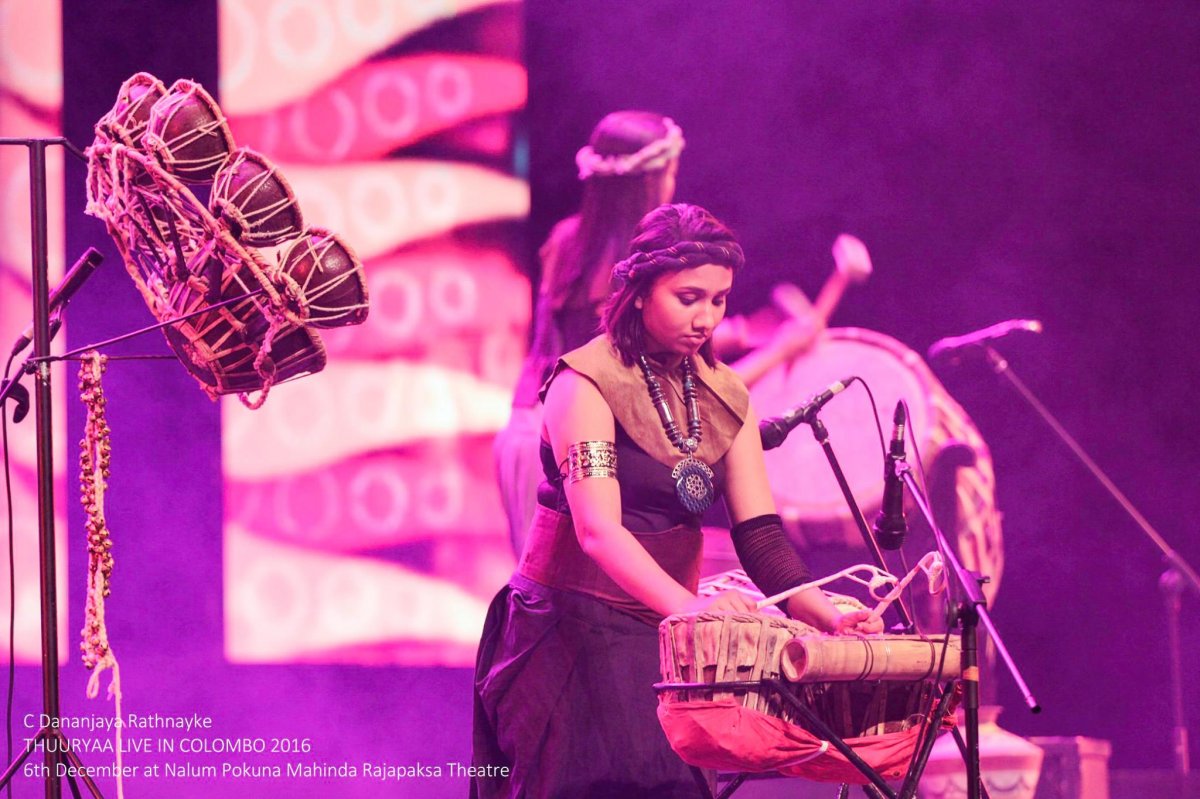 "Women are not allowed to perform traditional [drumming] rituals. Drumming was a ritual that was passed down through tradition. Children as young as six or seven years old would join a master, who would then rigorously train them until they were much older…"
Professor Karunarathne Bandara.
Once an art that was strictly limited to men in the country, traditional drumming was considered taboo for women. There was no way for a woman, or girl, to learn it, especially as boys were taken under the wings of a patron who would teach them rigorously for years. This left a void where female performers were concerned.
However in 2015, Sri Lanka saw a change in gender norms when a group of undergraduates from the University of Visual and Performing Arts put together a show and hosted their first performance featuring an all-female drum ensemble. This made history as a first in the country, and the percussion band Thuryaa was formed.
From University Auditoriums To International Arenas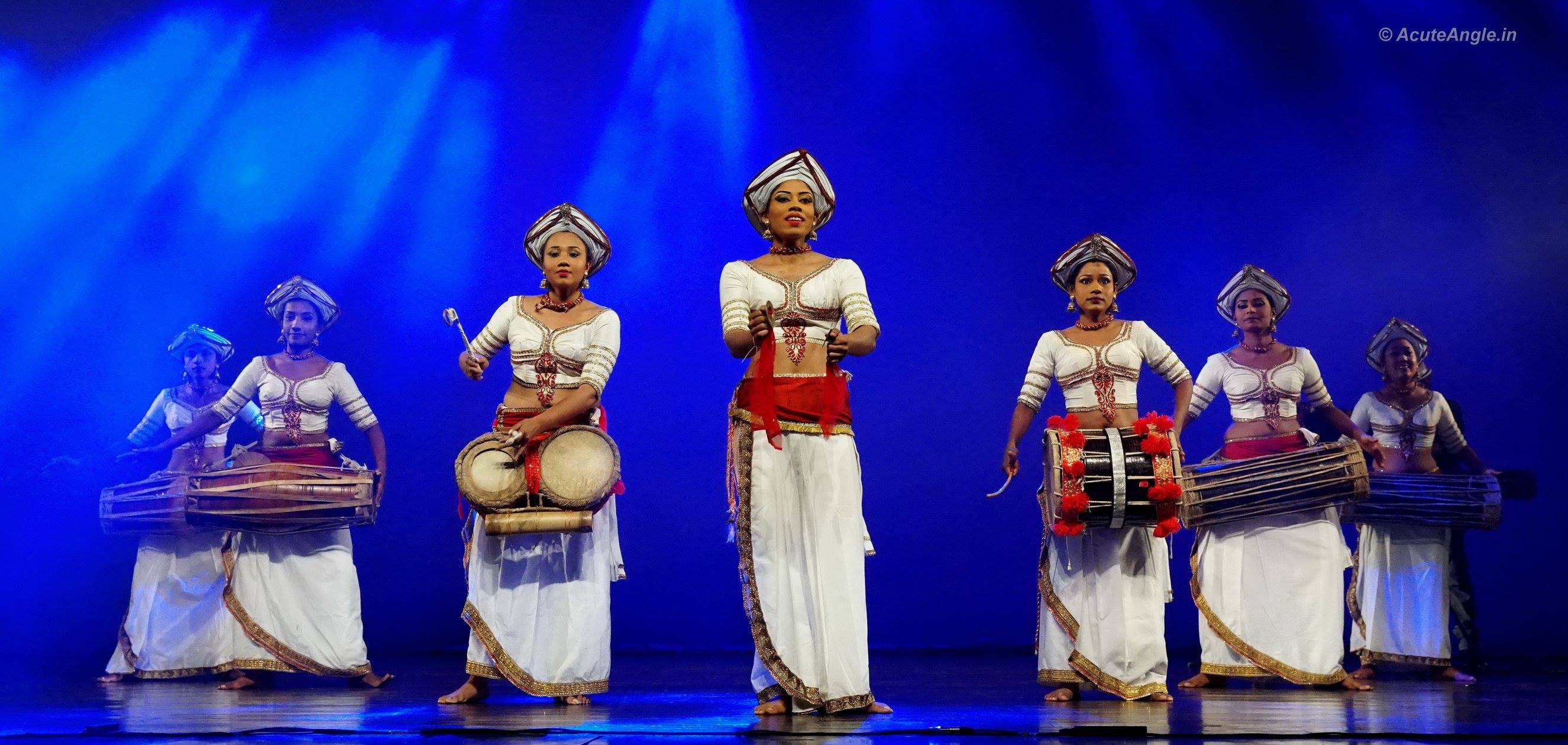 "No one really cared about us. They thought we'd fail," Thuryaa's group leader, Sithara Maduwanthi, told Roar Media during a quick interview. At the time of speaking, the band was just about to fly out—they had been invited to perform at Taipei City's International Drum Arts Festival.
Just four years ago, Maduwanthi was an undergraduate studying percussion music. She was the only female undergraduate, and, she noted, also the first.
While she was there, a friend asked her if she would like to perform at one of the Leo Club's conferences in 2014. This opened doors, and her tabla lecturer at the time, Sriyan Chandrasekara, encouraged her to find like-minded peers and form an all-female band.
"I was learning under my tabla teacher back then, who guided me throughout. After finding several other people for the band, we gave our first performance at the university's auditorium. No one really cared about us and they thought we would fail—but we were also noticed by our department heads and the university Vice Chancellor Ariyarathne Kaluarachchi, who gave us great recommendations," she said.
The academic staff not only gave them a glowing review, they also advised the girls on how to take their initiative forward and how to create a female percussion art form. With their encouragement, the girls then organised their first concert at the Nelum Pokuna theatre in 2016. In January earlier this year, the band was invited to perform at the International Dance and Music Festival in India. In 2016, they won the best music and best dance awards at the 18th Female Folks Art Carnival in Punjab.
Maduwanthi laughs as she spoke about how the girls promoted the band and raised funds for it. "We used to perform in trains and have a hat collection going around."
Practice And Perseverance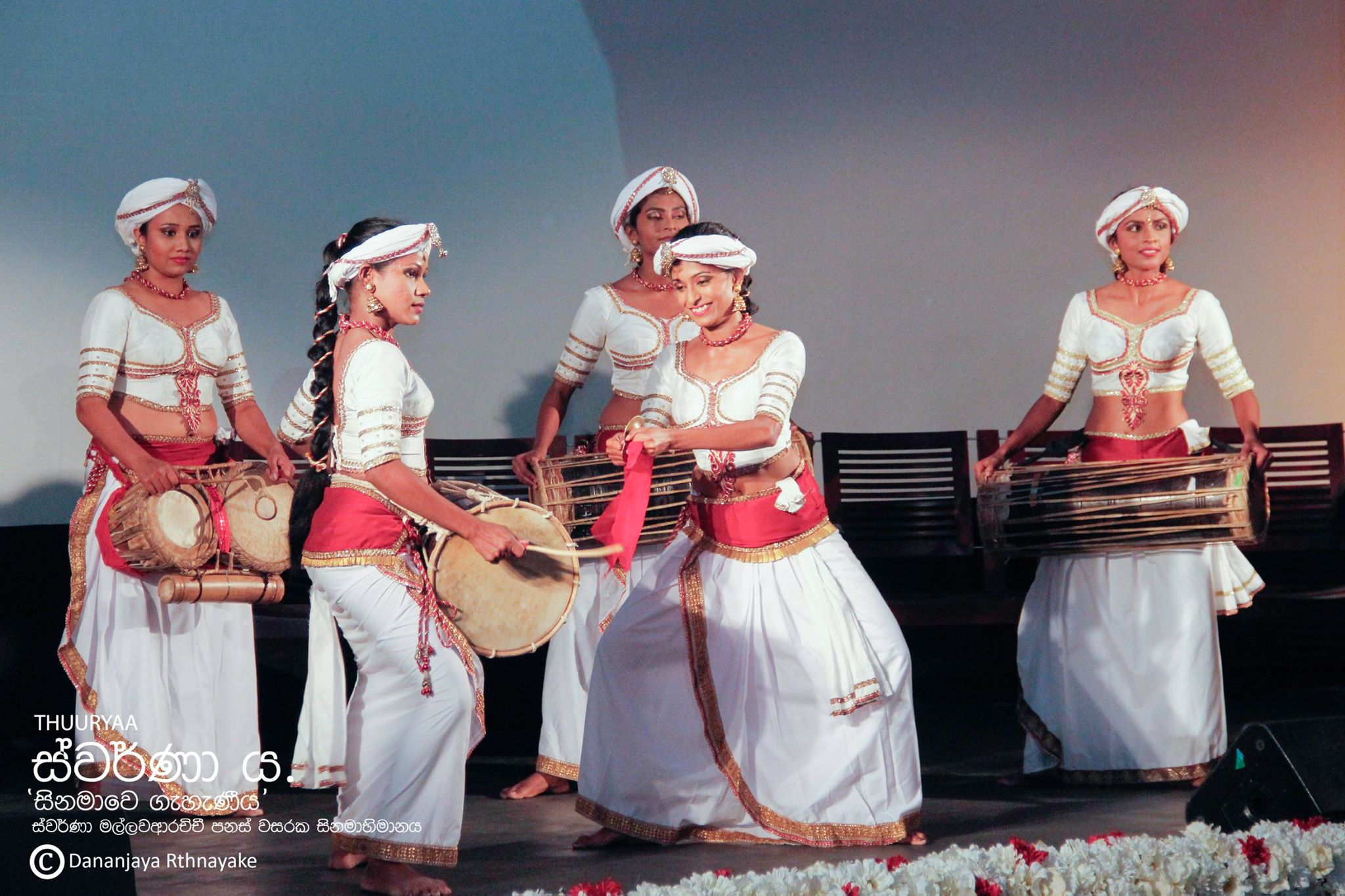 The band's performances are seamless and thrums with energy—but this wasn't always the case. Training literally involved blood and bruises, especially during the early stages of practice. Maduwanthi's former tabla lecturer still works closely with her, and is now the band's music director.
Speaking to Roar Media about the formation of the band, Chandrasekara stated that Maduwanthi had expressed interest in doing so, and he merely encouraged her to follow it through.
"It was more of an experiment when we began playing around with the idea. We didn't know if it would work out or not, especially as traditional drumming is considered a male art form here. The women also need to be able to bear the pressure of drumming, so there had to be a filtering process of sorts," he said.
For this, they started off with physical training and arm strengthening exercises to narrow down who could actually commit to the band. Of the 20 girls who joined in the initial stages, eight dropped out and only 12 remained.
"If you're serious about this, you need a lot of physical strength and perseverance," he added.
According to Professor Karunarathne Bandara, the gendered change took place because drumming is now taught in universities as an art form—and is an available subject for both men and women to study. An expert on the subject, Professor Bandara is the Director of the Police Cultural Division and the author of two books focused on upcountry and lowcountry traditional drumming in Sri Lanka. He told Roar Media that while female drum artistes could perform, they would not be included for traditional rituals, which is still a male-dominated sphere.
There are nearly 20 band members now, some of them still undergraduates at the University of Performing and Visual Arts. The band has faced a few challenges, including criticism of how they are disrespecting and ruining Sri Lankan culture. However, these have faded now, mostly due to the positive feedback received by maestros in the industry; Maduwanthi named Ravibandu Vidyapathi, Jananath Warakagoda and Rakitha Ruwan amongst those who helped validate Thuryaa.
The girls still practice religiously every day. Recalling how they used to juggle lectures, fund-raising, and intense practice sessions which went on up until midnight, Maduwanthi stressed how important constant practice is.
"Our bodies have to be one with the rhythm. If we slack off even a bit, we won't be able to perform well enough."
Cover credit: Facebook.com/thuryabeat