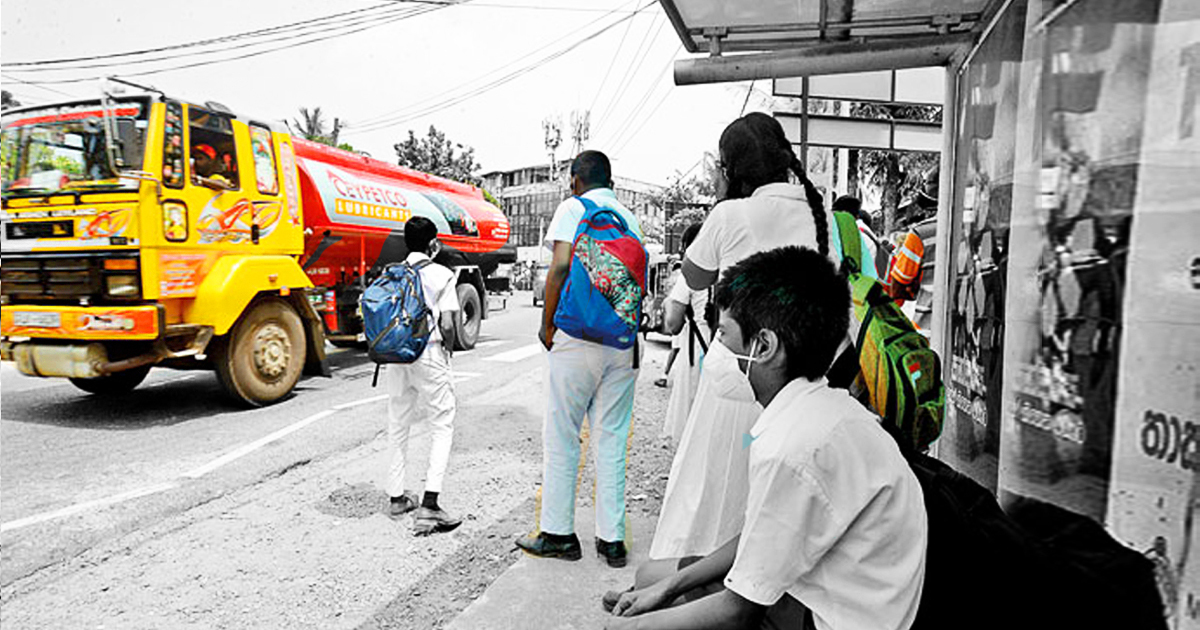 Last week – after many months of schools not being considered 'essential services' – the Government of Sri Lanka made the decision to restart schools across our crisis-hit nation, with the promise that school vans will receive priority in the fuel queues. Subsequently, the Ministry of Education also decided that schools located in areas where students and teachers do not have transportation issues will be open five days a week as usual.
With fuel shortages making it impossible to hold physical classes, and power cuts combined with poor network connectivity making it equally impossible for online education, many students have found themselves enjoying a prolonged vacation in the guise of 'school holiday' after 'school holiday' this year. 
This is the last thing that students – already wrung out by COVID – need. 
Paying For Space
Malithi and Kividi*, two sisters attending a prominent school in Colombo, shared that ever since the fuel crisis, their school bus fares had risen by almost 50% — from LKR 9,000 to LKR 13,600. 
They told Roar Media that this new fare had to be paid regardless of whether they actually go to school or not. Unlike before, when they paid to have a seat to ride to school, now their payment is to simply ensure a ride to school, seated or not. Their private school bus now resembles a regular bus; packed like a sardine can. "The number of students taking the school bus has significantly risen," they said. 
Despite the difficulties, it is clear that parents — and the students themselves — are keen for the students to attend school.  Malithi and Kividi told Roar Media that a school friend had begun taking the bus at 3 AM in order to attend school. 
Attendance has risen progressively over the past week, with many in the city limits somehow making it to school, they noted. For example, in the Colombo North division, student attendance on 25 July was 6,548 out of 13,615 students, a number which rose to 8,287 by 28 July. However, the students from afar faced more difficulties and thus could not make it, capping attendance at a maximum of 80%.
"We had two school days in the past week, and on the first day we had an attendance of around 50%, and in the second, around 80%," Sayuri*, a teacher from a school in central Colombo, told Roar. Her students mainly take the bus to school, she added, noting that while the commute was very difficult and also very crowded, it was not impossible. 
Teachers' Woes
Teachers' attendance at Sayuri's school was at around 90% last week, she said, with those not attending being mostly those who lived far away. 
While the majority of the teachers also took the bus, Sayuri shared that some, including herself, pooled together to take tuk-tuks to school. However, with increased fuel costs, she now pays 3-4x her previous amount on daily transport, she said. 
An official from the Colombo North Divisional Education Office shared with us on the condition of anonymity that teachers seemed more reluctant to come to school than students. However, because they cannot afford to take multiple leave days in a row they somehow travel to school.
If we look at last week's attendance statistics in the division, while student numbers increased by the end of the week, teachers' attendance declined each day.
The official also noted that while their division faced some impact from the ongoing fuel crisis, any impact would be more keenly felt in the Colombo South division, because students who attended schools in the Colombo North division mostly lived in the same area. Colombo South — with prominent schools — would have students travelling from afar. They would also be those who would feel the impact of the transportation woes much more.
'Frustrating'
The Colombo suburb areas did feel the impact of the transportation trouble more,  Jessica Perera, a parent who lives in Battaramulla — just outside the city limits — and who drives her son to school, told Roar Media.
While her son's school is fully open, classes are streamed online for those who cannot make it. However, because her son prefers learning in person, she must find ways to get him to school. 
"He finds it very difficult to learn [online], particularly with subjects like maths and physics," she said,  adding, "But we have had to keep him home on several occasions because we had no fuel."
"There have been several days like that, where I simply couldn't take him," she continued, "and I was also unable to find a taxi to send him." 
The distance to the school makes cycling an impossible option for him, she said, and school vans also do not function in their area. Overcrowding made buses also nearly impossible to travel in.  
"I have a car, and I feel very angry that I can't just simply drive him without days of planning in advance," she said.
School van drivers themselves are unable to keep up; besides the scarcity of fuel, decreasing availability of vehicles is a factor that has contributed to the unavailability of enough school transport vans and private buses. 
Jayantha*, who formerly operated a school van service in Colombo told Roar Media that he sold his vehicles as it became more and more challenging to keep up with diesel prices. 
Pricey Free Education 
Meanwhile, media reports quoting an official from the Ministry of Education said a dedicated private bus service for transporting school children and teachers is planned for this week. The official had added that schoolchildren and teachers have the opportunity to reach schools using the said bus service by paying normal bus fares.
This comes in a context where school dropouts are on the rise in the wake of the many difficulties students have to face simply to access their education, particularly among the O/L and A/L grades. 
"A lot of kids have changed their A/Ls from the local syllabus to the London syllabus because no one knows when local A/Ls will happen," Malithi shared. "Others have dropped out altogether."
In a country that has boasted free education for the better part of a century, whether students will continue to be able to afford the unprecedented cost of 'free' education, and for how long, remains uncertain.
*names changed as requested