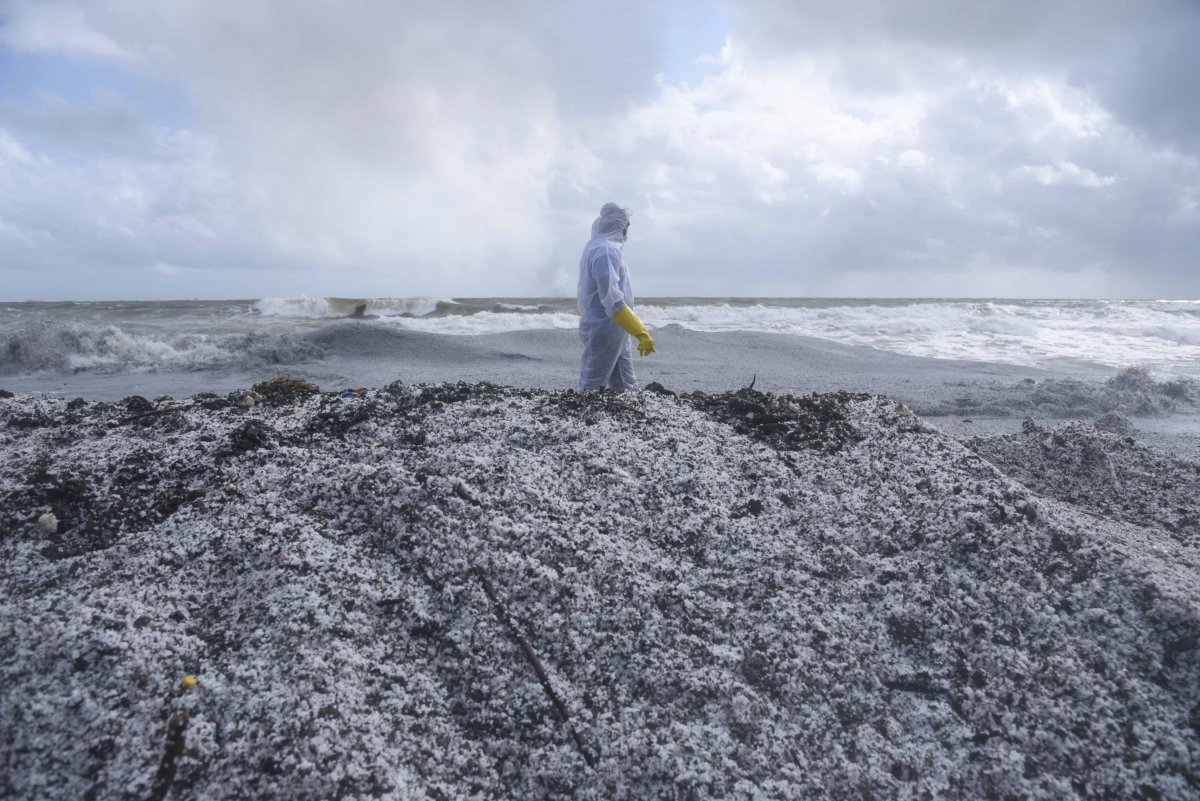 Scenes from Kepungoda, Negombo on 1 June showcase a beach covered in nurdles — small plastic pellets that form the raw material in the manufacture of plastic products —  that washed ashore following the MV X-Press Pearl disaster.
Officers of the Sri Lanka Navy, together with the Sri Lanka Coast Guard, wearing hazard suits, survey the beach. Once golden-hued and filled with life, the beach has transformed into a dystopian wasteland, desolate and inhospitable. The scenes appear post-apocalyptic, with the carcasses of various marine life scattered across the nurdle-mixed beach sand. 
"We cannot really say how long the beach clean-up process will take," General Manager of the Marine Protection Authority (MEPA) Dr Terney Pradeep Kumara told Roar Media. "It depends on the daily situation and we, assisted by other institutions such as the Navy, do daily surveys of the affected areas." Following every survey, he explained, if a large swathe of plastic nurdles are observed to have washed up, the authorities will deploy a team for clean-up. 
On 20 May, the Singaporean cargo ship MV X-Press Pearl caught fire and burned for 13 days. Within it was a cargo of 78 metric tonnes of plastic nurdles, in addition to 25 tonnes of nitric acid.
The @oceanswellorg estimates that Sri Lankans release three kilograms of plastic waste per capita each year, which makes this ongoing 'nurdling' of the coastline equivalent to the annual output of as many as 26,000 Sri Lankans in almost a single day. 
On this #InternationalEnvironmentDay, it is essential that we highlight and reflect on the largest maritime disaster that has affected Sri Lanka. And the danger has not passed — with the ship now sinking, authorities are bracing for the worst-case scenario of a possible oil leak.