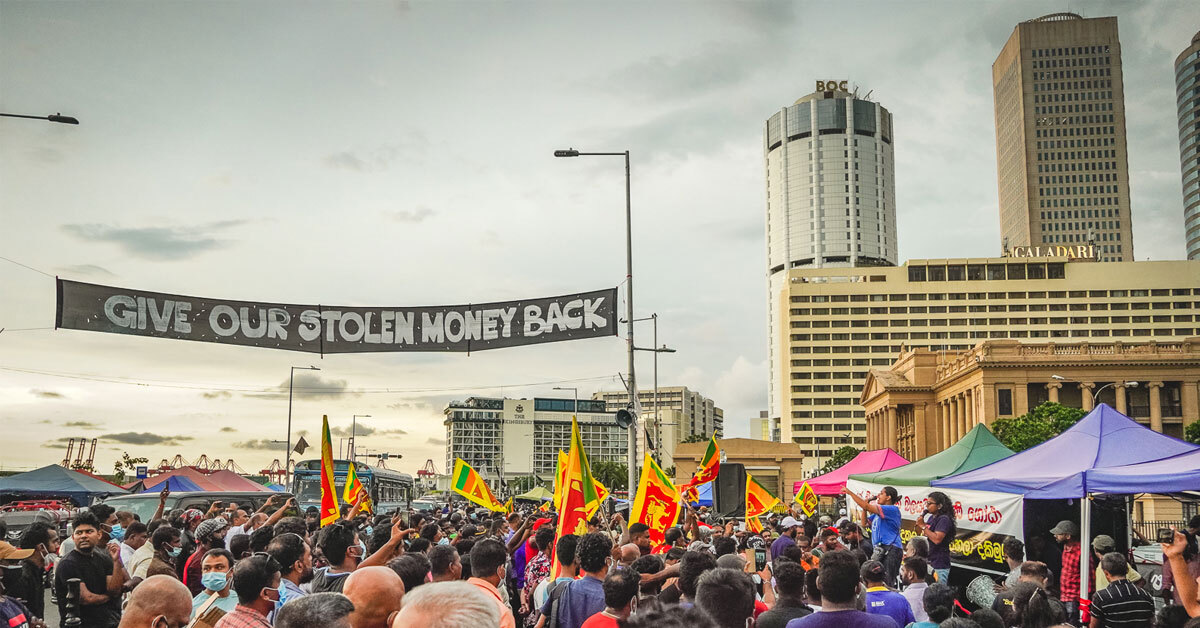 Starting from 01 March 2022, Sri Lankan citizens have taken to the streets in anti-government protests. Long hours of power outages, lack of fuel and cooking gas, essential goods and medicine caused by a number of economic lapses have forced the public out onto the roads; they blame President Gotabaya Rajapaksa and his government and they want them out. 
The culmination of the protests is the 'Gota Go Gama' or 'Gota Go Village', that has occupied the Galle Face Green's agitation site and the land adjacent to the Presidential Secretariat. The protest continues to date and is nearing 50 days. 
This article archives many of the stories from this protest site, which were originally published on our social media platforms.
'World's Most Peaceful Protest'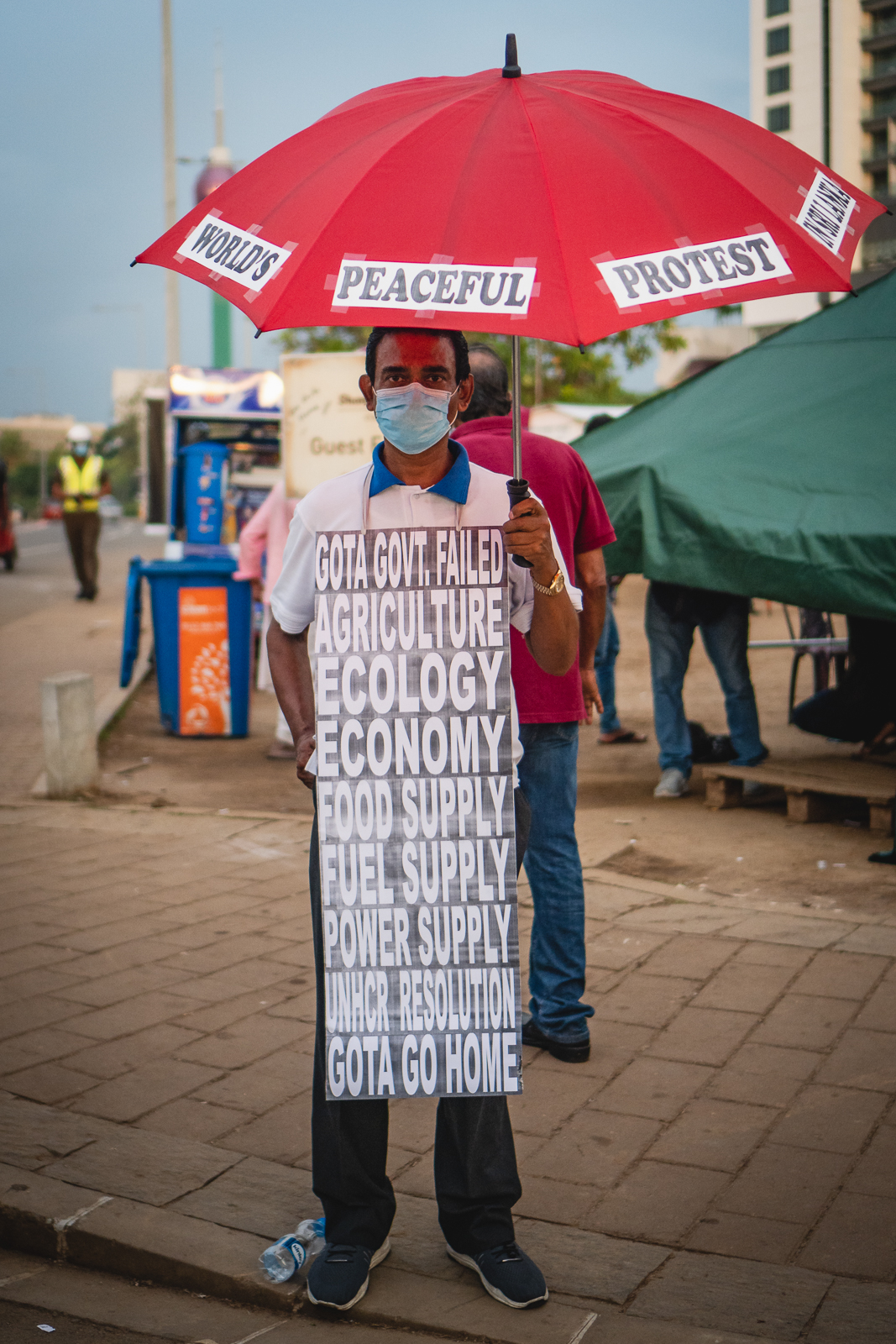 The words on this protester's umbrella read: 'World's Peaceful Protest In Sri Lanka'. The rest of his message was hung around his neck. Seen at the Galle Face Green.
How The Protest Provides Uninterrupted Power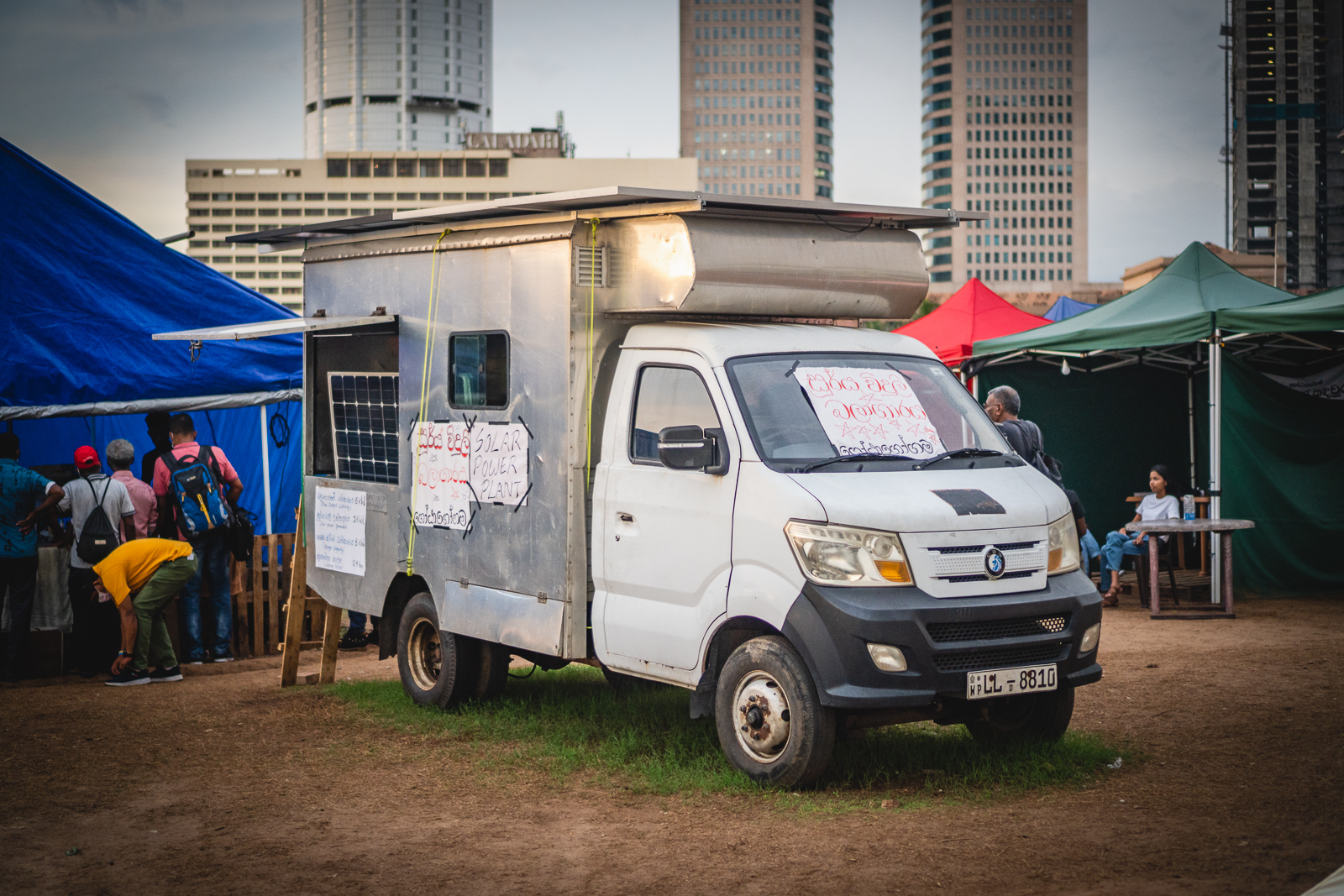 Few individuals who met through the DIY Off-Grid Sri Lanka Facebook group have volunteered to provide electricity without any disruption to the 'Gota Go Gama' library through a mobile solar power plant.
Built into a small truck, this unit also provides uninterrupted electricity to the Citizen Forum — a platform where protesters share ideas and views, the St. John's Ambulance Service, the Ayurveda Centre, the Legal Aid office premises and the telephone charging stations within the library.
The Library of the Revolution, as it has come to be known to the protesters, has expanded since its inception. Shifting to new premises, the library now has around 8,000 books within it.
Educating The Protesters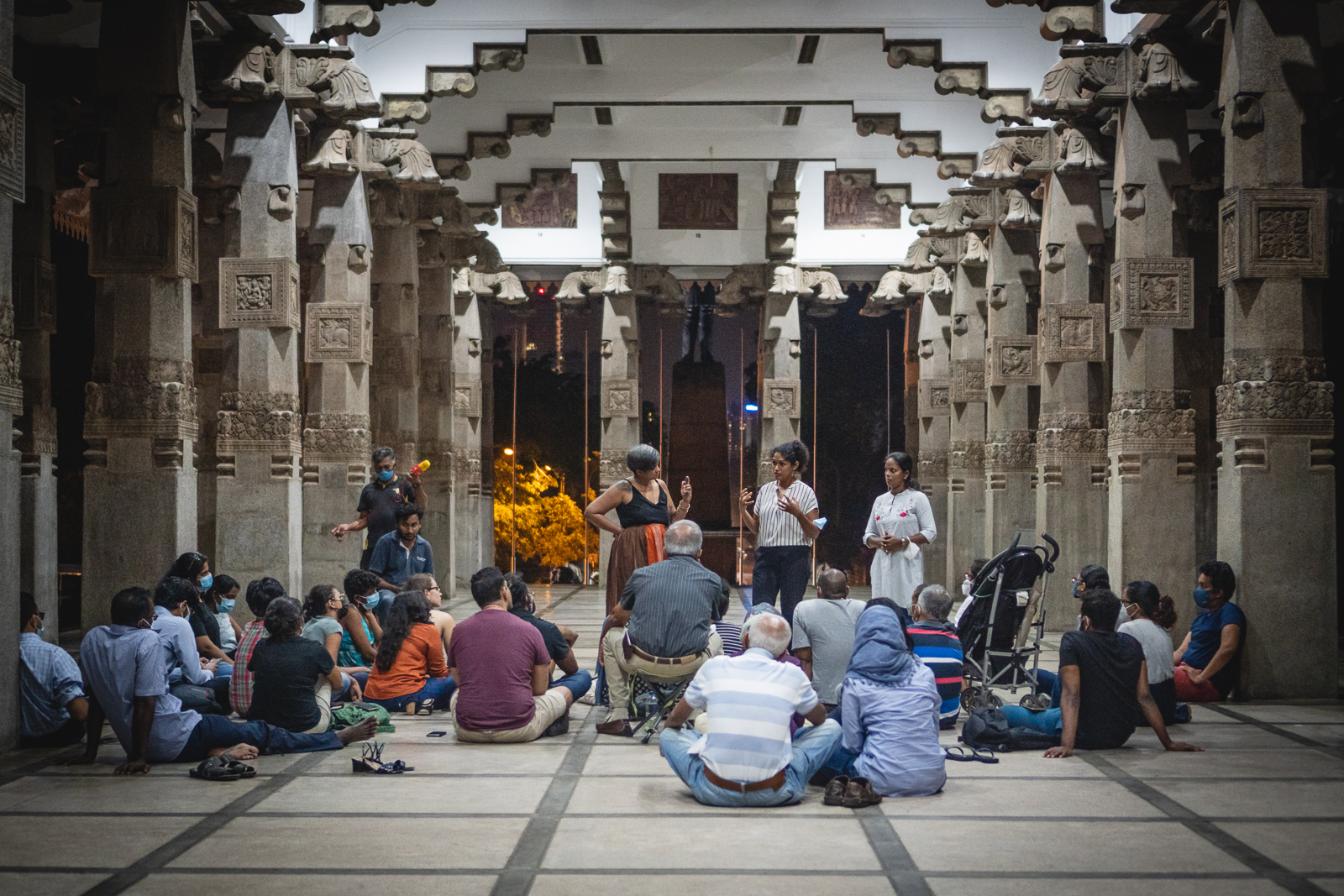 "Instead of a quiet corner, we've been boldly hosting the teach-outs right in the middle of Independence Square, because what are our grand public spaces for, if not for people to come together in conversation?" Sachini Perera, an activist, told Roar Media.
The first 'teach-out' took place on 8 April at the Independence Square, with historian Shamara Wettimuny educating the audience on the history of protests in Sri Lanka, and attorney-at-law Luwie Ganeshathasan explaining in detail the executive presidential system.
Activists Sachini Perera and Hyshyama Hamin thought the teach-outs – organised with the goal of strengthening public knowledge on the various dimensions of the present crisis and its roots – would be small gatherings in the corner of the Independence Square, but the events turned out to be a large enough to take over the entire space of the Square.
Since then, the two have organised six teach-outs, with the help of fellow activists.
"In early April, as protests continued and people started gathering at Independence Square, there was criticisms emerging about a carnival-like atmosphere; that protests weren't serious enough," Perera said.
"I didn't think all the criticisms were valid. But I did agree that while enthusiasm, especially from a lot of young people, who were also first time protesters, was great, we needed more of our demands reflected in the slogans we chant and the songs we sing, if we are to maintain momentum."
She added: "Traditionally, civic education and topics like Sri Lankan laws and social justice issues have been discussed behind closed doors – in lecture halls and conference rooms, and more recently Zoom webinars. So there is intentionality behind these teach-outs physically occupying public space and being open to anyone, young and old, willing to spend an hour to listen and engage."
The Longest Protest Of Sri Lanka Joins GGG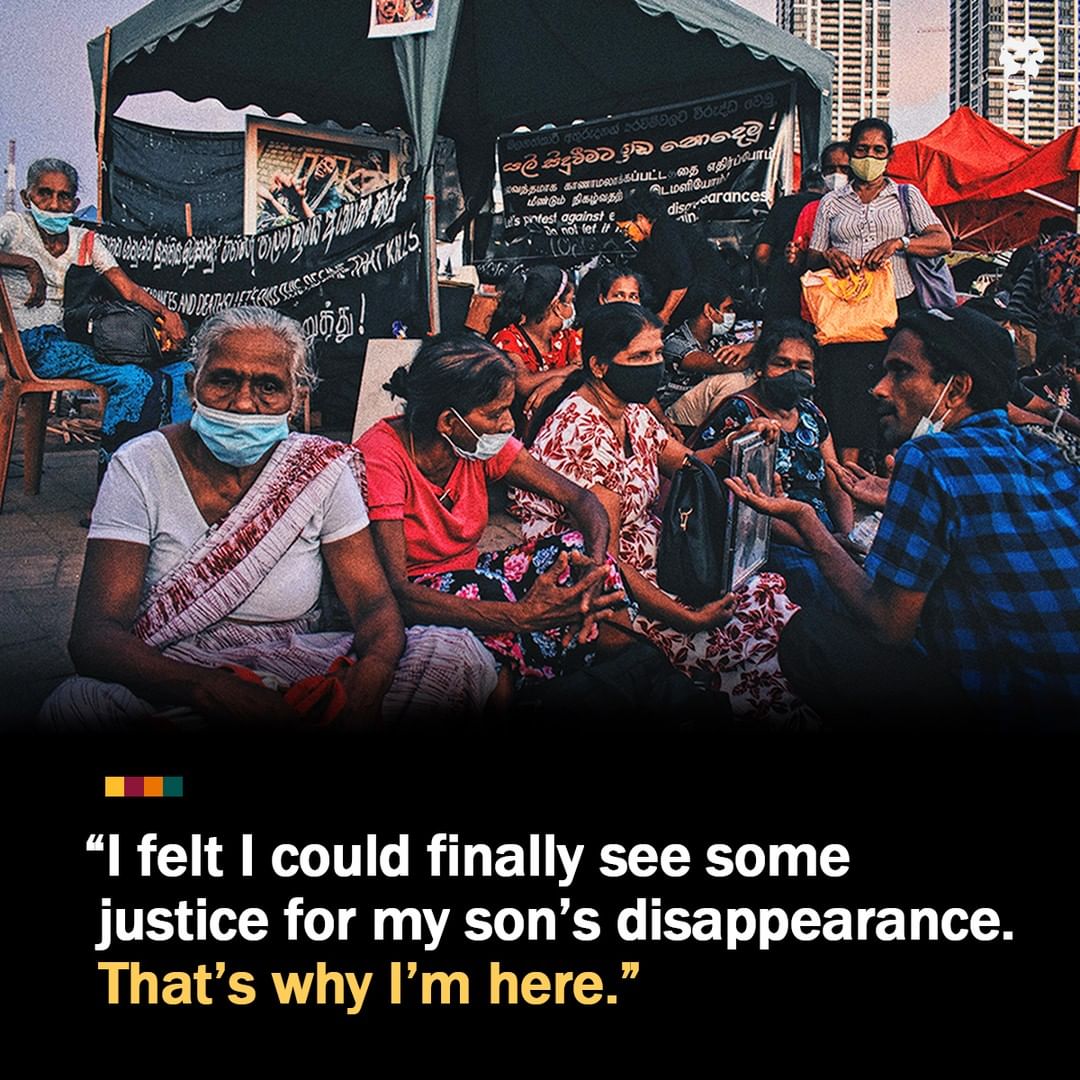 "I came here at first to see what was going on. But when I saw the youth of the country calling for justice from the leaders of this nation, I felt young once again. I felt I could finally fight back and get justice for what happened to me," one mother, 62, whose son has been missing for almost 14 years, told Roar Media. He was abducted in 2008, along with 10 other youths, during the last stages of the civil war, allegedly by government forces seeking ransoms. "I felt I could finally see some justice done for my son's disappearance. That's why I'm here," she said.
For over 1,500 days, mothers and wives in the north and east have protested continuously; they demand justice above all and want to know what happened to their loved ones who disappeared during and after the civil war. Mothers and wives in the south, too, join them — for over 30 years they have been waiting for their sons and husbands who were abducted during the bheeshanaya, between 1988 and 1990. Now, these protests have come together — the north and the south — meeting at 'Gota Go Gama' in support of the anti-government movement.
"We are yet to see a shred of justice for what has happened," another woman, whose father was abducted in 1988, told Roar Media. "I was 15 when some people who claimed to be from the police came and took my father away. Ever since then, I've been searching for him with my mother and my younger sister. My mother is old now. And the only thing we received from the government was a death certificate that listed the cause of death as 'missing.'"
Over the years, consecutive governments have implemented compensation schemes and independent inquiries to investigate enforced disappearances, but there has been little progress. By 2018, the Office of Missing Persons, a government body tasked with investigating enforced disappearances, had recorded between 16,000-20,000 cases of disappearances, all of which remain unresolved.
Student Union Joins Protest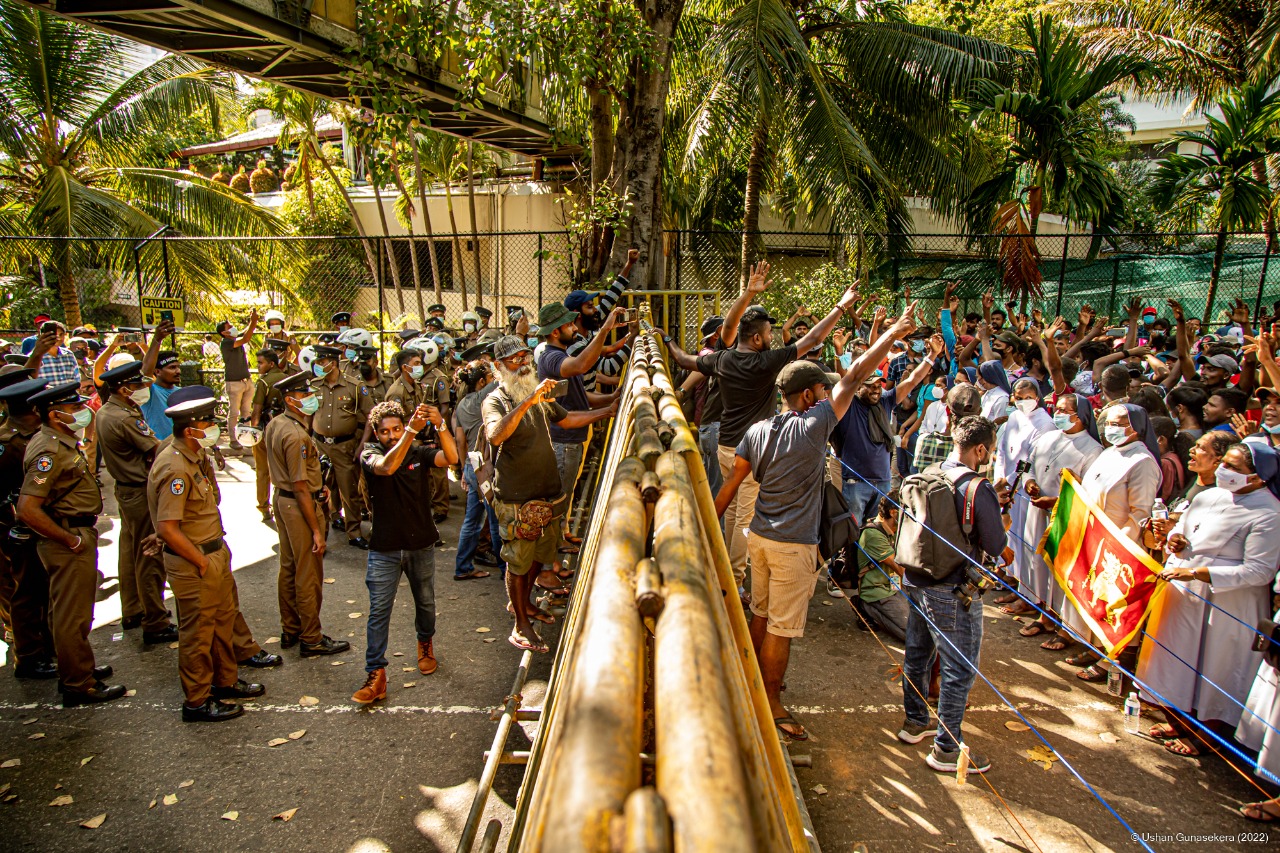 Protesters marching towards the Galle Face Green — renamed now as 'Gota Go Gama' by many — were prevented from doing so today (24 April), after Police barricaded several key routes. Several routes were permanently closed off after authorities put up steel barricades across the roads.
Protests were primarily organised by the Inter University Student Federation but also saw the participation of several other members of civil society.
Chaminda Lakshan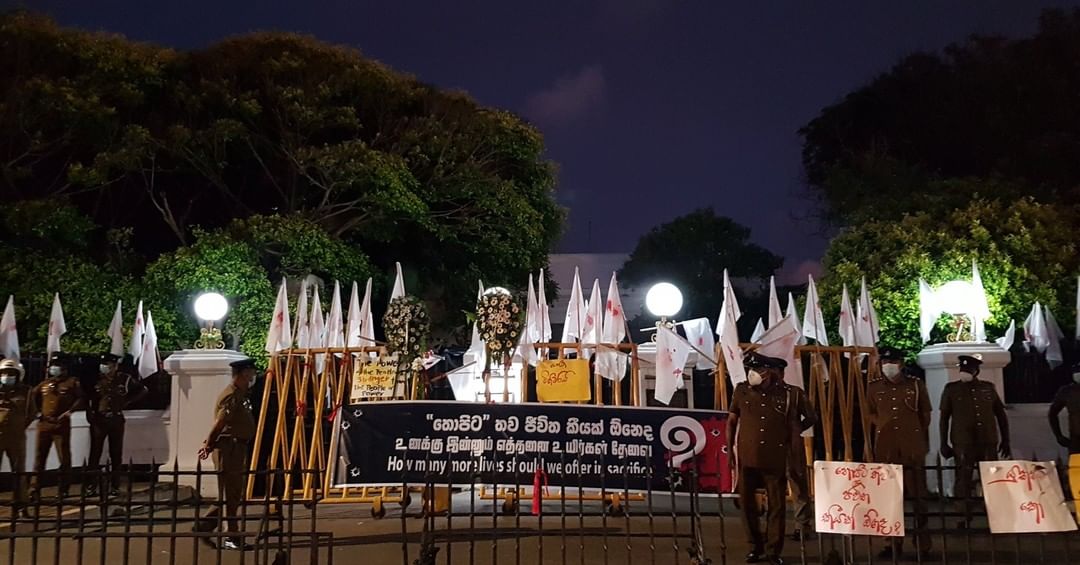 Here are some highlights of the citizens' protest march that took place on 23 April – 15 days since people occupied the Galle Face Green, demanding the resignation of President Gotabaya Rajapaksa and his government.
Among the protesters were people affected by microfinance loans, university students and families of enforced disappearances from the North and the South.
Another key higlight was the funeral march of Chaminda Lakshan, who was killed by Police while protesting for diesel in Rambukkana earlier this week. Protesters marched towards the Temple Trees later in the evening and tied white clothes to its gate, which were later taken down by the security forces.

Two Weeks Of Protesting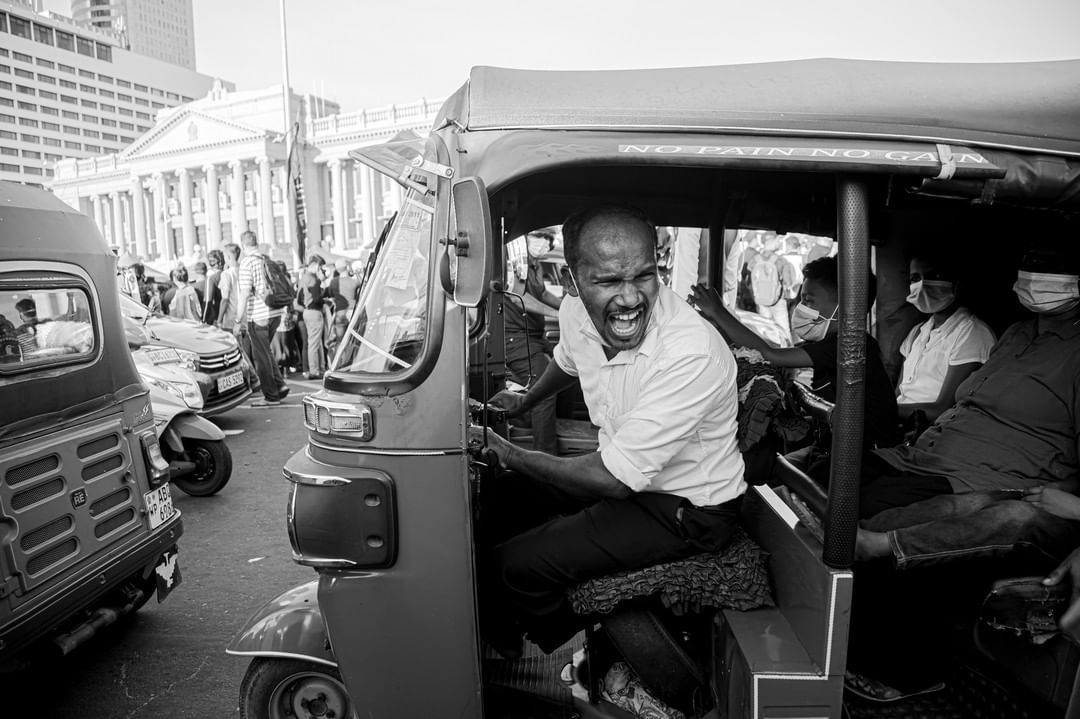 The people's protest at the Galle Face Green, opposite the President's Office, is at its two weeks mark today (22 April). 
Jehan Appuhami's Journey Pt. 2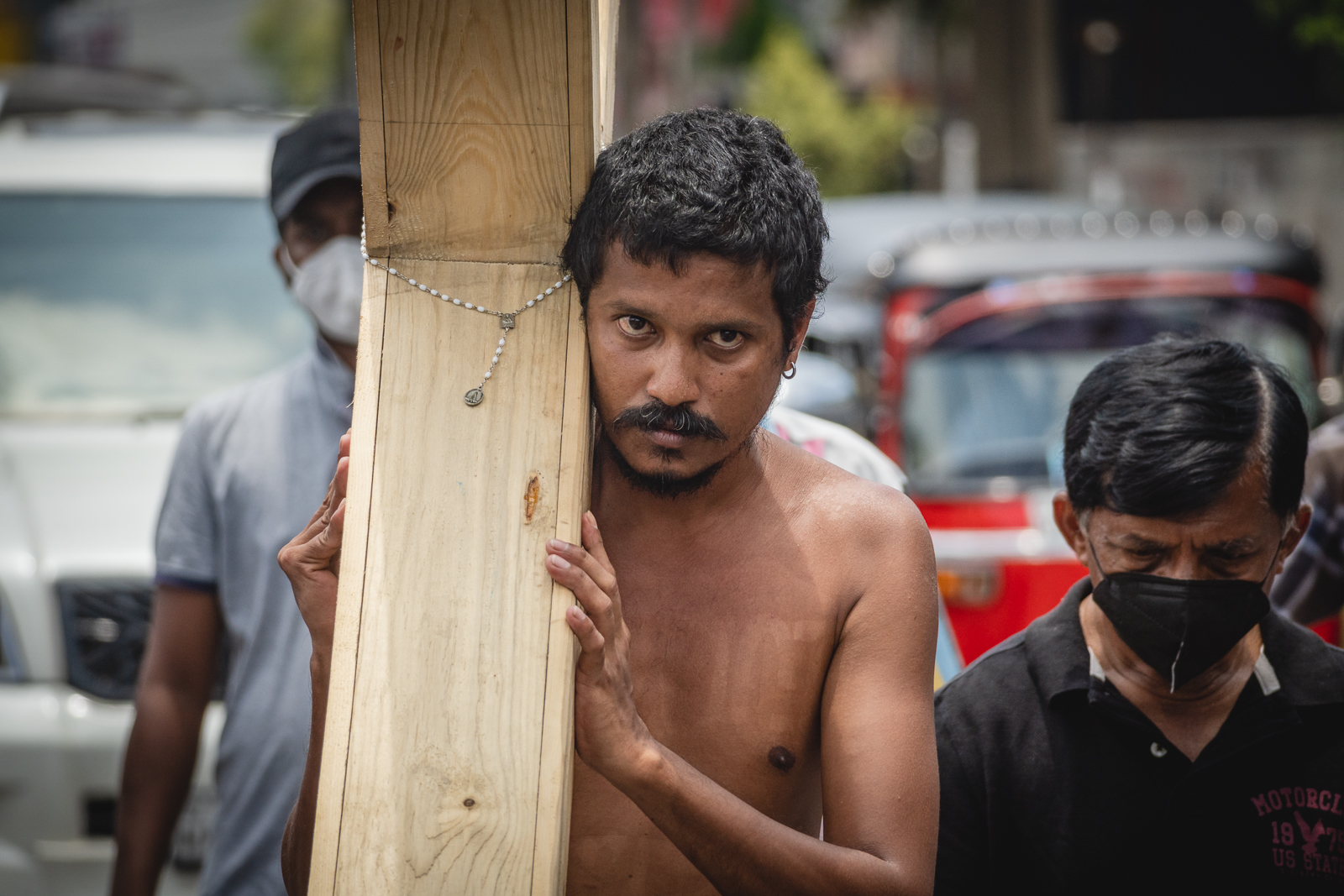 Artiste and activist Jehan Appuhami who began a walk from the Katuwapitiya church in Negombo to Colombo on April 19 carrying a large wooden cross to draw attention to unmet demands for justice for those killed in the Easter Sunday terror attack in 2019, has restarted his walk from Elakanda this morning.
Protesters' Demands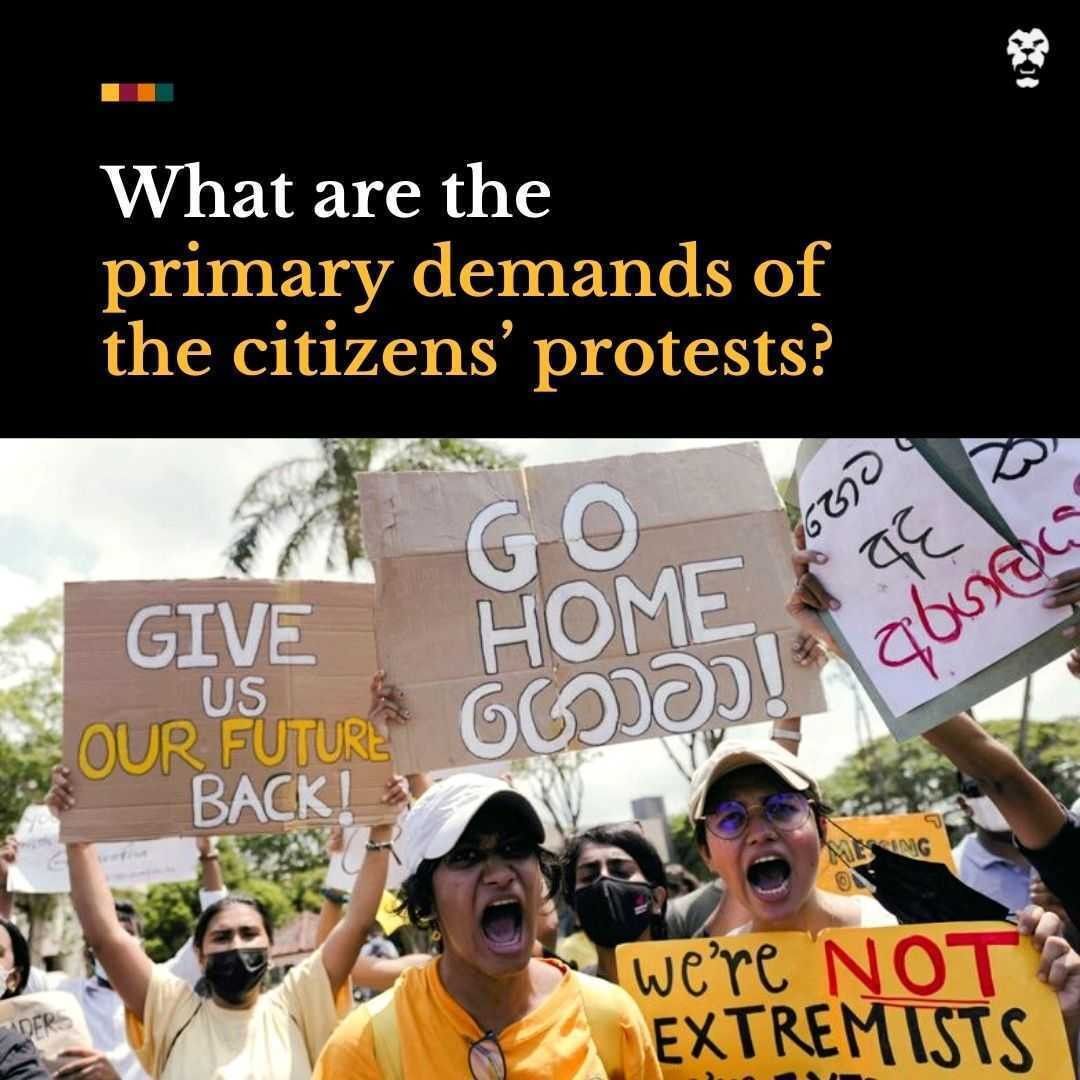 Anti-government protests are ongoing for the second consecutive month across Sri Lanka. What are citizen protestors asking for?
Jehan Appuhami's Journey Pt. 1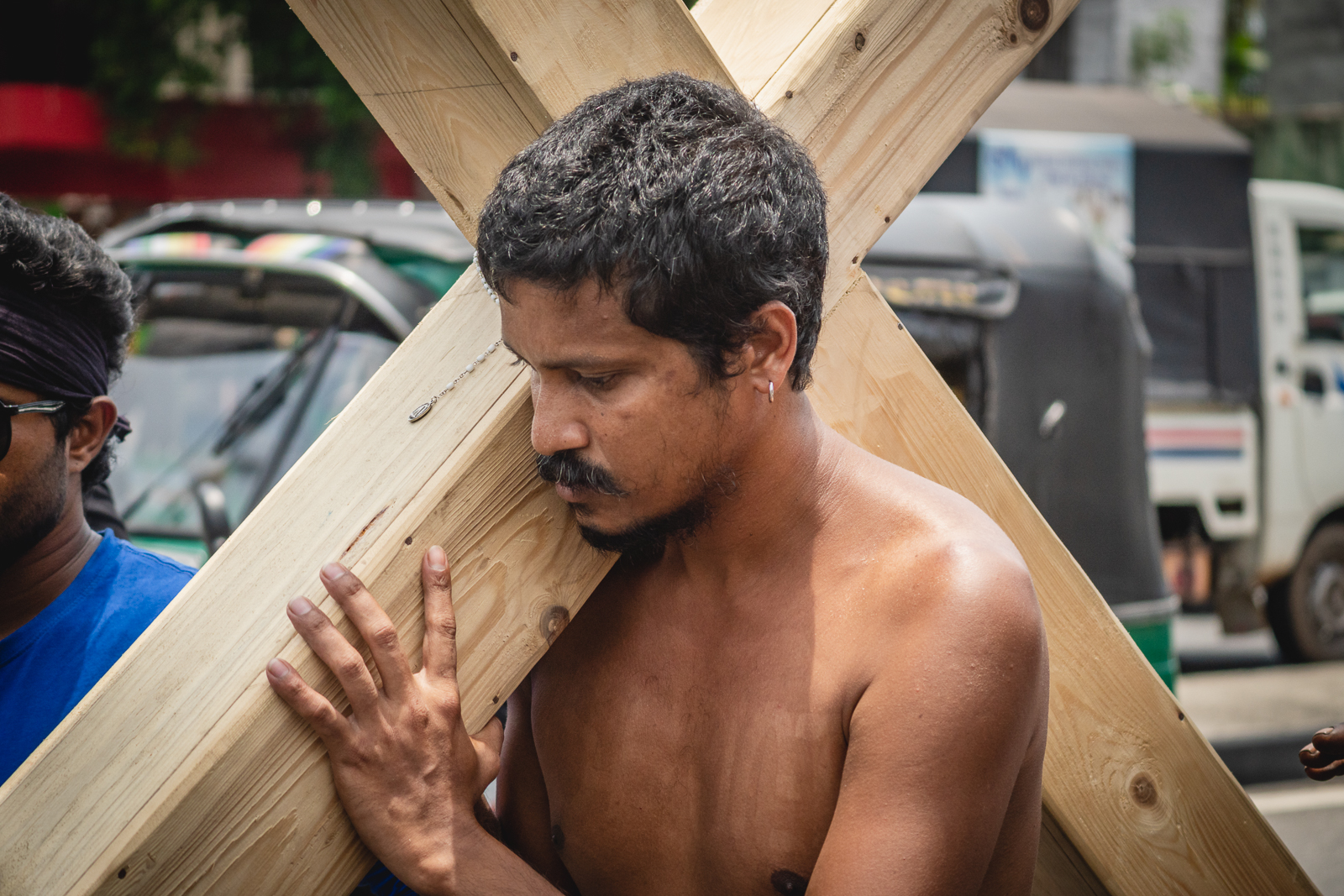 Actor and activist Jehan Appuhami began his symbolic walk from Katuwapitiya, Negombo to Colombo carrying a large wooden cross — in imitation of Jesus Christ — on 19 April. The demonstration by Appuhami is to draw attention to continued unmet demands for justice for those killed in the Easter Sunday terror attack in 2019.
Appuhami's march — currently on its third day — started at the St Sebastian's Church in Katuwapitiya, which was one of churches attacked in 2019. He is expected to reach the St Anthony's Shrine in Kochchikade, another church that was bombed in 2019, tomorrow (22 April) at 3pm. Thereafter, he will carry the cross to the Galle Face Green to join the #GotaGoHome protest there.
Family members and survivors of the attack have been accompanying Appuhami on his journey from Katuwapitiya to Colombo, some carrying photographs of the people they lost in the attack.
Appuhami has previously performed at the Gota Go Gama protest, where he joined thousands of other protesters in demanding the resignation of President Gotabaya Rajapaksa and his government.
#lka #SriLanka #EasterSundayAttacksLK
What Has The Protests Achieved So Far?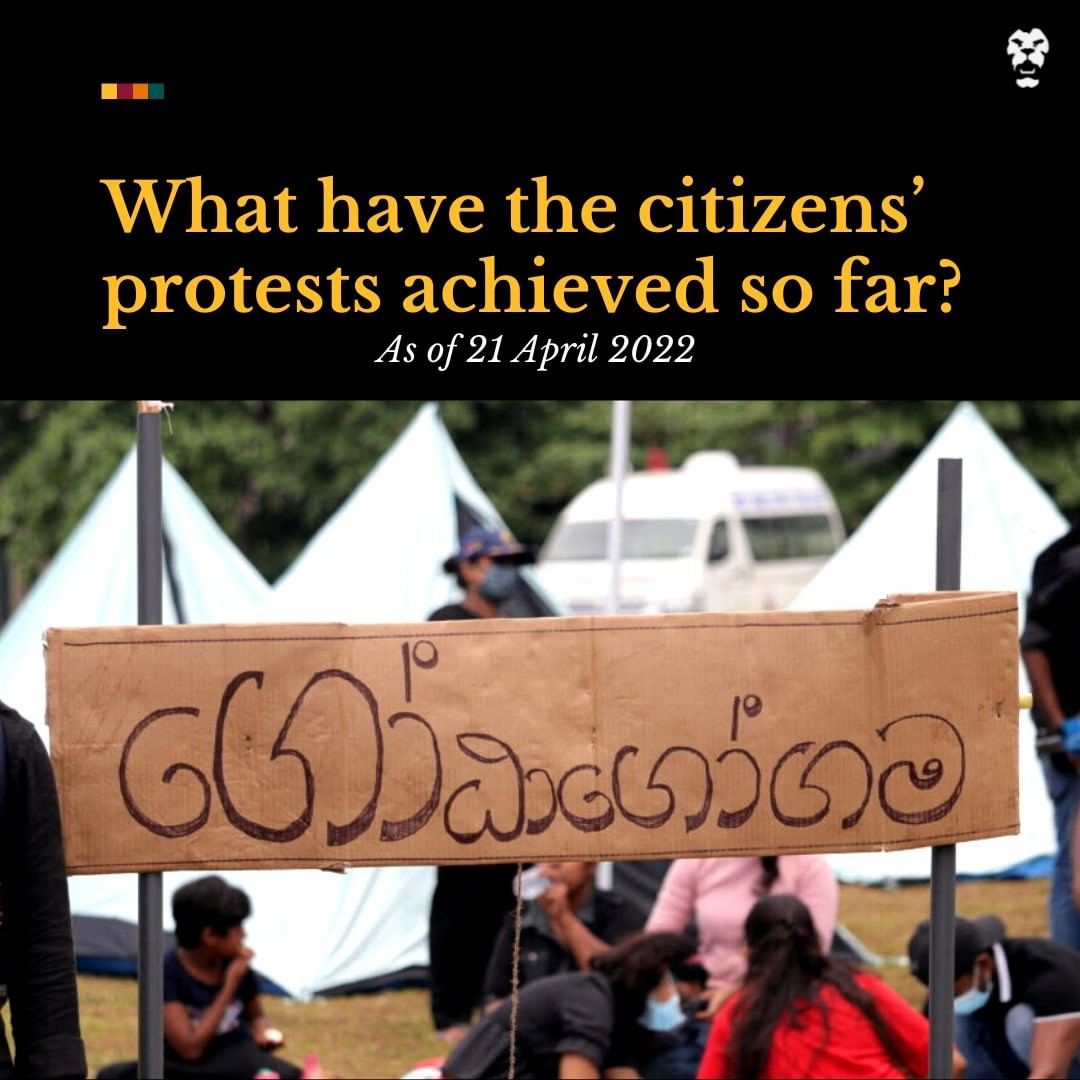 The citizens' protests demanding the resignation of President Gotabaya Rajapaksa — along with several other demands — have been ongoing for weeks now. Some changes have occurred as a result of pressure from the protests, but there is much more to be done.
#lka #SriLanka #SriLankaProtests
Ten Days Of #OccupyGalleFace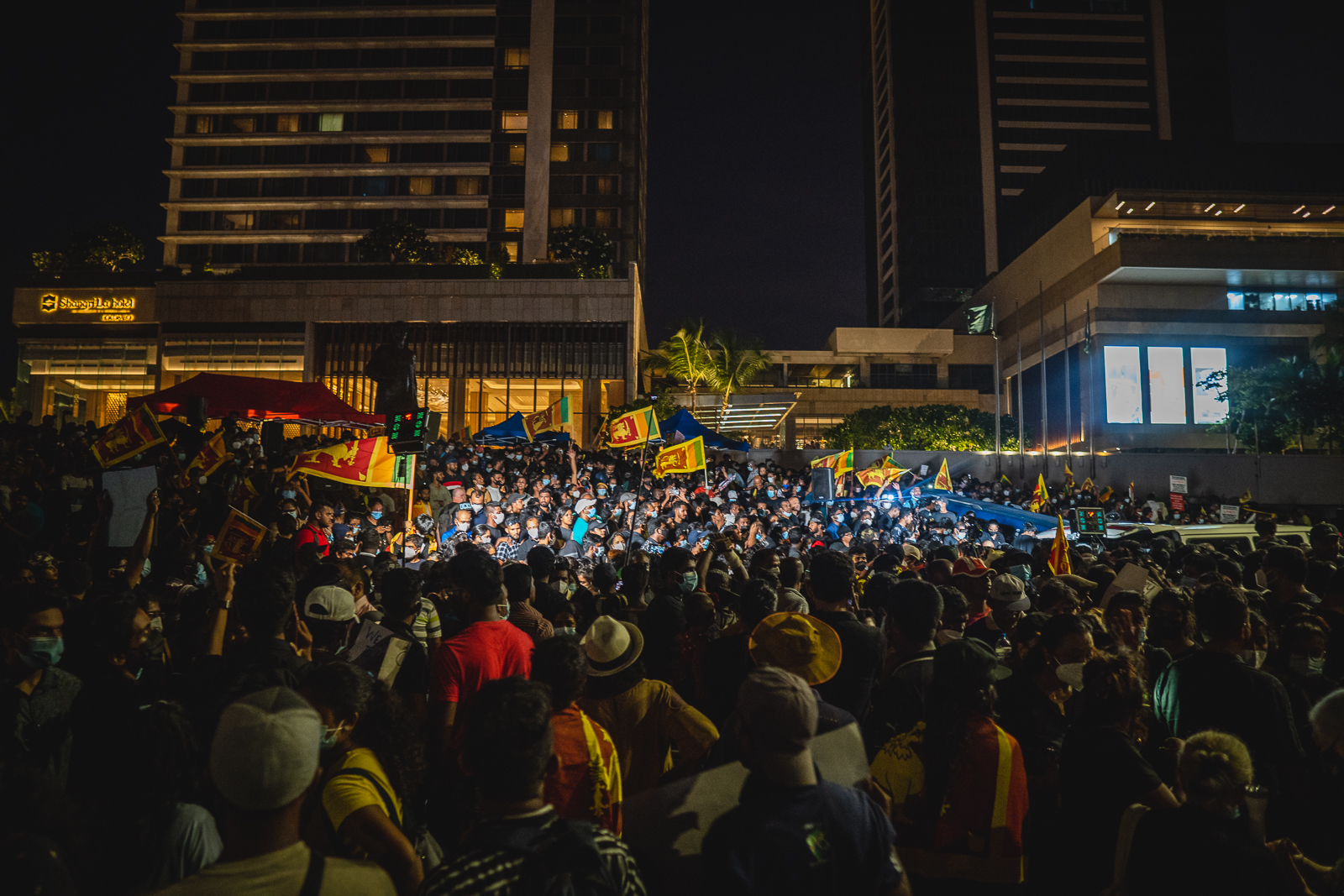 For over 10 days the people's protest at the Galle Face Green has been continuously calling for the resignation of President Gotabaya Rajapaksa and Prime Minister Mahinda Rajapaksa. 
The Library of the Revolution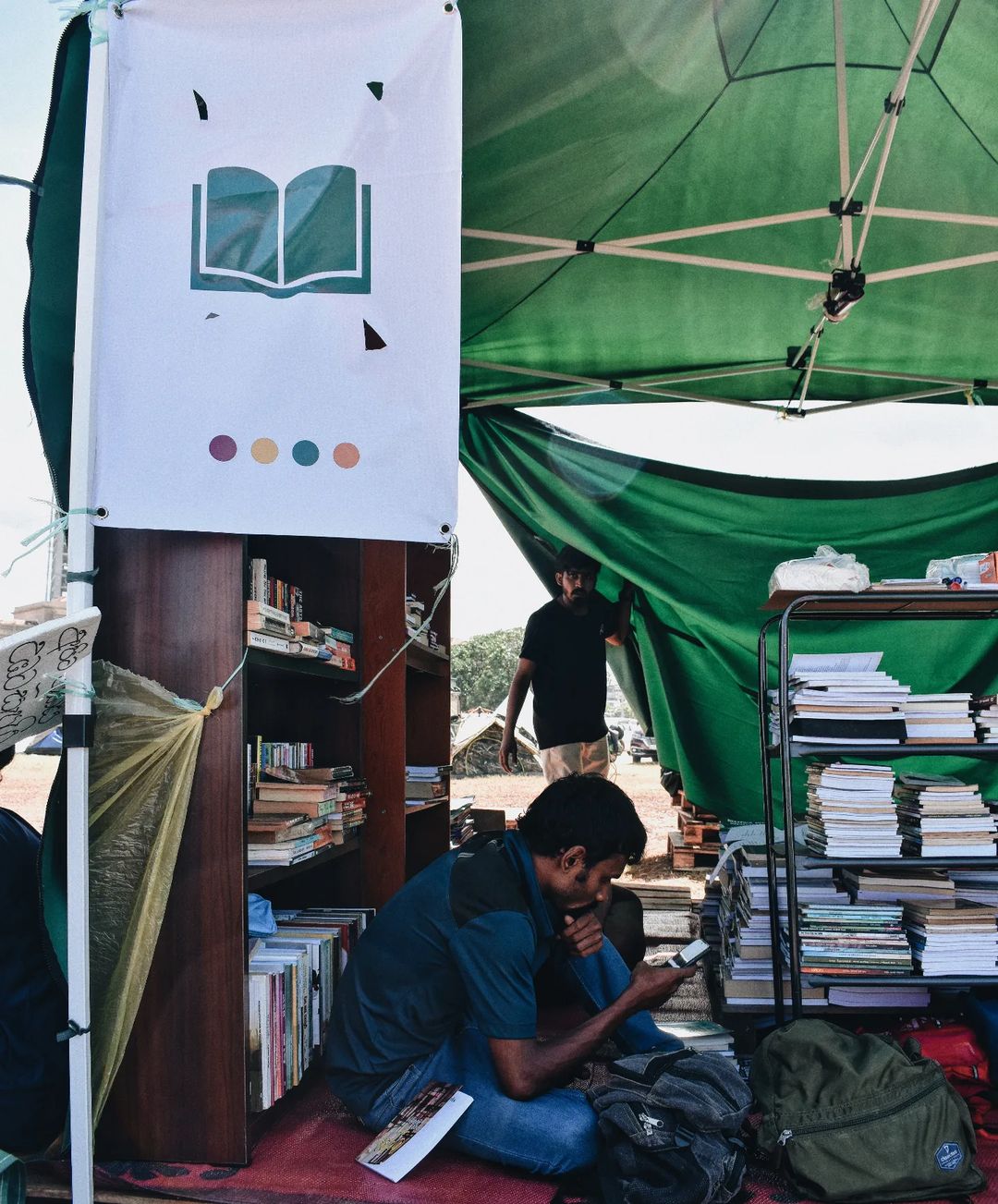 The Library of the Revolution started with a handful of books laid out on a sleeping mat that Vimukthi (29) had brought from his home. He and a few of his friends managed to get a tent within a few hours, then set up over the mat. From its humble beginnings, the library has not only grown into a vast book collection but also provides a venue for a public forum. The library is the heart of what many are now calling an 'informed revolution'.
"We put out a post on Facebook and asked people coming to the 'Gota Go Home' protests at Galle Face, to bring a book; either to donate or to read it here, if you're tired. We had this idea in our mind, to develop our mindset, alongside the protest on the ground. Because it is easier to deceive a nation that is unaware. The more people know, the more people will question. It's harder to deceive an informed individual. The foundation for critical thinking is books," Vimukthi said.
Some of the many donated books are still in their boxes. With only two bookshelves (also donated by protesters) the library is in need of more shelves to curate the multitude of books. The library also does not have a catalogue system or a process to follow which books are available and which have been checked out.
"We have asked the people to return any book that they take from here and not to be like the government and steal the books," Vimukthi told Roar Media. "Whatever we have collected here, we hope to give it to a school to build its library one day, when this revolution is over. Until then, this library will continue to grow."
#SLProtests #lka #SriLankaProtests
Day 9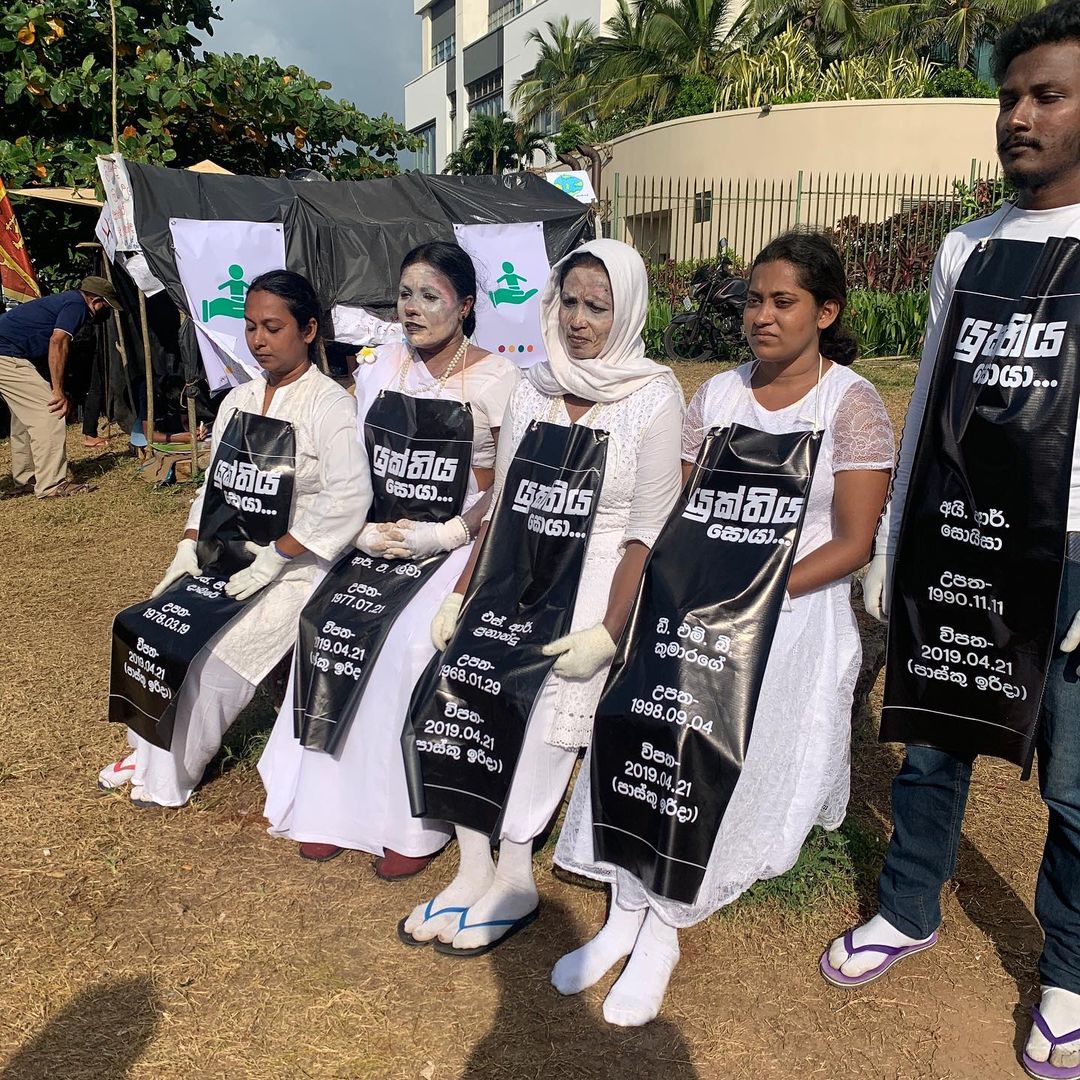 Today is the 9th day of consecutive protest outside the Presidential Secretariat and surrounding Galle Face area; protestors thronging in throughout the day are being extremely creative in the ways they express dissent and displeasure. Protestors want President Gotabaya Rajapaksa to step down as a first step in a series of expected reforms. #srilanka #lka
8th Day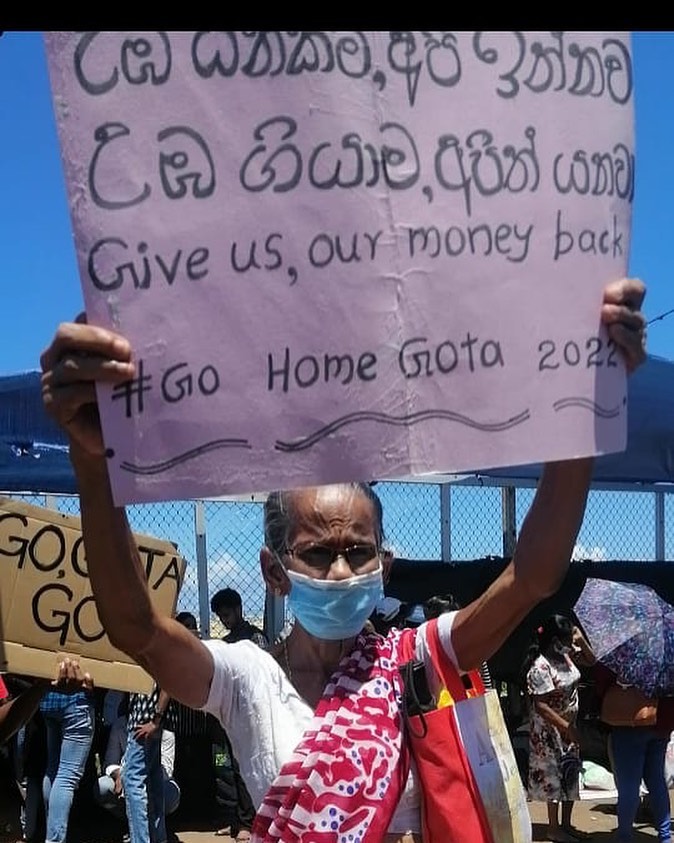 Protests demanding President Gotabaya Rajapaksa step down continue for the 8th day outside the Presidential Secretariat in Colombo.
7th Day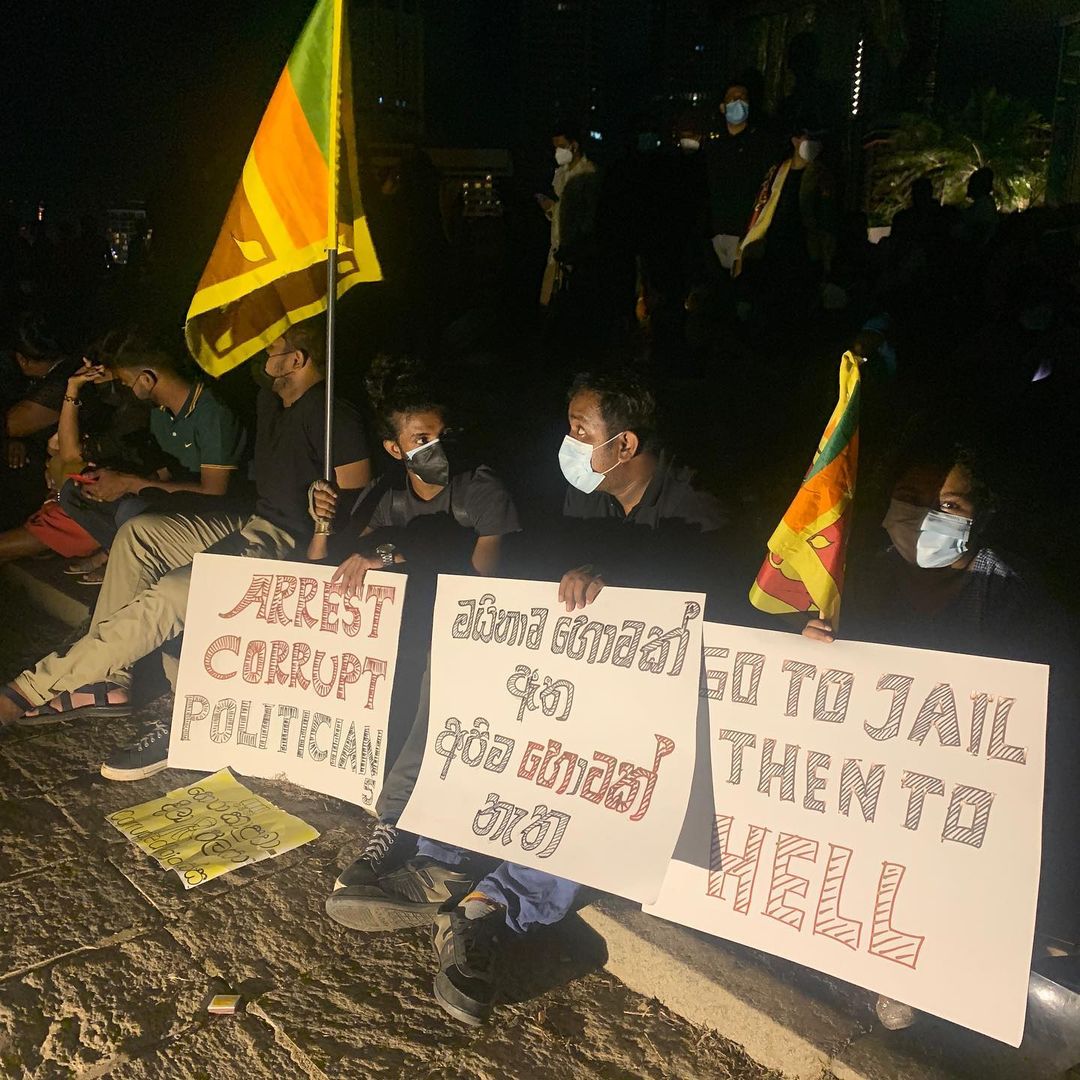 It is now the end of the 7th night of the continued protests outside the Presidential Secretariat seeking the removal of President Gotabaya Rajapaksa, and people keep converging onto the streets. #srilanka #lka
Tents At GGG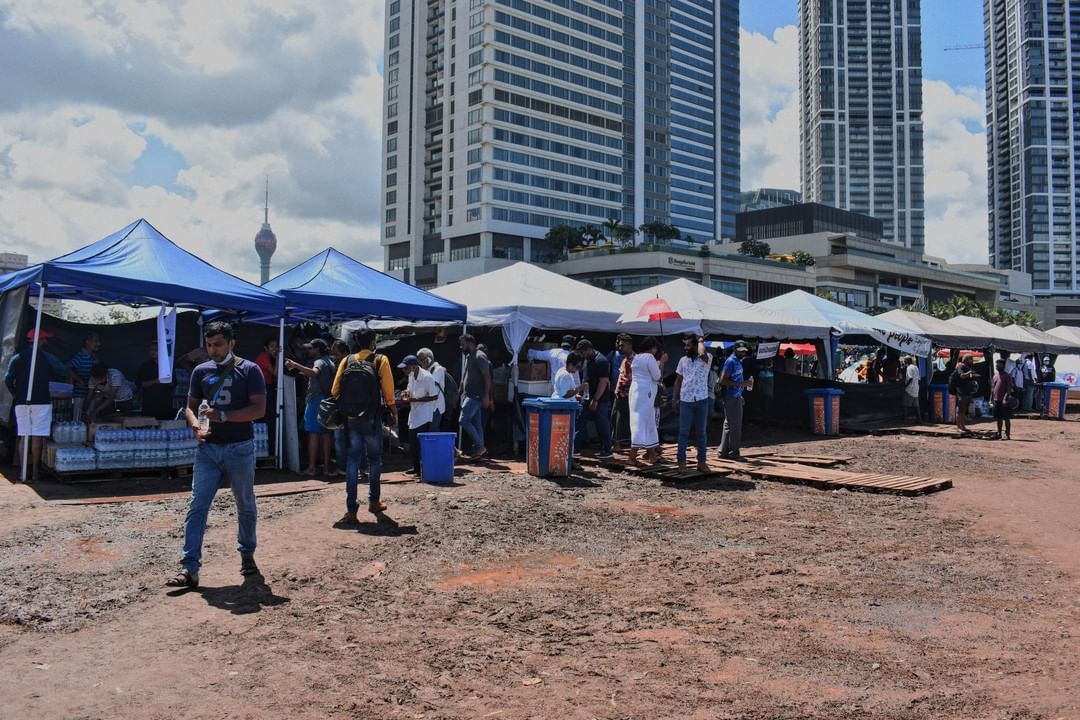 When the grounds were reclaimed and renamed 'Gota Go Gama' it was one tent that distributed food, tea and coffee. Sakun (29), one of the protesters who have camped out and began distributing essential items to other demonstrators, speaking to Roar Media said, "Now there are over eight tents that distribute a variety of items from food to medicine. You could say it's one of the fastest-growing villages in Colombo!"
But the ground itself has changed; with large crowds visiting Got Go Gama every day, the once untouched, lush green of the ground has turned into a muddy pit. "The rain hasn't helped the situation. And it's becoming difficult for the people to walk about. Even though this won't stop the work we are doing here, we are in need of wooden pallets to make some pathways. Or basically, if anyone could help resolve this issue, would be greatly appreciated" Sakun said.
"It's a shame really. But it was avoidable," he said referring to the lost beauty of the 'gama'. "It's serving a cause. And we are already planning to rebuild this area and bring its beauty back after the revolution is over. But first of all, this government has to go home."
#lka #SriLanka #SriLankaProtests
Yellow For Democracy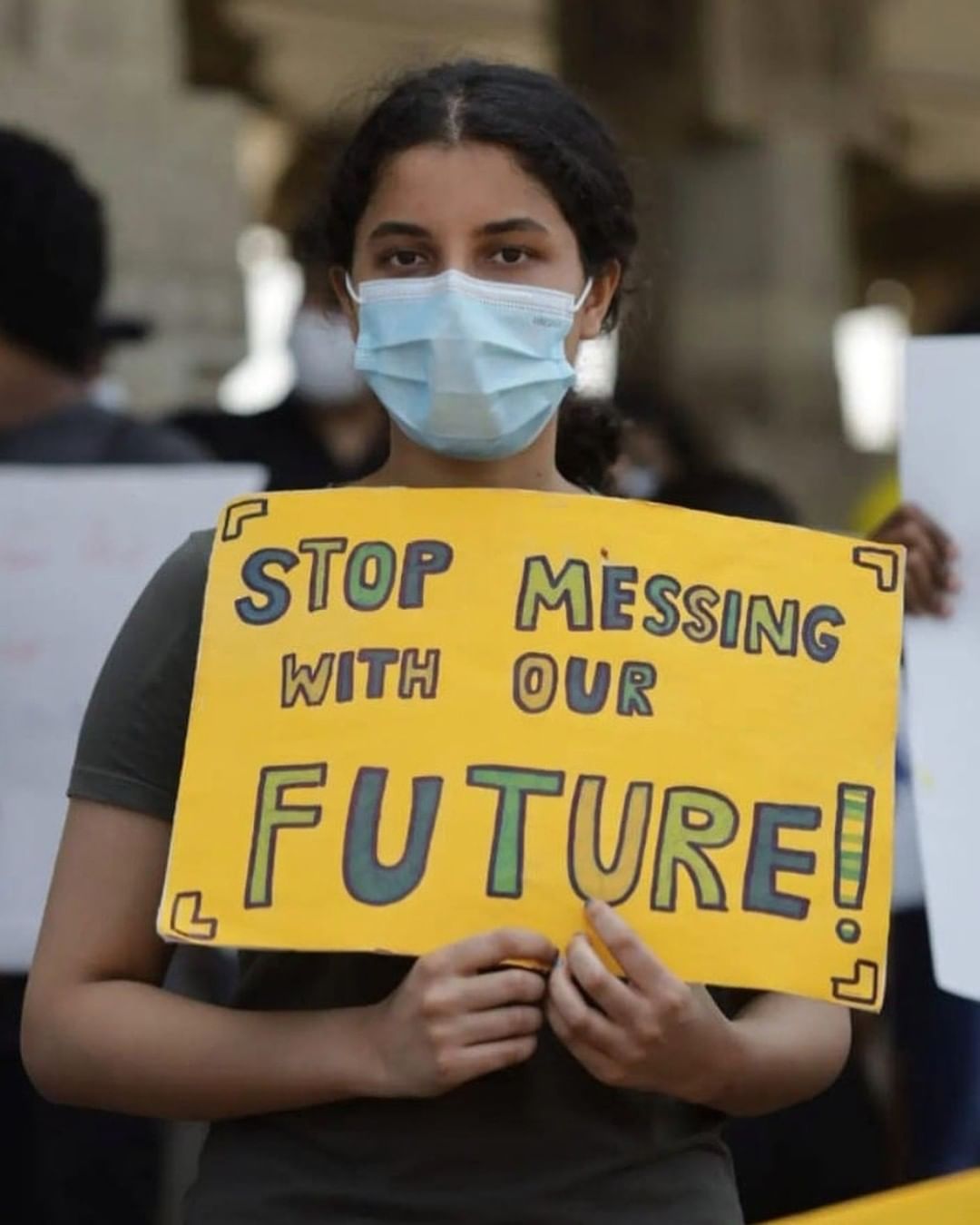 "This is the youth taking charge of our future and trying to give our country what it has failed to give us — a secure future and educated leadership," Serika (19) told Roar Media. Serika, a founder of @yellowfordemocracy, has spent the past few weeks organising protests in Colombo.
The youth-led organisation held their first protest on 4 April, after the islandwide curfew was lifted."The tipping point was when the government imposed curfew on the day of a massive protest — it was symbolic of everything that was wrong with the way this country is run."
In addition to organising, Yellow For Democracy also aims to educate. "Not only is it important to express our dissent through protest, but it's also important to disseminate information so that people are educated. We seek to combine these two things," Serika said.
"What we've identified as primary demands are the resignation of the President under Article 38 (1) (b) of the constitution, and the Parliament appointing a President under Article 40 — with the caveat that the appointed President must not be a Rajapaksa," she continued.
If that doesn't happen, they have an alternative demand — "If we can't get rid of the President himself, we must get rid of his powers. We're calling for the abolishment of 20A as a step forward in terms of immediate solutions," Serika said.
As for the rest of the demands — "[The government] needs to communicate to the public immediate plans to get out of the current economic crisis, to hold parliamentarians accountable to ensure that corruption & nepotism cannot continue unfettered in the way that it has thus far."
"The policies implemented and decisions made by those in power now affect our future," Serika told Roar. "The problem lies not with a party or family or individual, but is systemic, it's cultural, it's long-term, so solutions need to be geared towards long-term change."
Story by Iman Saleem
#lka #SriLankaProtests/@iraa.mw
Milk Boiling
https://www.instagram.com/p/CcUVFHGIXSw/
A pot of milk was boiled over outside the Presidential Secretariat this morning — a tradition signifying prosperity and abundance for the Sri Lankan New Year being celebrated across the country today. The #GotaGoHome peaceful protest is on its 6th day today. #srilanka #lka
6th Day
https://www.instagram.com/p/CcUHRVXo9sI/
Scenes from the people's protest outside the Presidential Secretariat in Colombo. The protest is now on its 6th day. #srilanka #lka
Girl Writing on Poster
https://www.instagram.com/p/CcTiGDoImYl/
A young girl writes what she thinks on a large poster placed for the specific purpose of having people share their thoughts and wishes for the country
Music At GGG
https://www.instagram.com/p/CcShp4fI-BV/
Music as a tool of resistance at the campsite outside the Presidential Secretariat that has been dubbed 'Gotagogama' (Gota go village) by protestors.
The peaceful demonstrations calling for the immediate resignation of President Gotabaya Rajapaksa, the removal of all Rajapaksas from Parliament, accountability, transparency and end to corruption and much more is now on its 5th day. #SriLanka #lka
Soliders
https://www.instagram.com/p/CcS7V5OBNJC/
A group representing soldiers disabled in the war joined the #GoHomeGota protest outside the Presidential Secretariat today. #srilanka #lka
Day 4
https://www.instagram.com/p/CcPWS9IB8nQ/
Day 04 of the Occupy Galle Face protest. Taken at 09:00 AM.
Protests continue despite Prime Minister Mahinda Rajapaksa's address to the nation. In his brief address, the Premier acknowledged the struggles of the people. He urged the youth not to drag the country into violence, referring to the youth insurrection of the late 80s. "Around 60,000 youth lost their lives as a result of the violence unleased at the time," he said.
Video credit: Roar Media/Jamie Alphonsus
#lka #SriLanka #SriLankaProtests #EconomicCrisisLK
Catholic priests
https://www.instagram.com/p/CcOaXjQo0yS/
Catholic priests and nuns joined tonight's protest outside the Presidential Secretariat, where people have been asking – three nights in a row now – for President Gotabaya Rajapakse to step down. #srilanka #lka
Fearless Collective
https://www.instagram.com/p/CcN18IzIl5D/
"The big Mirihana protest started while we were in the workshop," Tehani Ariyaratne told Roar Media. Ariyaratne is part of Fearless Collective, which creates public art centering women an underrepresented communities, and says the protests impacted several of the group's projects.
"We had quite a long discussion on the context in Sri Lanka, and about the economic crisis, and how these things are impacting the people of Sri Lanka, because for Fearless, we always build critical context into the work that we're doing," Ariyaratne continued.
Following the conversations at the workshops, Fearless started working on two murals — one on the Salvation Army building in Union Place, and one on the Rio Complex in Slave Island. The former is in collaboration with Sisterhood Initiative, a local organisation for and by Muslim women.
"In the Sisterhood workshop, they talked about violence against minorities, and in the Slave Island workshop we talked about the economic crisis and how that was impacting the economic situation of the women there," Ariyaratne explained.
"We specifically wanted to work with Sisterhood Initiative because, given the political context in Sri Lanka, and the attacks against minorities — particularly Muslim women — we really wanted to have that represented," she continued.
An end to racism against minorities has become one of the rallying calls of the ongoing protests calling for the ousting of the Rajapaksa regime, and in particular President Gotabaya Rajapaksa.
Fearless has contributed by illustrating free-to-download protest posters.
"We believe that protest art is very important. For Fearless, art has to speak into being the world we want to live in. It's about affirming our place," Ariyaratne said.
"We work with women, or other marginalised communities that are often not represented in public spaces or in mainstream media — or if they are represented, they don't really have a hand in that representation."
Story by Iman Saleem
Photo credit: The Fearless Collective
#lka #SriLanka #SriLankaProtests
Tea At GGG
https://www.instagram.com/p/CcNlBQ5oPF0/
Piping hot tea was handed out to protestors in the rain last evening. The protest outside the Presidential Secretariat asking President Gotabaya Rajapaksa to step down is now in its 3rd day. #srilanka #lka
GOTA GO Charge
https://www.instagram.com/p/CcPMXb3oi8C/
Protestors camped outside the Presidential Secretariat now have a place from which they can charge their phones, thanks to the kindness of volunteers and benefactors who have arrived in droves to support the protest against the government. Protestors are asking for President Gotabaya Rajapaksa to step down. #srilanka #lka
Boiled Manioc At GGG
https://www.instagram.com/p/CcNgElqIb6W/
"These people are fighting for us. It is our duty to help them."
This group of Sri Lankan youth have got together to help sustain protestors outside the Presidential Secretariat by giving them food — in this case boiled manioc and coconut sambol that they prepared themselves.
Hospital of the Revolution
https://www.instagram.com/p/CcNMZ6iBlbl/
They call it the 'hospital of the revolution'; it's an unmistakable blue tarp over a table full of all sorts of basic medicine. There is a small white poster, with the red cross and four dots (red, yellow, green and orange, symbolising the colours of the Sri Lankan flag) hanging from the tarp. You cannot miss it – it's right opposite the gate to the President's Office, where the protesters have gathered, demanding the ousting of President Gotabaya Rajapaksa.
When the 'hospital' started, it was with a few crates of water bottles, several bottles of asamodagam, painkillers, balms, and other basic necessities. Nuwan Buddhika Nanayakkara [not in the photo] bought these with his own money and started the tent. Later, the donations came in.
"Nuwan started this on Saturday, and it grew from there. Now we have a list of doctors who are willing to come at any moment we call them," Dimuthu, one of the volunteer protesters, told Roar Media. Dimuthu, like Nuwan, is not part of a larger organisation, but are citizens who joined the protests against the government and are trying to help the cause in whatever way they can.
"There is chaos in this order, that has to be appreciated," Dimuthu said, referring to how the protest has become self-sufficient; a living breathing entity that continues to occupy the Galle Face Green until their demands are met.
The hospital of the revolution continues to expand as the protest perseveres indefinitely.
Photo credit: Roar Media/Kris Thomas
#lka #SriLanka #EconomicCrisisLK
Day 3
https://www.instagram.com/p/CcM_XNIBHiX/
Day 03 of the Occupy Galle Face protest. Taken at 07:30 AM.
Dawn brought protestors out of their tents. After only a few hours of sleep last night, they woke up to warm food and tea, made by supporting members. While the protest was underway, several others were seen distributing food and beverages. Others picked up the garbage from last night and helped keep the streets clean. Some protesters were seen still fast asleep.
Photo credit: Roar Media/@akilajayawardana92 and Kris Thomas
#lka #SriLanka #EconomicCrisisLK
Food at GGG
https://www.instagram.com/p/CcLWnnXMQan/
It's nighttime but there's no lack of food: A selection of bread, buns, roti and other items being handed out to protestors for free, as the protest outside the Presidential Secretariat continues. Protestors are asking for #SriLanka president Gotabaya Rajapaksa to step down. #lka
Hot Drinks For Protestors At GGG
https://www.instagram.com/p/CcK_xbUMlL-/
Handing out hot drinks to protestors enduring the rains earlier today. This protest began yesterday (April 9) continues today. #srilanka #lka
Citizen's Protest At Galle Face On 9th April
https://www.instagram.com/p/CcK7-WENGav/
A short documentary showcasing highlights of the citizen's protest at the Galle Face Green on 09 April. The protestors, gathered on Saturday morning where they camped out in the rain through the night. The protest continues for the second day today (10 April).
Video by Noor Jameel.
Boiled Manioc And Kochchi
https://www.instagram.com/p/CcKwWrgsQ-A/
Naveen Perera is from Boralegamuwa in the suburbs of Colombo and arrived outside the Presidential Secretariat earlier today to support those protesting against the government.
The #GoHomeGota protest calling for President Gotabaya Rajapaksa to step down has increased in intensity, many camped out outside the Secretariat premises since last morning (April 9).
Perera has brought piping hot boiled manioc and kochchi (Demon Chillie) sambol – a favourite meal – to hand out for free to those protesting despite the rain. #srilanka #lka
Biscuits
https://www.instagram.com/p/CcKnUn-s_jO/
In a show of solidarity, people hand out biscuits to protesters at the peaceful demonstration currently ongoing outside the Presidential Secretariat in Colombo. #srilanka #lka
Apr 10
https://www.instagram.com/p/CcKNU3UBAc_/
Some scenes from yesterday's (10 April) citizen's protest at the Galle Face Green, where demonstrators gathered calling for the resignation of President Gotabaya Rajapaksa.
Ifthar at the Independence Square.
https://www.instagram.com/p/CcITPI6tE-Y/
Ifthar at the Independence Square on Friday (08 April), amidst people's protests.
Photo credit: Janik Sittampalam
#lka #SriLanka #EconomicCrisisLK
LGBTIQ 
https://www.instagram.com/p/CcGJHjetM7o/
"As a community that has been marginalised in multiple ways, under such dire economic circumstances, the living conditions of our LGBTIQ community are going from bad to worse," says Nicole Fernandez, an organiser of today's LGBTIQ+ community protest at Lipton Circus.
Repeatedly, Sri Lanka has failed its most vulnerable communities. "Under the Rajapaksa regime, our rights were always sidelined," Fernandez said. "Only a particular kind of military hyper-masculinity was celebrated against other diverse gender identities and expressions."
Fernandez, a human rights and LGBTIQ activist, says that ongoing economic crisis in the country has affected historically oppressed or marginalised groups harder — "The economic crisis caused by this corrupt regime affects the livelihoods of our community in the most detrimental way possible."
"Apart from discrimination based on sexual orientation, gender identity and gender expression, now we are left with no financial or economic security. In this regard, we are a minority group marginalised on multiple fronts," Fernandez continued.
Story by Iman Saleem
#lka #SriLanka #EconomicCrisisLK
Yadhour Story
https://www.instagram.com/p/CcDBugkDBn5/
"I understood why they were being reluctant," Yadhour (25), whose parents were hesitant about her protesting, told Roar Media. "Hearing about water cannons and tear gas, they tell me how it happened nearly every day to Tamil protesters in the '80s. So they know how scary it is."
Her mother, Meena (48), compares the ongoing protests, and the reactions of the police and army, to peaceful protests carried out by Tamil communities in the 1980s, in response to anti-Tamil pogroms, and during the early stages of the war. "Though I was never really part of those protests, it was extremely distressing to hear about how Tamil people protesting in Colombo were treated," she said.
That is why, when protests began islandwide last week, Meena was concerned about her daughter attending."There weren't that many large groups of Tamil people going, and the thought of going alone or being just one or two Tamil people in a large crowd scared me," Meena said.
Yadhour grew up hearing her parents' memories of the war and the unrest preceding it, but her generation's experiences are different —"My parents went through a lot in the '80s and '90s, so though I badly want to protest, I don't want them to worry about what'll happen to me."
"I'm not happy with [my daughter] protesting," Meena said, but she admits that this is the first time she's seen protests of this nature across the country. "The rich, the poor, Muslims, Tamils, Sinhalese people — everyone coming together for one cause."
Yadhour is eager to get out onto the streets and join in. "I'm just so angry and frustrated. During my parents' time, no matter how much they were marginalised and mistreated, as Tamils, they just couldn't do anything about it," she explained.
"But now, with everyone on the streets, I feel like this is my opportunity to express my anger," she continued. "Because how many generations are going to be marginalised like this? You ruined my grandparents' generation, and my parents', and mine too. What else am I supposed to do?"
Story by Iman Saleem
#lka #SriLanka #EconomicCrisisLK
Protest Map
https://www.instagram.com/p/CcAnmXLloj7/
For over a month, Sri Lankan citizens have taken to the streets calling for the immediate resignation of the country's government, who are being blamed for the ongoing economic crisis. These protests have largely been organised and led by the general public, without any support from a political party or religious group. They were — and continue to be — organised on social media, calling for cleaner politics, justice and fair treatment of all communities.
Data gathered by fact-checker @teamwatchdog showed that well over 120 protests were conducted in the country since the beginning of April, a majority of which were concentrated in and around Colombo.
What are YOUR thoughts? If these protests were to continue, what should change? What can the public improve?
#lka #SriLanka #EconomicCrisisLK
Health Workers
https://www.instagram.com/p/Cb9_W0CK6XV/
Health workers are currently protesting outside the National Hospital in Colombo. The #EconomicCrisisLK has led to a shortage of medical supplies. Protesting health workers have highlighted a lack of fuel for ambulances and the scarcity of domestic gas making it difficult to provide food for patients as key grievances. #lka
All about the people.
https://www.instagram.com/p/Cb91ppPuPmq/
"This is all about the people."
The youth protest on 4 April 2022 protest spanned from Cinnamon Gardens to Bauddhaloka Mawatha, primarily concentrated in Independence Square. An organiser said that Sri Lankan youth were demanding three things from their leaders: honesty, accountability & transparency.
Because of social media, organiser Michael Ravindra explains, younger Sri Lankans are exposed to a wider pool of information than previous generations, who had to rely on mass media. "Now people can make up their minds for themselves about what is good and what is right."
Many protesters highlighted public funds allegedly stolen by the government. "We need leaders who don't just fill their pockets and let others suffer," Ravindra said. "All the 225 [parliamentarians] are just taking peoples' money and doing nothing to [invest] it back into the country."
Another one of the protesters' demands is younger leaders, and those more capable of progressive change. "We need younger leaders — people who are going to die in another 2, 3 days are only currently in Parliament," said Ravindra.
"Out of the 225, how many people have the qualifications for their postings? The [ministerial] postings have to be given according to relevant education and qualifications," he continued.
Photo credit: Dillon Ravindu de Silva