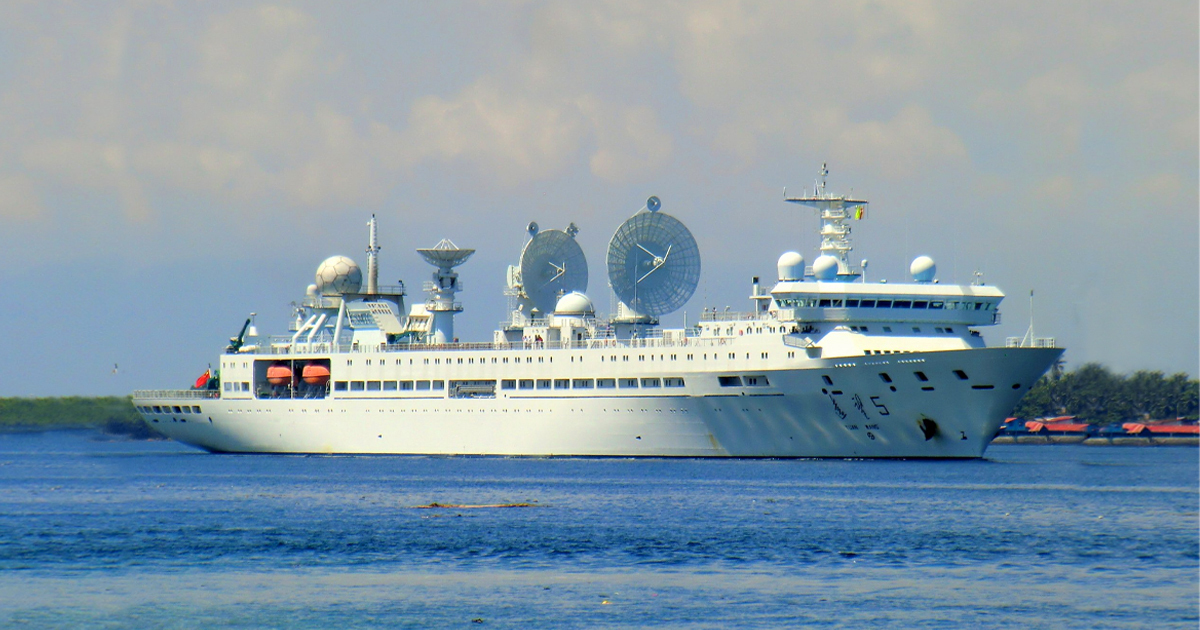 Collapsing economy aside, Sri Lanka is caught between a rock and a hard place in the form of a geopolitical headache — all because of a Chinese vessel. 
With strong protests from neighbouring India, who has accused Yuan Wang 5 of being a 'spy vessel' that threatens India's national security, Sri Lanka is currently negotiating with China to postpone the vessel's arrival; all the while, managing both superpower nations, who the island nation is dependent on presently to overcome its own economic crisis.  
What Is Yuan Wang 5?
Built in 2007, Yuan Wang 5 is a research and survey vessel that sails under the flag of China. In a sense, the vessel can track and support satellite and intercontinental ballistic missiles, which justifies India's strong opposition to its arrival in the Indian Ocean. 
The vessel's arrival was highlighted in a blog post by Belt and Road Initiative Sri Lanka, a Colombo-based organisation studying China's ambitious connectivity project, which identified the vessel as a space-tracking ship.
The vessel is currently stationed 600 nautical miles away from the Hambantota port, awaiting the Harbour Master's permission to enter. It arrived on 11 August for a week's stay to carry out replenishment. The vessel received clearance by Sri Lanka's Foreign Ministry, the Defence Ministry and the Sri Lanka Ports Authority, to enter the port on 12 July – prior to the resignation of former president Gotabaya Rajapaksa and the appointment of President Ranil Wickremesinghe. 
According to reports, approval was granted to dock at the Hambantota port under conditions: the vessel is to keep its automatic identification system (AIS) transponders switched off within the exclusive economic zone of Sri Lanka. The vessel is also not permitted to carry out any scientific research or survey in Sri Lankan waters.
Why Is India Upset About It?
The visit of the military-grade vessel aroused concerns in New Delhi earlier this month. Dubbed as a 'spy ship' by Indian media, India has expressed fear that it may be able to monitor and surveil India's missile tests off Odisha as well as its nuclear experimentations in Kalpakkam and Kudankulam.
Concerns about the vessel's arrival were reportedly brought up on the sidelines of the ASEAN Summit in Cambodia in late July. India's External Affairs Minister S Jaishankar met with his Sri Lankan counterpart Minister Ali Sabry where the Indian delegation is said to have expressed concern over the vessel's military capabilities. 
India's External Affairs Ministry Spokesperson Arindam Bagchi recently said, "The Government (of India) carefully monitors any developments having a bearing on India's security and economic interests, and takes all necessary measures to safeguard them. I think that should be a clear message."
Why Is China Sending It Here?
Beijing was quick to act against the Indian criticism over the vessel's arrival in Hambantota. Chinese Ambassador Qi Zhenhong reportedly sought a meeting with President Wickremesinghe after the Sri Lankan Foreign Ministry's request to defer the vessel's arrival until further discussions.
This was the second meeting between President Wickremesinghe and Diplomat Zhenhong after he met and congratulated him on 3 August, following his inaugural policy statement at the Parliament. 
On 01 August, China claimed that India's opposition to the visit was "unjustified" and "morally irresponsible", and further urged New Delhi to "not disturb normal exchanges" between the two countries. 
The Chinese Foreign Ministry spokesperson Wang Wenbin, without referring to India by name, said: "The cooperation of China and Sri Lanka is independently chosen by the two countries and does not target third parties. Citing the concept of security concerns is senseless to pressure Sri Lanka"
Meanwhile, the Sri Lanka-China Friendship Association (SLCFA) also condemned the Indian intervention. Ananda Goonatileke, president of the SLCFA said, "If Sri Lanka had decided, on its own, that Yuan Wang 5 must not be resupplied at one of its ports, it is the country exercising its sovereignty […] Sri Lanka should not be pressurised by any country or any hegemonic power to violate internationally accepted rules."
Does Sri Lanka Have A Say In It?
No, not really. For Sri Lanka, this geopolitical tug-of-war could not have come at a worse time. As the island nation struggles to grapple with the economic crisis, it is dependent on China and India. 
As the sole creditors who have agreed to help the country, until the negotiations with the International Monetary Fund (IMF), Sri Lanka is treading on eggshells to resolve this crisis. 
India has, on multiple occasions, provided assistance in purchasing essential commodities earlier this year. The assistance saw to reduce the massive public pressure on the government at the time. 
Following Wickremesinghe's ascendancy to the presidency, he affirmed the need to renew relationships with China once again and commit to the 'One China Policy'. Meanwhile, Chinese President Xi Jinping, in his message to Wickremesinghe, said that he was "ready to provide support and assistance to the best of my ability" to bring the island nation out of its present crisis.