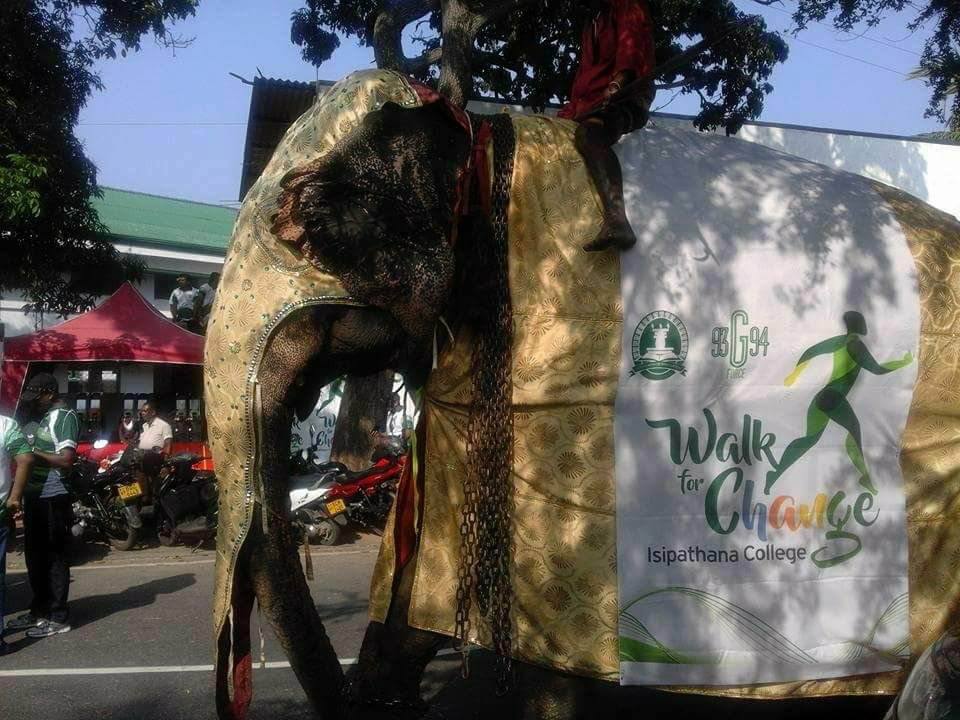 Discourse about protecting elephants have begin once again, what with two tuskers being killed for ivory in November and December—one of them being the iconic and blind Galgamuwa tusker.
Elephants—and their tusks—have been used as a symbol of royalty and wealth since time immemorial, both in everyday life and in fictitious universes. When not hunted for ivory, they're used for entertainment. However, should this tradition continue? Despite being protected under the Flora and Fauna Protection Ordinance, there's a continuous trend where they are used as props in school parades, even with policemen watching by.
Blatant Violations
Roar Media learns that as of today, there are 34 investigations being carried out against those who were using elephants illegally. Sources state that a few of these—about 17 of them—are to be produced to courts shortly. There are also 33 illegally captured baby elephants. Just last year, over 13 illegally-reared elephants were 'recovered' following investigations which were finally made into the illegal elephant-registration trade. Citing overcrowding in Pinnawala, a Cabinet Paper suggested giving elephants away for a 'non-refundable financial bond of Rs. 10 million'. Claims of being overcrowded were disputed by the former DWC Director General Dr. Sumith Pilapitiya.
"We plan some stupid projects, and then we expect the elephants to work around us…the biggest problem we have today are the politicians and development planners who don't work with or understand elephants and they think development is the key. And, it is they who sometimes say that there are too many elephants in this country," he said in a documentary produced by Life Times SL.
Apprehending culprits and taking action against them falls under the Department of Wildlife Conservation (DWC). However, the Department refused to confirm this, and proved impossible to reach despite numerous attempts to contact them.
Who Owns Them?
Environmental Lawyer Jagath Gunawardena points out that nobody can actually own an elephant, as they belong to the State. However, people can apply for permits under Section 22 of the Ordinance, and become a custodian of the majestic beast.
Most of the elephants were given to temples to be used only for religious and cultural purposes, he stated. Using them for anything else, including tourism or school events, is absolutely illegal.
"Capitalising from them is illegal, and is a blatant violation of the ordinance. If used for any other purposes except for the two specified ones, the Wildlife Department can revoke the permit," he said, adding that despite this happening quite often, "violators run scott-free" as far as he is aware of. Money obviously plays a pivotal part in this, as the elephants are rented out for anything between Rs. 50,000 to Rs. 100,000 per parade.
Meanwhile, there is no criteria as to who can claim elephant custodianship. Permits can be applied for, and that's about it.
Cool For School
Shanuki De Alwis—a concerned citizen who actively campaigns on the issue—pointed out that there's an increasing trend in using young elephants for school walks and parades.
"An elephant's body isn't made to march in midday heat on tarred roads, these conditions damages their foot-pads, and if the animal feels discomfort and then acts out…you're endangering school children as well," she said, pointing out the risks of using large animals in events surrounded by noisy children.
Speaking further on the matter, she claimed that most elephant owners-cum-custodians were not qualified to own nor care for the animals.
"They're mostly business and landowners, and it's not that they're uneducated either. They're aware of the laws, but they're also know who to pay off," she said.
She stressed on the severe lack of animal welfare laws in the country, and that numerous attempts to bring it up in Parliament ended at with nothing to show. She charged that this was because of how lucrative the elephant business is: it's a mega money-making enterprise.
While there are enough of laws and policies to protect elephants, what's lacking right now is its implementation.
As De Alwis said, it is as though no one bothers about how it's illegal to use elephants for parades or other commercial activities.
This was reaffirmed by Pubudu Weeraratne, President of the Species Conservation Centre.
"These parades are conducted in the middle of the day, where it's extremely hot for the elephants. Now they use water bowsers to cool them off a bit, but it's still extremely risky especially since there are school children all around," he said, adding that there have been numerous instances in the past where elephants panicked in peraharas and caused extensive damage.
Just last year, a tusker at the Randoli Perahara in Ratnapura went on a rampage causing a stampede, almost a hundred injuries, and one death. This has been happening throughout the recent past, with two people dying when a cub elephant panicked in 2013. Deaths due to Peraharas aside, the Annual Report of the Wildlife Conservation Department noted that 2016 has seen the highest number of deaths so far (289 elephant deaths, and 88 people) due to human-elephant conflicts. We have a long way to go in terms of conservation, and protecting them from being misused for entertainment will be a start.
Cover image courtesy of Facebook.com/elephantsmustroamfree