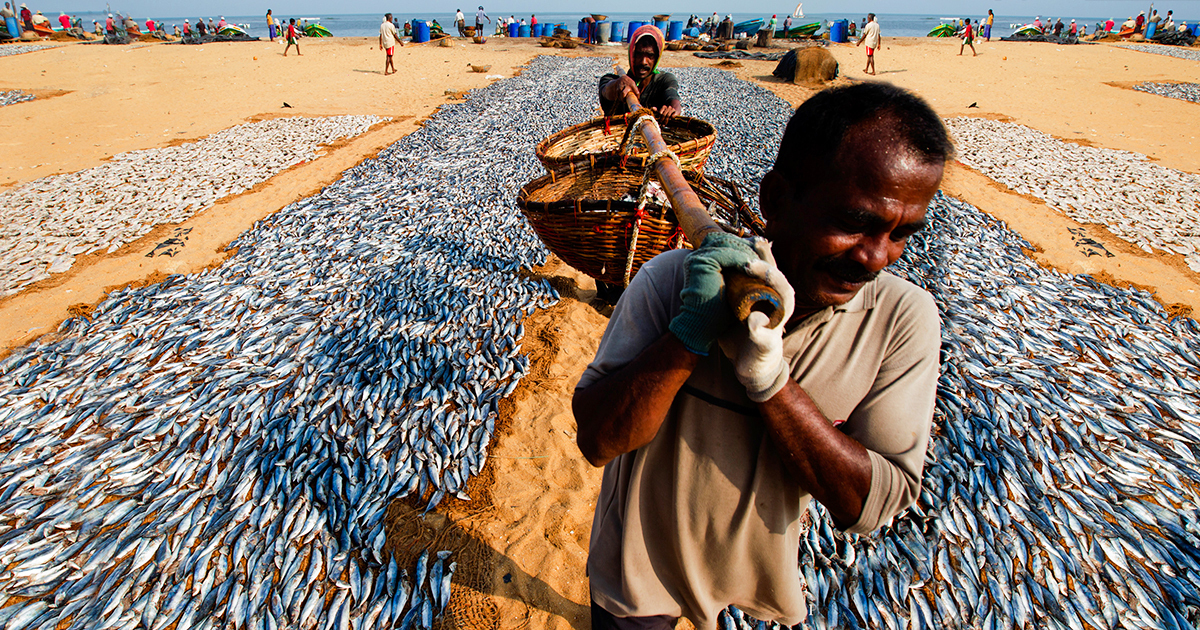 Efforts to end poaching by Indian fishermen in northern Sri Lankan coastal waters have continually failed, despite two decades of talks between the two neighbours, the latest move being reviving a proposal to license Indian fishermen.
The trouble today is not caused by traditional fishers, so much as by mechanised trawlers owned by Tamil Nadu businessmen, that use big nets to scoop up everything in their path; bottom-trawling is a method so destructive that scrape marks on the seabed can be seen in underwater videos of the practice. 
A collaborative, ecosystem-focused approach that has been advocated might yield better results, especially in managing trans-boundary fish stocks and ensuring sustainable fishing and livelihoods for fisherfolk, many remaining impoverished for generations.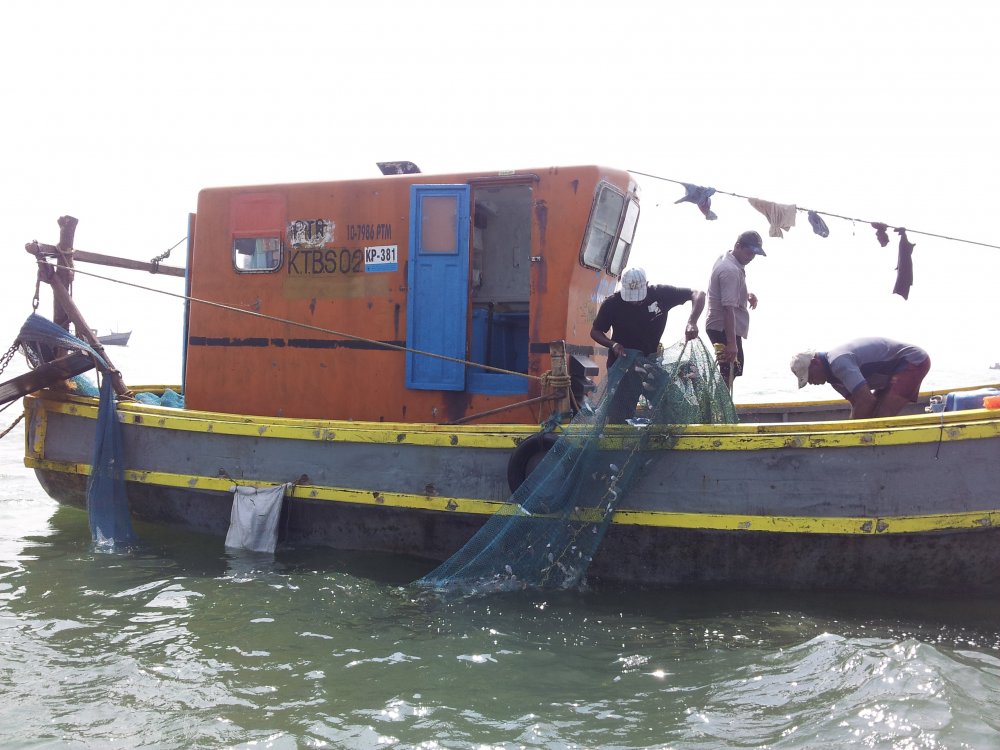 Opposition To Licences
Noor Mohamed Alam, President of the Union of the Mannar District Fishermen's Cooperative Societies, has said  fishers in the area oppose the proposal to issue licences to Indian fishermen. "The government should act more effectively to stop poaching by Indian fishermen," he told Roar Media. 
Alam wants the government to enforce the law properly and for the Navy to arrest poachers. "If 500 Indian boats come, only one or two are arrested," Alam said. "If the Navy arrests all the poachers, the problem can be solved." 
Poaching by Indian trawlers has been getting worse," he added. "Fish stocks are declining. Now sometimes, we get hardly any fish."
Fish stocks really have declined sharply in Sri Lankan coastal waters, according to the latest marine survey under the 'Ecosystem Approach to Fisheries' management project, called the EAF-Nansen Programme, conducted by the Food and Agriculture Organization of the United Nations and the Institute of Marine Research, Norway. 
"Overfishing could be one of the reasons. Marine environment degradation, loss of habitats, climate change could be other reasons," explained Dr Prabath Jayasinghe, Principal Scientist of the National Aquatic Resources Research and Development Agency (NARA). 
 Dr. Jayasinghe was Local Cruise Leader on board the Dr Fridtjof Nansen, one of the most advanced research vessels, during the 2018 survey that covered the entire coastal zone except the shallow Palk Bay.
Sri Lanka's fish stocks had not been assessed by independent surveys since four surveys by a Norwegian 'Nansen' research vessel in 1979-1980. Although a single research cruise is not 100% conclusive, the new survey found that north-eastern coastal waters had the lowest biomass of zooplankton, small organisms consumed by larger marine animals, along with the lowest average number of fish larvae and the lowest species diversity. However, the survey found the Pedro Bank, a shallow water plateau of about 1,000 square miles off Point Pedro, the island's northern tip, was still as rich a fishing ground as it had been for decades.
Pedro Bank, and Wadge Bank, the continental shelf off Cape Comorin at the southern tip of India, had been profitable commercial fishing grounds since the 1920s for both Indian and Sri Lankan boats. But Sri Lanka lost access to Wadge Bank and part of Pedro Bank with the establishment of the Indo-Sri Lanka maritime boundary in 1976.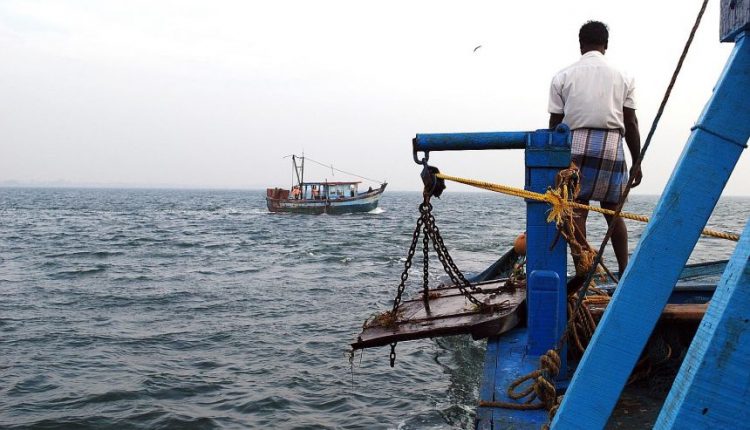 Harmonious Fishing
"Historically, both Sri Lankan and Indian artisanal fishers have harmoniously fished in the Bay of Bengal, Gulf of Mannar, and the Palk Bay without any disputes," said Dr Muttukrishna Sarvananthan, Director of the Jaffna-based think tank, Point Pedro Institute for Development Studies, who has studied the poaching issue. "Artisanal fishing is defined as low-capital, low-technology, and small-scale subsistence fishing," he said.
The current fishing conflict between Sri Lanka and India is primarily due to  Illegal Unreported and Unregulated (IUU) fishing by hundreds of illegal fishing boats called 'bottom trawlers', Dr Sarvananthan explained. "The use of bottom trawlers is internationally prohibited. This IUU fishing is commercial fishing as opposed to traditional subsistence fishing." Giving licences to Indian fishing boats would worsen the pillage of Sri Lanka's fish stock and cause immense undersea environmental catastrophe, Dr Sarvananthan believes. "It would in reality be legalising an illegal practice globally."
Minister of Fisheries Douglas Devananda, in March 2021 suggested holding talks with the Tamil Nadu government to issue licences to a limited number of Indian fishing boats to fish in Sri Lankan waters — although bottom trawling would be banned. But Dr Sarvananthan believes that Indian fishing vessels would not be able to pay the annual licence fee in foreign currency. "Besides, to the best of my knowledge, the Gulf of Mannar and Palk Bay do not have high-value fish such as tuna to make it commercially viable for Indian fishers to pay the annual licence fee," he said.  
And, he added, neither the Sri Lanka Coastguard nor the Sri Lanka Navy has the capacity to check each and every boat to ensure whether they have a licence or not. "In theory, the Indian Coastguard could also check the Indian vessels on their side of the border. But I do not believe it will ever undertake that responsibility," he said. 
Sri Lanka agreed to consider giving licences to Indian fishing boats as far back as 2003, according to V. Suryanarayan, formerly the founding director and senior professor of the Centre for South and Southeast Asian Studies, University of Madras, who has also studied the issue. The licensing proposal was again taken up in 2016. The two countries have been engaged in a "fire-fighting exercise", Suryanarayan believes, with Indian poachers and their boats being detained and released by Sri Lanka with monotonous regularity, only to return to the island's waters.
"Fishermen throughout the world are no respecters of maritime boundaries; they move wherever the fish moves. It is a universal phenomenon," Suryanarayan writes. "Sri Lankan fishermen poach into Indian and Maldivian waters; Indian fishermen enter Pakistani and Bangladeshi waters, and Japanese and Taiwanese trawlers roam around the world."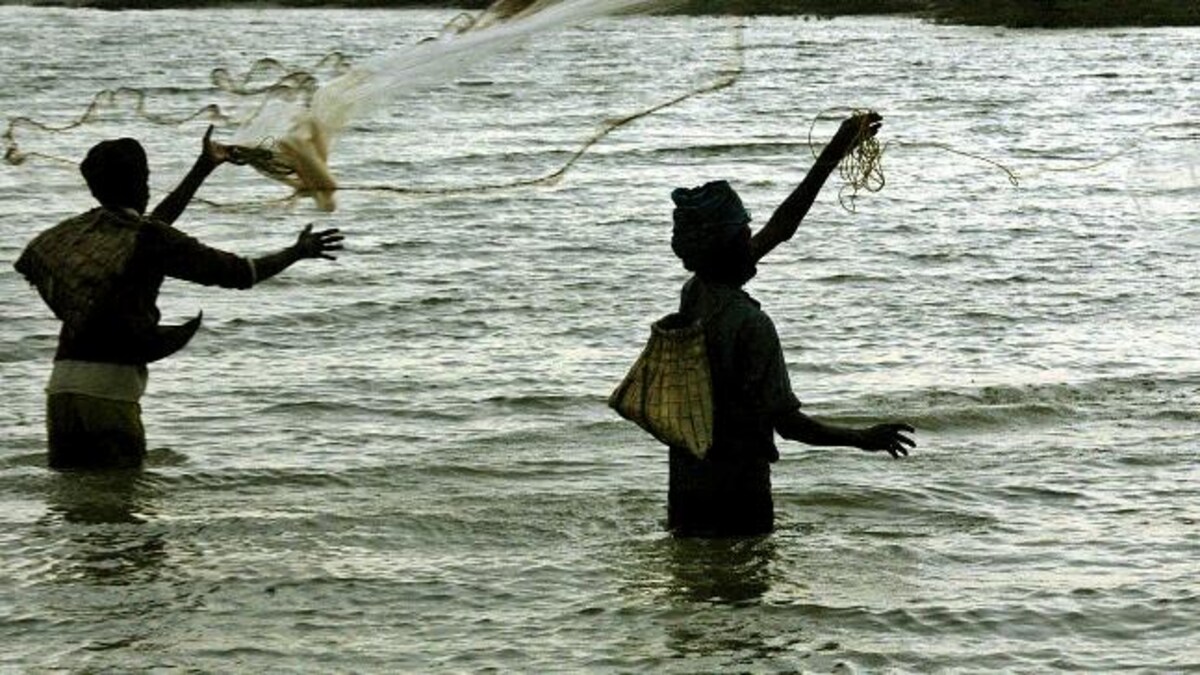 Indian trawlers began to poach in Sri Lanka after sweeping the seabed clean on their side of the maritime boundary. The island's ethnic war in the 1980s and 1990s led to restrictions on Sri Lankan fishermen, which made it easier for Indian poachers. Also, many Sri Lankan fishermen who fled to Tamil Nadu as refugees found employment on Indian trawlers and guided them to known fishing grounds off the island's coast. 
Some of them may still be doing so. In January this year, one of the four fishermen who died when an Indian boat sank after colliding with a Sri Lankan Navy vessel was found to be a person of Sri Lankan origin, who lived in India.
Suryanarayan feels only a change of mindset on both sides can resolve the dispute and advocates that the two countries convert the contested territory into a 'common heritage'. He suggests trawlers be withdrawn from the Palk Bay and a 'Palk Bay Authority' be set up, consisting of specialists from both governments, representatives of fishermen's associations and navies. The outfit would "determine ideal sustainable catch, how to enrich the sea jointly, the type of fishing equipment that can be used and the number of fishing days for each country," Suryanarayan has said. 
Regional Fisheries Management 
However, Dr Sarvananthan, of the Point Pedro Institute, is sceptical of the idea of collaborative, regional management of fish stocks in the region, saying it won't be practical.
"Sri Lanka does not have the scientific competence to assess the fish stock availability in its maritime territory, particularly in the Bay of Bengal, Gulf of Mannar, and Palk Bay. That is why the Sri Lankan government has entrusted Norway to undertake a stock-taking under a bilateral aid programme, which is currently ongoing," he said.
Jayasinghe of NARA points to the Indian Ocean Tuna Commission, the main fisheries managing body in the Indian Ocean, as an example of regional cooperation in managing shared fish stocks. NARA has just struck a new deal with Norway's Institute of Marine Research, the second phase of the project to develop fisheries management tools. It aims for improved and sustainable management of marine resources, which will enable Sri Lanka to better monitor its fish stocks.
Jayasinghe says NARA will employ its own research vessel to conduct fisheries surveys in shallow northern waters not covered by the Dr. Fridtjof Nansen vessel. Norway, which is promoting the ecosystem approach to fisheries (EAF) in Africa as well, says it entails a comprehensive and risk-based management planning process, addressing both human and ecological dimensions of sustainability.
There may be some apprehension about venturing this far, but the collaborative approach is the one that has not been considered yet, if Sri Lankan and Indian authorities want to end the endless poaching, clashes and jailing of fisherfolk for crossing borders.