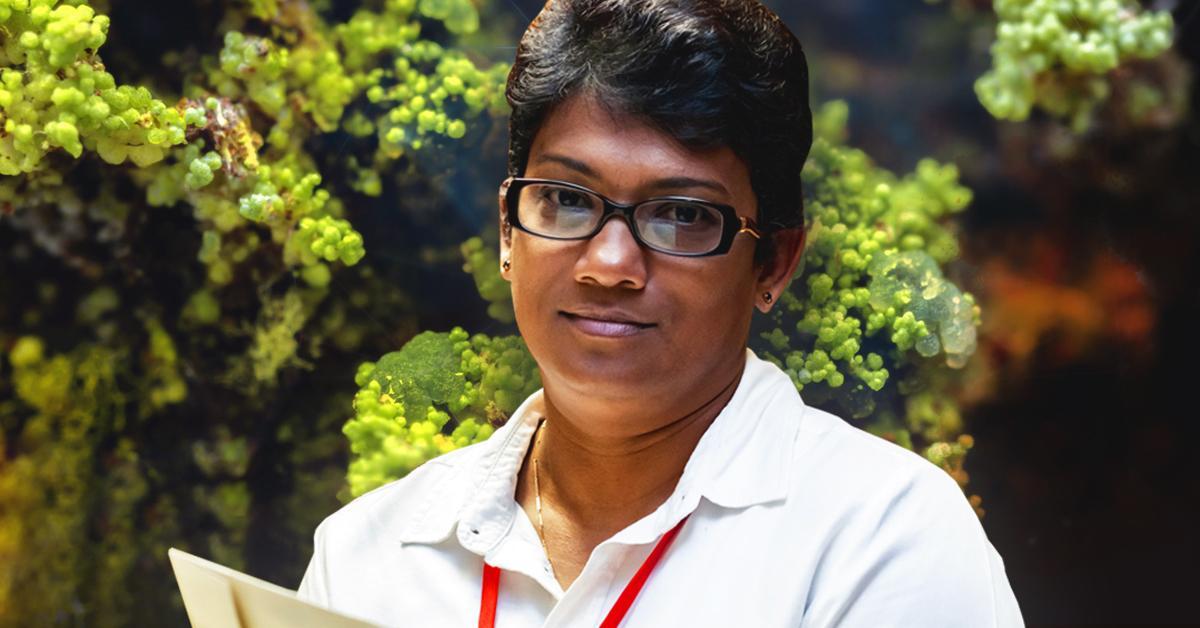 From a young age, Gothamie Weerakoon has had a hunger for the outdoors. Growing up in a home sandwiched between the mist-capped mountains of Kurunegala, Weerakoon's life was defined by her surroundings, and it was in these surroundings that her education began. While absorbing the details of everything she came across, she started piecing together the ways in which the elements of our natural world interact with one another.
As a child, this involved things like discovering a subtle sweetness inside the stems of the small, red flowers that sat in her grandmother's garden. As an adult, this process became much more gruelling. She now finds herself collecting endless samples of soil and rock for hours on end, while balancing work between Chicago and Colombo. Weerakoon is one of Sri Lanka's most active researchers on lichens: an often overlooked yet extremely vital part of the country's anatomy.
"Not many people are aware of this, but Sri Lanka is one of the leading nations in lichen biodiversity," she says, struggling to contain her excitement.
By extensively studying these complex organisms, Weerakoon hopes to bring lichens to the forefront of conservation science.
The Importance Of Lichens
Frequently mistaken for mosses, lichens consist of two separate organisms—a fungus and an algae—living in close partnership with one another. The two organisms are so closely interwoven that not only do they appear as a singular entity, but they also function as a self- sustaining ecosystem. This is because they derive their water and nutrients primarily from the atmosphere.
Lichens have a wide variety of uses, particularly because of their diverse species variation. Some lichens have a fungal component that produces a vivid colour, making them useful for producing dyes. Xanthoria parietina, a foliose lichen containing a yellow pigment that absorbs ultraviolet radiation, can be used to make sunscreens. Many lichens also contain chemicals that can be used in antibiotics, preservatives and toxins.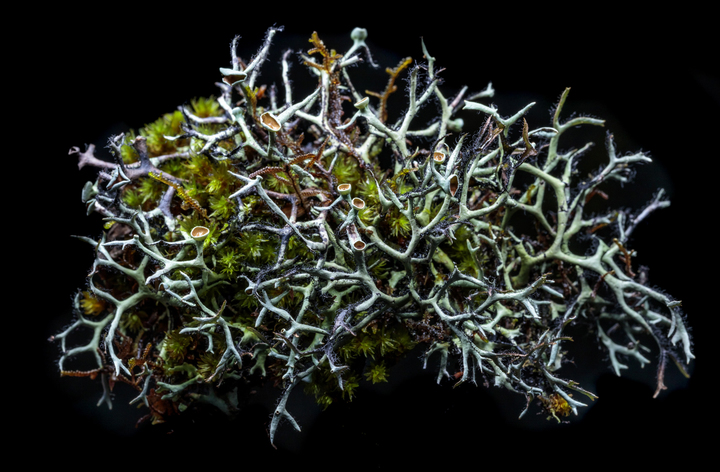 While these peculiar organisms can be extracted, moulded and repurposed as nifty products, their potential stretches far beyond their value as a commodity. Lichens can live for thousands of years, and are constantly absorbing chemicals from the atmosphere for sustenance. By monitoring and tracking gradual changes that occur within lichen communities, we could use them to track and monitor climate change.
"Lichens are the world's best natural bio-indicators," Weerakoon says. "They can be used to monitor a change, whether it is in temperature, pollution or anything else. Similarly to how you can count the rings that are in trees to determine their age, you can observe the behaviour of lichens to determine the climatic history of the place they inhabit."
Lichens are extremely adaptable to change, and this factor allows them to thrive in even the most inhospitable of environments.
"There are many species of lichens that can thrive in cities as well," she says. "The lichens that you see in cities are pollution-tolerant lichens, that is why they can survive. They are only confined to these polluted cities because they love high amounts of nitrous sulphur and carbons."
At a time when climate change is becoming an increasingly imminent threat, island nations such as Sri Lanka are especially vulnerable. Effectively using lichens to examine the effects of climate change could also help the country save millions of rupees that would otherwise be spent on monitoring equipment.
This means that lichens can be used not only to to track the degradation of the natural world, but also changes that occur in industrial areas. Their potential is endless.
An Unexpected Journey
Weerakoon's work with lichens has taken her to some of the most remote parts of Sri Lanka. Standing at five feet tall, she has scaled almost every mountain in the Knuckles range in her quest to document every lichen species on the island. Her love for these minute little plant colonies seems so sincere that it is difficult to imagine this ever not being the case.
"I didn't care about lichens back then," she says, recalling her days working as a research assistant at the Open University. "I started out as a fern person. I was working under Dr. Vasanthi Karunaratne, who was my first mentor in the field. She trained me to do proper fieldwork and we focused on ferns in Hakgala, Horton, Nuwara Eliya and those areas."
After being a research assistant for a year and eight months, Weerakoon decided to pursue a Master's degree. Since she was the mother of two young boys at the time and couldn't leave the country, she decided to study Environmental Sciences at the University of Colombo.
Her introduction to lichens came much later, after the completion of her Masters degree. It happened more by circumstance than anything else. Despite being offered a position as a PhD student at Arizona State University, she once again had to choose between her family and her career.
"I was heartbroken that I couldn't go to Arizona, but my son was ill at the time, and my priority was my kids," she says. " I didn't leave the country. I started my PhD in April 2009 at Sri Jayawardena University, under a professor who specialised in studying lichens."
It was here that her love story with lichens began. She conducted her first field study at the Knuckles mountain range, where she and her team climbed over 30 peaks, some of which stood over 1,500 ft high. They began to understand how these isolated mountain peaks, which were located two to three kilometres away from each other, stood as endemic stations for lichens.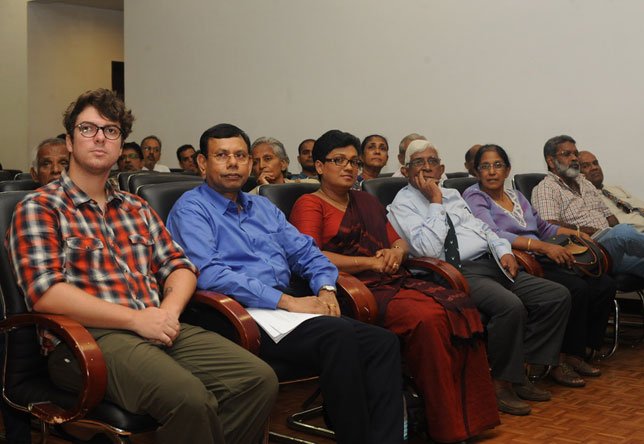 From this study, Weerakoon started to realize how many species of undiscovered lichens the island harbours. Based on case studies, she has predicted that there are about 5,000 species of lichens in Sri Lanka, out of which only 1,000 have been discovered.
Forgotten Ecosystems
Even as Weerakoon continues to traverse the island and take steady steps toward documenting every lichen species in Sri Lanka, there is the distinct possibility that her dream may not come to fruition.
"It is scary," Weerakoon says. "There are land clearance projects happening islandwide, in Wilpattu, for example. We talk about how these projects affect elephants and leopards, but nobody talks about the countless amounts of lichens that are getting cleared away. No one talks about it because people don't even realise that they are there."
According to Weerakoon, approximately six lichens disappear every ten square kilometres due to land clearances. Unless there is a drastic shift in public awareness on lichens, Sri Lanka's lichen biodiversity could be seriously threatened.
Apart from a lack of public awareness, scientific research on lichens is also seriously lacking. Although Weerakoon is one of those that are dedicated to filling that void, she admits that more researchers are needed.
"Not many people are interested in studying lichens, and as a result of this, there is a lack of taxonomic knowledge that we have on them," she says. "In order for us to use lichens to monitor climate change, we need to first document what we have, and which habitats harbour certain species."
So far, Dr. Weerakoon has identified 60 species of lichens that can be effectively used as bio-monitoring agents. She is following in the footsteps of Dr. Udeni Jayawardena, who before her, used lichens to track air pollution in rainforests.
In order for more research to take place in Sri Lanka, there needs to be a serious investment in resources that can support it. Currently, Sri lanka does not have the necessary equipment needed to study and classify lichen species. Weerakoon herself has no access to such equipment in Sri Lanka, and has to outsource her work.
After collecting her samples, Weerakoon flies those samples to Illinois, where she has received grants from the National Geographic Society to do research in the field museum of Chicago. Her research involves studying the lichen samples collected in Sri Lanka and classifying the species. Once she has identified the samples, they are returned and stored in Peradeniya.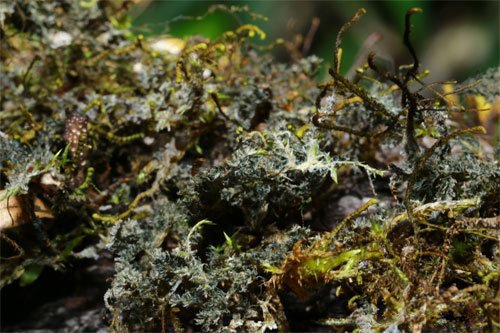 Among the conservation community, Sri Lanka is turning into a hub for lichen biodiversity.
"It is true that lot of South American countries have more lichens than us, but if we compare the number of species to the size of the land, Sri Lanka is leading at the moment," says Weerakoon. "Amongst the international conservation community, we are rapidly becoming known as the hotspot for lichens."
The potential for Sri Lanka's lichens are endless. Inside these tiny organisms are portals through which we can look into the past, and prepare for the future. As Weerakoon continues to summit mountains in search of every last lichen species on this island, she hopes her work can inspire young scientists to follow in her footsteps.
"My entire life I have lived for my children, and I feel that my work is also—in a more figurative sense—for my children as well. I don't want my work to end with me," she says. "I want someone younger, smarter and more fit to climb all the mountains that I couldn't and find the lichens that I didn't. If we don't get to see lichens utilised to their full potential in my lifetime, I just hope it happens somewhere down the line."
*Weerakoon currently works at the Natural History Museum in London, which she transferred to after her position in Chicago.