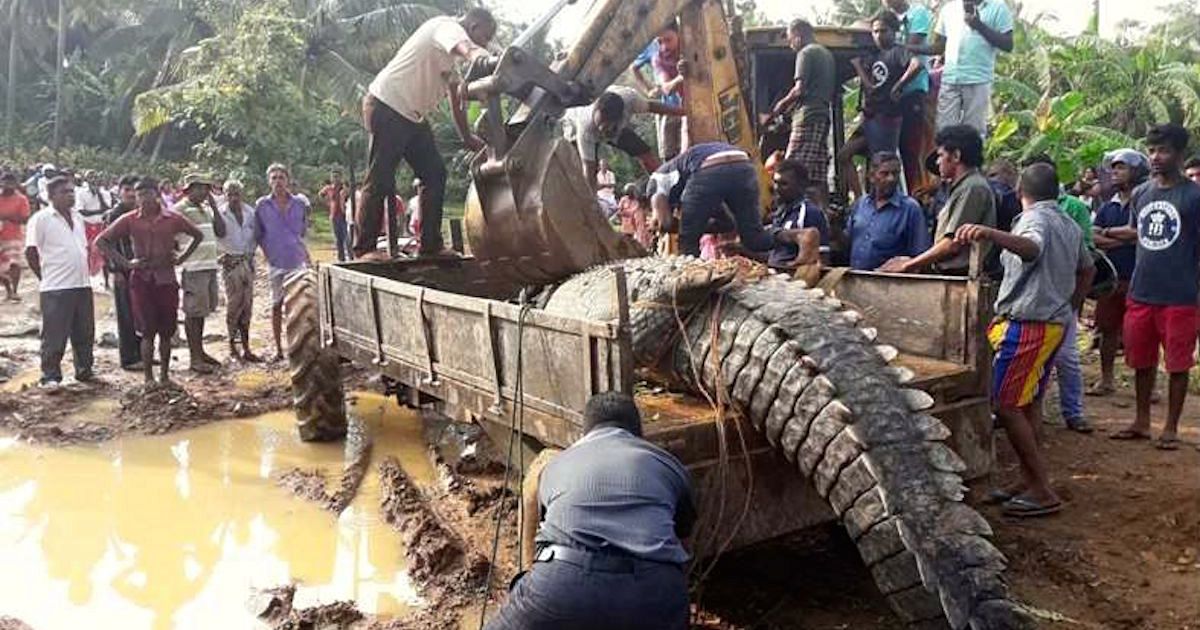 Crocodiles are generally creatures that can only be found in rural, uninhabited areas of the country. But over the past few years the more frequent reports of crocodile sightings in the suburbs of Colombo have revealed that these creatures have a wide presence in the urban and suburban areas of country. Towards the latter part of 2015, crocodiles were also spotted in the ocean off the coasts of Colpetty, Dehiwala, and Mount Lavinia.
As herpetologist Dinal Samarasinghe recently told Roar Media, these sightings are not quite out of the ordinary—the largest land reptile in the world has, in fact, had a presence in and around the city of Colombo for hundreds of years.
"[It is believed that] during the Portuguese era, [that] crocodiles were present in the water bodies of Colombo, Kotte, and other areas surrounding the city," Samarasinghe said.
It also believed that after the Beira Lake was constructed, the Portuguese settlers released crocodiles into the waters of the lake so that it could be used as a protective moat for the Colombo fort.
More Crocodiles In The City
As Environmental Lawyer Jagath Gunawardana told Roar Media, one reason for the increased sightings of the reptiles in urban and suburban areas was the deepening of canals in wetlands bordering the city and the construction of lakes in these areas. These activities were conducted to mitigate the effects of flooding during the wet season, by allowing the rainwater to flow through a network of interconnected water bodies instead of remaining stagnant in one place. They also gave the crocodiles living in the rivers, wetlands and estuaries access to move towards residential areas.
While the human-crocodile conflict is not a serious concern in Sri Lanka, with only 32 deaths due to crocodile attacks being reported since 2013, Gunawardana pointed out that there could be an increase in the instances of this conflict in the coming years.
Crocodiles don't actually feed on humans, but they are hypercarnivorous apex predators, meaning that they are prone to unprovoked attacks—especially when they need to protect their territory.
The risk of unprovoked attacks by crocodiles is one reason why Samarasinghe asserts that people need to be more cautious when visiting rivers and lakes—even while walking along the banks of these water bodies.
"The people who encounter the biggest risk with crocodiles in these areas are those who go fishing, and visit river banks and canal banks to gather edible leaves like kangkung which grow near water bodies," he added.
What We Need To Know About Our Neighbourhood Crocodiles
While thirty two human deaths have been reported in the country over the past five years, the number of crocodiles that have been killed by humans and due to human activities, is much greater. Samarasinghe pointed out that an official survey has not yet been conducted on the number of crocodiles killed or caught.
However, while conducting research for an analytic study on the population of crocodiles during the wet and dry seasons, he identified that approximately 100 to 150 deaths of year-old crocodiles and crocodile hatchlings happen every year. These activities include fishing, where both hatchlings and yearlings had accidentally been caught in fishing nets. There have also been instances over the past few years where the reptiles were purposefully killed, sometimes in retaliation to attacks on humans.
There are only two species of crocodile present in Sri Lanka: the mugger or marsh crocodile, and the saltwater crocodile. Both species are strictly protected under the Fauna and Flora ordinance, specifically section 30 subsection 2, which states that no one can harm, injure or capture any crocodiles, keep any of their parts in possession, or sell dead or living crocodiles or any parts of a crocodile's body. This protection also extends to crocodile nests and eggs.
As the names suggests, the marsh crocodile lives in marshes and wetlands, while the saltwater crocodile makes its home in lagoons and estuaries. The latter species can swim to different coastal areas using the ocean's currents. According to Samarasinghe, a few of these crocodiles have recently been spotted in the Port City area near Galle Face Green. "The saltwater crocodile is more territorial than the mugger crocodile—therefore [this species] is more prone to attack humans," said Samarasinghe. "The banks adjoining lagoons and estuaries are their most favoured places to attack or ambush people," he added.
Samarasinghe also told Roar Media that the population of saltwater crocodiles is particularly low, and the killing or capturing of these crocodiles causes a further decrease in their numbers.
Coexistence: The Best Way To Minimise Conflict
Because crocodiles are a keystone species, the ecological balance of the ecosystem they live in could be disrupted if their numbers fall. This means that the numbers of other predators in the marshlands and lagoons of the island, like water monitors and fishing cats, will increase if there aren't enough crocodiles to keep their numbers in check. "A good population of crocodiles in an area also indicates that the level of pollution in an ecosystem, such as a mangrove, is low," said Samarasinghe. "Certain rivers, like the Kelani river, are highly polluted and there has been a dip in the number of crocodiles in these rivers," he added.He also pointed out that when wildlife authorities intervened to relocate a crocodile to another area because of human insecurity, it left room for another member of the species to move into the territory. The new crocodile would then exhibit extremely territorial behaviour, which would could lead to attacks on humans. "In mid-2014, people living in the vicinity of the Bolgoda Lake had spotted a crocodile in the area, and had asked the Department of Wildlife to relocate the creature. This allowed another crocodile to move into the lake, and establish it as its territory," Samarasinghe stated. "Between August 2014 and February 2015, seven attacks by this crocodile were reported," he added.
Samarasinghe stressed that it was vital to raise awareness on crocodiles in the country, especially on how people can coexist with them peacefully without being in conflict. In regard to this, he said that he hopes Colombo will be promoted as a 'crocodile city' so that a positive attitude towards these creatures will be raised. The wetlands in Thalawathugoda is one such place where people are now encouraged to observe crocodiles in their natural habitat. It is hoped that more initiatives will be taken for people to be open to the idea of sharing their city with these reptiles.
Cover image wildlife experts and residents of Matara town rescuing a giant crocodile, which was stuck in one of the canals that connect to the Nilwala river. Image courtesy adventuresportsnetwork.com