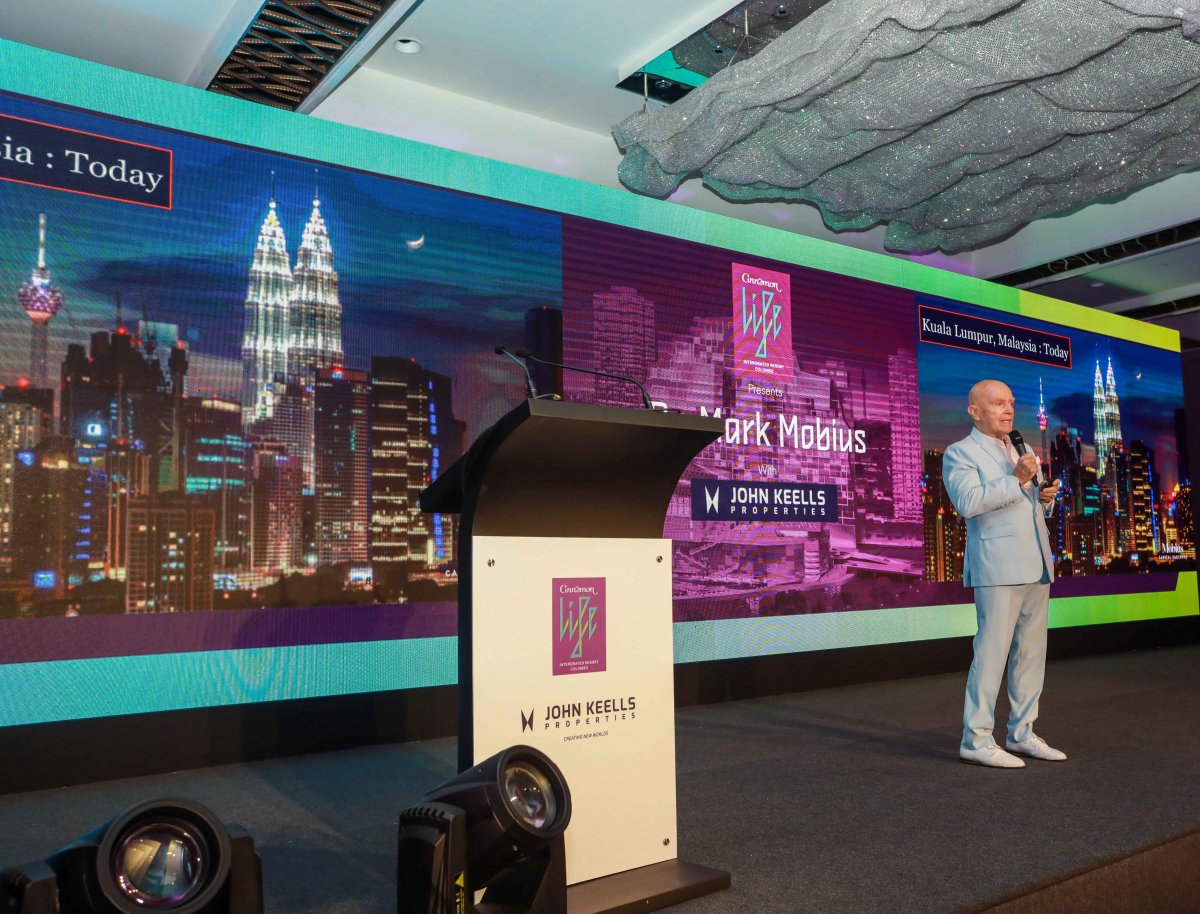 Cinnamon Life, Sri Lanka's upcoming major mixed development and luxury lifestyle brand, on December 10th, 2019, hosted an exclusive forum featuring world-renowned emerging markets investment pioneer Dr. Mark Mobius. The invitee-only breakfast forum is part of Cinnamon Life's ongoing series of high-profile engagements, and is associated with John Keells Properties.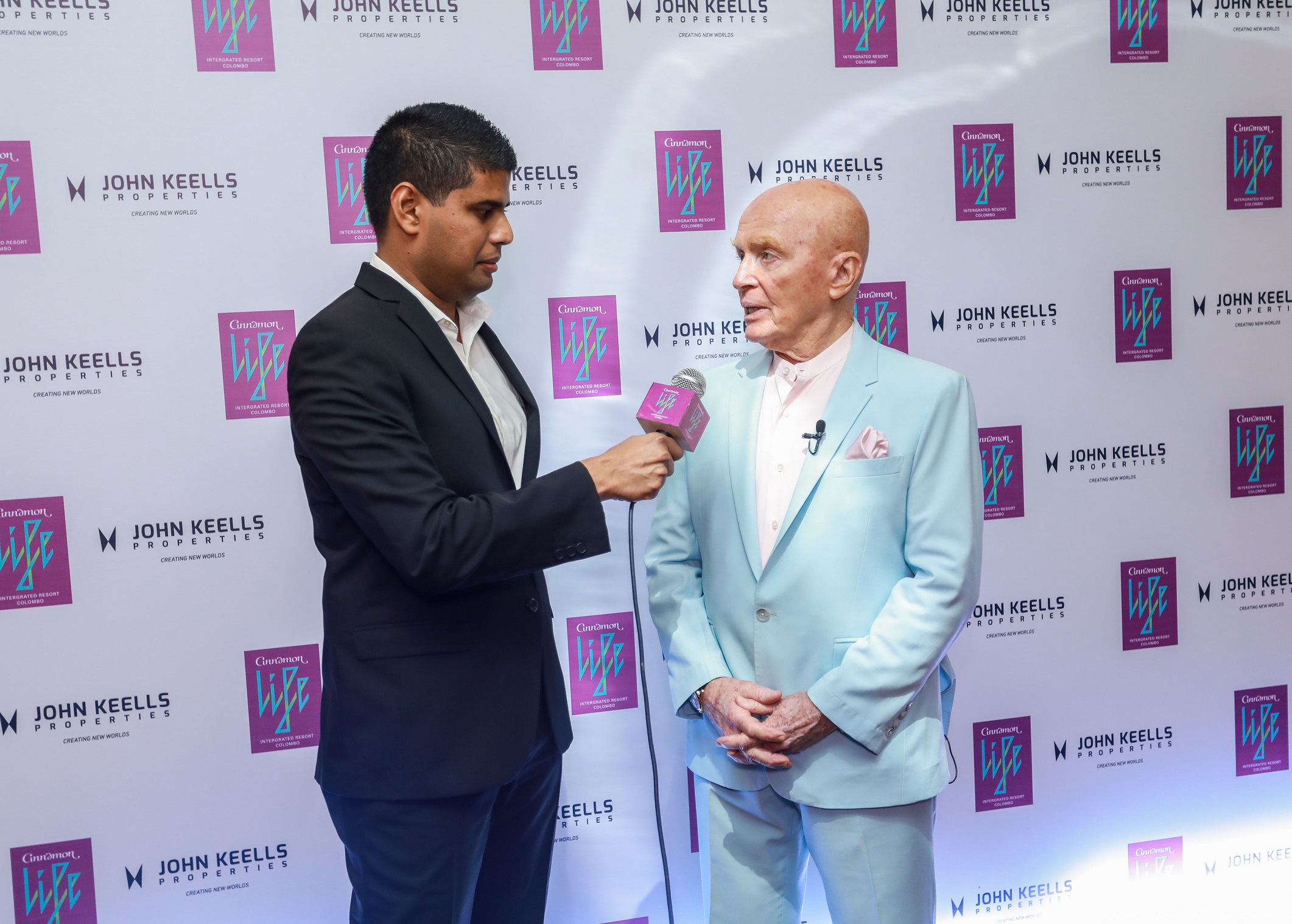 Dr. Mobius is the founder of Mobius Capital Partners, and served as Executive Chairman at Templeton Emerging Markets Group. He is also a member of the Economic Advisory Board of the International Finance Corporation (IFC). Over his four-decade tenure, Dr. Mobius has been an influential and knowledgeable source on global emerging markets, has received numerous accolades, and written multiple best-sellers on the subject.
Dr. Mobius started off with a brief presentation on emerging markets, explaining how in 1987, there were only seven or so such markets viable for investment, and that today, this number has multiplied tenfold. 
During his presentation, he also spoke about the recent increase in investor interest in emerging markets, particularly large institutional investors who seek out exposure through diversification into emerging markets.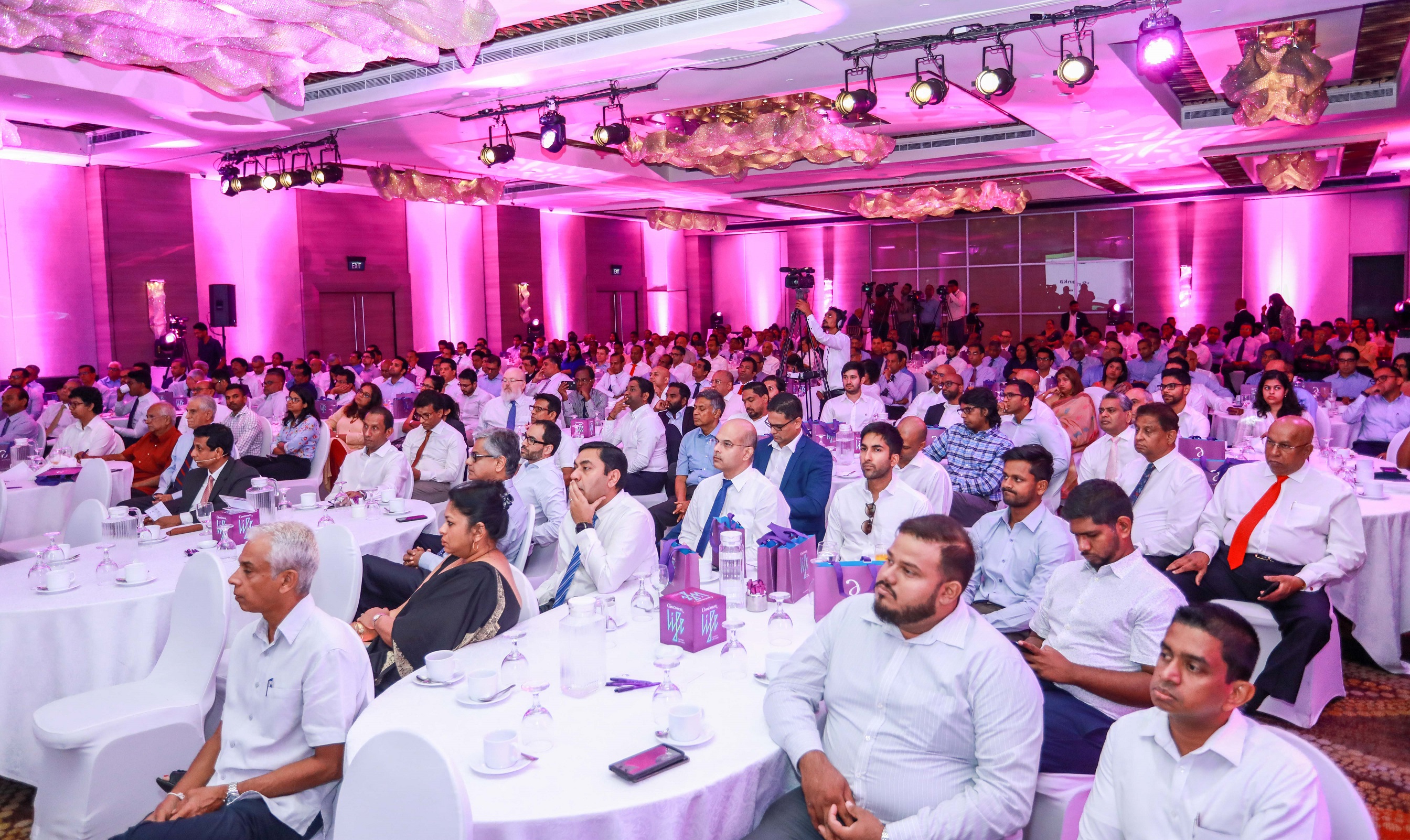 When talking about emerging market growth potential, he highlighted the 2019 GDP growth forecast for countries like China and India, which are growing at 5-6%.
"If you look at GDP growth for 2019, even with all the downgrades we are seeing, we are expecting emerging markets to grow by 4.5% rather than 1.6% for developed markets… 
"When we look at emerging markets we look at value and Sri Lanka looks very good in value terms. Currencies are also cheap and if you look at the currency index against the dollar it has gone right down. That's beginning to stabilise," he said. 
Moving on to Sri Lanka, Dr. Mobius said the country's local economy is going through a transformative period. He observed that the island nation has great potential in the tourism sector, but this potential has remained relatively untapped. He explained that currently, Sri Lanka's aim of 2-3 million tourist arrivals annually is lower than what we should be aiming for, which, according to him, is 10 million. 
He backed his suggestion by emphasising how tourist potential is high, given Sri Lanka's friendly ties with neighbouring India and China, which are massive tourist markets.
Another key observation he shared with the attendees during the presentation was that technology is increasing in importance and abundance, in particular, in terms of internet access and usage. 
He used China as an example, by revealing that over 800 million citizens in China are internet users, which is more than the USA and Europe combined; and that is only a little over 50% of China's population. He then shared that in India, smartphones could be obtained for as little as $50 (and in some cases, for even less), and this increases accessibility to the internet. 
As cryptocurrencies continue to be bought and traded extensively on the dark web, it is more pertinent than ever to focus on technology's role in economic growth. He also posited that of the individuals worldwide that either use or own cryptocurrencies, the most numerous are situated in emerging markets, like Turkey, Columbia, and Brazil. 
After the conclusion of his presentation, Dr. Mobius sat down for a one-on-one interview, during which he provided the attendees with valuable insights and analyses of various key issues Sri Lanka is facing, while also answering questions from the audience.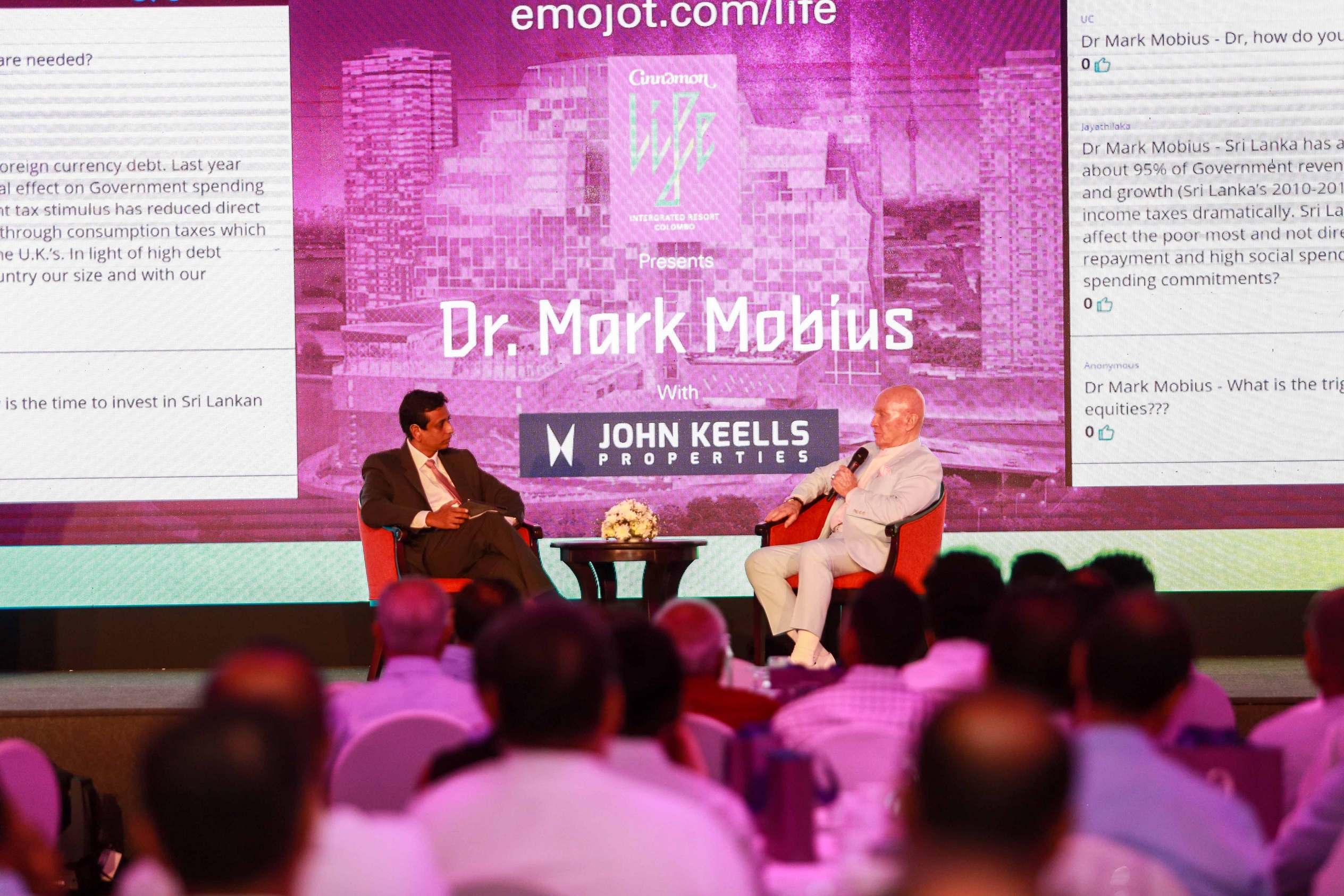 Dr. Mobius was also enthusiastic about the effects of the shifts in trade and exports on Sri Lanka, saying "Emerging countries such as Sri Lanka actually stand to benefit from the new re-arrangements of moves in trade and exports. China, for instance, should be encouraged to invest and manufacture here as should other superpowers such as India while Sri Lanka maintains its independence." 
In particular, he spoke about the falling interest rates worldwide and how this deflationary environment could aid Sri Lanka in terms of debt repayment, as well as in raising debt in the future to help the country grow. "With low global interest rates, it is easier for emerging economies, more than established markets, to refinance and restructure debt as rates come down, and then to raise more money at very low rates," he remarked. 
Having himself recently invested in an apartment at Cinnamon Life, Dr. Mobius showed interest in the development of Sri Lanka's local property sector. He observed that the real estate sector needs to be reformed in order to be more investor-friendly, and that "the methodology for property investment is the same around the world. In Sri Lanka, there is a dire need to develop a mortgage market where owning property is made easier for potential investors".
Along with the real estate sector, Dr. Mobius highlighted technology and tourism as the top three sectors he would invest in in Sri Lanka.
He was also candid about other problem areas Sri lanka needs to address, stating that "tax reforms, ease of foreign exchange flows and travel", making taxes easy to pay and competitive to the region, digitising bureaucratic processes, changing procedures for foreign exchange controls, and making visa procedures simpler to aid tourism, would be practical steps the Government needs to take to boost the country's economy.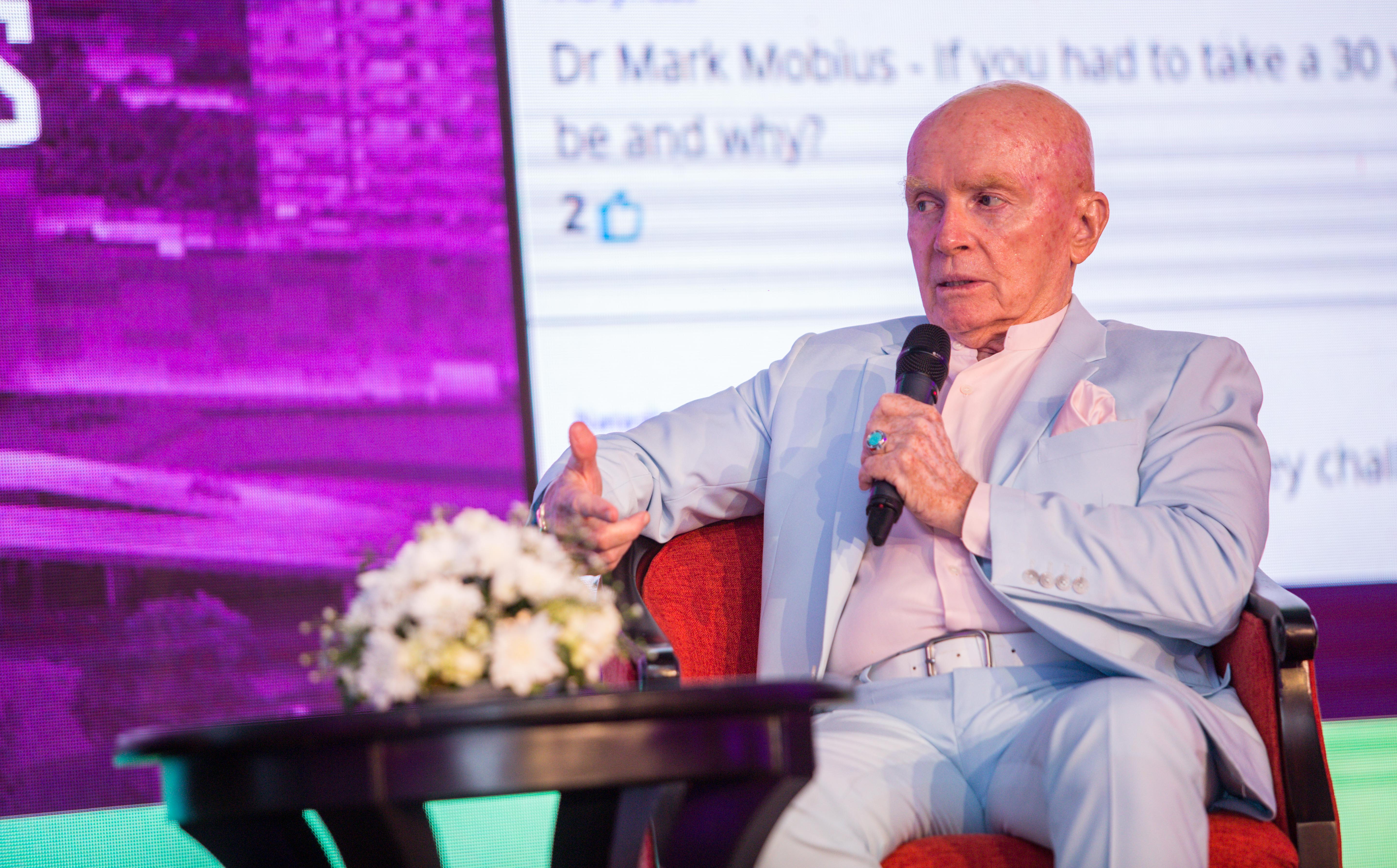 Wrapping up, he advised the attendees to not be ashamed of failure, and to remain positive as this is a new page in Sri Lanka's growth. He also urged Sri Lankans to influence the Government to "free up the process, make it easier to move forward, and encourage more investment". 
Overall, the session proved to be a great success, with the audience treated to many unique takeaways from the discussion regarding economic reforms, Sri Lanka's growth trajectory, and what the country could expect in the future, both within and outside of the region.