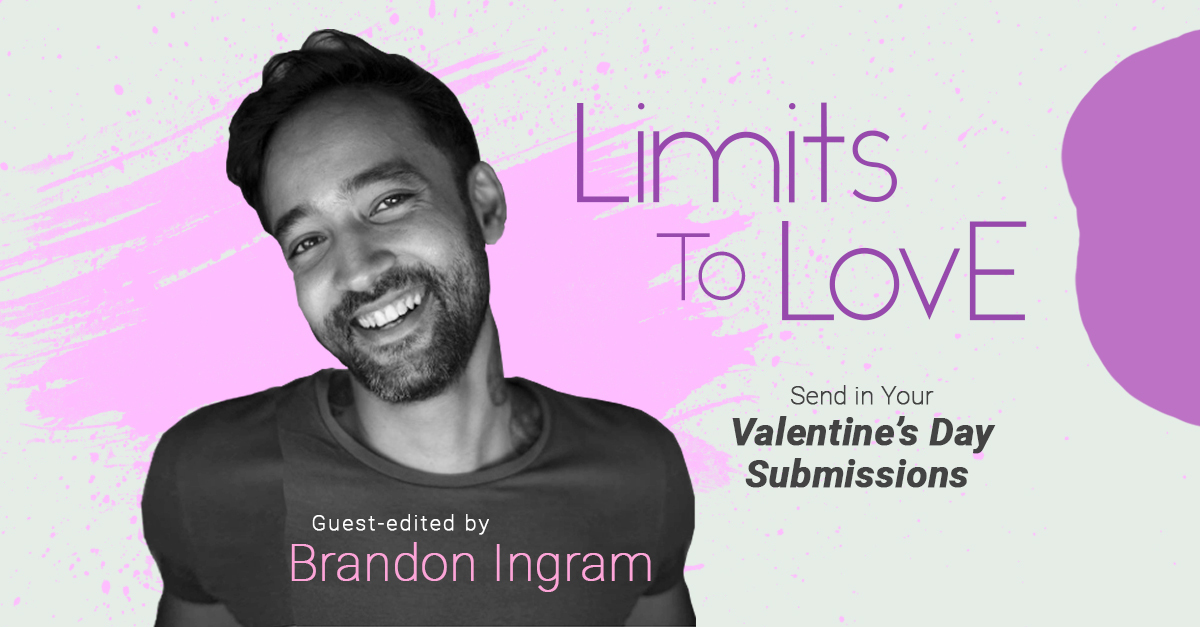 Do you want your writing to be featured on Roar? This Valentine's Day we are collecting poems and prose that speak of the limits of love. Define it as you will. Interpret it as you see fit. The vision is yours — just share it with us in any form of poetry. Tell us in free verse, haiku, sonnets or abandon structure altogether for the free-flowing prose. 
This latest addition to Roar Showtime will be guest-edited by poet Brandon Ingram, the author of two novels, Fairy Dance (2007) and Living Their Lie (2009). Ingram is also an actor, his most recent work includes a central role in Arun Welandawe-Prematilleke's Gratiaen winning play 'The One Who Loves You So'. He will also play Arjun "Arjie" Chelvaratnam in Oscar-Nominated Director Deepa Mehta's next film 'Funny Boy', based on Shyam Selvadurai's literary masterpiece.
Brandon is also a Creative Director for Wunderman Thompson, Sri Lanka, where he works on creative solutions for both local and international brands. His latest poem, 'The Fear of Me and You' was published in 'Lime & Plain Tea Vol 2 — My Grandmother's Violin' in 2018 and is republished below. 
The Fear Of Me And You
If I become the best of me 
Will I have the best of you?
And if you aren't the best of you
Will what's left of me do? 
I only see what's right with you 
And that's what's wrong with me 
But if I right what's wrong with me,
Will I want what's wrong with you? 
You've loved me with the most of you, 
And most of me's loved you. 
I want to give you all of me,
But where's the rest of you?
We've learned to love the worst of us
And that's the least of truth. 
Maybe you're the best of me
And I, the best of you,
Of most that there is left of us 
At least this much will do. 
A Few Things To Note…
Deadline: 14th February 2020.
As mentioned before, we accept all types of short-form poems or prose – from haiku and sonnets to free-flowing verse. 
We will not accept more than two submissions per author.
All submissions must be the original work of the author. 
Only select pieces, as decided by our guest editor, will be featured. 
All published writing will be attributed to the author. Feel free to attach any social media handles. We will also accept anonymous submissions. 
Roar Global will retain the right to publish all submissions. However, the ultimate ownership of submissions will remain with the writer/participant. 
Note: while we are excited to read your work, we ask that you do not use this as a platform to confess your love to someone. That's probably best done in person! 
Email your submissions to: [email protected] 
Good luck!