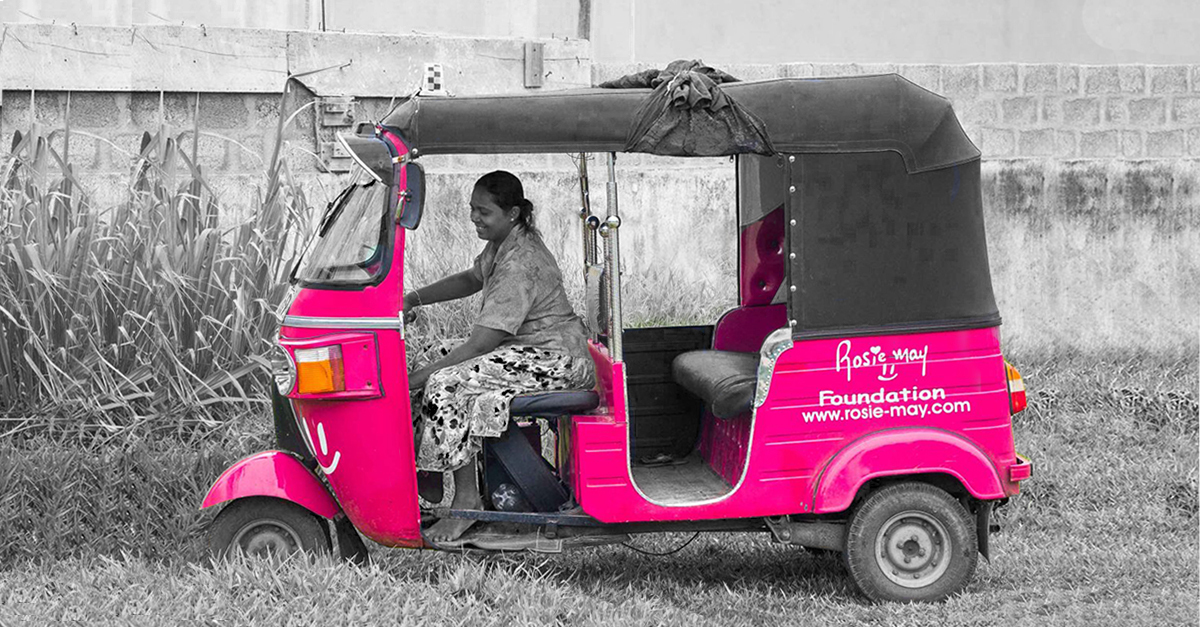 Some distance away from the swanky cafes and surfing schools that dot Hikkaduwa town is the quiet, rural charm of Dodanduwa, a small village on the southern coastal strip. When we visit, a heavy morning storm had faded into a light drizzle, but the residents still remained indoors, leaving the streets empty. 
The main office of the Rosie May Foundation was difficult to miss — parked outside were six bright pink tuk-tuks, their presence loud under the grey, overcast sky. 
The tuk-tuks belong to the Rosie May Foundation and are part of their 'Pink Tuk-Tuk' project — a tuk-tuk leasing scheme in which women drive three-wheelers, for other women. Thus far, the project has rented out pink tuk-tuks to eight women in neighbouring villages, most of whom are single mothers in need of a steady income and financial security.
"I have been driving the tuk-tuk for about six months now, and enjoy doing this," S.  Jeganeshwari (44), a single mother from Rathgama, told Roar Media. " If I could continue doing this as my profession, and earn enough money not to work another job, I'd like it a lot."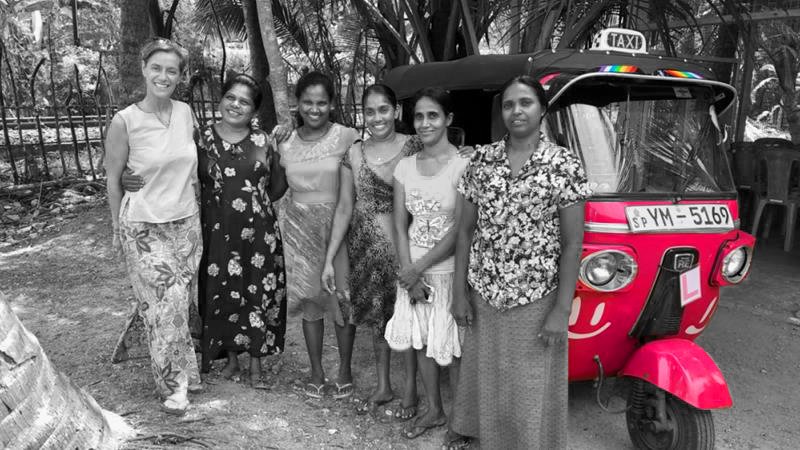 Women Driving Women
Unlike regular tuk-tuk drivers, the women who drive the pink tuk-tuks do not take hires from men—whether alone or in groups. Instead,  they offer transport to women, children and families.
"The mothers send their children with us because they trust us,"  Deepthi Priyadharshini (52), who earns the majority of her income through school hires said. "I, myself, am a mother, so they know that I will treat their children as if they were my own."
Like Priyadharshini, many of the other pink tuk-tuk drivers are single mothers—and this is mainly the demographic the Rosie May Foundation wants to help.
"This campaign is just one of the many projects we have going on," Project Manager Ramani Samarasinghe told Roar Media. "But with all our projects, our main goal is helping single-parent households, especially young widows as well as women whose husbands have abandoned them."
The organisation was founded by Mary and Graham Storrie, and named after their 14-year-old daughter Rosie May, who was murdered at a Christmas party in Leicestershire in 2003.
A year later, on a family vacation to Sri Lanka, Mary and Graham, along with their two sons were caught in the 2004 Indian Ocean tsunami, narrowly escaping the disaster.
"We witnessed firsthand the destruction caused to the country, and we felt incredibly lucky to have survived," said Storrie. "This was when we decided to start our first project, which was a home for children who had lost their parents in the tsunami."
The Foundation has been in operation in Sri Lanka the past 15 years and hopes to expand its reach to neighbouring countries as well.
"I think with the pink tuk-tuks, in particular, it has the potential to become an international campaign," said Storrie. "That would be our next step, to expand it to other countries as well."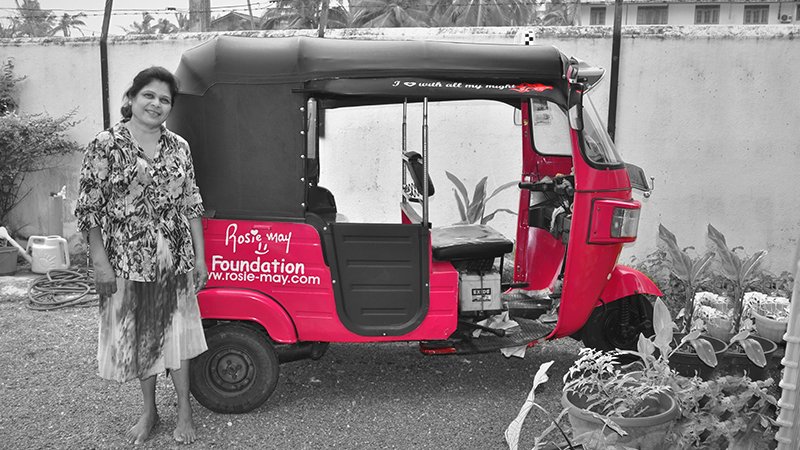 An Uphill Battle
Pryadharshini's husband died of a heart attack many years ago, leaving her to care for her teenage daughter alone. To manage the mounting costs of rent, tuition fees, and basic necessities,  she had to take up a second job twisting coil into rope, for which she earned approximately Rs. 500 a day.
With the tuk-tuks, a good day can earn Priyadharshini up to Rs. 2, 500 a day, but she has difficulty relying on it as a steady source of income.
Like many other pink tuk-tuk drivers, Priyadharshini has set up a system of  'school hires' in her village, where she drives children to and from school. For this service, the children's parents pay her a monthly fee.
"During the school season I can rely on my regular hires, but when the holidays come around, all of that money stops coming," she said. During this dry period, she is forced to take up regular hires— a difficult market to navigate as a woman.
To compete with the abundance of male counterparts, Priyadharshini offers lower rates for her individual hires, managing to carve out a place for herself in an overcrowded market. But although this strategy allows her access to hires, she earns a lot less than other drivers in her area, and still finds herself struggling to make ends meet.
"If I work daily for a whole month, I manage to earn between Rs. 11, 000, and Rs. 13, 000," she said. "I have to give the organisation Rs. 8, 500 for the tuk-tuk, by the end of which I only have about Rs. 3, 000 left."
The organisation charges the women a monthly rental which covers the insurance and repair of the vehicles— a stipulation Storrie believes will be more beneficial to them in the long term.
"We don't want to function like a charity, where we give away things for free," she explained to Roar Media. "There is a learning curve when it comes to business and financial management, and we're trying to help the women tackle that, and cultivate these skills that are so necessary for them to have."
Samarasinghe echoes this sentiment. In her experience working on the campaign the past year, there have been many examples of women who have successfully used their pink tuk-tuks to get out of debt. With time, she believes, the campaign has the potential to transform lives.
"We are the first people to put this concept into practice, but it will take some time before everything falls into place," she said. "I have seen women come here with nothing who have been able to build themselves up and become completely independent. So it really has potential."