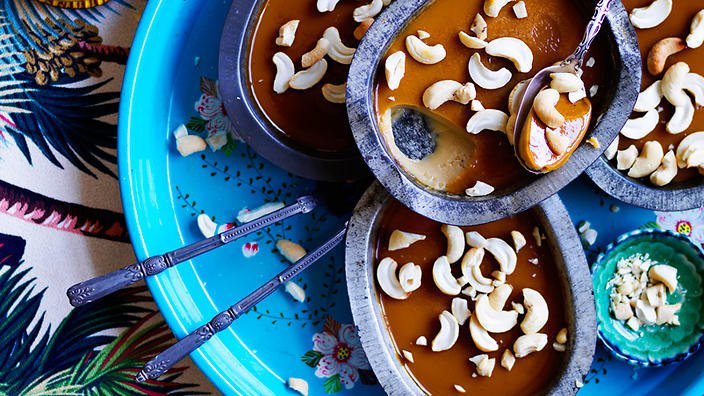 The month of Ramadan is coming to a close. This also means watalappam is making a comeback, occupying its foremost place in the festive spread of Sri Lanka's Muslim community. Watalappam (watalappan in Sinhala) is a dessert which, in Sri Lanka, is synonymous with Eid, or the Ramadan festival. It is a rich pudding made with eggs, coconut milk, jaggery, and cardamoms, and tastes just as good as it sounds. If you're excited, we're making sure you have more of a reason to dig in this season:
1) It's As Multicultural As It Gets
Although this dessert is particularly favoured by the Muslim community, watalappam is commonly indulged in by many Sri Lankans at all kinds of celebrations and events, and is a staple dessert at many a Sri Lankan wedding. At Sri Lankan Moor home functions, it is often served with bananas, usually of the kolikuttu variety. Digging into a juicy bowl of watalappam glazed with palm-sugar caramel and scented with the aroma of spices is believed the best way to end to a typical celebratory biriyani feast.
2)
There's An Interesting Story Behind The Name
This soft, silky, brownish dessert is thought to have Malay origins, but there seems to be a fascinating story behind the name 'watalappam'. Watalappam is definitely a corruption of the Tamil words Vattil (cup) and Appam (cake), hence Vatillappam (cup cake). The dessert seems to have been formerly known as "Vla", evidently a word borrowed from the Dutch. Louis Nell, in An explanatory list of Dutch words adopted by the Sinhalese (The Orientalist, 1888-89) notes that the Dutch term Vla "a custard" is applied by the Moors to a custard which has a vernacular name in vattil-appan, evidently of Tamil origin. The dish is, however, unknown to the Tamils [Source: Sarandib – An Ethnological Study of the Muslims in Sri Lanka by Asiff Hussein].
3) It Is A Cousin of the Crème Caramel Family
To Westerners, Watalappam is seen as a crème caramel with an exotic and tropical touch. It is also known as Cardamom Spiced Coconut Custard mainly due to the tropical ingredients used in the making of this sublime dessert. Crème caramel puddings have their unique variations around the globe. From the famous French crème-brûlée to the traditional Sri Lankan caramel pudding, steamed caramel custards have become an irresistible favourite of many. The all-time classic crème caramel, or the Spanish custard flan, share some similarities to its tropical cousin, the watalappam. In Tamil, caramel pudding is known as vella watalappam (white watalappam), mainly because it resembles the traditional dessert in taste and appearance.
4)  There Is Such A Thing As A Perfect Watalappam Texture
The perfect watalappam will have tiny holes in it which, ooze glazed palm sugar caramel syrup. This is the texture of an authentic watalappam which is steamed to perfection. You'll need to keep the following rules in mind in order to get the perfect consistency and texture of watalappam.
Do not beat or whisk the mixture too much (do it for a maximum of 2 minutes)

Palm sugar or jaggery is what gives the traditional watalappam its flavour. Avoid using refined sugar as the base. Brown sugar can be used as a substitute but the texture may not end up as what you expect it to be.

Thick coconut milk is what makes a watalappam rich and flavourful. Soy milk, almond milk, or condensed milk are other available options, but the consistency can vary depending on the milk you use.

Do not add a copious amount of milk. Follow the tried and approved ratio of

500 g of jaggery = 1 cup coconut milk

when preparing the basic mixture.

Avoid adding raisins or cashews to the mixture. Roasted cashews or caramelised banana slices can be added as garnishing once the pudding is steamed.

Adding vanilla to the mixture can alter the authentic watalappam flavour. Keep it natural by using only palm sugar as the core sweetener.
5) Getting The Right Wattalapam Colour Depends On The Jaggery You Use
Sri Lanka is a palm-fringed tropical island where coconut and kithul are used as a ubiquitous ingredient in local cuisine. In Dutch, watalappam is known as kokospudding (coconut pudding). Palm sugar or jaggery is the best natural sweetener that you can use when making tropical desserts. It is rich in a number of key vitamins and minerals. Kithul treacle is acquired from the flowers growing high on coconut trees. The extracted nectar is then air-dried to form a crystalline sugar that's naturally brown in colour. This is what we call jaggery, or hakuru in Sinhala and karupatti in Tamil (fun fact: the word jaggery comes from the Portuguese word "jagra", meaning palm sugar).
The flavour of this exotic dessert relies primarily on the kithul jaggery used. Finding authentic kithul jaggery is a bit of a strenuous task these days. Always rely on your trusted grocery/essence shop when purchasing spices and other ingredients for your desserts. If the final watalappam turns out to be light in colour, you can pour caramelised sugar on the surface or add it to the mixture for a brighter shade of brown. Make sure to keep it moderately sweet. Do not make the dessert cloyingly sweet by going overboard with the caramel glaze ‒ those with diabetes may want to eat their share of watalappam too!
6) A Standard Bowl Of Watalappam Will Require 10 Eggs
Watalappam is a rich, expensive dessert. For the usual bowl meant for 10 servings, you will need:
10 eggs

500 gms of jaggery  

1 cup of thick coconut milk

Cardamom and nutmeg powder

A pinch of salt to enhance the flavour
Bonus: Preparation of the mixture ‒ Watalappam, the easy way.
Grate the jaggery into fine flakes and let it melt under medium heat in a pan. Add one tablespoon of water. Allow it to cool down.
Beat the eggs well. Add the eggs into the jaggery mixture and slightly whisk it (remember, no longer than 2 minutes!).
Add 1 cup of thick coconut milk, ground cardamom powder, and a pinch of salt to the final mixture. Mix well and strain it into a bowl. Your watalappam is now one step away from reaching the table, ready to be served.
7) Steaming Is Considered The Best Way To Cook The Pudding  
Once the mixture is ready, you can either steam it, bake it, or microwave it, but the most common (and preferred!) method is steaming it for 45 minutes.
You can use a rice cooker, pressure cooker, string hopper steamer, or even an idli maker for the final preparation. The traditional clay furnace, locally known as dara lipa is the most economical way of steaming a watalappam.
Given below are a few tried and tested tips that you may want to consider before sending the watalappam into the furnace:
Steaming is preferred to baking.

Do not place the mixture if there is no steam in the steamer yet. Make sure you have enough water in the steamer or refill with boiling water if needed.

Before steaming, cover the bowl with aluminium foil punched out into a cap-like shape. The "cap" extends a few inches higher than the bowl but the wattalappam mix is water-tight from the surrounding steam. This allows for the wattalappam to rise 2 to 3 inches above the rim of the bowl without spilling over while it is cooking. When the "cap" is taken off and the wattalappam cools, the pudding will sink back several inches.

If you don't have big pots to steam the two or three bowls you will make from the 8-egg recipe, you can simulate steaming by putting your covered bowls in a baking tray with about 2 inches of water, and baking in an oven for an hour at about 400 degrees. If the water in the baking tray dries out, add hot water as necessary for the duration of steaming. Adding cold water to a hot, dry tray will crack the bowl.
 [Source:  Catheeja Ismail/ infolanka.com]
8) Spice Is Good, But Too Much Could Ruin The Dessert
Have you ever experienced that cringe-worthy, nostril-widening moment when you accidentally bite a cardamom clove in your biryani? Cardamom is very strong and aromatic spice. It is also one of the principal ingredients that contribute to the flavour and aroma of watalappam. Use a teaspoon of ground cardamom (about 6-7 cloves) and nutmeg to the mixture. Maduru (sweet cumin seeds) can also be used as another available option.
9) Wattalapam Can Be Enjoyed As A Warm or Cold Dessert
Although many prefer it as a cold dessert, watalappam can also be enjoyed as a warm dessert, freshly out of the furnace. It can keep for a maximum of 3 days at room temperature. When refrigerated, watalappam can survive for 2 long weeks. But of course, we all know that a scrumptious bowl of watalappam won't last in the fridge for more than two days!
FYI :
According to this one tip we found, it is best to: "Make the watalappam at least one day ahead and let it sit covered at room temperature. That will really bring out the pani (honey) from your pudding. Do not refrigerate unless you are keeping it for more than a couple of days. Serve at room temperature."
10) Watalappam Ice Cream Actually Exists 
In case you didn't know, Elephant House recently launched a new addition to their range of ice cream flavours, the "Watalappan Ice Cream". This is an intriguing and interesting combination of two of the most favourite desserts of all time. There is also, good news for vegans: we stumbled upon an interesting recipe for Vegan Cardamom Spiced Coconut Ice Cream. This could probably be the best kitchen experiment to come out of a Sri Lankan dessert classic.
Have we convinced you yet to give up on your low-fat diet and get started on your all-Watalappam diet?
Cover Image Courtesy: sbs.com.au