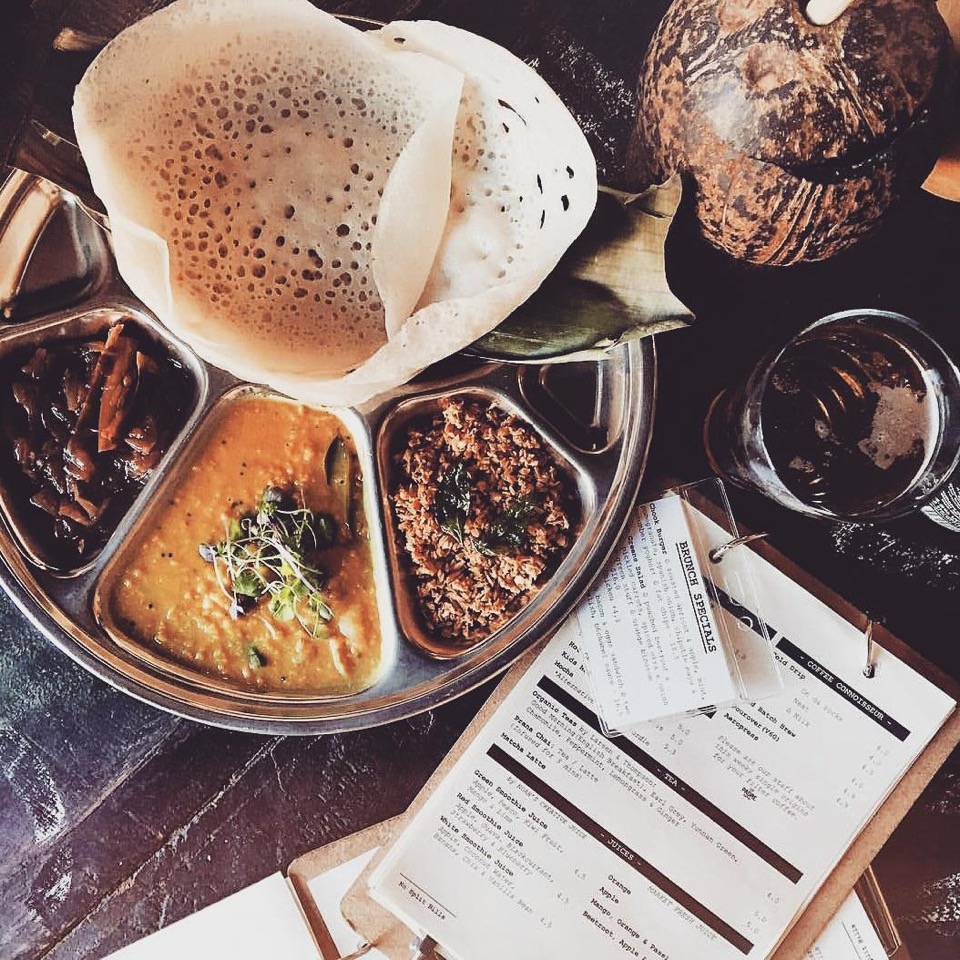 Brunch, the mid morning meal taken between breakfast and lunch, has always been a Western thing ‒ however, in recent times, it has even been slowly making its way into Sri Lankan food culture, with a number of cafés opening their doors for brunch in Colombo. Brunch menus are full of mostly Western cuisine ‒ like eggs benedict with a side of bacon or pulled pork on a light sourdough rye bun ‒ and brunching offers a relaxed atmosphere to enjoy a meal, good company, and a steaming cup of coffee.
In Melbourne, however, one café has decided to approach brunch differently.
Located in the midst of Smith Street, Fitzroy, among the many discount shopping outlets in a seemingly converted retail space, Pavlov's Duck offers authentic Sri Lankan flavours to a modern brunch experience and when the sun goes down, the drinks start flowing, music starts playing, and it's Sri Lankan street food all the way. The brainchild of Noah Rathnayake and Ilana Kosakiewicz, Pavlov's Duck has created a unique niche to introduce fabulous Sri Lankan tastes to foodies around Melbourne. Roar's own Aussie correspondent made the journey to Pavlov's Duck to bring you some insights on what's cooking.
Food was always Noah's inspiration, he says. Being an avid foodie himself, it was the drive to create something new with Lankan cuisine that gave birth to Pavlov's Duck. With a bit of brainstorming and consulting with seasoned chefs, it wasn't long before the doors to this Sri Lankan wonderland was open to the public.
The brunch menu has a number of familiar Sri Lankan treats. The menu may read "Rice Pudding with chilli chicken curry, spicy onion relish and Asian pretzel", but make no mistake, this is our very own home favourite kiribath with chicken curry, lunu miris and a kokis on top. With many patrons known to order this dish, it's safe to say this is now a local Melbourne favourite as well.
Another eye-catching item on the menu is the Lankan Frenchy, a croissant with chilli fried potatoes, Asian Tabouli with green bean purée, and a soft boiled egg. The food itself, while adding that Western touch, is nonetheless authentic Sri Lankan in every other way. The Asian Tabouli, a modern take on a Lankan kola mallung, took this writer back to his younger days. The chilli fried potatoes combined with the sugary and buttery croissant offered a unique flavour combination that works wonders. The menu spoils you for choice and it beckons more than one trip to fully explore all that they have to offer.
On public holidays and weekends from 10:30 a.m. onwards, Pavlov's Duck gives young Melbournians the opportunity to further indulge in speciality Sri Lankan street food. As we've found out with Lankan fest, as well as Weligama and now Kumar Pereira's HopperKade, Westerners are slowly warming up to Sri Lankan street food and hoppers and kotthu are at the forefront of it. It was amazing to see the café's Aunty Neeta work her magic and churn the hoppers like a pro, the way many a Sri Lankan expert has done. While there's a good selection of egg and plain hoppers with all the usual accompaniments, we suggest you get adventurous and indulge in a plain hopper with Nutella and banana.
And it gets better: on Friday and Saturday nights Pavlov's Duck is open for dinner, serving exclusively Sri Lankan hawker food to enjoy as you would in the streets of Sri Lanka. The menu includes some of all-time favourites: 'Flat breads and doughnuts' or as we know them, dosa and ulundu wadey; the special 'Red rice noodle cakes' better known as string hoppers, along with lentil stew, green coconut relish and chicken curry; roti ‒ plain or with egg; and the crowning jewels of Lankan street food: hoppers, and kotthu ‒ vegetarian, chicken, or crab. These treats are fast becoming popular, however, so bookings are essential for the dinner service.
According to Noah, most of their customers are local, so it made sense that their suppliers would be, too. The coffee beans come from local hero the Brunswick East Project, an independent roaster trying to make it in the cut-throat Melbourne coffee scene. Their signature blend, Padre's Daddy's Girl used by Pavlov's, has been the toast of the town. The cocoa comes from Monsieur Truffe ‒ not just one of Melbourne's finest artisan chocolatiers, but also another local success story. Then there's the tea, the beverage that's dear to our hearts, again sourced from local business Larsen & Thompson. The same goes for the delectable pastries, sweets, and produce used in creating their signature dishes. This has not only ensured that they maintain the standard and quality of their food, says Noah, but also helped other businesses flourish alongside them, a good model for local sustainability.
Pavlov's Duck has a warm, welcoming atmosphere, almost as if you were at a Sri Lankan home; it is a genuine tribute to not only Sri Lankan hospitality, but also the welcoming nature of their Aussie partners. The staff are extremely friendly, accommodating, and above all, seem to share in the same passion as owners Noah and Ilana. A true diamond in the rough, they are bridging cultural and social diversity through the universal conduit of food.
Featured image credit: Instagram/@pavlovsduck