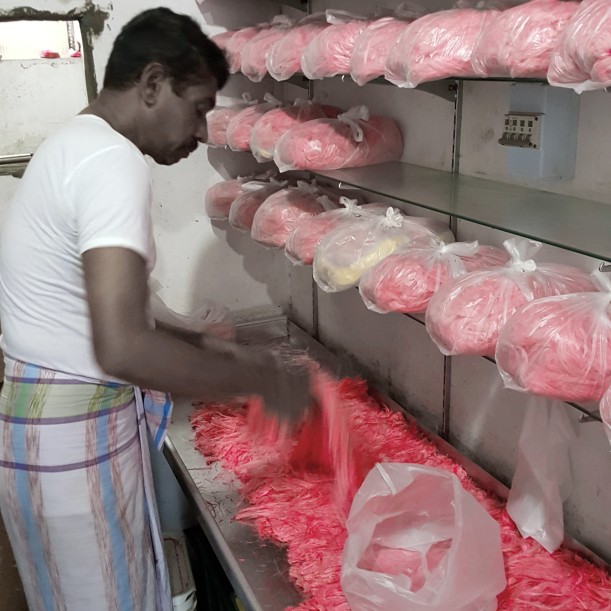 The world of bombai muttai is a strange and intensely exciting one, and not just because of the (quite literally) sweet childhood memories we associate with it. In the backwaters of Pettah, home of small industries, a group of brothers has translated their father's legacy into a booming family business.
A gloomy Colombo day. The air outside is nippy, greatly contrasting with the steady heat inside the two rooms that serve as a small-scale manufacturing facility. The smiles are contagious but the work looks tedious and backbreaking – except, as the youngest brother of the group informs us, the seemingly complex process has actually been simplified and mechanised over the past few months. Despite streamlining the process, however, it should be noted that behind every strand of bombai muttai is a method that needs to be followed to the last syllable.
It all begins in the backroom where the second brother, Naufer, on several induction cookers, makes a concoction of sugar, lime, and water, which is then transferred to large cooling vats. To this, he adds a pink strawberry dye which gives the Bombai Muttai its characteristic, violently pink colour. There's something hypnotic about the way the vats are rotated to optimise the cooling process while Naufer mixes the swiftly cooling chunk of caramelised sugar into a block. He then transfers this block to a flat surface in the front room, where he twists and beats the caramelised sugar into an oblong shape.
While this is happening, the youngest brother, Azwer, adds a carefully measured mixture made of coconut oil and flour, onto a disc-like contraption that looks like something borrowed out of a Doctor Who episode. A short distance away, Naufer continues kneading the caramelised sugar until he gets it right.
The caramelised sugar is transferred to the disc, and then begins the delicate process of giving Bombai Muttai its famous form and consistency. The brown mixture of coconut oil and flour will serve to split the fine fibres that come together to make a delicacy that brings out the child in even the most hardened adult. While the coconut oil and flour mixture is slathered onto a ring of caramelised sugar, Azwer jumps into action. The movement is reminiscent of a guitarist pressing down on a pedal or a motorist accelerating, but what Azwer is really doing is controlling the movement of the various spatulas that help in what can only be called the splitting-hairs process.
It looks easy enough – especially with the machines helping out – but Azwer is essentially prodding into shape a snake-like ring of 10 kilograms of caramelised, semi-hardened sugar slathered on with flour and oil over a swiftly spinning UFO-like heated disc made of stainless steel. It is an exact process, a science even, which has an equally romantic backstory as the dilapidated industrial setting.
This process has been passed down from father to sons as a familial legacy. Naufer turned fifty-one on the day we visited him, and he proudly informed us that it had been exactly fifty-one years since this particular method of making bombai muttai had been perfected.
"This method is as old as I am," he informed us happily. His father, Mohamed Farook, worked as an apprentice to Malayali sweet makers from Kerala who jealously guarded their sweet secret. "This particular type of bombai muttai, however, is entirely my father's invention," he said, adding that he "innovated the sweet into the form we see today, making it easier to eat." This secret was then passed on to his three sons Jabbar, Naufer, and Azwer, who made a successful business – H. F. Candy Mart – out of their father's passion.
Back in Mohamed Farook's time, the going was slow: a day's work would only yield 2 kilograms of sweet. Very recently, just a few months ago in fact, the brothers innovated on the method to the point where their maximum capacity is now between 150 – 200 kilograms a day. "We sell it all on the same day. There's a huge demand for bombai muttai, more demand than we can supply at the moment," Naufer added, grinning.
Do they have plans to expand their production? "We're happy with the way things are going right now," Naufer said, "we currently have no space to expand but we do have plans for the future."
Two kilograms to 200 seems like a large jump – what contributed to this was the youngest son, Azwer's genius and love for electronics. The UFO-like disc we mentioned earlier is entirely his creation, after which production speeds increased threefold.
"He figured it out on his own," Naufer proudly said, adding "when we figured out that importing a machine to help with the process would cost 70 lakhs, he made this machine by sourcing materials from different parts of the country. We managed to make it for 8 lakhs."
The bombai muttai workshop is a flurry of activity and sound from between 9 a.m. to 12 p.m. The work stops promptly after the demand has been met – but sometimes, on particularly demanding days, the work resumes after 3:30 p.m. Apart from the three brothers working ceaselessly, two youthful helpers can be seen bustling around. Although spotting bombai muttai sellers seems to be a rarity these days, this tiny manufacturing plant is overflowing with a number of sellers who come here to collect their day's means to a livelihood.
Picking up the famous bombai muttai containers, along with 2 – 3 kilograms of bombai muttai each, and then rummaging through a large barrel for neatly packed wafers ('nice') that are famous accompaniments to the sweet, a long line of men filter out, tinkling their bells to attract the attention of potential sweet-toothed customers. It's a difficult life, and caught up as we are in the cacophony of the modern world, many of us would miss the characteristic tinkling of the bell that we all eagerly looked forward to as children. Behind every lone bombai muttai seller is a long journey: travelling from the base and then by bus to whatever destination, anywhere from Ja Ela to Wattala to the Colombo suburbs, to Panadura and Moratuwa. Most of the sellers are old, their skin leathery and weather worn, the soles of their slippers thinning, walking from one street to another.
It's a unique eco-system where the manufacturer and seller work seamlessly to supply an ever increasing demand, a demand which, if it has to be met, will require yet more innovation and technological infiltration. Perhaps the days of on-foot bombai muttai sellers are slowly coming to a close – but the demand most certainly isn't. The family legacy which the three brothers have inherited and improved has yet to reach its peak. How far they take this will definitely make an interesting story.
Liked the article? Check out our video to see for yourself how bombai muttai is made.
Images courtesy Praveen Jayasuriya