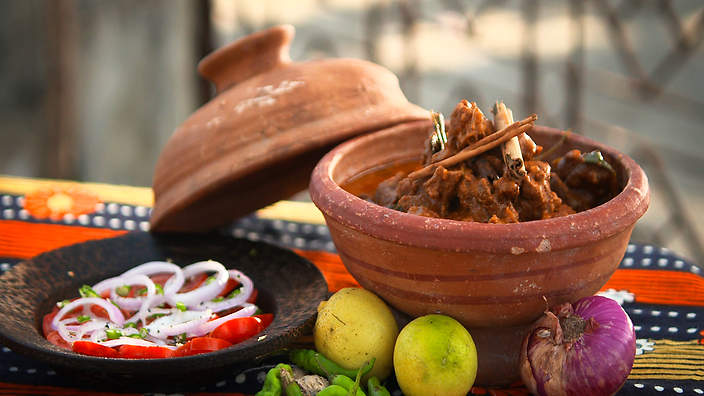 Sri Lanka is a diverse and multicultural country and this multiplicity is also evident in its cuisine. A visiting friend once asked why the locals tend to have a common trait of possessing the muffin top no matter what size they are. The only possible response was to credit the muffin top to the wonderful display of carbohydrates and starch that is present in Sri Lankan cuisine. This is by no means a promotion of an unhealthy lifestyle, but you have to agree, it is hard to steer clear of these foods when they are presented to you in the mouthwatering way that it is in Sri Lanka.
This article focuses on the food of the North, particularly Jaffna, and tries to identify the age-old recipes that deserve more attention. Jaffna is home to traditional Tamil cuisine and people commonly confuse it with South Indian cuisine. Although both styles of cooking are largely similar, the food of Jaffna has its own distinctive taste, and coconut plays a vital role in almost all dishes. The food of the North, much like in the rest of the island, is a delightful mix of spices that will melt in your mouth and leave you craving for more.
Here are some of the Northern foods that are an absolute treat to your taste buds:
1. Lamb Curry
When people think of Jaffna food, the first dish that usually comes to mind is the celebrated Jaffna crab curry, but let's divert your attention instead to the lamb curry. This traditional curry holds true to the characteristics of Sri Lankan cuisine with its heavy spices and delectable flavours. The lamb curry is essentially succulent chunks of lamb swimming in a gravy that is a delicious combination of fenugreek, cardamom, cumin, fennel seeds, cloves, coriander, garlic, ginger, turmeric, curry leaves and of course, cinnamon. Prior to indulging in this dish, your nostrils will be filled with the aroma of all these spices which alone leaves your mouth watering, so you can imagine the explosion of flavours once you dig in.
2. Hoppers
Although the hopper (locally known as 'aapam') is popular throughout the island, a variation to the classic hopper that is identifiable with the Hindu tradition is the addition of ghee when cooking it – an ever so slight alteration that leaves you with a rather distinct aroma. Jaffna's take on the pancake, the aapam is a breakfast/dinner dish based on a fermented batter made of rice flour and coconut milk with spices. It is bowl-shaped with a crispy edge and dense, soft centre. Hoppers are usually served with a combination of pol sambol, seeni sambol, katta sambol and/or seafood or meat gravies. The traditional hopper has evolved to include egg hoppers and milk hoppers and can also double as a dessert by adding jaggery to the core, leaving you with a sweet treacle aftertaste.
3. Brinjal and Drumstick (Kathirikkai and Murungakkai) Curry
Another signature dish, this curry combines drumsticks and brinjal in a delicious blend that makes for a side dish served best with rice. Brinjal and drumsticks have very dominant and powerful flavours, which largely contribute to the gravy, leaving little room for extensive seasoning. This dish can vary from extremely thick gravies that are almost entirely soaked up by the vegetables, to thinner, smooth-flowing curries that can potentially act as a substitute to the more traditional dhal side dish. Tip: be prepared to get your hands messy because the best way to enjoy a good murunga dish is to pull the split vegetable through your teeth to eat the soft internal pods.
4. Rasam
This is essentially a type of soup that works well on its own, but is also ladled generously as your second serving after you have treated yourself to the palatable array of gravies with rice. The key ingredients are black pepper and tamarind, but you can also find several variations to the standard rasam dish. The modifications include chicken broth, which is particularly distinct to Jaffna cuisine, tomato, and lentils (parippu). The preparation is extremely simple and involves cooking the various spices and the extra ingredients in fitting measures. You can choose to strain or keep the condiments, and either drink the rasam, or mix it with rice.  Rasam also has medicinal value, in that it can be used to induce digestive juices and thus came about to be served after the main meal.
5. Pittu
A dinnertime specialty, pittu is principally made of wheat flour or red rice-flour and is infused with desiccated coconut to add flavour. The preparation involves steaming a mixture of ground rice with water that is layered with grated coconut, and sometimes also layers of shrimp or fish. Pittu is best complemented with seafood gravies, but is also delicious when soaked in lamb curry. A personal favourite take on the classic pittu is when meat and seafood are stirred in with the dish to make a type of pittu kotthu. This is the Jaffna style of taking leftovers and making it into a signature lip-smacking dish. The more generous the proportions of meat/seafood, the more delightful this meal will be.
6. Modakam
Now that we have looked at typical dishes for all three meals of the day, finishing off with dessert is what seems the right thing to do. Let's skip the more famous rasavalli kilangu (purple yam) porridge and shine light upon the lesser known modakam (pronounced moh-dha-hurm). This is the Sri Lankan spin on dumplings, with a hearty sweet filling composed of jaggery, coconut and green gram. If you have had the traditional Sri Lankan pancake with the jaggery filling, then you have an idea of what this tastes like. The dough is slightly thicker than the standard pancake, and while the pancake takes the shape of a roll, the modakam is a sort of hybrid between a patty and a cutlet. These delicacies are steamed and it is not unusual to expect them at your breakfast table either. In case you haven't noticed, we Sri Lankans tend to be born with a sweet tooth and can consume sweet treats at almost any time of the day.
In case you're wondering how someone can write about Jaffna cuisine without touching on the popular seafood dishes like the crab and prawn curry: these dishes receive plenty of attention, so we felt it was more imperative to bring out the lesser known dishes that are nevertheless on par with the seafood dishes. So, the next time you are on the lookout for some authentic Jaffna food, make sure you give these dishes a go ‒ and when you do, do not hold back. Enjoy the strong flavours, let the spices awaken your senses, and indulge in the delicious curry-soaked juicy meat and seafood chunks. Eating is an experience in itself, and Jaffna cuisine adds a delectable twist to that practice.