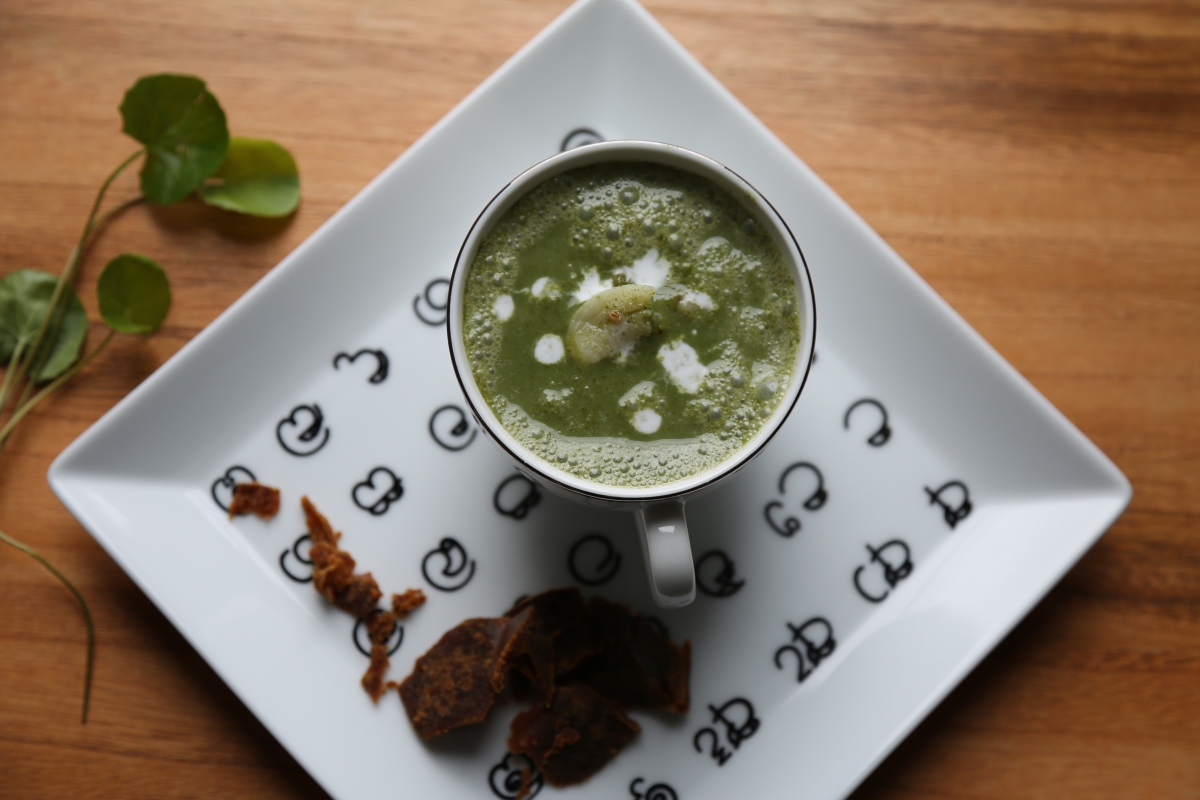 Healthy and packed with different nutrients, kola kenda—the herbal gruel made of rice, coconut milk and a variety of green leaves—is a recipe which is timeless. It is still a popular breakfast option among many Sri Lankan homes, because it is nutritious and can be prepared quite easily—that's why many people still prefer to kola kenda at home.
Nutritional Aspect
Because the green leaves used in making kola kenda are crushed into an infusion and made into a liquid-like dish, all the water soluble and fat soluble vitamins contained in the leaves are converted into a form which can be easily absorbed by the body.
According to Nutritionist Roshan Dela Bandara, this is the main reason why kola kenda has been considered by nutritionists, doctors and other experts as a good source of energy.
"The secret to making a good kola kenda is to use different varieties of leaves, and the correct proportion of ingredients. If one serving of kola kenda is required then one cup each of rice, coconut milk and herbal infusion made from the green leaves should be used," Dela Bandara told Roar Media. "Garlic and onion can also be used for added flavour and added nutrition, as both foods have their own nutritional and medicinal properties.""It is also important to remember to not boil the ingredients for a long time—people sometimes boil the kola kenda for too long, and when this happens, the nutrients in the leaves and the rice slowly get destroyed by the heat," Dela Bandara added.
Green Leaves Full Of Goodness
Green leaves are the most important ingredients in the dish for multiple reasons. Firstly, they provide the dish with plenty of antioxidants. These compounds are beneficial to the human body as they can prevent the formation of free radicals in our bodies, slow down the aging process, and can even prevent cancer if consumed regularly. Some antioxidants such as flavonoids also have anti-inflammatory, anti-allergic and anti-microbial properties. Secondly, green leaves are also generally packed with nutrients such as beta-carotene, vitamin K, vitamin C, folic acid, iron, and proteins, which is another reason why they are considered healthy.
Aside from the nutrients that most green leaves commonly possess, each type of leaf is said to have additional health and nutritional benefits. Some varieties of leaves used such as gotu kola, karapincha and welpenela are more popular, while others such as thebu (crepe ginger) and polpala (mountain knotgrass) have also traditionally been used to make this recipe.
Kola Kenda For Better Income And Healthy Living
Lanka Hela Osu Ayathanaya—an organisation which came up with the idea of providing income for women from low-income backgrounds through the sale of kola kenda—gave us more information about the health benefits that can be obtained from this nutritious gruel.
According to Hasitha Samarasinghe, the Production and Sales Manager of Lanka Hela Osu Ayathanaya, the leaves they use are welpenela, gotu kola, karapincha, hathawariya, polpala, thebu, heen bovitiya, monarakudumbiya, and neeramulli.
"The leaves we purchase are grown on small farms in Embilipitiya, and are brought down to Colombo daily where some of our employees purchase fresh bundles to make the kola kenda everyday," Samarasinghe said to Roar Media.
The preparation is sold per cup at stalls located in and around Colombo, which are operated by some of the women involved in the project. So far, they have a total of 18 stalls, and Samarasinghe said that they are targeting a total of 100 outlets in the Colombo district by the end of this year.
The two main objectives behind this project is to empower women from low-income backgrounds and to encourage more people to consume freshly made kola kenda. While it may not be the most delectable of Sri Lankan dishes, the fact that it is still popular among many Lankans is a testament to its health and nutrition benefits.
Featured image courtesy: akkiskitchen.com