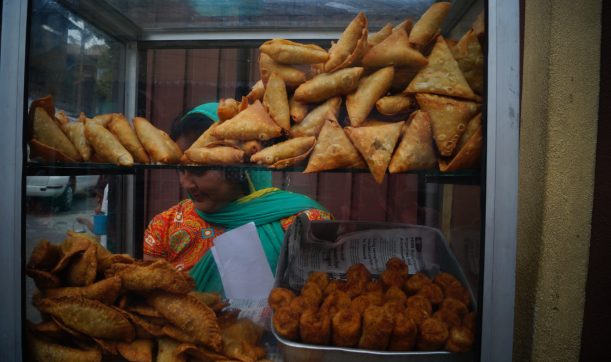 Ramadan is a time when Muslims the world over fast from sunrise to sunset for a period of thirty days. During the course of this month, as the sun sets, many places across the world come alive, and in Sri Lanka, one such place is Slave Island.
On a normal day, this part of Colombo is brimming with colourful buildings and distinct landmarks, some from a different era, like the Slave Island railway station, which echoes elements of Victorian-era-styled architecture, or the Rio Cinema, that's been around since the 1960s. You'll also most likely stumble upon a kovil or a pansala at one turn, and a church or mosque at the other. With so much to do and so much to see, within the mix of religious and cultural jamboree, Slave Island also offers a surprising novelty of lip-smacking street food. While there are plenty of fancy restaurants catering iftar specials, sometimes nothing beats street food and Slave Island seems to be the place to satisfy all those cravings.
Should you choose to embark on an adventure through the ever so colourful streets, you would find tucked in every niche and corner of the road, trays and trolleys, push carts and plastic tables of different hues, all laden with varieties of food, some of which you may never have seen before. With Ramadan here, Slave Island is decked up like a bride amid all the fanfare and festivity. There is an electric excitement in the air once evening approaches, bringing with it the anticipation of iftar (the Arabic term used to denote the time of breaking fast). With the setting of the sun comes life, and folk young and old prepare themselves, arranging their stalls and doling out platters filled with different novel sweetmeats and savouries for iftar.
The entire street food experience would be incomplete without babath, or cow intestine, (yes, you read that right!) which Slave Island is so famous for. This morsel is not for the faint-hearted: generously doused in gravy and spice, the Sri Lankan twist to the traditional tripe is found here, hidden between golden patties and soups. It would probably be the only place where, while munching on babath patties, you could stare at the wall murals of Parisian street artist Christian Guémy's (also known as C125) stencilled art, adorning different walls in the area. Be it the famous babath patties or the typical chicken patties, these fritters are stuffed with a delicious filling of shallots, meat, and  potatoes, boiled down to a mushy paste. The leathery textured tripe is well-cleaned separately, boiled, cubed, and then deep fried to be mixed into different fillings. These patties are shaped like little crescents, and are found in nooks around Glenny's Street, Church Street, and Kew Road, priced at Rs. 40 per piece. Fish and chicken patties' prices vary from Rs. 25/30 to Rs. 35.
The unique element of the street food here is the wide range of long-forgotten sweetmeats, traditionally hand made. Most of these sweetmeats have the distinct addition of pol (coconut), finely grated and most often mixed with kithul (jaggery, palm treacle or black palm sugar/local molasses) which brings about a sunny island flavour. One such sweetmeat, not often seen around sweet shops or bakeries, is the 'cheenaku', also known as 'kithul kali' in up-country terms. These are little lava-cake shaped sweets with a smooth jelly like texture and a creamy coconut-milk undertone to it, accompanied with freshly grated coconut. These are priced at Rs. 20 a piece.
Added to this, you also get an opportunity to lay your hands on some fat leveriya. These are thick string hoppers (locally known as idiyappam) with grated coconut, a generous dose of kithul, and most often a dusting of fragrant semolina, all folded between the layers of string hoppers.
Another similar snack is the surutta aapam, a traditional pancake, but one that is rolled and filled with the winning amalgamation of grated coconut mixed with thick, dark, jaggery, and a sprinkling of cashew nuts or semolina. These we found at a neat karaththey at Church Street, Wekanda.
The other cholesterol inducing savoury fixes are the likes of fresh vadey, which we found being fried at Justice Akbar Mawatha. Here you can also find batter fried capsicum and brinjal bhajji, accompanied with twigs of karapincha (curry leaves) and parippu vadey. The vadey prices vary between Rs. 25 to 35 a piece.
Stumbling across carts that sold soups and kanjee (porridge), we found a cart housing sinister looking pots full of meaty bones. Upon being asked what type of kanjee it was, we were told it was actually "maatu kaal soup", the Tamil equivalent for leg of beef soup, with flecks of pepper floating in the liquid along with some shredded vegetables. It was at the U turn of Wekanda, a sub area that falls under the boundaries of Slave Island, where we also found warm chicken porridge being sold in bags at Rs. 100 per bag.
Apart from the usual platters of rolls, samosas, and patties, you will also find mini mountains of small fried shrimp decadently on display at some shops or food carts, along with fried onion rings, batter-fried squid, and capsicum sambol. This we found at one of the joints on Kew Road, opposite a repair and tinkering shed.
Moving onto other savouries would call for the mention of the achcharu cart opposite the Akbar Masjid (mosque) at Kew Road, made with every fruit in season ranging from jambu, lovi, biling, diwul (wood apple), mangoes, and pineapple, laced with strong vinegar and generous amounts of chillie.
At Church street, we even found a barbecue grill, full of burning charcoal, in preparation for the grilling of meat. We were told that the BBQ at Church Street usually gets up and ready by 5 p.m.
The king of drinks during an ideal iftar would be a rose flavoured sherbet or faluda. Walking towards the Wekanda Jumma Mosque, onto your right is a petite shop named Safana Bombay sweets. This place offers the traditional nannari, almond milk, and, of course, the faluda.
Food hopping in Slave Island, on the whole, is a fun affair; it is the local eat-street of sorts, with carts that miraculously pop up shortly before sunset and stick around till the wee hours of the night. However, fresh batches of food are best bought between 4 p.m. and 5 p.m. Dinners, too, get street-fancy with koththu, hoppers, rotis and parathas prepared in the same streets mentioned above, thereby offering a wide choice of meals. There is also Burger's King, which has over time graduated from a street shop to a takeaway restaurant ‒ a long-time favourite among many fast-food-lovers, situated at Vellons Passage. Street food in Slave island can never disappoint, but should you be interested in experiencing a little something extra, we suggest heading down there on a Ramadan evening ‒ there's still over a week left!