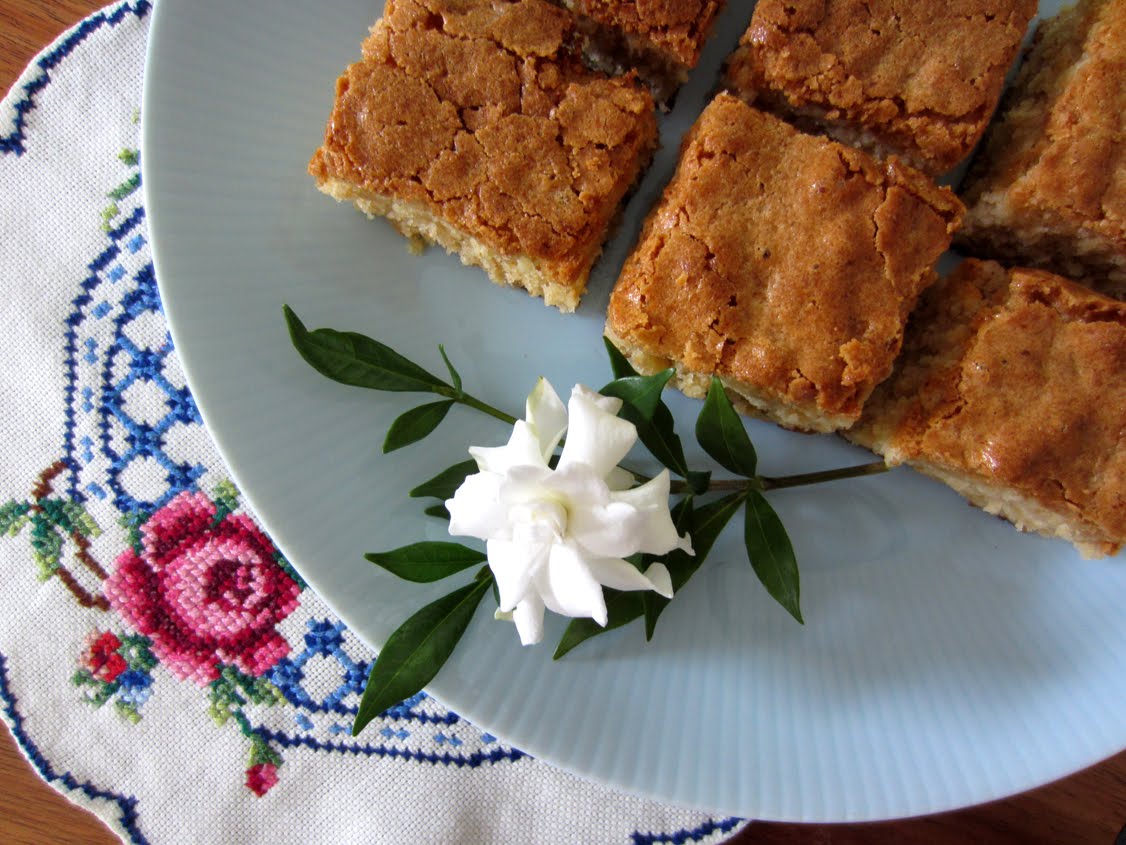 Sri Lankans have quite the sweet tooth ‒ we love our cakes and often opt for rich desserts. Many Sri Lankans love their tea with plenty of milk and sugar, along with slices of swiss roll or a Lemon Puff or two. Each holiday and festive event provides more reason to bring out plates laden with sweets and desserts to share amongst neighbors and friends. When Christmas season rolls by,  ingredients like semolina, pumpkin preserve, and cashews are always in high demand at the local grocery store and the scents of rose water, almond essence, and honey dominate many a Sri Lankan kitchen ‒ that's when you know it's love cake season.
Love cake is a delicious, fragrant, sweet, lightly spiced, beautiful cake made out of semolina. The ideal love cake would have a chewy inside and a crunchy exterior ‒ just like an exotic brownie. It is a difficult cake to master, and is characterised by its moist and honey-anointed centre, spicy aroma, essences, rose water, a slow baked semolina crust and, sometimes, the crunch of pumpkin preserve throughout.
The History Of Love Cake
It is hard to determine the exact origins of love cake, but the most popular theory is this: many centuries ago, when the Portuguese ruled Sri Lanka in the 1500s, they brought with them a special cake which they called Bolo Di Amor. Bolo in Portuguese translates to 'coarse cakes', which means cakes that aren't made from standard flour but feature ingredients like semolina. Amor, as everyone knows, means love.
People say the cake was named 'love cake' because it was baked to win the hearts of potential suitors, which could have been so, because it is hard to imagine someone not falling in love with a girl who can make a good love cake. But a more valid explanation would be the amount of love and special ingredients (spices, rich flavours, essences, and other ingredients) that go into making this cake. A standard recipe for love cake uses equal amounts of butter, sugar, cashews, a lot of eggs, and a good amount of candied fruits, essences, spices and honey. Puhul dosi (or pumpkin preserve), which is commonly added to love cake, was the local adaptation of what the Portuguese called doce de chila, a squash preserve.
All of these ingredients make this cake very rich and comforting. Love cake is generally eaten on festivals and special occasions, such as weddings and birthdays. Since it was adapted from the Portuguese and is traditionally a Burgher dish, it is especially popular during Christmas, accompanied with a nice cup of milk tea.
The love cake has taken on a life of its own since its arrival in the island, with influences of the native Sri Lankans (with the addition of nutmeg, homegrown cashews, and cinnamon) and the flavours and fragrances of cardamom, rose water and citrus, courtesy of the Moors and Arabs who used to visit the island to trade spices at the time.
Many people have their own set of beliefs  as to how to make the perfect love cake. Some say the trick lies in the equal amounts of ingredients (butter : cashew : sugar). Some say, you must not add too much egg white because it causes the cake to split into two parts. There are nearly as many recipes for this cake as there are cooks, and different people with the same recipe also end up with different results, depending on the hand that does the baking; how much the batter is  stirred, how the semolina is roasted, the way the eggs are beaten, and so on, all make a difference to the end result.
For this article, we contacted Beverley Dirckze, a Burgher housewife and small time business owner, who was only too happy to share her special recipe, and the tips and art of making the traditional and hard-to-master Sri Lankan love cake. Like many Burgher women, she received her recipe from her grandmother, and learnt to make it by watching her mother and mother-in-law bake. It is a beautiful example of how food connects families, preserves traditions and cultures, makes the best memories, and provides something for families to bond over.
Beverley's Love Cake Recipe:
Ingredients:
500 g cashews

500 g semolina

500 g butter

250 g pumpkin preserve

750 g sugar

15 egg yolks

6 egg whites

Essences: Tsp each of rosewater and almond essence

Spices: Tsp each of cardamom powder, cinnamon powder, and nutmeg

One wine glass of golden syrup (you can substitute this with bee's honey)
Method:
Dry roast the semolina slightly to a golden colour. Add the butter and mix it well and keep this mixture aside.
Beat the egg yolks with sugar till it is nice and creamy, then add the pumpkin preserve and semolina and butter mix. The mixture will get a bit thick here.
 Beat the egg whites to very stiff peaks and add this to the mixture. (Keep in mind, the egg whites bind the cake but adding too much will definitely cause it to split.)
  Add the essences, the spices and the golden syrup.
 Pour to a tray lined with oil paper. The tray you select must be wide and the mixture should not be too thick. It should be around the height of your middle finger.
 Bake this in a slow oven, at around 190 degrees Celsius until the top turns a light brown color. The secret is baking this cake very slowly, no matter how little patience you may have. Once the cake takes on this colour, take it out and leave it to cool. The cooking process will continue because the pan is still hot.
 Once cooled, cut into smaller pieces (though you would be tempted to cut large chunks) and enjoy with tea.
In true foodie style, nothing can make a person feel as loved as receiving something sweet and delicious. So with Christmas just around the corner as well, why not share the love by making this very special cake?
Beverley Dirckze takes orders for love cake, chutneys, and many other Burgher delicacies. If you are interested in placing an order, you can contact her on [email protected].