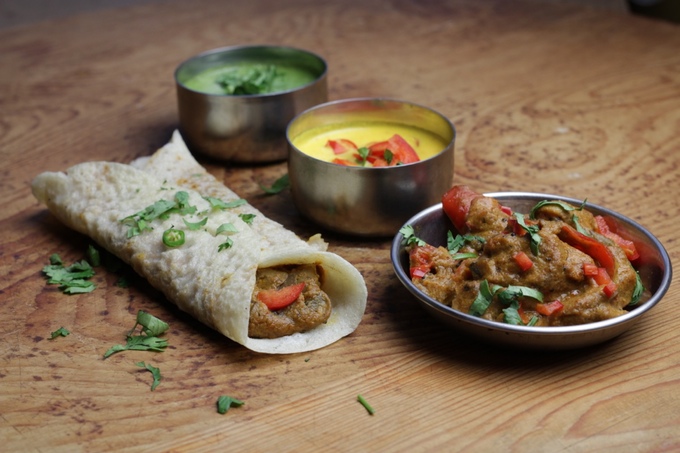 We all know that, in order to make watalappan, you need eggs. Lots of them, in fact. But Justin Moore, in his culinary-focused travels around Sri Lanka, has come up with a vegan (no egg) version of the dessert. How? We don't know either, but we intend to find out, by getting our hands on his latest cookbook 'The Lotus and Artichoke: Sri Lanka.'
The Lotus and Artichoke Cookbook
The Lotus and Artichoke: Sri Lanka is a cookbook of vegan recipes based on Sri Lankan cuisine with a Vedic touch (yeah, there's quite a bit going on there; makes it all the more interesting). Justin travelled through Sri Lanka for 10 weeks, from Tangalle to Jaffna, and picked up Sri Lankan recipes and cooking techniques while staying at guesthouses and living with locals. He then revamped these dishes making them vegan and fusing a bit of home country Germany into the recipes.
The result is 70 fusion vegan recipes in a book with over 50 beautiful, hunger-pang inducing, full-page colour photographs. But don't take our word for it, check out his website and browse through the pictures below and you'll notice this cookbook will draw in your curiosity.
Cookbook on Kickstarter
This isn't his first cookbook. It's his third. Justin, who describes himself as an artist, photographer and designer, used Kickstarter to crowd-fund the publishing of his first cookbook 'The Lotus and Artichoke Cookbook' in 2012. Having travelled through Mexico, he used Kickstarter yet again to successfully publish his second cookbook 'The Lotus and Artichoke: Mexico.'
The Sri Lankan version required 10,000 Euros for publishing, and just within a week, that goal was surpassed. There are 9 days to go for funding to close on the project, and people continue to donate – clearly eager to have a copy of the book and perhaps some of The Lotus and Artichoke merchandise that Justin has designed and is offering those who make a donation.
The cookbook should be published and ready to be shipped by mid-August.
Why did Justin pick Sri Lanka?
On the Kickstarter page, Justin lists out people, food, culture and landscape as the reasons for choosing Sri Lanka for his third cookbook.
He says, "Sri Lankans are incredibly down-to-earth, friendly, inviting, and wonderful people. I've met many in my travels, particularly in Germany and France, but also in North America, and Asia. After so many great conversations and meals, I knew I had to see their homeland!" And as for the Sri Lankan food, he shares, "Sri Lankan food is unique in its flavors, freshness, and creativity. It has tastes and touches of other Asian styles – South Indian & Thai in particular – but usually uses different, often simpler cooking methods and an exciting array of other spices and flavor combinations. I've had some absolutely amazing meals at Sri Lankan and South Indian restaurants all over the world. Taking a culinary adventure through Sri Lanka plus eating and cooking with the locals was something I'd wanted to do for years! After one week in Sri Lanka I was already certain it would be the focus of my next cookbook."
Eggless Watalapan is just one of many interesting vegan recipes in his cookbook, a few others include street food vege rolls, deviled chickpeas, tapioca pudding, coconut rice balls, and coconut pockets. If you would like a copy of the cookbook and some merchandise, do check out the Kickstarter page and make a pledge.