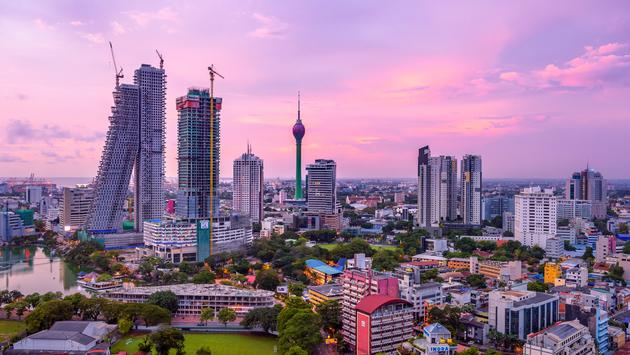 Colombo's skyline has witnessed a rapid increase in skyscrapers over the recent years, with luxurious shopping complexes, high-end hotels and restaurants coming together to make the city an urban metropolis offering a multitude of experiences. The city is becoming a business hub, connecting both local and global entities on a larger scale than ever before. But with its landscape changing rapidly, a new concern has risen.
Where do the people go?

According to the United Nations Development Programme (UNDP) Human Development Report, "human development is the end while economic growth is the means". Sri Lanka has been focusing on attracting foreign investment to the country and is also investing millions into the beautification of Sri Lankan cities, where much of the population is centred. 
The urban population has been increasing steadily, with over 15% of the population now settled in the urban areas. The 'built-up' areas within Colombo have increased significantly from 41km2, in 1995 to 281km2 in 2017, whereas the non-built areas have been shrinking, having gone from 125km2 to 10km2 within the same time period. 
Sri Lanka's level of urban expansion is notable, but why is it that so many people find it difficult to find appropriate housing in Colombo? 
Most Sri Lankans who live right outside Colombo and its suburbs have the answer to this question: it's simply not affordable. Added to this, the 'affordable' housing options out there are often inaccessible. Lack of land may be a key factor here.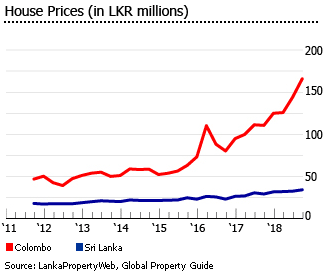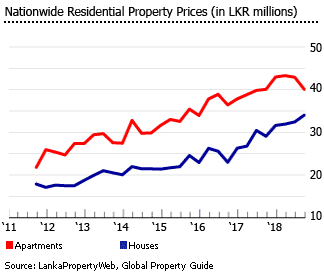 In 2018, the average house prices in Colombo grew 50% year-on-year to Rs. 165.74 million. Despite almost all provinces witnessing a hike in average house prices, Colombo outdid them all. Land prices around the island also experienced a hike in 2018, with the average cost for residential plots hitting 15.3% year-on-year, reaching Rs. 1.36 million per perch. What's surprising is how much higher the average cost in Colombo was. That year, average Colombo land prices reached a whopping Rs. 11.56 million per perch.
High-Rise Vertical Living
Today, 'skywards' is no longer a possibility for or an expression used by only the large corporations. With high-rise vertical living taking over the world, due to both sheer necessity and the many benefits it provides residents, it's now also a highly viable option for the average Sri Lankan citizen looking for affordable, convenient, and advantageous housing. 
As the country develops, so do the needs of the people. This development also means higher costs of living. Subsequently, our lifestyles are changing and we're starting to move away from the isolated landed properties we've grown comfortable with, opting for condominiums in the metropolitan cities and its suburbs instead.
This has driven demand for both commercial and residential spaces in Colombo, and in order to tackle the increasing demand, experts suggest adopting vertical living. As of now, vertical cities may seem like a distant dream, but that dream is inching closer towards becoming a reality. We can already witness numerous large mixed-development projects in progress, such as Cinnamon Life, One Galle Face, and Capitol TwinPeaks, with their promises of providing an ultra-convenient and comfortable life for those who choose to live within them.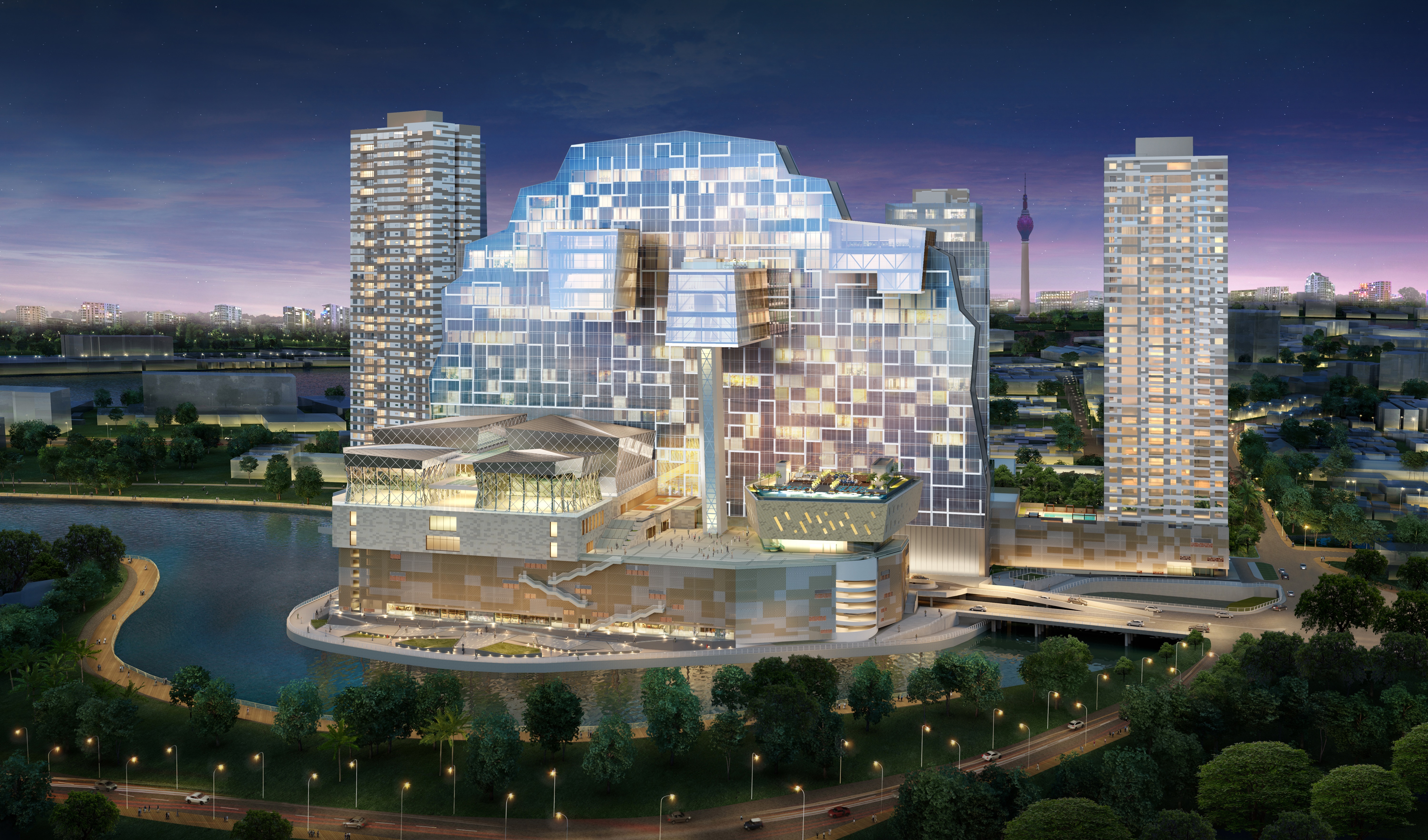 Cities everywhere, from New York to Shanghai, have seen a boom in vertical living. These residential towers are often shoulder-to-shoulder with some of the biggest skyscrapers around and are an efficient use of space and expression of design.
High-rise residential buildings are becoming the norm—and for good reason! These buildings ensure that space is used efficiently, providing solutions to the housing problems of many who wish to live in the bustling, vibrant however comforting and awe-inspiring city of Colombo.
But what's interesting is the rising interest in mixed-use development projects. These projects, generally executed on a massive scale, combine either two or more building uses (commercial, residential, retail, etc.) within its premises. As of right now, these are the closest things to vertical cities we have.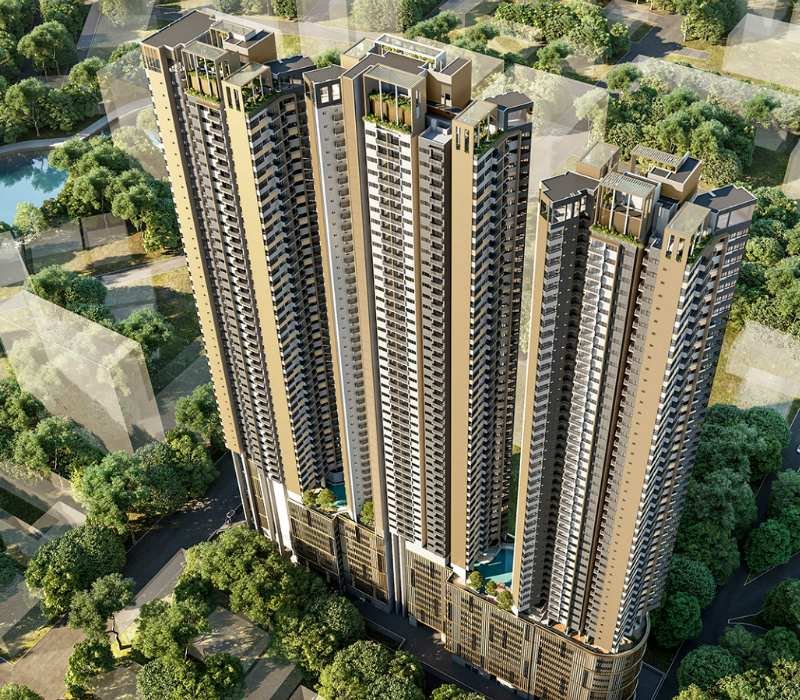 These dynamic structures ensure residents don't have to leave the establishment to carry out many of their daily tasks, from shopping to going to the gym as well as leisure and entertainment activities. In fact, if vertical living takes off, this might be the solution to the congested roads, overcrowding and of course, the housing issues the world faces. 
Though concerns regarding pricing, safety, and more persist, it's clear that as we rapidly run out of space to build, the only way left to go is up, and vertical living might just be the right step towards a future of sustainable living.