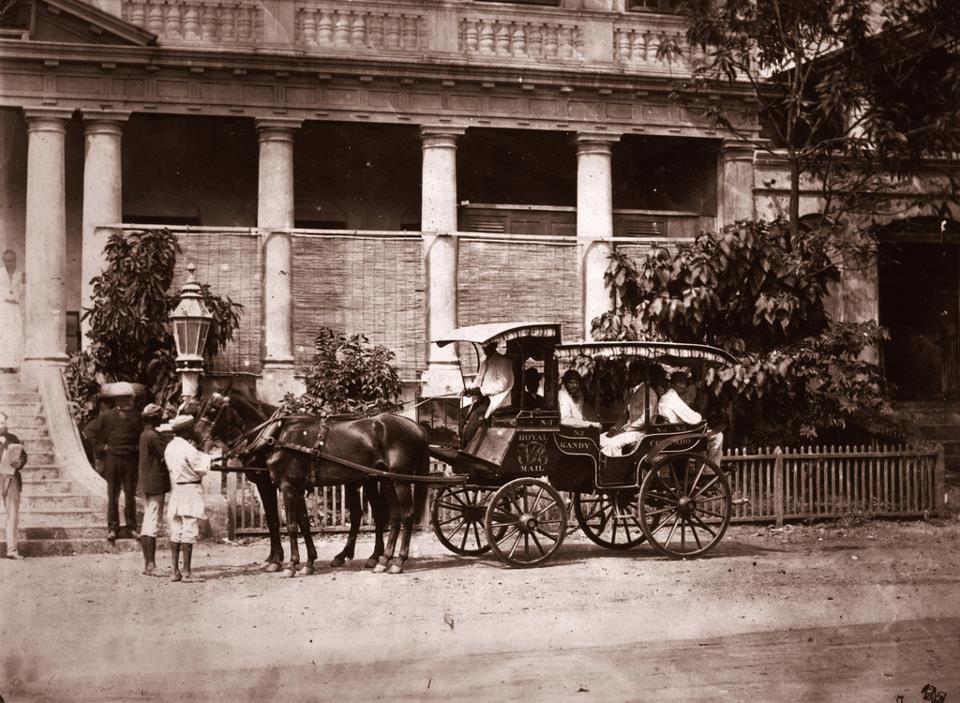 No matter where you are in the country, no matter what your socioeconomic background, a ride is never too hard to find. Even if you don't drive a vehicle of your own, you can still commute by bus, train, three-wheeler, or cab. These days, a mode of transportation is [relatively] easily available to more or less every Sri Lankan citizen. This was not always the case, however. In fact, just getting from A to B was a logistical nightmare to most of our ancestors back in the day. Nevertheless, over time, what with the advent of new and innovative means of conveyance and advances in transportation in general, the people of Sri Lanka figured out ways to circumvent this crippling lack of mobility.
In ancient times, friendships and relationships rarely extended beyond the borders of a single village. This meant that most pre-Industrial age Sri Lankans didn't really have a need for long distance travel. Short distances were usually traversed on foot. However, the relatively well-off nobility could afford crudely luxurious "vehicles."
But Most People Just Had To Walk It…
Virtually everyone else had to contend with walking. In fact, according to many sources, from the days of Anuradhapura right up to the last Sri Lankan kingdom of Kandy, most people went everywhere on foot ‒ including, occasionally, the royalty.
The regional King Weera Wickrama of Siriwardhana is said to have walked over 9 leagues a day on his trip to Mahiyangana and, according to the Mahawansa, King Sri Wickrama Rajasinghe's brother Prince Wijayapala, despite his ability to travel by palanquin, went four leagues on foot. There is evidence to suggest that even the main kings walked places.
Colonial officials and ambassadors in the days of Kandy, who were often required to seek an audience with the king for official matters, had to travel to the king's court on foot. A Portuguese agent called Lanerolle is said to have offended the king when he refused to walk to the palace. Even as recently as the 18th century, commoners crossed the Seethawaka river by boat and had to make the rest of the way to Kandy on foot.
Author Hite Johan had mentioned in his writings, accompanied by illustrations, how in 1736 a group of 1,500 led by Dutch Ambassador Daniel Adrin went to meet the king. According to Johan, barring the ambassador who had apparently taken a palanquin, everyone had to walk.
Another writer, Johann Jacob Saar, who worked in Ceylon for 10 years, described in his writings that walking barefoot on unpaved gravel, or dirt roads often cutting across running streams and hills and slopes, was hard work. Christopher Schweitzer, who worked here when the Dutch ruled coastal Sri Lanka, lamented about the leeches encountered on his many travels in the country. Thomas Skinner, Captain Dawson, and John Dave are among those who wrote about the extreme difficulties in travelling by foot in Ceylon.
Palanquins
Travelling on the shoulders of servants in a cushy palanquin, designed to protect you from the elements, was all the rage back in the day. Royalty and much of the nobility from Anuradhapura onwards preferred to travel this way ‒ because why not, right? There are different types of palanquins mentioned in history books and folktales. Palanquins were, needless to say, a status symbol, and your specific type of palanquin was a sign of your wealth and social standing. Not unlike how an S Class or M5 today might be considered fancier than, say, a Prius. Depending on the owner's status, the specifications of his or her palanquin ‒ such as the type of wood and metals used ‒ could vary.
Different types of palanquin (dolawa):
Kunama: Exclusively for the king ‒ the roof is said to have been made of gold
Doliya: Reserved for the queen
Idoliya: For the king's other wives
Dolawa: For ministers and other nobility
Pallakkiya: For ailing monks
Randoliya: To transport jewellery meant for gods and idols
Ran siwige: For relics such as the tooth of the Buddha
The Mahawansa that chronicles the lives and times of all Sri Lankan royalty, from start to finish, states that following King Dutugemunu's victory over King Elara, he passed a decree prohibiting anyone  ‒ noble or otherwise ‒ from moving past the latter's tomb in any way other than on foot. Everyone, including the King himself, had to alight from their palanquin and walk past the tomb, as a mark of respect for Dutugemunu's fallen enemy.
When he was on his deathbed, the King's brother, Prince Thissa, is said to have taken the dying monarch to the Ruwanweli Seya stupa by palanquin. The palanquin remained a popular mode of transport well into the Portuguese occupation of Sri Lanka. According to English sailor Robert Knox's account in An Historical Relation of the Island of Ceylon, the palanquin used by King Rajasinghe II was a thing of beauty and luxury not second to those found in India. John Dave noted that Nilames (lay nobility appointed in charge of devales) and Dukkgannaralas and their wives and family members used palanquins when taking part in processions similar to the Kandy Perahera.
Elephants And Horses
In the days of the kings, elephants captured from the jungles of Sri Lanka were used for transport. Horses imported from the Sindh province of India were also popular. The Mahawansa is littered with examples of ancient kings and their armies riding into battle on elephant and horseback. The battle between King Dutugemnu and Elara is said to have taken place atop elephants. The king's prize stallion was referred to as the "mangala ashwaya" and his elephant "mangala hasthaya." One of the legendary 10 giants that were supposed to have fought alongside Dutugemunu is said to have stolen Elara's mangala ashwaya.
The Mandaram Puvata states that travelling on horseback and elephants was very popular in Kandy. King Senarath had a "class" each of horses and elephants in his army. Horses and elephants were also known as "horse vehicle" and "elephant vehicle" in the Kandyan days. Horse riding was prevalent among common folk too. But once the Nayakkars laid claim to the throne, horse riding became a luxury limited to the nobility.
Robert Knox described Sri Lankan elephants as being the most intelligent in Asia, and he noted in his account how well-trained the elephants here had been. He also wrote of horse races held around the lake in Hanguranketha. The last king of Ceylon, Sri Wickrama Rajasinghe, reportedly paid 5 or 10 shillings to the winners of these races.
The Tom-John
A popular mode of transport in Ceylon in the early days of British rule was being carried on a comfy chair with a makeshift roof on top for shade. This contraption, called the tom-john, was generally preferred by affluent and high caste women. According to the records of Dr. John Davy of the Ceylon Medical Service, Sir Robert Brownrigg, and his wife used a tom-john when they travelled the Uva Province in 1819.
Rickshaw
Man-powered rickshaws were first introduced to Ceylon in 1883 by Whittall and Co. Owning a rickshaw those days was considered a symbol of one's wealth.
Rickshaw drivers often wore turbans, not unlike Indian civil servants in the British Raj; but in the early days, they wore outfits similar to that of an army band member. A driver also had an assistant who would help him push the rickshaw up steep hills. Most rickshaws were decorated with expensive cloth and brass plates.
Rickshaw rates were based on time spent, rather than distance travelled. They were so popular as vehicles for hire that by the time Ceylon gained independence, there were reportedly 3,129 rickshaw drivers working around the country.
Mail Car Or Horse Carriage
For the first time in an Asian country, in 1832 a four-wheel carriage drawn by two horses was introduced to transport mail in Ceylon. Horse drawn carriages were also used to transport passengers ‒ a passenger was charged 25 cents for a trip on the carriage ‒ called the ashwa kochchiya (horse train) in Sinhala ‒ from Colombo to Kandy. It supposedly took 14 hours to get from Colombo to Galle, while the return trip took 12. An instant hit among plantation owners, the horse carriage was used in coffee-growing areas like Ratnapura, Matale, Gampola, and Nuwara Eliya from 1838 onwards.
The Tram
In the 1890s the Colombo Municipal Council signed a contract with a private sector firm, Boustead Brothers, to introduce tram cars to the city. The Colombo Electric Tramways was open to passengers on January 11, 1900.
More efficient than carts and rickshaws, the tram car quickly became a popular choice of transport by the masses. Drivers were hired to pilot the trams and conductors to collect ticket money from passengers at a daily wage of Rs. 1.20. Salaries were increased to Rs. 2.00 a day after four years of service.
Unsurprisingly, cart and rickshaw drivers were vehemently opposed to the advent of the tram, going as far as to stoning trams in some areas. The Colombo Municipal Council purchased the tram service from the private owners in 1944, but hikes in maintenance costs and salary demands led to the gradual degradation of the service. Tramcars were replaced by a trolley bus service in the fifties, but this closed down in January 1965.
After the advent of the motor car, buses, and trains, public transport became much more efficient and convenient. Today, public transport in Sri Lanka, as riddled as it is with problems, is among the best in the region. We've certainly come a long way since the days of palanquins and horse-drawn carriages.
Translated by Himal Kotelawala, from the original Sinhala article by Lasantha Kularatna.